This week involved two (or 3?) snow storms and a traveling husband – good thing I'm not training for anything because I was sort of thrown off.   Just another reason to love yoga – nothing can keep me from practicing.  So even on the snowiest, coldest, or busiest of days I can always get a little movement in that way.
I got my long run in last Sunday – a good thing because Sunday afternoon involved a decent amount of snow once again. I would have loved to get in an easy recovery run on Monday morning, but, it's hard to reconcile going out for a run in the snow when the driveway hasn't yet been shoveled.  I can rationalize doing yoga in the living room under those conditions though.  Adam seems to like shoveling so it's a win win.
Let's get down to business and see how the rest of the week went.  Hope you don't mind the yoga-selfie photo dump that's about to take place!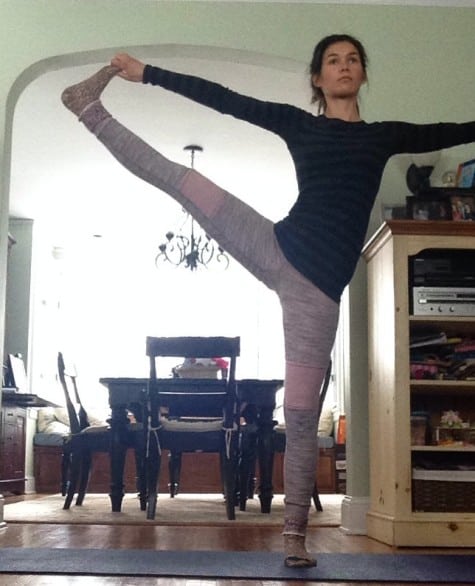 Monday – Home yoga practice – Power and Precision on the Do Yoga With Me site.  This is a challenge for me but I'm feeling and seeing the progress I've made over the two months or so I've been doing it.  I think the first time I did it I wasn't getting into half of the poses, now I feel like I can almost complete it as is.   Not one I'd do the same day as a run, but a full body workout that leaves me feeling stronger.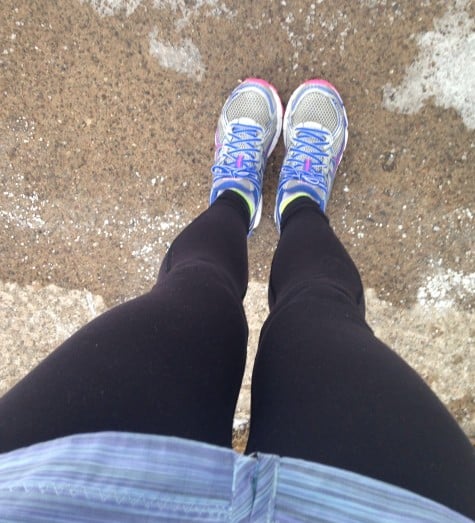 Tuesday – This was the only day up until Friday that I could get a decent outdoor run in, so I tried to take advantage.  Ran 7 miles with a big hill over the first 2.
Later on I did this quick hamstring focused practice.  I added a few hip openers in after this as well.  I've gotten so used to the feeling of yoga post-run that I'm not sure how I lived without it for so long!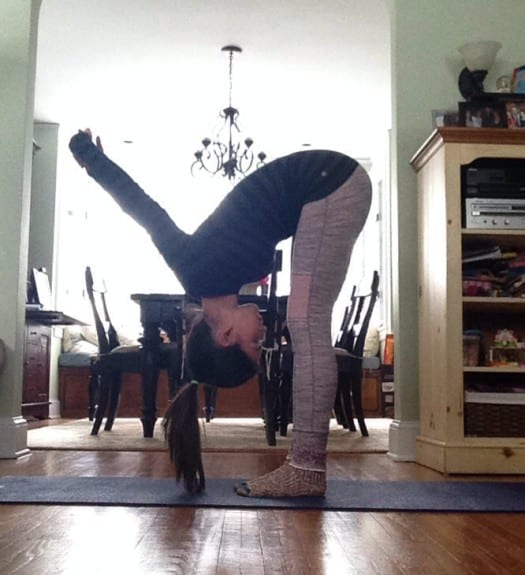 Wednesday – More snow, ice, and slush and even more in the forecast.  It wasn't at all safe to run outside so I drove to the gym for a treadmill run.  Nothing feels easy on the treadmill to me, but I stuck to an "easy" pace of 8:54 average for 6 miles.  I had plans to do 5, but had a bit of extra time and figured I wouldn't be running the next day, so, might as well. It's always the last mile that's the least painful anyway, it's completely mental for me.
I also did this Strong Vinyasa Flow which is 45 minutes long and every minute is pretty intense.  The instructor is detailed and there are a few advanced poses, including forearm stand and a couple of arm balances, but it is easily modified for those not up to that.  I've been doing this one since the beginning and highly recommend it, especially if you're short on time and want something intense.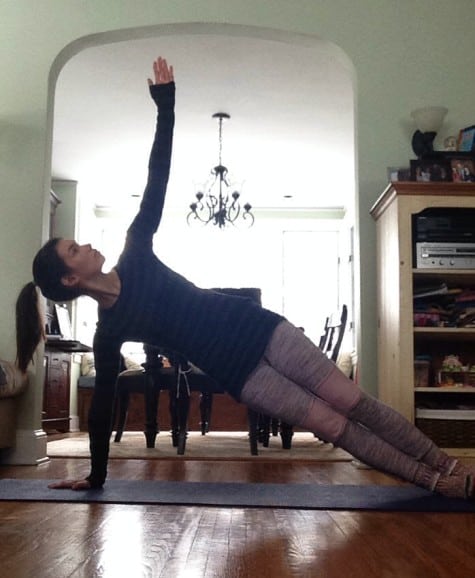 Thursday – Snow, again.  More than expected!  I briefly considered going out in the snow, but, remembered how much I hate the feeling of snow blowing in my eyes on a run, and it was coming down hard from the time I woke up.  School was also cancelled so I figured getting in my yoga early would be a good idea.
I wound up not running and did Connections to Core, a nearly hour long vinyasa class focused on core strength.  It's actually pretty similar to the Strong flow from Wednesday, although I'd forgotten that and only noticed since I did them back to back.
I also shoveled snow for about 45 minutes and it was quite the workout.  Since the snow piles are so high already, carrying and throwing the snow on top was quite the challenge.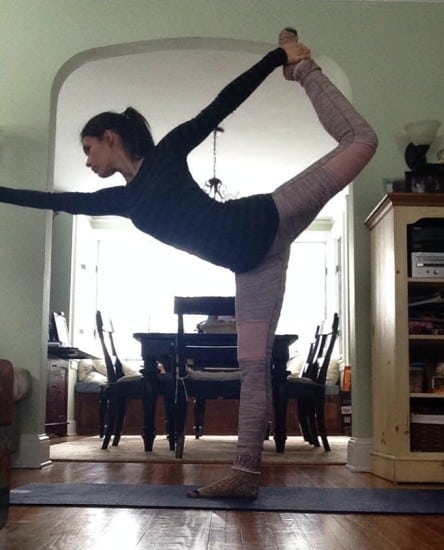 Friday – Adam left really early in the morning and will be gone through Monday, so the next few days will involve later runs.  Not my favorite, but I'll live.  Quite the bummer though that even with later running it was still just 10 degrees!
Early morning yoga – Renewing Power in Flow – Twists  – I haven't done this for about two months but it's the first class I did with Fiji McAlpine and I really love her style, precision, and instruction.  It's actually tougher than I remember because the poses are held for a while.  Her voice is also really soothing in a non-annoying way.  Yes, I'm very sensitive to these things 🙂
After dropping Drew off at school, I had planned to run 5 miles, but wasn't prepared for a) how freezing my feet would be and b) how bad the roads still were.  I wound up running about 4.2 miles and it took me 40 minutes since the ground was a mess and the roads were narrowed.  With two sock layers my feet were still numb for over half of the run.  It was either that or nothing though, since I wasn't about to revisit the treadmill.
Saturday – Planning to run 10 miles while my awesome babysitter (and neighbor) hangs with the kids.  This is one of those double wins because the kids absolutely love her (she is WAY more fun than mom, of course) and mommy gets to run in the freezing cold, which mommy LOVES to do.  It is quite the mood booster in the middle of a long weekend of solo parenting.
Sunday – Planning for about 45 minutes of yoga early, and then go for a 5 mile easy run later on, once again with the help of my babysitter.  This will bring me up to 5 days of running for the week, assuming no surprises pop up, and I can use Monday to rest/get errands done/blog while the kids are in school.
So that's my week/plan.   Are we all hoping that was the last real week of winter?  It's so boring and annoying to talk about at this point but the snow just keeps coming back.   In just two weeks I'll be running a 10k  – it's amazing how these races sneak up when I'm not training for them!  I'll be running it as a fun little speed workout, and maybe it will help me welcome spring running with a little extra bump of motivation.
Did the weather impact your workouts this week?
Do you have races lined up?