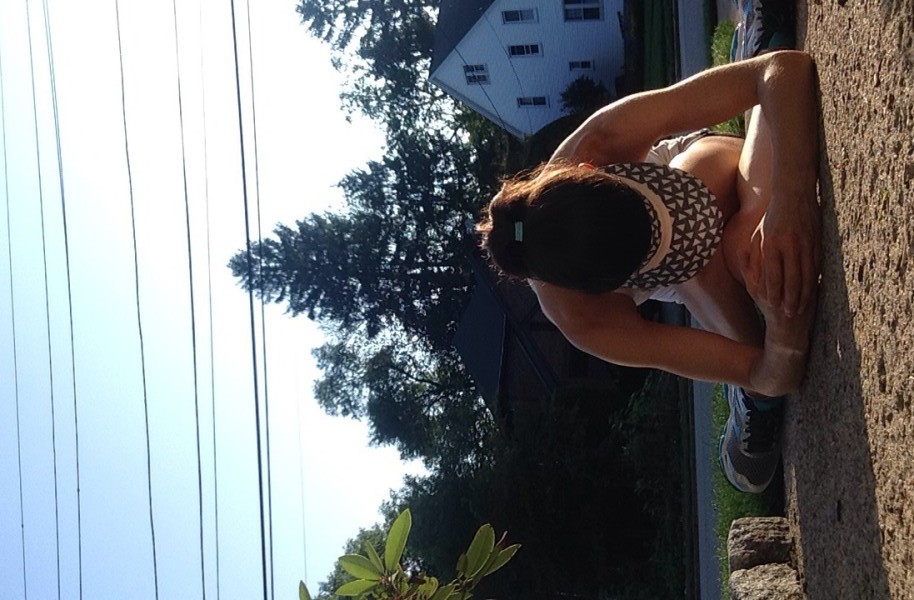 You guys remember my cold, right? Well although it started off pretty mild, mid week it morphed into a mean case of laryngitis which my kids have been taking advantage of since Wednesday.
It is SO frustrating not to be able to scream over my kids. That might sound harsh or like I'm a mean mom, but in my house this is necessary for literal survival, well, fine maybe just for basic safety.  A good old fashioned "stop it right now or I'm throwing everyone's toys away!" has probably avoided at least one ER visit I would think.  Also, nobody knows what's going on – like when it's supposed to be dinner time, bath time, or clean up time when no one can hear mommy.
Lemon water with turmeric, freshly brewed ginger tea, even apple cider vinegar shots with doggone cayenne pepper are no match for the NEED to be heard in my house, and the straining I've been doing to make it happen.   And so, this laryngitis will probably stick around for a few more days, at least until I can get a few good stretches of zero talking in.
But enough about my sad vocal chords, let's move on to running and yoga plus a weekend recap.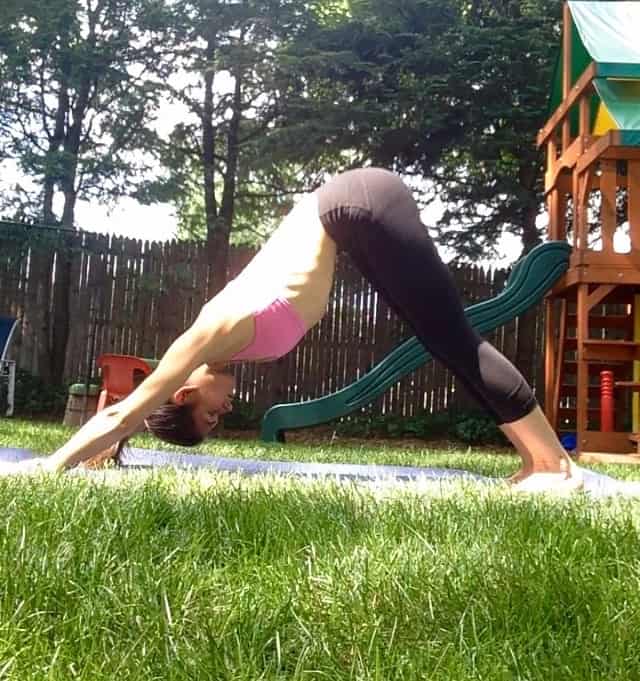 Monday – 6 miles easy pace, later on yoga for strength in the backyard, with my girls. They lasted through one sun salutation I think before deciding to run circles around the backyard.
Tuesday – started feeling a sore throat/congestion today so cut my planned workout down by a little.  1.4 mile warmup and cool down (to and from the track) and 4 x 800 with 400 recoveries. It wound up being a total of 6 miles.
Later on I did 30 minutes of yoga with Lesley Fightmaster.
Wednesday – Rest day from running so fit my yoga in during the early morning. 45 minute  vinyasa flow with Tim Senesi.
Thursday – 5 miles easy pace , post run stretching but no yoga. I had planned for 30 minutes but wound up feeling so congested that going upside down, even for downward dog, did not seem appealing at all!
Friday – First day of the long weekend.  6 miles on a hilly route, post run stretch, no yoga.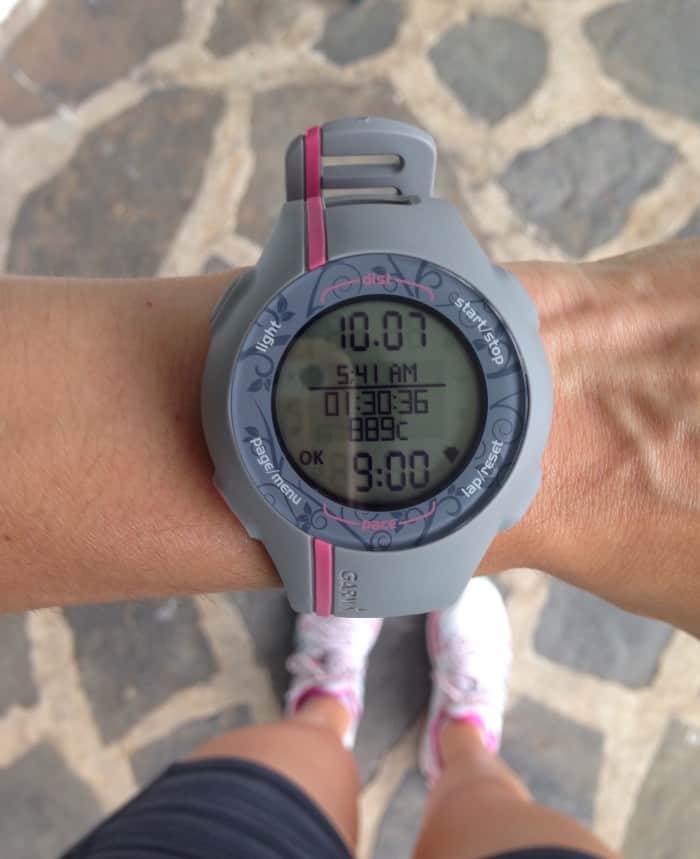 Saturday – Felt better (except for laryngitis!) which didn't affect my running (it was good not to talk for a little bit.) Got in 10 miles followed by 30 minutes of gentle flow yoga with Leslie Fightmaster. Then it was off to my parents' house for the 4th!
Sunday – Originally planned a rest day but switched it to Monday, since Adam needed to leave for work by 6:30 this morning.  Ran 5.75 miles on a pretty hilly route, not one of my regular routes and it was a welcomed change from rotating the same routes over and over. Sunday runs during the summer are fun to use for exploring since it's light out and there's no traffic at all.
I followed my run with 30 minutes of "my favorite flow" with Lesley Fightmaster.  Afterwards I quickly got ready for brunch and a movie in the city with Adam's mom and the kids.
Since I only wound up taking one rest day instead of the two originally planned, my mileage totaled almost 39, but I plan on making up for that this coming week.  And then, BAM!  I'll be starting my NYC marathon training one week from today.  Rest up while I still can!
Our long weekend was really fun and pretty busy.  I didn't take a ton of pictures (big oops on that) but we all still really continued living and breathing through these three days.
Friday we did some "family errands" like REI and Shoprite.  That was most certainly not the highlight of my day although I did find two great North Face Jackets for my girls on major discount.  Sales make me happy!!  Crowded grocery stores, not so much, but I also needed to pick up ingredients for potato salad: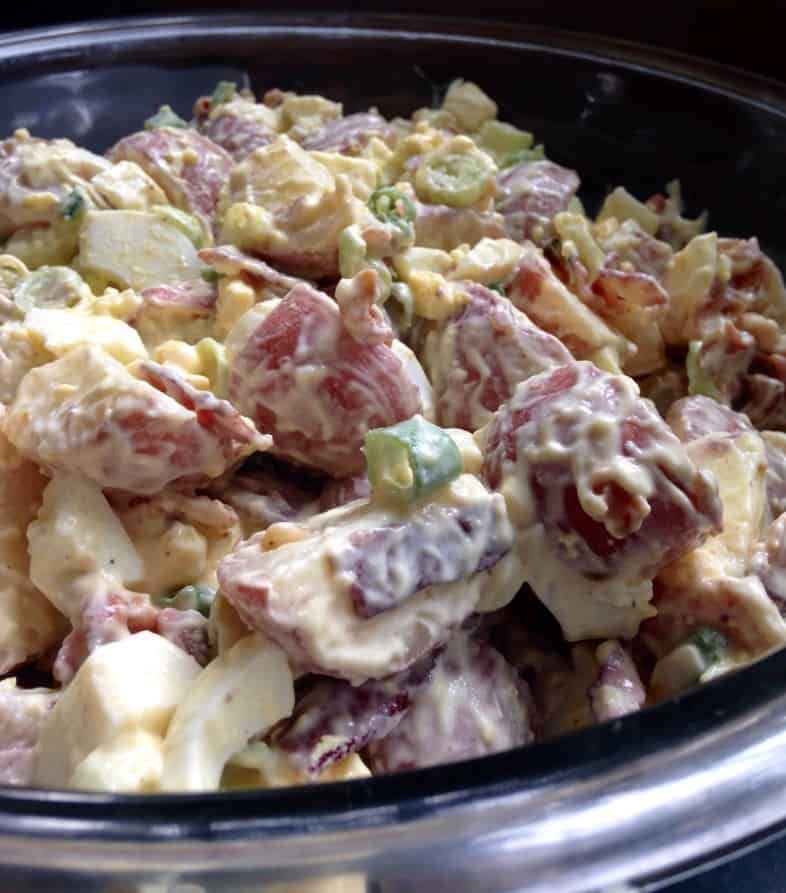 And, this not-paleo-but-could-be peanut butter dark chocolate layered fudge: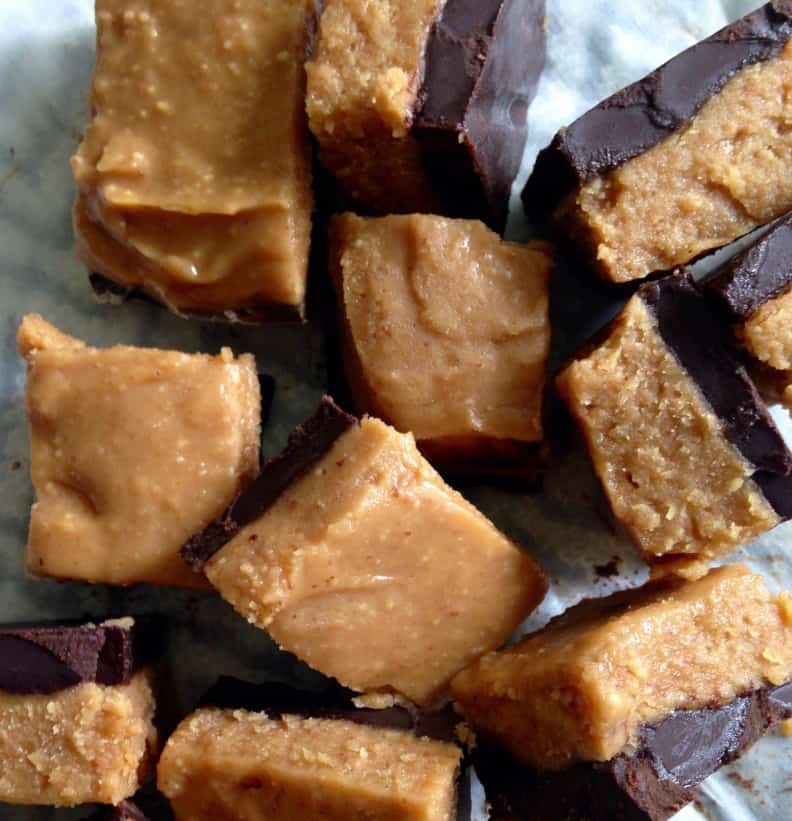 The potato salad was nearly identical to my sweet potato salad recipe except I subbed small red skinned potatoes and boiled instead of roasted them.  The fudge was inspired by an old jar of peanut butter I hadn't even cracked open that was just asking to be made into fudge.  I was definitely inspired by the fudge we had in Seattle, and, I will develop a paleo version of this because it's way too yummy!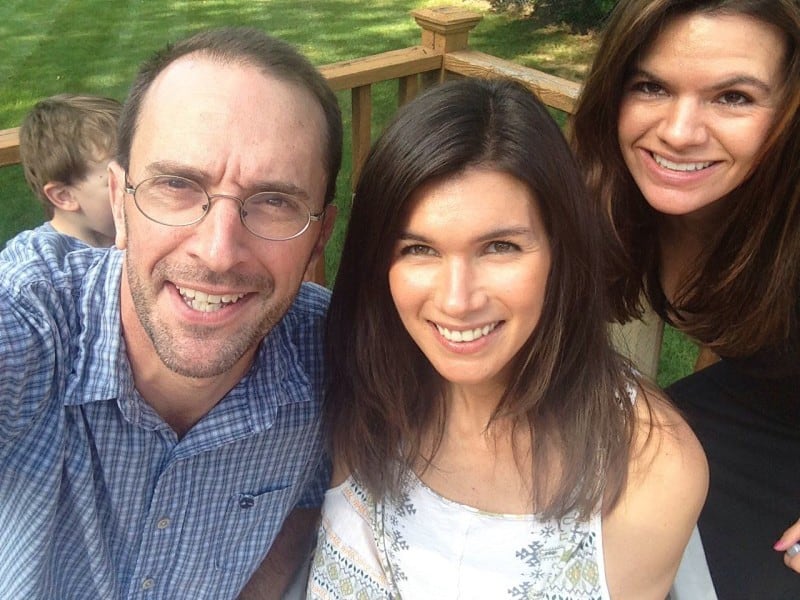 Saturday we went to my parents house for a barbecue.  There's my sister creeping into our selfie at the last second.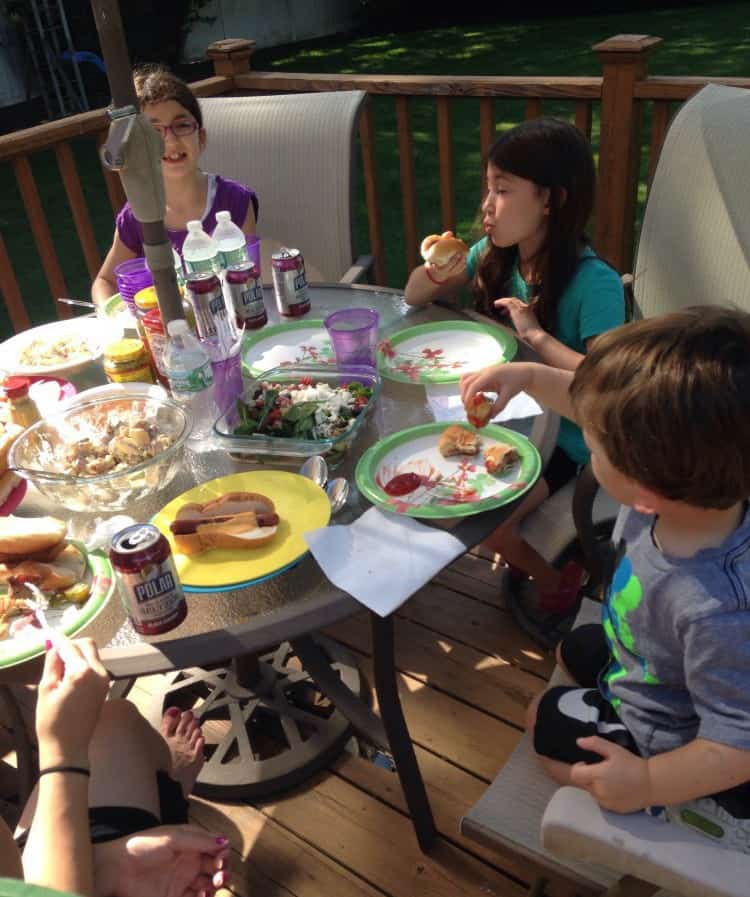 Some people in my family enjoy buns with their burgers and hot dogs!  The horror!  Totally kidding, buns are legal on the 4th of July.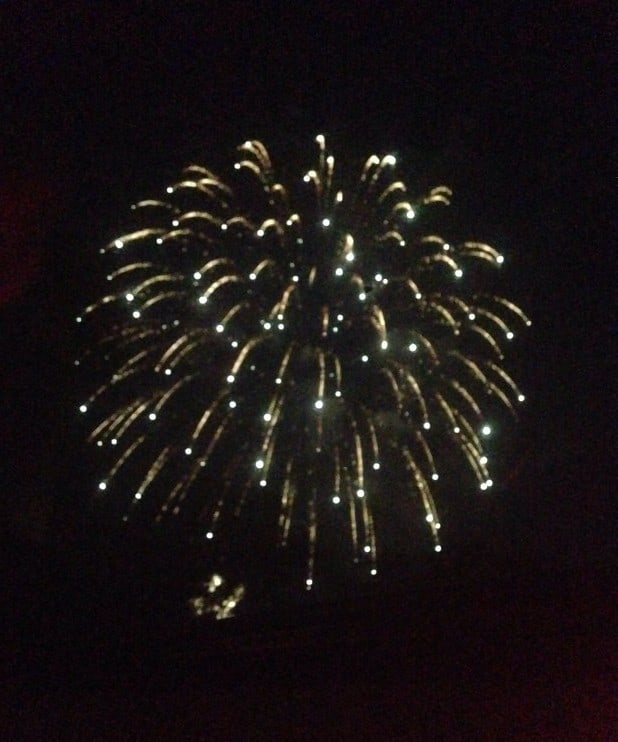 On the way home we saw some very cool fireworks all over Long Island and the city and even stopped to watch for a while even though it was way passed everyone's bedtime.  Diana took tons of pictures and this was the best one.
On Sunday we went into the city to hang with Adam's mom and see the movie "Inside Out", which is now my favorite Disney movie, ever.  Seriously, it's for grown ups, go see it!  I also had this really large and tasty omelette that is not photogenic at all but I will show you anyway: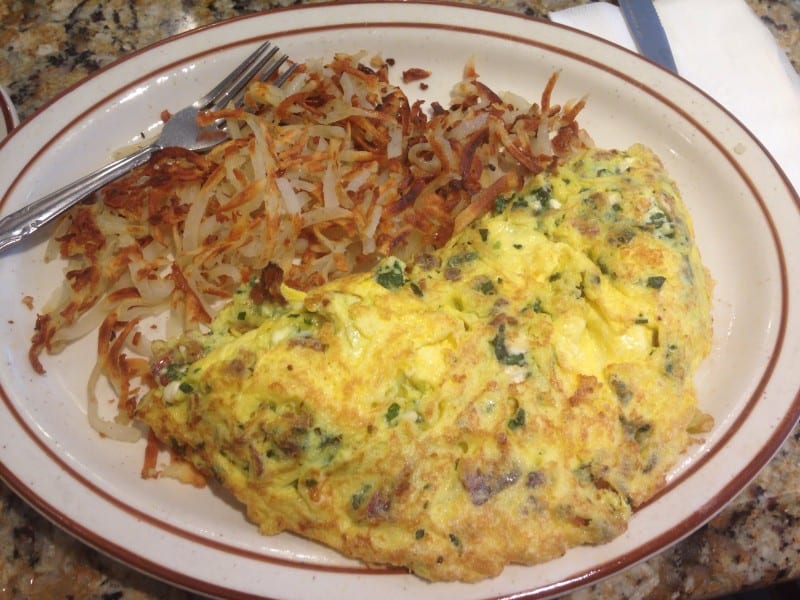 Three eggs with bacon, spinach, and feta plus hash browns = the best diner meal I've had in a long time.  That might be because I haven't been to a diner in a while, but it might also just have been plain awesome.
Well, my kombucha is finished and it's time for me to brew up more ginger tea and fight to get my voice back.  I've noticed I'm susceptible to ailments that don't respond to force or ambition.  "Rest" for me – even if it just means my voice –  is tough stuff.
What were your workouts like this past week?
Are you prone to laryngitis after a cold?  Any remedies?
Favorite diner food?
What was your favorite part of the weekend?