Yeah, I just said that I'm actually looking forward to my race on Sunday.  Sort of.  I think the only reason I really want to race now is because of the possibility of snow cancelling the whole thing or preventing me from getting to the race!  You don't know what you've got 'till it's gone right?
I guess maybe I'll learn my lesson now about signing up for half marathons in NY at the end of January.  We'll see how the weather goes, it looks right now as though most of the snow will fall between Friday night and Saturday evening.   Hopefully that means it will be cleaned up enough so I can have the privilege of freezing my feet off at 7:30am Sunday morning before running 13 miles in the snow.   I like to follow through on plans, you know, that sort of thing.
Let's look at what I did this week.
It's still been hard to get up in the morning.  Wah.  5:15 just seems to want to crush my spirit.  I'm sleeping better than I ever have, but I'm also feeling like I need more sleep than I have in the past.  I think adding yoga into my routine 6 days a week is having some impact on my need for rest.  Or maybe it's just the dark and cold making me want to be in bed more.  Or, maybe it's even the fact that after years of forced sleep deprivation, I'm actually not being prevented from sleeping by anyone really.   Now that I wrote that I feel a little stupid for not taking better advantage of this perhaps.   Moving on!
Sunday was a rest day from running (good thing since we had an ice storm) but I did an hour of yoga at home in the morning.  I'll start will Monday:
Monday – 6 slippery-ish miles at probably a 9:30 ish pace.  I haven't been timing myself still but this was a pretty slow one.  At around 11am I did 45 minutes of yoga.  This class was described to be intermediate level and a good basic vinyasa flow.  I followed with some foam roller love.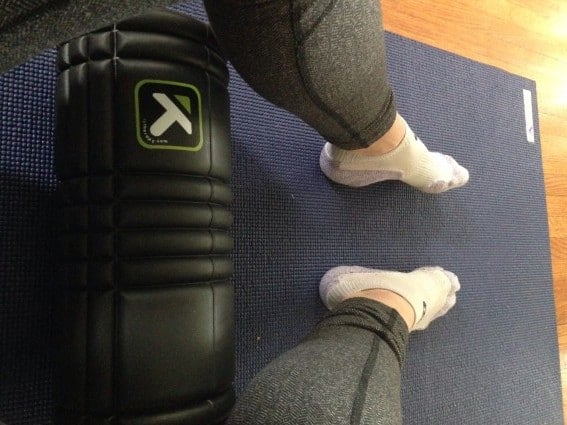 Tuesday – 6 miles on a hilly route at a typical easy pace.   Later I did a 45 minute hip opener video – this is a great one for me after running hills especially.
Wednesday – 5 miles easy pace in the early morning, later on 50 minutes of yoga with a back bending focus.  This video is described advanced but there are plenty of modifications for the advanced poses.  Working on my back flexibility has been challenging but I'm definitely seeing improvements which is awesome.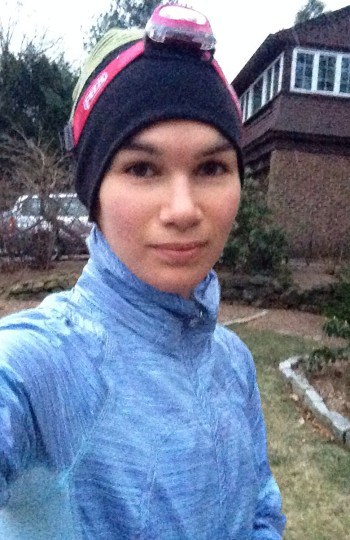 Thursday – 7.5 miles easy pace, hill at the end.  I had planned for 7 easy miles but decided toward the end to add a half mile hill into the route.  I wasn't feeling this run in the beginning, but, probably since I was running so slowly I started feeling more energetic toward the end.  Overall it was a great run, nothing fast but I feel good adding hills in.
Later I did 40 minutes of yoga with a hip opening focus.  I don't particularly love this teacher or class, but the stretches in it were what I was looking for.  There are a few advanced poses but nothing you can't modify.  I probably won't do this again though since I've found better online classes with hip openers.
Friday – 5 miles easy pace – legs felt heavy today!  I tend to feel that way if I run 5 days in a row, it seems that after 4-5 days of running I just want to rest.
Later I did a really challenging hour-long yoga video – Power and Precision – which I modified to my level but still pushed out of my comfort zone.  There's a lot to work up to in this class, and I felt great afterwards.   Not something I could do every day but perhaps once per week might be a goal.
Saturday – Rest.  Not planning to do anything except watch the weather and maybe shovel snow?
Sunday – 13.1!  If it doesn't wind up happening I'll try to do a shorter run on my own.  Let's hope it happens though!
Thinking about next week –
Assuming I run my half on Sunday I plan to take it pretty easy with running next week since I'm feeling kind of "eh" about it and looking ahead at the weather it dips down to single digits again.  Maybe a spin class might be in order, or even a treadmill workout.  That would be something different.  Who knows?
Looking even further ahead, after next week I'd like to think about my training plan for my next half on May 3.  It's still a while away and I don't want to "train" for it for more than 10 weeks assuming I'm keeping a base.  I also want to choose and sign up for a 10k possibly in March or early April.
And now I'm off to the rest of my Friday afternoon, most likely stalking the weather and dipping things in that delicious ketchup I made earlier this week.
Before I go, a reminder for you!  It's the last week of my Winter Coaching Special for running, Paleo, and the combined running and Paleo plans.  If you want to work together toward a spring race, or if you're looking for support and guidance with your new Paleo lifestyle, now is the time to contact me to receive your discounts!
How have your runs/workouts been this week?
What were your best and worst running/workout moments of the week?