I'm still in fun weekend/concert mode, so let me take a moment to go back to Monday and retrieve my running and yoga workouts from my brain phone to find out what exactly happened.  I'm going to cram a lot into this post – workouts and weekend happenings – just a warning!
This past week was a cutback week, since I'll be officially beginning marathon training for the NYCM, um, today (I'm writing this Sunday so that was almost a bit of a surprise to remember that!)  By the time you read this, my first 6 mile easy-pace run will be completed.  Exciting stuff, that first day of training 😉
These were my workouts from Mon 7/6 – Sun 7/12
Monday – No running, 45 minute vinyasa flow with Tim Senesi.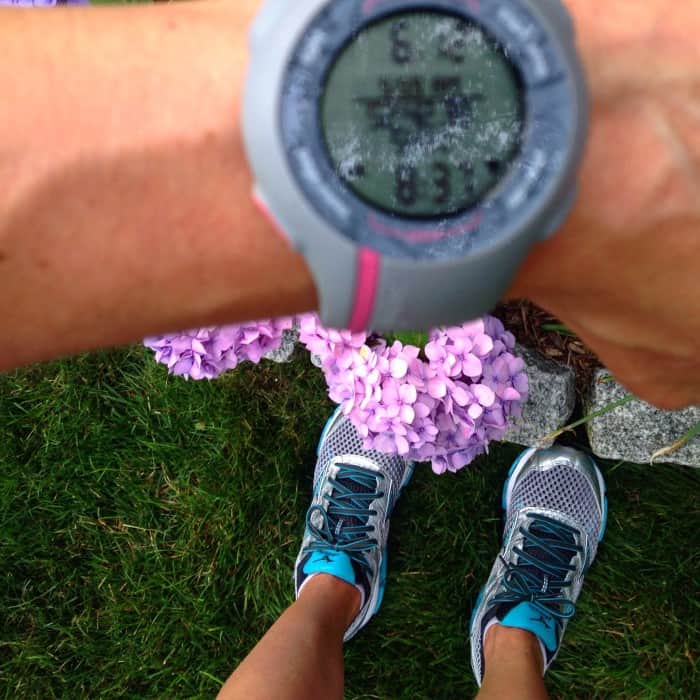 Tuesday – This was the start of the insanely humid weather, and I had hopes of this being a tempo-ish run.  What I wound up with was 6 miles of negative split with an average pace of 8:37, so not a tempo but I did put in a tougher effort that "easy."  It amazes me how much heat and humidity slows me down even though I go through this every single summer.  I don't learn.
At 11:30am I did yoga body workout 2 (27 mins) with Lesley Fightmaster.
Wednesday – Maybe Tuesday's run really was tempo-ish, because all I could manage Wednesday was 6 miles at a 9:30 average pace.  This run involved a few uphills but nothing too major, I was just finding it difficult to muster up pep in my step, you know?
Late morning I did yoga total body workout 3 with Lesley Fightmaster, a 45 minute all levels vinyasa flow.
Thursday – 5.5 miles at an "easy" pace again, which just over 9 min/mile average.   I am definitely feeling the pressure to work on my speed for marathon training!  It's always tough for me to tell in the summer where my fitness really is, and I am going to try to be patient and trust my training.
Late morning I did 20 minutes of yoga on my own, including a few sun salutations plus stretching and inversions.  On days when time is limited this still helps me feel the effects of practice.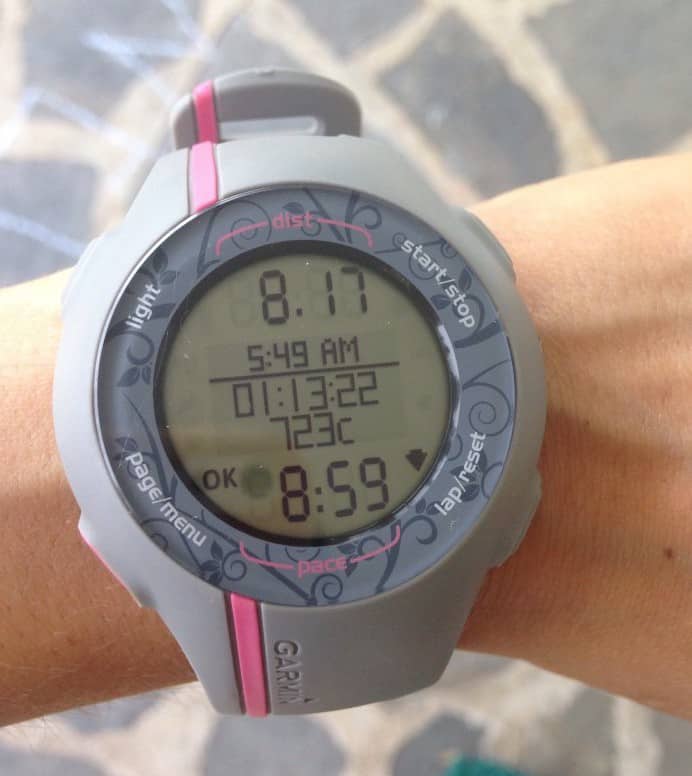 Friday – 8 miles, hills, in the early morning.  This was the kickoff for my jam packed fun (and tiring!) weekend and was my last run for the week.  I had great energy for this run and felt good all the way through, even on the tough uphills.  Running is so darn mental!
Saturday – No physical exercise at all.  This only happens when I drink alcohol and stay up really late the night before.  I'll tell you more about that in a minute.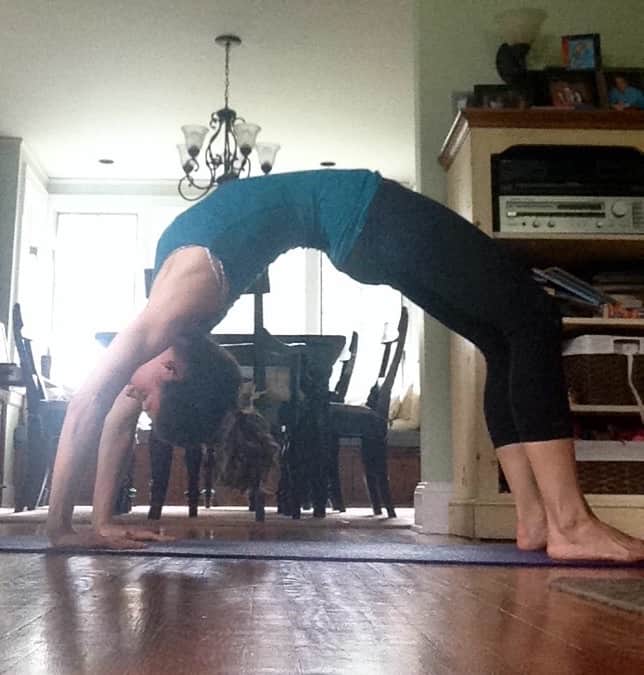 Sunday – I got to sleep until 7:30 after the Taylor Swift concert, more on that soon.  When I woke up I did a 55 minute vinyasa flow with Lesley Fightmaster.  My girls were up about halfway through and I wound up sacrificing savasana to make them challah french toast!
Savasana is important, I know, yet also impossible with two children literally staring over you asking what's for breakfast 😉
Okay, now the fun stuff!
I know I already told you guys that we got amazing last minute tickets to see Taylor Swift on Saturday from a good friend.  Because the plans were last minute, we had to rearrange other plans which made for a really busy weekend for all 5 of us.
Adam and I had planned to spend the weekend at his friend's lake house in CT where all his good friends from college would be visiting at the same time.  Definitely not something he would want to miss!  My parents were all set to babysit Saturday night when we got the concert news.
So, after considering a few options, this is what worked: my parents came over Friday to babysit and Adam and I drove to CT and hung out Friday night into Saturday.  Then, Adam drove home with me Saturday and then back to CT, this time with Drew, to stay into Sunday while I took the girls to the concert.
This wound up working out perfectly, and, as I sit here writing Drew and Adam are on their boys excursion while the girls and I have majorly appreciated chill time after our late night out.
Some highlights from the weekend: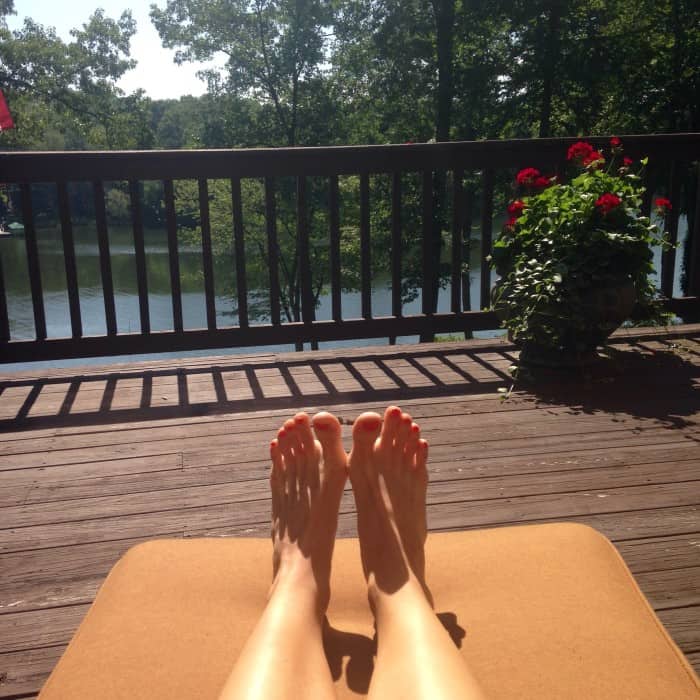 Incredibly gorgeous view from the lake house with my ugly feel ruining it.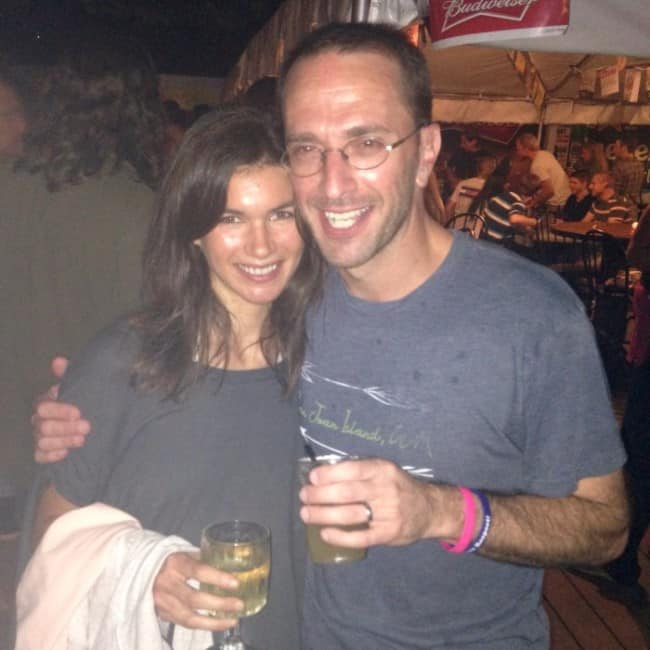 Took the boat to an extremely crowded bar and had weird college flashbacks being surrounded by lots of young people.  Take note that I'm drinking white wine from a granny glass.
To me, they looked 15, not sure how old they actually were!  In fact, between Friday and Saturday night I was around so many kids in the high school/college years that I started really understanding how much time has passed in my life since that period.  I also now understand how those crop tops are worn in real life.  Culture shock, I guess you could call it.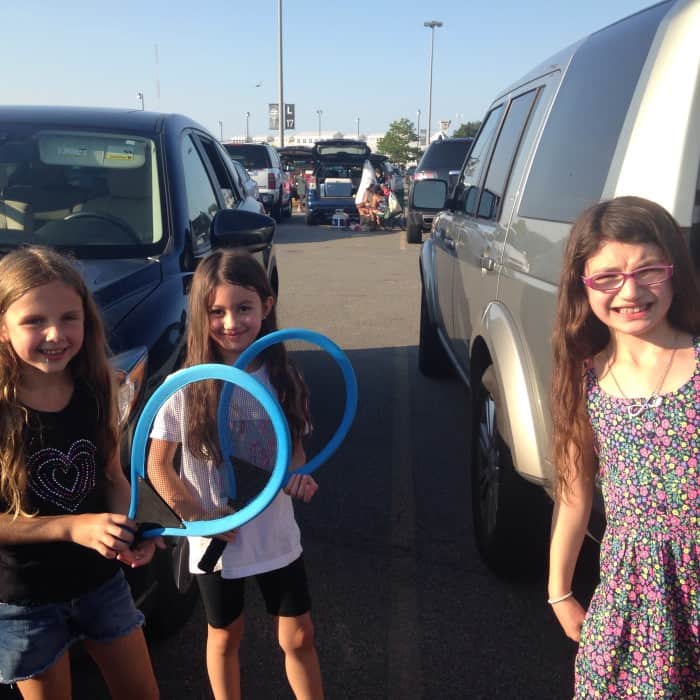 We ate dinner and played while tailgating before the concert!  We also made a few sort of dramatic porto potty trips for the girls.  I was starting to feel that pre-marathon feeling, nerves and all, and I think they were too.  It was super hot and we were all sweating marathon style too.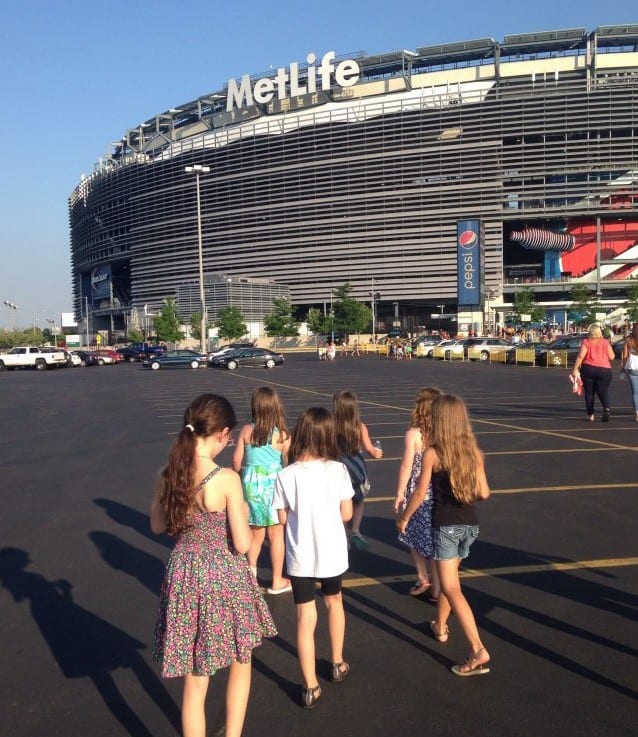 Walking up to the stadium!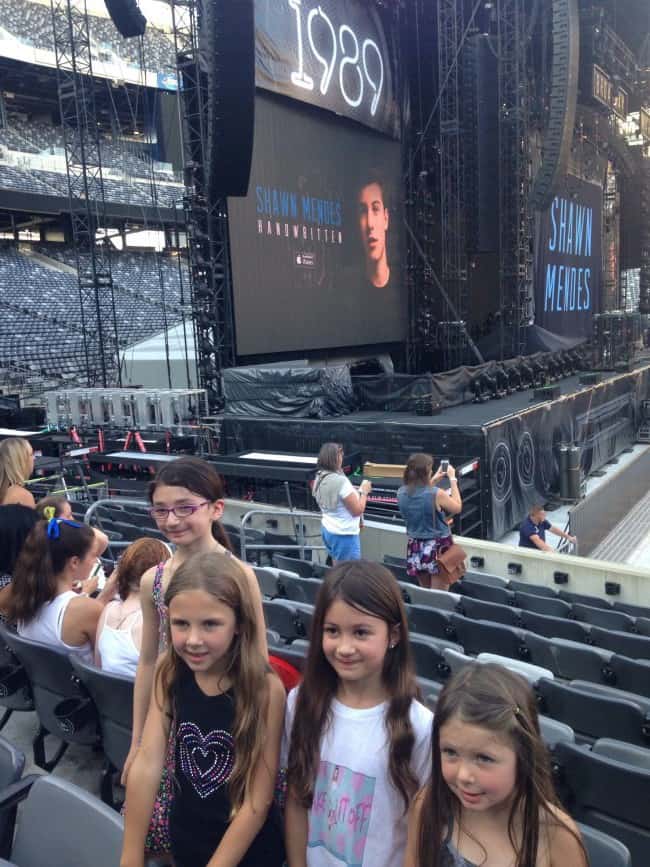 Hello to fabulously sick seats!  I still can't get over how good our seats were.  Just amazing.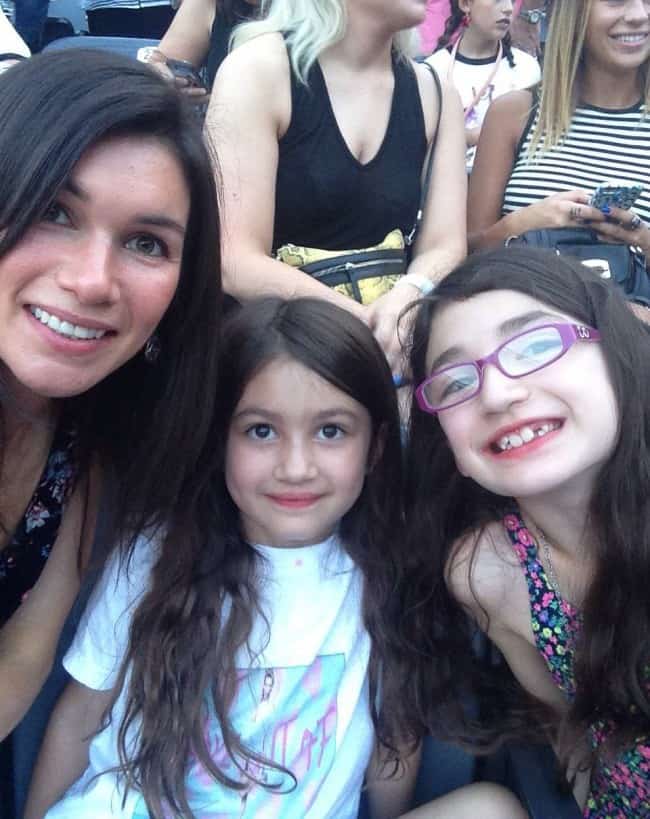 Lots of patient waiting.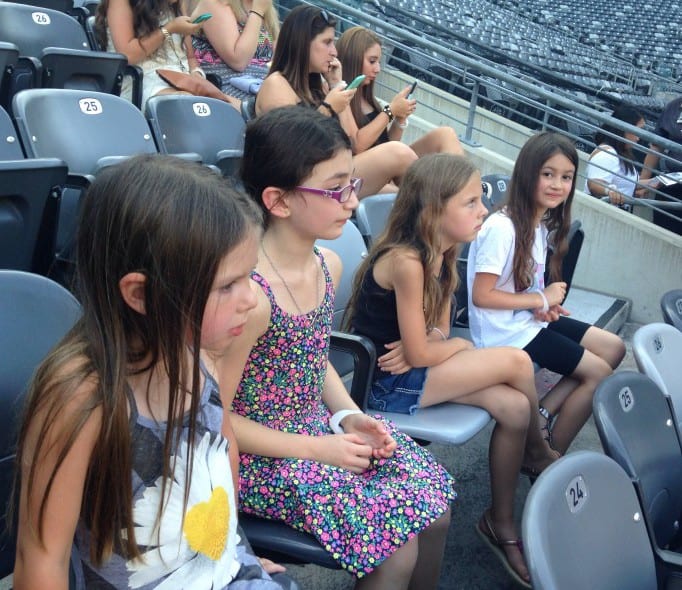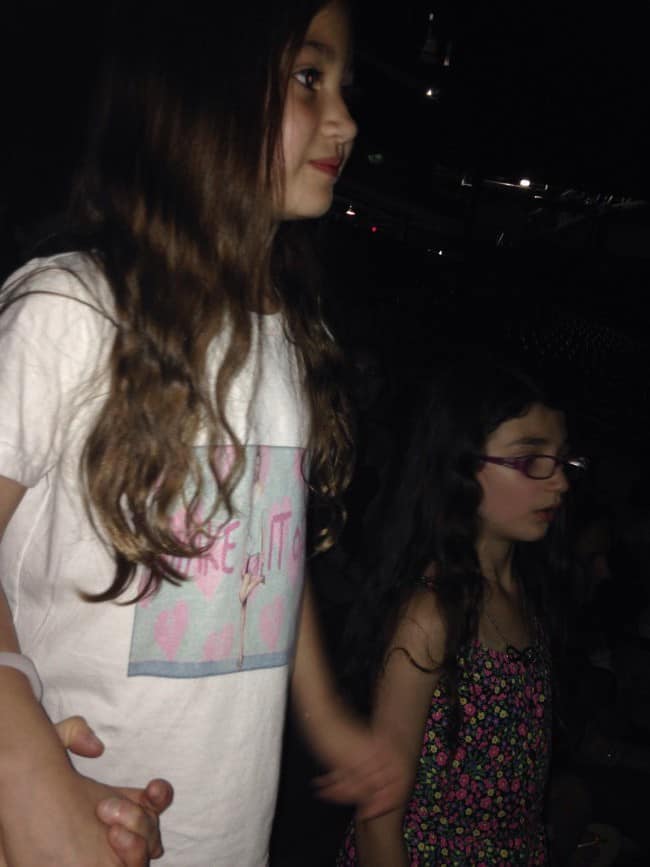 Standing on seats to see Taylor!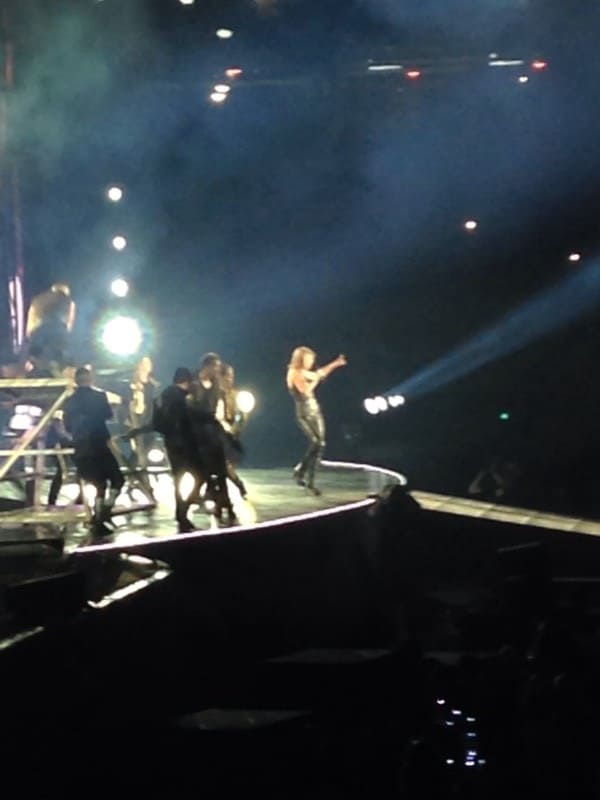 Couldn't believe how close she was!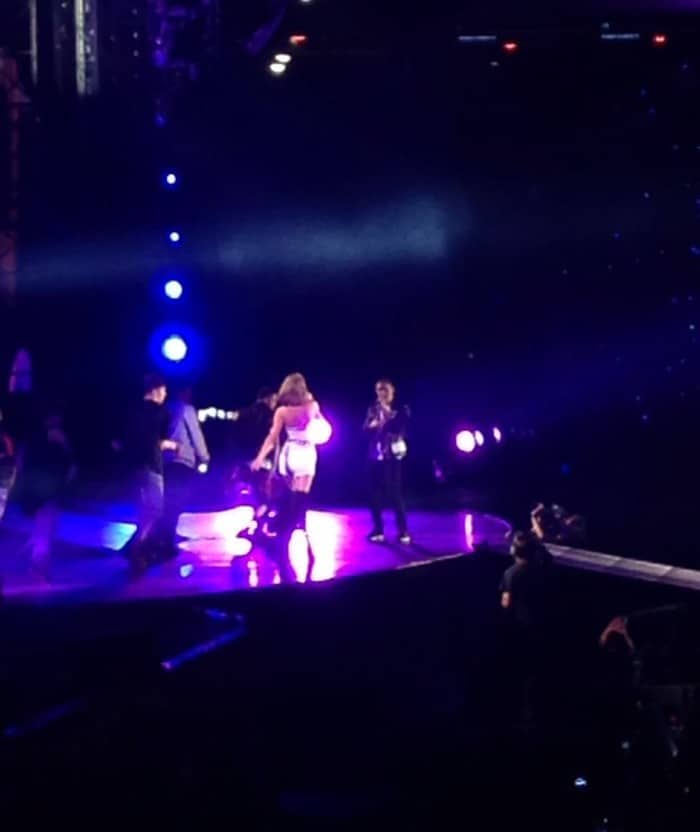 Nick Jonas made a surprise appearance, which admittedly I was a little too excited about.  But, only because Emily randomly really likes him and his song "Jealous" and this pepped her up, big time!  Yes, I'm conflicted over the appropriateness of this too, but, kind of like candy, sometimes it just works.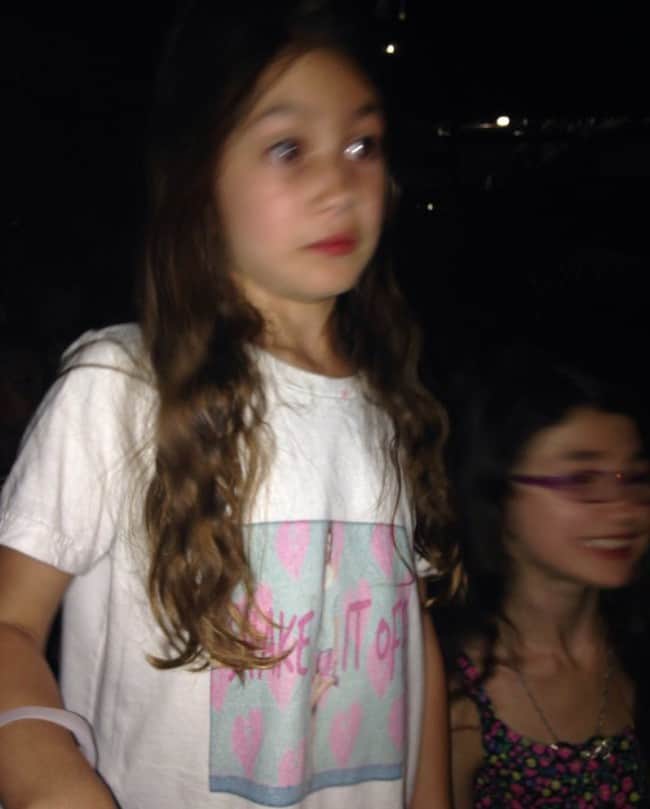 Diana sang every lyric of every song and cheered through the whole show.   We all danced and sang the entire time. Emily loved her glowy bracelet and also sang nearly every lyric.
The show ended just after 11:30 and we were home by 12:30 since we bolted out right at the end of Shake it Off.  No traffic, no crowds, it was the perfect ending to an incredible night!
I know I'm gushing, it was just so awesome.  Of course as my dad pointed out, it's all downhill from here for them in the concert department.  I mean, how can you beat that?
Now it's back to reality, and the beginning of my marathon training!  I'll be posting my "official" training plan later this week, as well as discussing plans and goals.  There's so much excitement around this marathon for me, and a lot swimming around in my head!
Who else is running the NYCM?  Have you started training?
Weekend highlight?