Happy Monday and happy extra short week to all of us!  Is anyone traveling for the holidays yet?  We're not doing anything this week – but we do have a fun little getaway planned with friends for New Years – an encore of our summer trip – tons of kids and lots of good chaos.
After our family holiday celebration this past weekend, the kids are shoulder deep in new toys, I finally got my "Thanksgiving" food hangover (I was too sick on the real Thanksgiving to get the full experience, and made up for it Saturday) and I'm getting motivated to set some goals for the new year.  I haven't actually SET any yet, but the wheels are turning and I'm getting ideas.
Let's rewind though for now, back to last Monday to recap my running and yoga.  Then I'll throw in some weekend scenes, so it can be like you're right here in my house with me, eating my food and listening to my kids sing to their new karaoke machine hour after echoing hour.
Running and Yoga This Week

Monday: 5 miles easy (9:03 pace) and 35 minute Yoga Stretch with Lesley Fightmaster.  This was a new video uploaded the same day I did it, and it was SO perfect for what I needed that day!  I felt loose and relaxed all over afterwards, as if I'd gotten a massage.  Well, I've actually never gotten a real massage, but, it's what I imagine I'd feel like!
Tuesday: 5 miles easy (9:19 pace) and Yoga to Strengthen Core, 30 minutes.  I've been trying to get in 3 days where I focus on core and I'm just about there.  I tend to prefer the stretch classes, and I sort of wish I had time for ALL of it 3-4 days per week, but, one or the other is how it'll be for now.
Wednesday: 5 miles easy (didn't time) and Yoga Quickie Hip Stretch – 15 minutes.  Almost skipped yoga entirely but was glad to get this quick hip stretch in!  Drew was off school for parent conferences and the day was all off schedule.
Thursday: No running, 30 minutes Vinyasa Flow with Core Workout  first thing in the morning.  I have to say I love when I can practice yoga first thing – this of course has to happen on the days I don't run first thing, darn.
Friday: Originally I'd planned for 5 miles – but woke up at 6:10 – which is insane for me!  I jumped out of bed, into my running clothes and squeezed in 4 miles before I had to be back home.  Didn't time it, probably a 9ish pace though. No yoga.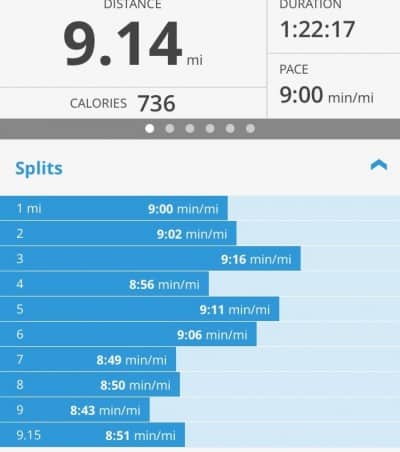 Saturday:  Had a relaxing long run (9 miles) and was happy to have it feel like winter! Though I don't love the feeling of cold wind hitting my face when I step out the door, about a mile in I couldn't be happier.
I started listening to a new podcast this weekend and since the episodes are short, I listened to maybe 4 of them on my run and felt refreshed afterwards and ready to take on the world.  Or, at least the next 10 hours of cooking and baking that were ahead of me at that point.  A fresh and motivated outlook is always necessary when taking on latkes, in my opinion.
Sunday: Since I had to take Diana to a doctors appointment in the city (for her spine) early this morning, I decided to get 4 easy miles in on Sunday and rest Monday.  I also did 35 minutes Yoga Body Workout with Lesley Fightmaster.
Summary – 32 easy miles, 4 days 30 minutes yoga, plus a quickie 15 minute.  Goals for this week include 5 days of running, 4 days yoga, and a 10 mile long run.  No speed work yet – honestly just not in the mood!
Now for the weekend highlights!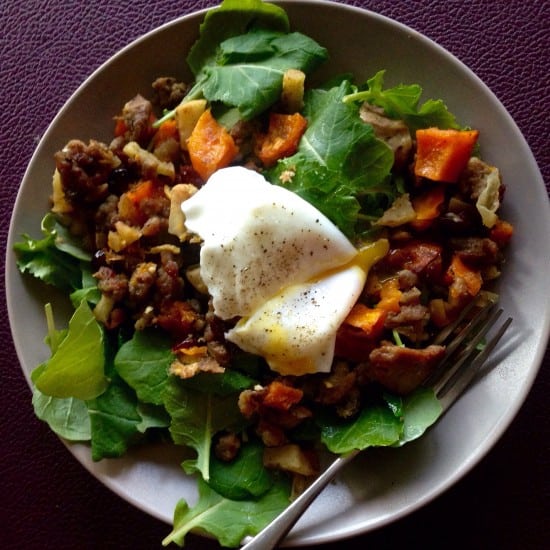 I've been a little obsessed with poached eggs – just had to show you.  I think poached might be replacing fried for now 🙂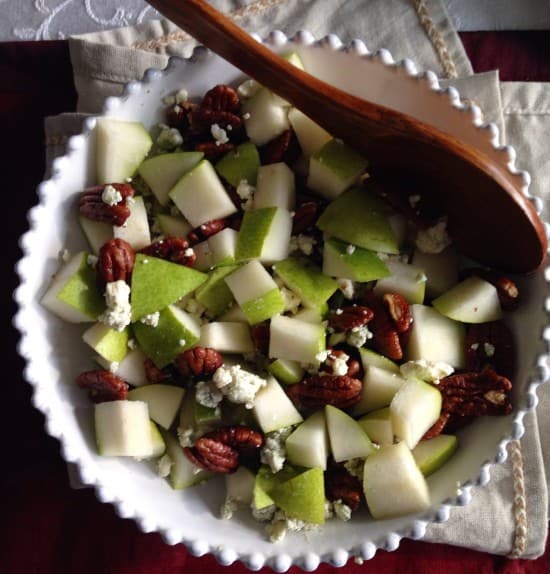 I made Megan's Winter Pear Salad with pears, blue cheese and roasted candied pecans before the big dinner event and it was so easy and so delicious, that I'll likely be making it a couple of times per week for a while!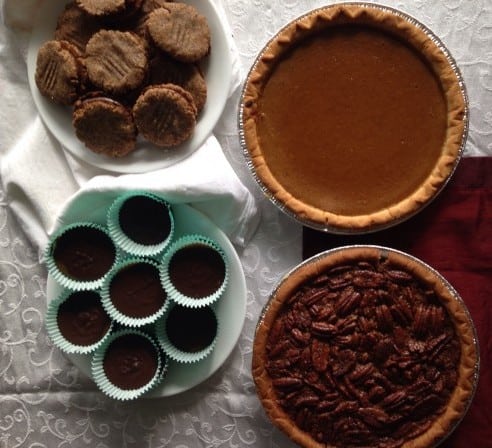 A few desserts – Chocolate caramel cups (not a recipe, but so good I'll have to figure out what the heck I did!), chocolate almond butter sandwich cookies, my pumpkin pie filling in a gluten free crust, and a gluten free pecan pie too.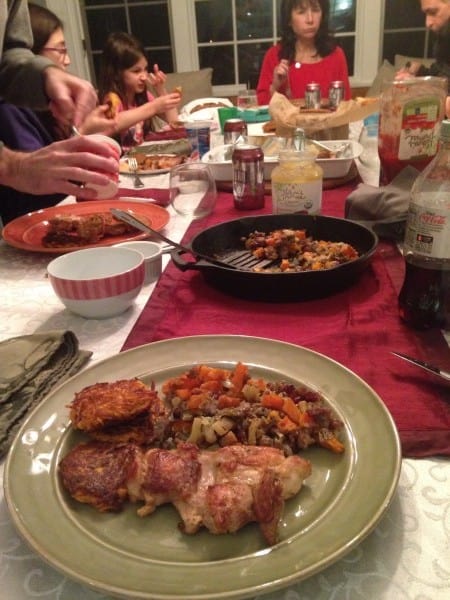 I will literally NEVER get a decent picture of a holiday table – I'm always way too rushed – nor will I ever have the proper serving utensils set up.  A spatula gets the food on the plate though, so oh well.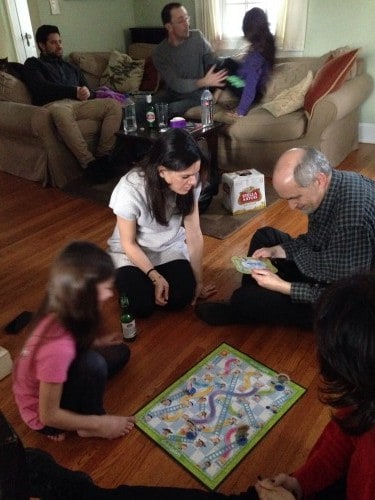 Shoots and ladders, old Star Wars movies (glad I was cooking!) and beer.  Never said we were classy 🙂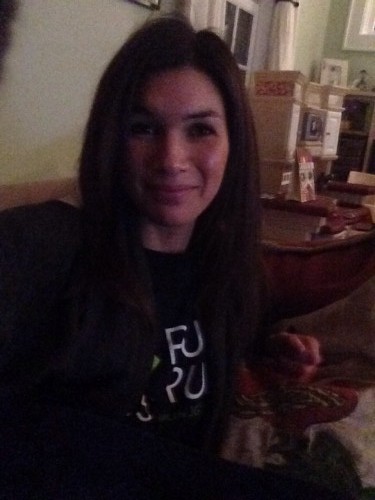 Relaxing after the kids were finally asleep…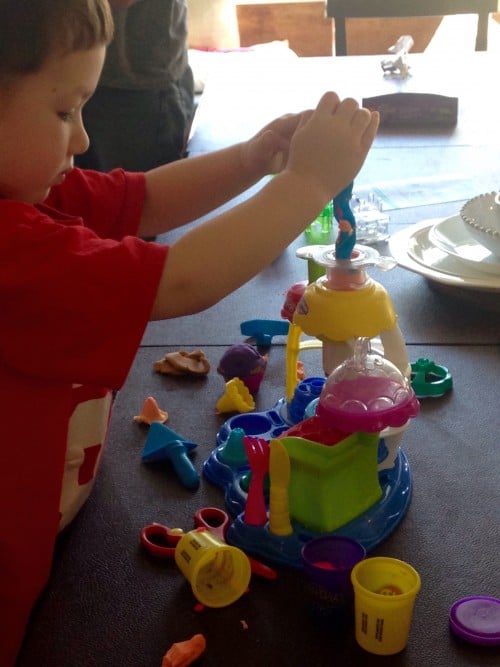 And Sunday morning (okay all day) was all about new toys – play doh and legos (currently still covering the floor) and then the favorite ->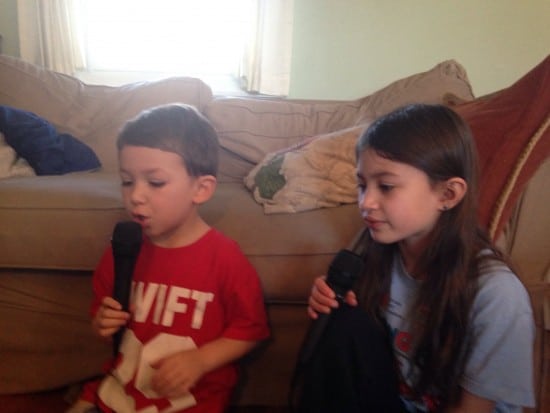 Karaoke – also still going strong.
Kicking myself for not getting a good picture of all the latkes I made – it never happens. Being that I only spent almost 2 hours making that many latkes, I want a decent picture!  Goal for next year, since it takes that long to forget how tough it is to make them.
Are you gearing up for Christmas? 
Do you have a holiday recipe/dish that takes forever to make?  
How were your workouts this past week?