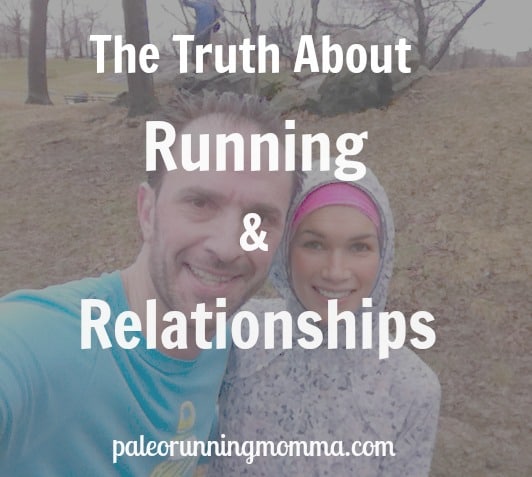 I've been meaning to write this post for two months now.  Why the delay?  I realized that it never felt like the right time, because truthfully I don't have the right answers or words to fully do this post justice.  Relationships grow and change as we change and with time and life, and it's not easy to pinpoint the exact cause – if there even is one – for how we experience our relationships over the years.
So, because I have a lot of thoughts but not necessarily answers, I've decided to take a new approach, remove the pressure, and write this post in Thinking Out Loud style.

Running and Relationships: Where It Began
Adam was a runner before I was.  Granted, he's 12 years older than me, so, he was a lot of things before I was.  But, he inspired me to run back when I was a workout video junkie and hadn't run more than a few laps around a track.
In the early months and years of our relationship I looked up to him, and wanted to do everything that he did, including someday run marathons.
We had kids really early in our relationship (Diana was a year old when we got married) and during those early years I wasn't prioritizing my needs at all.  I held onto resentments toward him for a long time, feeling like he should have helped out more, "allowed" me to take care of myself, etc., but I now realize MY part in it fully.
I don't blame myself, but I recognize that I simply did not understand how to prioritize myself, and I also believed that sacrificing everything would make me a better mom and better person in some way.  I ran with my double jogging stroller until Drew was a year old (about 4 years ago), at which point, I started rebelling in a big way.
And by "rebelling", I mean I started running away from everything.
I didn't do this consciously at all – from my point of view I was trying to do something good for myself – physically separate from the stress of the house where I was needed 24/7 – and quite literally, just breathe.
During that time, although I think it was healthy to realize I needed to pull back and focus on me, I took it too far and ran away from everything –  Adam, my kids, tough emotions – everything that had been pulling me down for years.
When you fall in love with running, (or become addicted to it, depending on how you view it) other things in your life seem to fade in importance.  For me, initially I think this had the effect of helping my relationships with Adam and my kids in these ways:
I was happier since I had something I loved that was taking up a lot of my mental energy, and I was able to "stay strong" in the face of stressful situations since my approach to running spread into the rest of my life.  I had my runs to give me a sense of perspective (perhaps false, but it felt good.)
I felt like I was shifting the power dynamic between Adam and I, even though not much had actually changed.  The focus was no longer on him, and at first this seemed to improve our marriage.
Resentments about being home constantly with my kids were replaced by a new feeling of guilt when I left them.  I became obsessive about getting out of the house before anyone woke up, no matter what day of the week it was, afraid someone would tell me I "couldn't" go.  This was the first sense I had that all along the lack of self care had really been my own issue, and mine alone.  Still, less resentment helped me appreciate all I had more.
Running and Relationships: A Wrong Turn
I've written about my experience with running addiction and anxiety before, so I'll fast forward to talk about my experience over the past year, a time when I noticed two things:
1.) My heart pulling away from running and
2.) The negative impact on my relationships with Adam and my kids.
At some point after the Philadelphia Marathon, I realized I had no desire to run away from anything anymore.  Not just that, but the things I ran from 3 years ago (marriage tension and conflict, Diana and Emily's health) just didn't exist anymore.  Yet I still expected myself to run the way I did then, with the same approach, passion, obsession.
I continued to push myself even though my heart wasn't in it – I started to see running as something I HAD to do, whether I wanted to or not.
When I started training for the NYCM , I was honestly just exhausted with everything I'd put on my plate – blogging and marathon training along with all the usual responsibilities.  In hindsight, all of it together was a recipe for problems.
I started to feel resentful again – it seems the feeling of resentment is big fuel for my distance running, which sounds terrible but I think it's important to admit.  I think I was actually resentful of the problems I'd created myself, yet I projected this onto my family because the alternative was scarier, I guess.
Disconnecting from Adam and my kids only fueled my resentment and fueled my running – which is the opposite of the effect it had 3 years prior.
I didn't know what was going on – I really thought Adam and I were going through another bad period and I started to question everything – a lot of this questioning happened while I was literally running!
Running gives me a sense of power and independence that I've come to see as false.  It disconnects me from my relationships when what I need to do is connect and give of myself instead.  With higher mileage marathon training, it's easy to blame the physical exhaustion rather than turn inward and ask yourself why you're doing it to begin with.
Running and Relationships: The Shift
On the actual day of the NYCM, my entire perspective changed.
The relief I felt that I was finally done with my training, combined with the emotional run itself and seeing how happy and supportive everyone in my family was, completely changed how I saw myself, Adam, and my family.
It sounds dramatic, but in the month following the marathon I noticed how different I was.  Resentment vanished, and I realized running had kept me holding onto it – even creating more of it – when I was ready to let it go.
I went from having no interest in or energy for anything other than running and blogging, to feeling like I wanted to give more of myself to my kids and Adam.  I finally understood what Adam meant when he told me over and over again that I acted "cold" towards him, because I felt the difference in myself.  I wanted to be warm, not cold, I wanted to connect, not disconnect.  I didn't need alone time anymore – life had moved on and I needed to move on with it!
I wanted to participate in what I'd been missing for two years – not because I wasn't physically present – but because my running had put a wall up that kept me from being fully present in my life, with my family.
Of course this isn't the entire story, but it's what I'm feeling and thinking about it today, at least.  I'd love to hear all of your thoughts as well!
What role has running played in your relationships?
How are you with prioritizing your needs? 
Have you found a balance between fitness, work, and life?