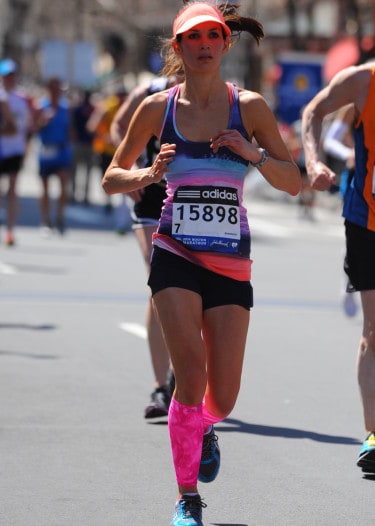 Running is cheaper than NOT therapy.  
To be clear, if I had opened an article and read that line 2 years ago, I would have promptly loaded up my guns. Running was not only my therapy, but it was also my medicine (really my drug) and I would accept no thoughts contrary to the idea that I was led toward enlightenment every time I laced up.
The truth is that running can be a powerful and effective tool to manage anxiety.  It can feel like the magic key that was lost all your life and has finally allowed you to release the walls and find out who you really are behind it all.  And by "all" I mean your fears, judgements, worry, obsessions, overactive brain, persistent negative thoughts.  Any of it and all of it.  It's no wonder that some of us come to rely on that sweet relief running can bring us, and start to NEED it on a daily basis.  The relationship between running and anxiety holds a lot of power in the lives of many runners.
But you see where this can go.  Because the relief we experience can be so powerful, we begin to fear losing it.  For those with tendencies toward anxiety symptoms, this fear can make us obsess over running or "hoard" running (like getting in as many miles as we can before SOMETHING prevents us from running.  Of course then NOTHING stops us and we just keep going.)
We might become very "exact" with our training plan or fixate on changing it completely on a daily or weekly basis. We might run compulsively, unable to stick to a training plan because we just keep adding miles on impulse, or, simply because we "can."  We might be so compulsive that we convince ourselves it's okay, or even HONORABLE, to run through excruciating pain!  I have been there, and I can see it for what it is now.  Admirable or honorable is not at all what it is.
Since I have my own history with anxiety I have seen many ways it plays out with running.  That's why I've decided to write this series in 3 parts.  I am neither here nor there – I do not believe that running should be avoided (it helps so many people cope and experience enjoyment) but I also don't believe it's the answer to mental health issues.  And, it's definitely not a replacement for therapy.  As a former therapist, a person who's been in therapy (twice) and a runner, I think this mentality can be dangerous.  Real (and effective) therapy will force you to face your pain before it's worked through, while running can distract from the "real" pain.
If we aren't self aware, our running can easily become the source of our anxiety and the fear can lead us to further harm ourselves physically and mentally.  I do think we should consider all sides to figure out how we can keep our running on the healthier side of the spectrum.  I do not plan to stop running (ever!) so it's very important to me to take steps to keep it a healthy and happy part of my life.
What it Does for Us and Why We Love it
I'm someone who's experienced many types of anxiety.  Social anxiety, obsessive thoughts and behaviors, and panic attacks in childhood were familiar experiences.  Physical activity ALWAYS seemed to help ease these feelings, and, the more "still" I was, the worse my anxiety became.  There is biology behind this.  I won't go into it because that's not what I'm here to do, but a google search will direct you to the science behind the phenomenon.
Before I started running, I had already been doing cardio exercise about 30-40 minutes 5 days per week for years.  I was already somewhat obsessive about exercise because of how relieving it felt afterwards, but I did not overtrain by anyone's standards.
I started running during a difficult time in my early 20's, after college.  The #1 thing that hooked me on to running is that when I went out by myself and got into that "zone," I immediately remembered what it was like to feel like myself, without a cluttered mind.  It was like a deep cleaning for my brain, and I came back feeling refreshed and 100% more positive every single time.  I felt powerful and mentally strong.
During this period of time, I didn't push my pace or mileage, but made sure I got in my 5-6 days per week, no exceptions.  Yes, this was structured and rigid, but it wasn't harmful.  I felt good about the structure I was creating and I did not take it too far.  Running really was a healthy outlet for me – I was loving it and not at all fearing it.  My body was healthy and I didn't feel pressured physically or mentally.
That feeling of relief we get outside and afterwards is not the only reason we love it.  We also love it because it's like the grown-up version of playing house.  We create a structure, rules, and a plan that only WE are in charge of and that no one can take away from us.  For people that are constantly craving a sense of control in a scary world, what a powerful scenario this is!  It's plain awesome, and man, do we feel so "productive" sticking to our made-up running schedule.  We even create a whole running-life for ourselves sometimes.
I'm really not mocking, I truly love this about running.  I like that it can be grown-up play time where we make our own rules, enjoy the time spent with the activity and come out feeling powerful.  As we often try to remind ourselves when we are stuck somewhere on the OTHER end of the spectrum, this is SUPPOSED TO BE FUN!  And great fun it is, especially if you are the type who finds some comfort fixating on numbers, planning runs and mileage, and directing energy at something meaningful.  The quick progress we often see in the beginning only hooks us more – we've found something that makes us feel great AND we are GOOD at it!  Big score.
Sometimes this is the point where we start to fixate on going further and going faster.  Or running ALL the races and collecting all the medals.  And a few age group awards.  Sometimes we get a little TOO excited.  I had panic attacks as a child when I couldn't contain my intense excitement!  With running, becoming over-excited can sometimes lead to over-training and even more anxiety about running itself, or over the idea that all runners must face at some point – having to take a break.  I'll talk about all of that next Tuesday, when the topic shifts to the other side of the spectrum.
Food for Thought –
Of all the things you love about running, what's the biggest hook?
Have you ever experienced anxiety symptoms and has running helped?
What do you think of the "running is cheaper than therapy" quote?