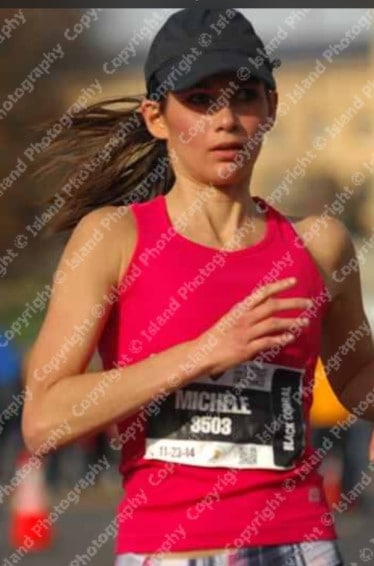 Before I decided to write about running and anxiety, I tried to answer for myself, objectively, the question that's haunted me since realizing my running had gone too far –  
Is it really possible to bring your running back to a where it's a healthy and enjoyable outlet?
The answer I've come to is YES, it's possible, BUT it will undoubtedly require work that will be emotionally difficult, even draining.  And not the sort of work we've been engaging in.
If you missed Part I and II, I shared my experiences and thoughts on how running has been and can be a healthy tool for anxiety management, as well as an obsession, addiction, and source of anxiety itself.
To sum up, though my running began as an enjoyable outlet, there was a period of time where I crossed the line and used running as a way to avoid facing reality, attempting to create distance between myself, real life, and all I was afraid of.
After I accomplished a goal, I would move on to another out of anxiety and it was impossible for me to rest and slow down regardless of pain, injury, illness.  My internal world revolved around running as a way to avoid anxiety, take control, feel "strong" and distance myself from reality.
I thought and felt that I needed to "do hard things" in order to create a meaningful life, while actually, I was detaching myself from the truly meaningful parts of my life right in front of me.
Over the past year and a half, partially as a result of blogging and blog reading, I've confronted my behavior and feelings and started to take actions to move back down the spectrum to the healthy side, and stay there.
I can't say I'm completely there yet, and, I'm not sure I'll ever be.  I'll always battle anxiety to some degree, and, how I manage it will vary depending on so many factors.
In this post, I'll share what I've done to keep my running (and myself) healthy. Hopefully you'll find something in these experiences that you can relate to your own.
Brutal Honesty 
I say "brutal" not to be dramatic, but because I've found there are many layers of honesty when it comes to how we view ourselves and talk to ourselves.  It can be very difficult to determine if you are using running in an unhealthy way if you leave out the "brutal" part.  When you strip your defenses and refuse to deny, rationalize, project, or create logical explanations for your actions and feelings, you'll likely be left with raw vulnerability – all the stuff you've been running away from to begin with.
This is where you might realize ACTUAL therapy is necessary, or you might feel ready to face yourself and work through feelings on your own.  Either way, I believe this is the first step to health, and it's something that has to be practiced all the time.  Getting uncomfortably honest will have to happen every day over a period of time before it begins to feel natural and you start tuning into yourself.
There have been times that I knew I could use a rest day, but pushed myself to run or run more miles because the alternative would've seemed upsetting to me on that day.  When this happens, I acknowledge it, try to go easy on myself, but, realize that while I AM being honest with myself, I'm NOT choosing health at that moment.
Choosing Health 
Choosing health is so, so tricky.  For some people it seems to come naturally, but for me, it's never easy.  If anything, it's been my tendency since I was a child to push my body to the brink of breaking down, because, only when I exhausted myself would the anxiety melt away.   Looking back, it seems that for much of my life avoiding anxiety was my main goal, and my physical health often took the hit.
Since this phenomenon didn't just come along with my running, it's not an easy one to tackle.  In fact, it was often the conscious choice to accept pain and reject my body's protests that propelled me to accomplish my running goals. A total Catch 22 in my running, and one I've yet to reconcile.
Choosing health isn't just an unplanned rest day.  I used to think one or two rest days were sufficient and then I would give myself a "pass" to run away my anxiety again.  Choosing health (mental and physical) is something only YOU will know you're either doing or not doing.   I, your coach, your friends, or anyone else can't tell you when it's healthy to run or not run.  Like brutal honesty, it's something we all have to commit to practice.
For example, the weather this past weekend was making me anxious because I knew there was a chance my long run wouldn't happen.  In the past, I would force myself to run in bad conditions just to avoid that uncomfortable feeling of anxiety.  Having races set up that I was training for rationalized and explained away why I would run in unpleasant and unsafe conditions.  I don't have those structures set up anymore, and so I'm honest with myself about why I want to run and why I'm anxious.
Choosing health is also NOT going overboard after a period of rest, or "resting" by doing other forms of exercise.  I'm pretty aware of how yoga has recently become a "comfort" and I'm being mindful of how I approach it, aware of when I feel like I "need" to do it and challenging those thoughts.  If running or any other exercise is the center of your day, your life, I don't see that as healthy (not for me!) There is a lot more to me and my life than the exercise I do, and I believe to stay healthy, these things have to be recognized.  Aren't we always talking about striving for balance?
Who Else Are You?
Sometimes to stay healthy as a runner, as a person, we need to let go of running for a while and refocus on who we are underneath all of it.  Sometimes I feel like I need to run because I've run 4 marathons, I'm a running coach, and I've been running for 10 years.  But so what?  Before any of that, I'm just me.  With or without my running legs, I exist, along with my family, right here, right now in time.  I've realized that's not something I ever want to discount.
Letting go of the "shoulds" we hold onto and being what we are right now isn't JUST okay –  being who we are is happening anyway even if we fight it, wish it away, or try to run away from it.
I have found it's easier to be in the present when I'm also being honest and choosing health for myself.  Believe me, this is not happening all the time for me but I'm further along than I've ever been.
Running is Not Therapy
Like I said in the first line of the first post, running is not a replacement for therapy, however much we want it to be or feel like it can be.
It can be a great supplement to the work we do with ourselves or a therapist by giving us time alone to think, clear our heads, and boost our energy and mood.   It can be a fun activity to do with friends and family and it can be a lifelong hobby.
It can only be these things if we make the commitment to ourselves to be honest, choose health, and remain present in our lives.
I really hope you enjoyed this series!  
Let me know in the comments section how you keep your relationship with running/exercise healthy, and what you believe might help others do the same.  
Thanks guys!  I'm really looking forward to your feedback.