If it ain't broke, don't fix it.
Right.  Try telling that to a runner.  No, wait.  Try telling that to a runner who tends toward anxiety and see what happens next.
If a little is good, then more must be better.
Maybe true, and you won't know until you test it, right?
If more isn't helping, even more must be better.  In different shoes.
Here is where the line has been crossed.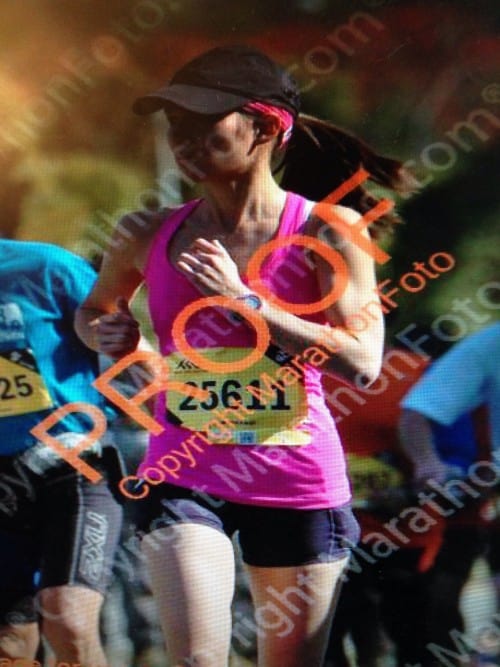 Where It Goes Wrong
Last week in Part I I spoke about the powerful positive effect that running (and other exercise) can have on anxiety management and how relieving it is to be engaged in something that allows us to feel truly like ourselves.  Both biologically and psychologically, we're put in a place that we don't want to leave.
Thinking about my own experiences, I can see now that it's the feeling of power and strength that becomes addictive. It's a feeling we not only want to keep, but want to build on in the hopes that "more" will make the experience even better.
We set goals and set out to accomplish them.  We probably don't realize that our anxiety is already activated just by setting the goal, but rather we experience it at first as strong motivation, excitement, and determination.  It doesn't have to go badly at this point, but if we aren't careful and self aware, our anxiety can take over, and, the "thing" (running) that was helping us feel good may now become the focus of our fear and anxious feelings.
While what I write here might seem black versus white or healthy versus unhealthy, the changes can be subtle and gradual enough so that they aren't noticeable in the moment.
I've found myself on many points of the spectrum at different times in my life as a runner.  Currently, I feel like I'm somewhere in the middle headed toward the healthy side.  At my worst, leading up to my experience at the Marine Corps Marathon in 2013, my anxiety had completely taken over my running.  A combination of compulsive behavior, lack of knowledge and experience, and a fear of "giving up" led to my worst injury – severe posterior tibial tendonitis.
I healed from the injury and began to approach my running in a healthier way, but, it has only been within the past 6 months or so that I've fully recognized and started to understand these feelings and how they led to that breakdown.
How We Fall
We don't "fall" in just one way, but rather through a combination of factors influencing our decisions around running. I believe one of the first things that can start to trigger anxiety in a bad way is fixating on numbers in order to attempt to measure our running in various ways.
It could be weekly mileage, daily mileage, percentage increase in weekly mileage, calories burned, pace, pace improvement, the number of days of "workouts" versus easy runs, or the number of days run per week or rest days per week/month.   I focused on many of these numbers and "needed" to get them right.  I felt a sense of relief when I "got it in."
Looking back I can recognize that I started going overboard when I tried to only take one rest day every other week in the fall of 2012.  It sounds completely absurd to me now, but I became fixated on so many "running numbers" and would set arbitrary goals that had nothing to do with my improvement as a runner, but were only satisfying an obsessive/compulsive tendency.
If we keep going with anxiety leading us, the idea that we need to run a certain number of fill-in-the-blank, begins to take over our training and even our lives.
I know there were many times I ran even though I was sick or feeling pain simply because I anticipating that the feeling of NOT running would be worse than whatever pain I experienced running.  There were times I ran only because I was afraid I wouldn't be able to the next day.  To remain calm  I would "hoard" miles by running whatever number I thought I needed to before I was potentially stopped from doing so.   Other days I ran longer than planned because I told myself I should use all my free time to run as many miles as possible.
All of these things made it impossible for me to stick to a normal training plan.  I would rewrite a training plan several times and never actually follow it, always doing more.  It made me feel good to be "ahead" of my training plan.   But, just like "banking time" at the beginning of a marathon backfires, banking miles is also a bad idea.
I was scared that if I didn't get in a certain number of miles, I might never run again and I would lose all my fitness.  My thinking was extreme and not at all logical.  I think somewhere deep down I knew I was overtrained and was scared that if I stopped, I'd never start again.  One thing I DID realize was that I didn't trust myself and felt I needed to be pushed too far in order to accomplish what I wanted to.  The thing that made me feel strong and confident was now exposing my weaknesses and insecurities.
What Happens
It amazes me how long people can go on, myself included, in a phase in their running lives when anxiety is in the lead. Many injuries can be managed for a long time before the body really breaks down, and runners who are slaves to anxiety will put up with and even welcome a lot of physical and emotional pain before slowing down their running.
But what happens before your body and mind completely break down?  Why slow down or stop?  A few things I've noticed with myself that I don't like thinking about come to mind.
First, running is treated like the priority above ACTUAL priorities.  I was always TOO aware of how various activities, events, etc would impact my running, to the point where I was sort of always worried about things coming up.  I think this is one of those signs that only the runner, and perhaps close family members, will be able to see.
When life revolves around running, and you have other things in your life that are truly more important than running, something is wrong!  I could not and did not want to see that this was happening to me for a long time.  I would think to myself "once this race is over, things will be different" and then they wouldn't change.  Instead, I would get scared of slowing down, that my "runner identity" would be taken away.  Beneath that, I was avoiding of all the "real stuff" in my life that was making me anxious to begin with.  I wrote about some of those things here.
Second, you can't ignore some signs that you're struggling.  It can happen slowly, or seem slow at first before many signs pop up together, indicating the breakdown of the body and mind as a result of overtraining and anxiety.
Injuries persist or don't heal even after resting (or we realize the elliptical, bike, or barre class isn't rest, and we cannot REALLY rest), we're sleeping poorly, feeling exhausted, possibly losing weight or even gaining, feeling more anxious, depressed, confused, and the sense that we're doing something very wrong but don't know how to fix it.
We might still think that a new training approach or plan, a new race goal, or even new shoes or working on form will help.  But, if we're truly caught in the throes of unhealthy and obsessive running, no motivator, pick-me-up, advice, or treatment will work.  We have to address the root of the problem.
How We Can Continue Running in a Healthy Way
I don't believe that if you've been in an unhealthy pattern with running that you need to stop running forever!  If we started out in a healthy way and only gradually moved to the other side, I think it's possible to get back to a good place, though it will require a lot of honesty and hard work (and not the kind we're used to!)
Next Week in Part III of my series I'll talk about keeping our running a positive tool for anxiety management, even if you're over on the unhealthy side of the spectrum.
Have you experienced a period of unhealthy running/exercise?  
What helped you recognize that your running/exercise had become unhealthy?