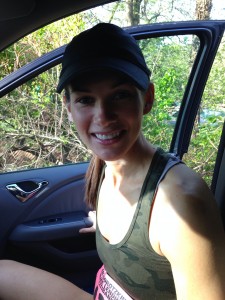 First of all there is no better way to start Mother's Day than racing a 10k I've decided.  Yes, I love my kids, but pushing my limits in a race leaves me feeling so good that I get to fully appreciate them for the rest of my day.  Nothing like a runner's high to make life seem at least 50 % better than you thought it was the day before.
Second, this was my first 10k in over a year and a half.  I basically ditched them in November 2012 in favor of half and full marathons, and then with my injury after the MCM October 2013 my entire running existence revolved around recovering from tendonitis and racing Boston.  So, I had no clue what to expect time-wise with this race.  I kind of wish I could say I didn't care, but truthfully I was hoping for a time pretty close to my PR from Oct. 2012 (44:42).  I knew the heat would be an issue with temperatures in the upper 60s low 70s which is where the "pretty close" part came into play.  Even so there was even still a little speck in my brain that was telling me to crush the old PR.
I completely rested the day before, which is what I always do the day before a race or a long run, no exceptions.  I've found that I just feel better and run stronger this way so I never mess around with it.  My night-before dinner was a baked chicken breast stuffed with spinach and bacon, plus roasted sweet potatoes, and a lara bar before bed, plus lots of water throughout the day.
ARE YOU BORED YET?  Yes, so am I, let's get on to the day of.
The race start was 8:30 and a 5 minute drive from my house, we planned for my husband to drop me off.  Probably the least stressful pre-race situation I've ever been in, which I wasn't sure what to make of.  Sometimes I think pre-race anxiety fuels some of the adrenaline I rely on in a race, but who knows if there's any validity in that?  I had my banana, water, and power bar performance energy blend, and off we went.  The course covers roads that I run on all the time (although from my house it's a big uphill to get there!) so I was probably a little TOO familiar with the roads.  Sometimes it's better to not totally know what's coming!
I lined myself up right in the front, like literally at the front of the pack and I have no idea why, except that I get really antsy at the start of a race and try to get further up than I need to be!  I'm also used to running bigger races where you can't get anywhere near the front.  At that point my brain was in the mode of "run as fast as you can and hang on as long as possible".  Since I hadn't raced a short distance in so long, I was also just curious how fast I could run, since I don't push myself to the limits in training.  I was really amused by the "ready, set, go" start!  Have any of you run a small race where they literally say ready set go?  I loved it!
So the guy said go and we ran.  The fast guys ran ahead rigth away and I kept up for a minute or 2 and was just pushing as hard as I could.  Talk about going out too fast.  There was maybe 2 women and a handful of men ahead of me, at a 6 something pace and I am not a 6 anything runner.  I knew there was pain to be felt, that's for sure.  By the first mile clock and my watch, I smashed my first mile in 6:40, which is a PR for the mile for me (at least I got SOME kind of PR!) Woo hoo!  Yeah I knew I was playing with fire, literally with how hot it was feeling right off the bat.  But I kept going.  Second mile was 6:55.  By the third mile I was tired and knew I had to slow down.  I mean I didn't have a choice, my body made the choice.  As I passed mile 3, the clock showed 21:00, so a big dip in pace.  I did not use a GPS so I was just going off a stopwatch and the race clock.  If I could hang in somehow, I could at least come CLOSE to my PR.
The second half proved painful though.  I was hanging on to a 7:30ish pace and I was feeling the effects of my ambitious first 2 miles.  There were also some hills at this point (nothing major) and I realized I didn't have another gear in me so I struggled to keep my pace.  Fourth mile clock 28:25(ish, not totally sure).  People were slowly inching up and passing me, which I kind of really hate, but I didn't have much else.  Frankly I realize it was arrogant to start off the way I did but I give myself a pass since I haven't raced a short distance in so long.  Fifth mile clock was around 36:30 but my brain was mush at this point, it was 36 something though!  I was hoping my brain would let me kick a little in the last mile but my legs were tired and the heat had me in a fog so all I could really do was hang on.  A girl passed me in the last 300 or so meters and there was no way to catch her at that point, I wasn't competing with myself or anyone else, and said goodbye to any possible PR. I just tried to finish as strong as I could at that moment, and I was really totally fine with that.
Right before the finish was a decent uphill (isn't there always?) and by the time I was on crossing the finish line I was nauseous and ready to be done!  I actually like feeling nauseous at the end of a race because it makes me feel like regardless of time, I gave until there was nothing left.  That really is the part of racing that I love, good times are a nice bonus of course, but the feeling of pushing my own limits is what keeps me coming back to race again!  They had the half marathon clock up at the finish so not yet sure of official time, but my watch read 45:40.  I'll take it.
Of course after I downed a water bottle I felt completely normal, jogged the mile and a half home and loved every second of it.  I made pretty much all the typical mistakes but it all ended fine and I felt really great for the rest of the day.  I have another 10k on June 14th and will definitely be running that one "smarter" to see how it works for me.  Until then I plan to alternate weeks with either a tempo or speed workout (at an actual track, should be interesting), mostly easy runs the other days with a weekend 10 miler and a hilly run once a week.  I have never been consistent with speed intervals or tempo runs and I'm curious to see the difference it will make. I'm at the point where I can't deny that I want to get faster!  I will have to figure out what paces to run for different workouts to maximize benefits.
What is your normal "game plan" for a 10k?  How do you determine race pace for a 10k and what is your pacing strategy?  Do you have a go-to speed workout and how do you determine pace for intervals and tempos?