It's 5:10 am right now.  I am trying something new to treat my RDB (rest day blues) which in my home-based clinical studies is characterized by the following symptoms.  If you display 2 or more of these symptoms on even one rest day you might be suffering from RBD:
Feeling "unproductive" on a rest day even though the runner knows rest IS productive
A feeling of "sluggishness" that makes it hard to do anything but sit or lie down all day
Runner wonders how he/she will run 10 miles the following day if he/she is this exhausted watching TV
"Running amnesia" i.e. the runner forgets that he/she is a person who runs frequently and likes running
Desire to wear running clothes even though runner will not run a step all day
Irritability characterized by snapping at spouse when spouse asks runner if he/she ran today "IT"S MY REST DAY!"
Lack of enthusiasm for taking a shower
A feeling of "incompletion" as described by the runner
Desire to eat junkier food than on a running day
Mood is suppressed i.e. no runner's high
My thoughts were that if I use the time that I am normally running to do something else instead of tossing and turning in bed, I might trick my mind into busting out of the RDB since I would still be on a "running schedule", just with blogging replacing running.  It's still unclear how much of the RDB is emotional versus biological (exercise addiction anyone?) since it is difficult to control for variables in the environment and social calendar.  For example, a rest day falling on a rainy Monday with one child home sick might lend itself to more RDB than a Saturday rest day filled with activities and maybe even some booze thrown in.  You guys do know I'm mainly just trying to be funny right? I know it didn't work so well, but it made me smile, and after all we are focusing on ME and MY RDB.  I will report results of the treatment at some random point in the future, if I remember.
Moving on now to my training summary, this is what I've done for the week as well as what I have planned for the weekend:
Monday: 6 miles easy (recovery after 10k), 9:10 avg pace (1st half 9:25 second half 8:50ish)
Tuesday: Tempo run: 1 miles warmup 9:25, 4 miles at tempo pace (tried for 7:30 but did 7:35-40 for each mile), 1 mile cooldown 8:30
Wednesday: 6 miles easy, 8:51 avg pace
Thursday: 7 miles total: Miles 1-2 uphill 9:30 pace, 3-5 flat 8:30 pace with 4 pickups at 6:50 pace, miles 6-7 downhill 7:40 pace
Friday: Rest
Saturday:  10 mile progression run: 1-3 8:50 avg; 4-7 8:30 avg; 8-10 8:00 avg.  Love to finish fast.
Sunday: 5 Miles easy
My weekend runs are usually the ones I look forward to the most, especially if I'm not marathon training and dreading an 18 miler.  10 miles is my favorite distance and the best thing about this time between marathons is being able to run a 10 miler every week as my "long" run.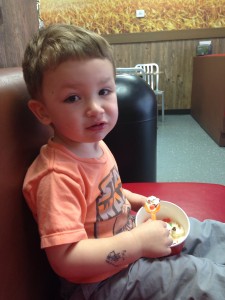 Random hello from this little guy.
Finally, I just received my new Garmin forerunner 110 with HRM and wanted to share a few links related to tracking heart rate while training.  I plan to mainly use it to make sure my easy training days are truly easy and what my general range is across different types of training.  It's something new to me so figured I'd throw in some info.
General summary of benefits and limitations
Three common mistakes monitoring HR
The pros of heart rate training
"Chronic Cardio" and how heart rate plays in (This is not a viewpoint popular with runners but thought I'd throw it in anyway)
Overview of benefits and how to use
So now a few questions for you:
Do you get RDB?  If so, how do you boost your mood on these low energy days?  Also, have you ever monitored heart rate while running and what were your thoughts on it?