Hi everyone!  This week has been totally busy but also good on all fronts – coming from me – this is saying a lot!  We'll be chatting mostly about the Whole30 today for Thinking Out Loud, but first a couple of life updates from the week.
We've been doing basement renovations for what seems like 6 months (I think it's been 3), and now that it's basically done, we're getting it furnished a little, plus attempting to clean up 10 years worth of toys, I'm starting to feel like it's all been worth it.  Plus we now have 2 full usable bathrooms in the house which is helpful for a family of 5.
It also happens to be "parent week" at my kids' dance school, which means I'm watching approximately 2 hours of dance practice Mon-Thurs this week.  All 3 of them take classes – Diana takes 4, Emily 3, and Drew 1.  I'm looking forward to getting a break from dance classes all of next week.
This also means that 3 days this week I have to make dinner before the kids even get home from school.  I have to say, this happens to be a pretty good excuse/motivation to make recipes for the blog, since I need to cook during the day anyway 🙂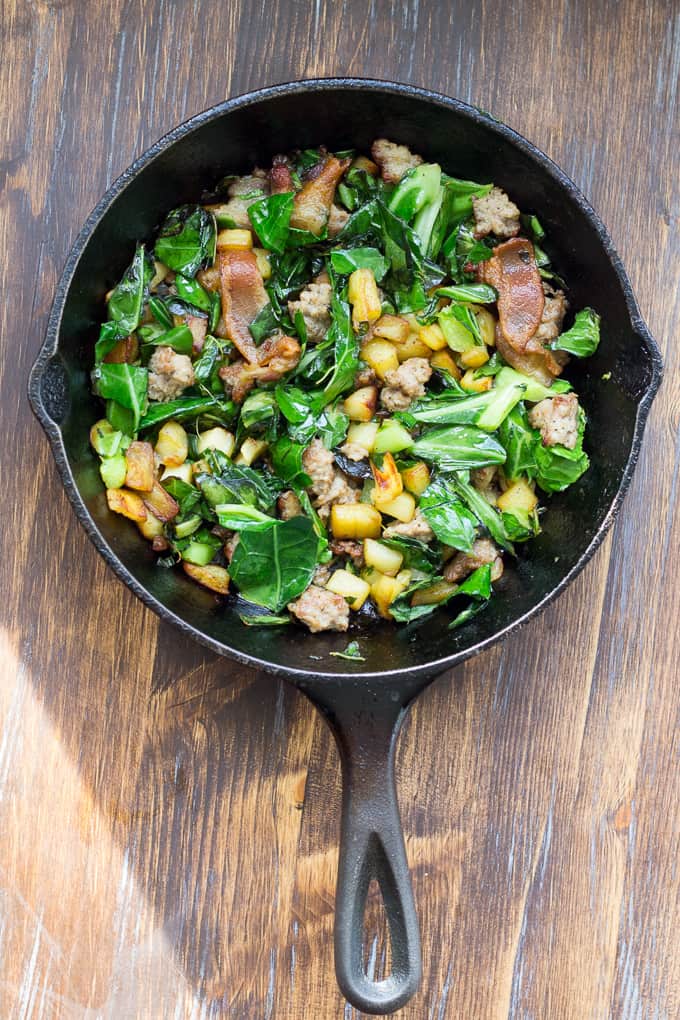 But moving on – today is day 11 of my (and maybe your) Whole30!  I figured with more than a week completed, it was a good time to share some of my go-to Whole30 favorites – meals, side dishes, and even a "dessert".  A few of these are "coming soon" to the blog, and others I will simply give you the run-down right here.
Recent Whole30 Favorites (+ mini recipes)
My number one favorite Whole30 recipe is the "random hash."  True – I have many hash recipes on the blog already – and SURPRISE!  The stove-top only ones all follow the same basic method.  I love the hash because you can put anything at all in it – meat, starchy veggies, green veggies, leftovers – and top it with eggs, homemade ranch, avocado, etc.  PLUS, they take no more than 15 minutes to make.
Shown above is what I had for lunch today (and I ate it right out of that skillet 2 minutes later): sugar-free pork bacon and sugar-free breakfast sausage – both from U.S. Wellness Meats, chopped parsnips,  a few leftover roasted sweet potatoes and collard greens.  This is the order/method I use for cooking something like this:
Cooking fat first (if bacon is included I cook that at least halfway first so I can use the fat), starchy veggies (chopped small), salt and pepper, ground meat (once the starchy veggies are 3/4 of the way done), and lastly, green veggies, also chopped relatively small for quick cooking.
I always wait until the previous ingredient is nearly cooked before adding the next, and cook everything around medium heat, lowering it near the end to avoid burning anything.  If I'm adding eggs on top, I sometimes cook them in a separate pan, and sometimes just crack them right over the hash, add salt, and cover the top of the pan until the whites cook.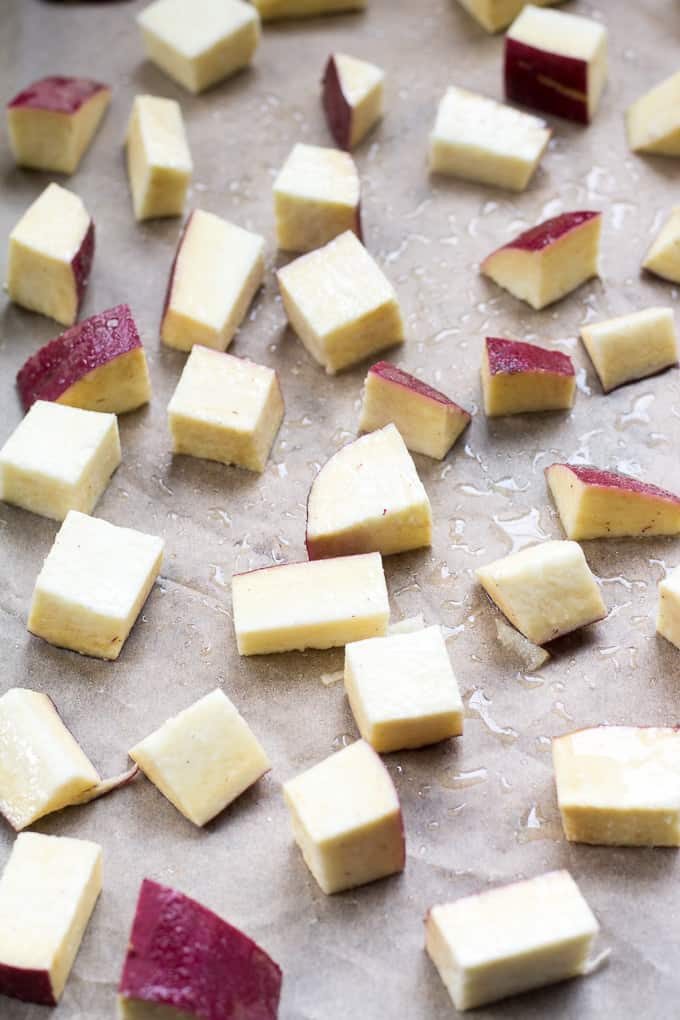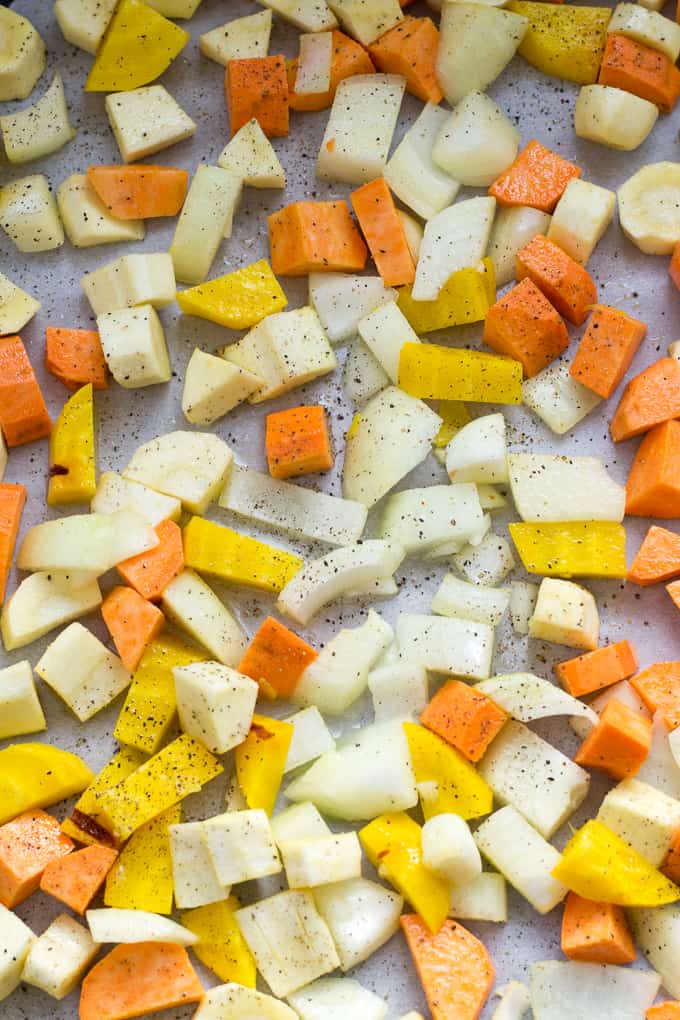 Roasted veggies also happen every single day at my house – Whole30 or not!  I think most people have mastered roasting green veggies, but starchy root veggies and squash can be trickier, especially if you're looking to get them crispy!
No matter what "shape" my veggies are cut into, the method is basically the same (top photo is Japanese sweet potato, above is a mixture of beets, orange and white sweet potatoes, parsnips and onions.)
I set my oven at 425 and line large baking sheets with parchment paper.  I get my oven racks as close to the center as possible!  I made sure the veggies can BREATHE.  I always say this, but it really does get them crispy in less time.  The top photo of the sweet potatoes shows my typical spacing pretty well.
I typically check the veggies 25 minutes into roasting, at which point I try to turn over as many as I can for even browning.  After another 10-15 minutes they're usually perfect!  If I have time, I'll turn the oven off when they still have a bit more time to go, and just let them sit there.  They seem to get extra crispy that way (just check to make sure nothing's burning, even if the oven's off!)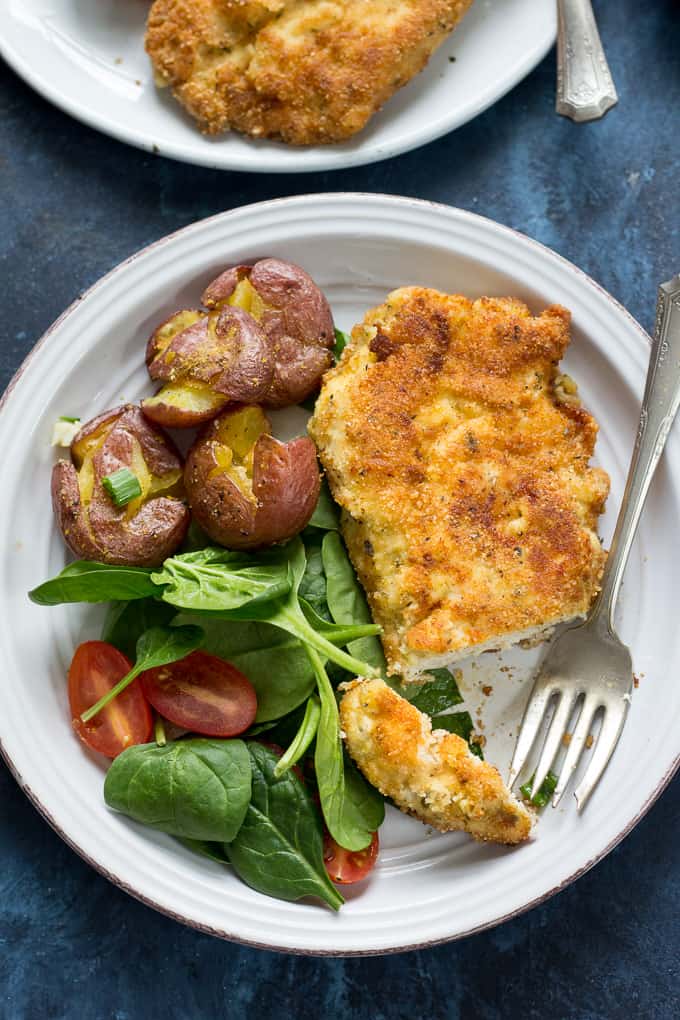 Another favorite of ours lately are these chicken cutlets!  The recipe for these is coming probably next week – they are VERY kid friendly and go so well with potatoes and veggies, or even over a salad topped with ranch or avocado – or the dressing below.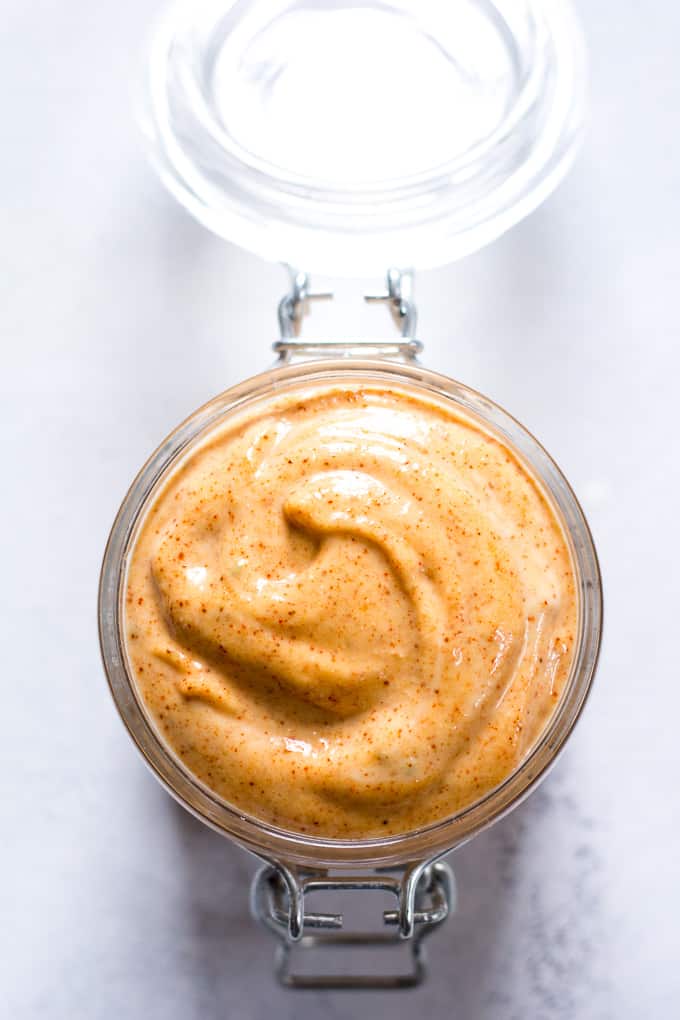 Even though Whole30 friendly Paleo mayo is pretty readily available now, I still love making my own and turning it into all kinds of dressings, dips, and sauces.  The Chipotle Ranch dip shown above is coming this weekend 🙂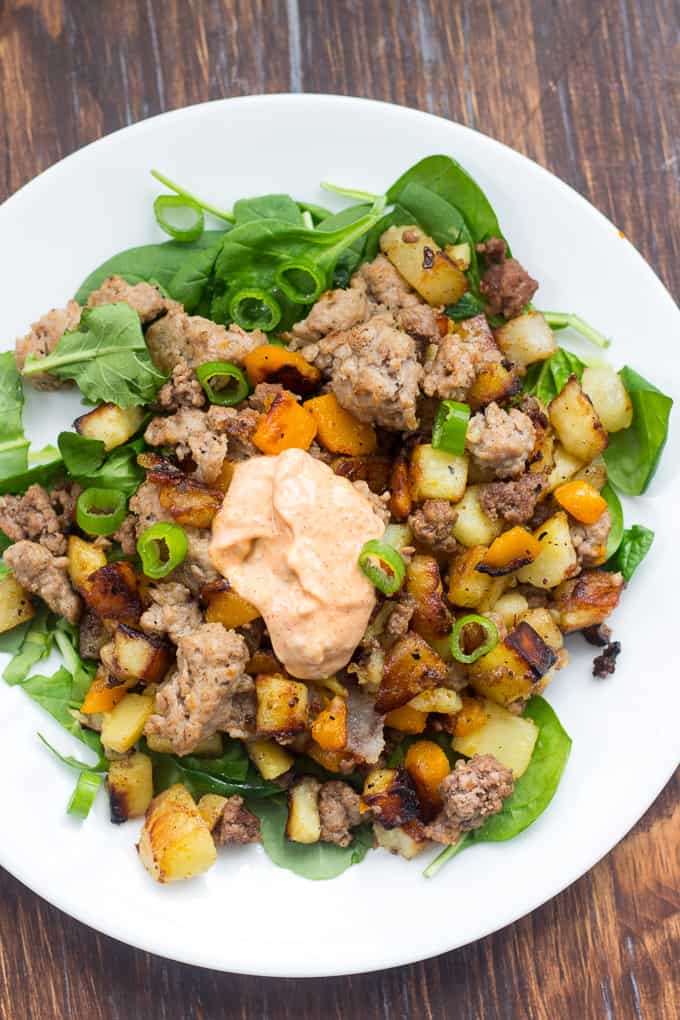 And there it is again, on one of my easy hash recipes.  And by the way, we'll all be double dipping this weekend, because on Sunday I'll be sharing my recipe for tostones and avocado ranch!  Can you tell I like ranch?  I really, really like ranch 🙂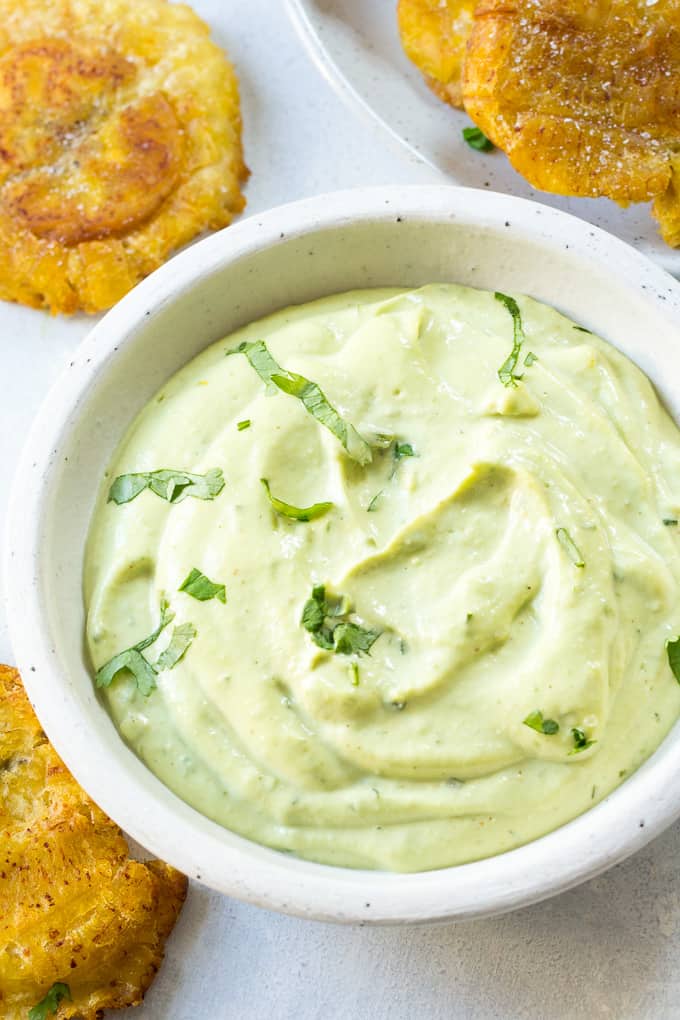 Ahhhh…dessert.  I don't really want to call this "dessert" since Whole30 is not into the idea of dessert per se, BUT, I do need sweeter snacks sometimes and sautéing fruit in coconut oil and topping with coconut butter has become a favorite, Whole30 compliant snack.   Even though this tastes amazing, it doesn't get me craving sugar the way having a cookie or piece of fudge would.
I suppose if I/you were sneakily attempting to create some sort of fruit pie with this approach, it might be considered SWYPO, but as for me, I typically don't eat apple pie for dessert – I go for chocolate.  Since this is definitely not chocolate, it gets a Whole30 thumbs up for me 🙂  This simple recipe is also coming soon!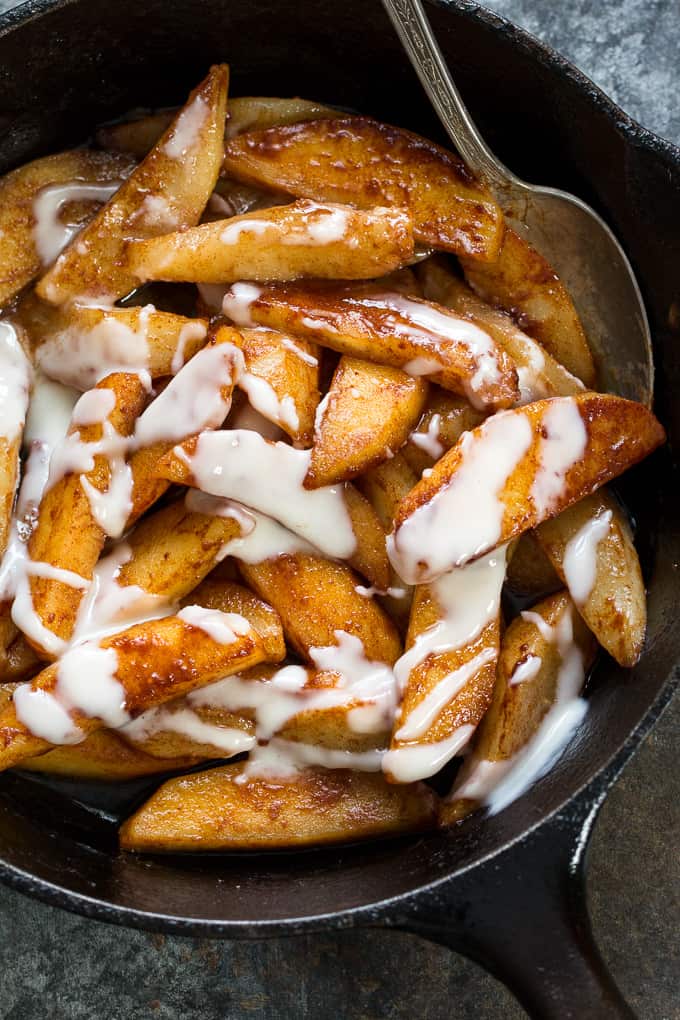 Whole30 Updates (how I feel)
I honestly feel pretty good and I'm not missing chocolate or any of my usual Paleo treats right now.  Since Adam and I are both doing this Whole30 round, it's probably doubling portions for a lot of my cooking that's the biggest shock for me.  If only I had another stovetop and oven, maybe things would be easier!
In terms of my digestion, it feels better than it ever has, AND I'm even eating my share of high FODMAP foods, so that's an indication that my gut has healed so much over the past few years.
I have to say that the most notable change in how I feel is in my sleep.  I've been sleeping a solid 1-2 hours more each night since starting this Whole30!  That is HUGE for me!  What do I attribute it to?  I think it's both physical and mental.
First, less sugar and caffeine before bed is an obvious explanation.  In fact, less sugar in general might be 70% responsible.  Second, my mind seems to relax when I'm doing a Whole30, possibly because I feel like I'm doing "enough" – which is an issue for me, admittedly.
I typically struggle with taking care of myself and often feel overwhelmed and anxious.  Somehow Whole30 resets my mind and instead of feeling deprived, I feel very satiated in all ways. I'm not sure why!  Regardless of the reason, it definitely seems to create a pleasant cycle of rest/feel good/rest more/feel good again.  I'll take it!
Tell Me!
What are your favorites lately? 
Do you use your stovetop or oven more often?  Or equally?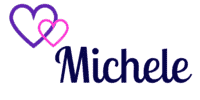 Note: This post contains affiliate links. This means that if you click on a link and make a purchase, I will receive a small commission at no cost to you. Thank you for supporting Paleo Running Momma!