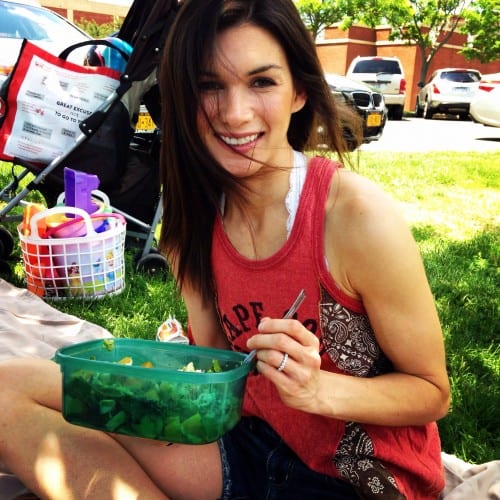 When I first started out eating paleo and did a whole30,  I was scared sh*tless hyper-aware of all the food around me that was "off plan."  Even though it sounds extreme I think it's normal to feel that way for a while when making a huge dietary change.  Literally every bite that I ate throughout the day and everything I purchased at the grocery store and prepared for myself was different from what I had been eating for all of my adult life.   My views on food were changing and my attitude toward food, food marketing, my body, and just about everything I thought I'd known about nutrition was different.  So of course things felt more than just a little new and strange.  It was comforting to have people who knew more than me about the whole paleo and real food thing tell me what I could and could not eat.  There was no wondering, guessing, it was all written out and easy to follow.
Real Food Newbie
For the first few months of eating this way, I rarely ate food that I didn't make myself.  I was feeling so much better physically that I didn't want to risk eating anything to potentially ruin that.  And since I was training for the Boston Marathon at the time, the idea of being caught in the middle of a long run with a stomach ache that has you desperately searching for a bathroom or praying for death was enough for me to make sure I had something "safe" to eat with me wherever I went.
I don't think I was ever fooling myself though.  I knew I couldn't sustain such a strict way of eating forever, and never believed it would be necessary.  It had become second nature at that point to go for paleo food anyway and I wasn't planning to bring sweet potatoes, avocados and roasted beets with me to restaurants anymore.  (I actually did this in Boston before running.  I did not care if anyone thought I was nuts, I was desperate to avoid GI issues during that marathon!)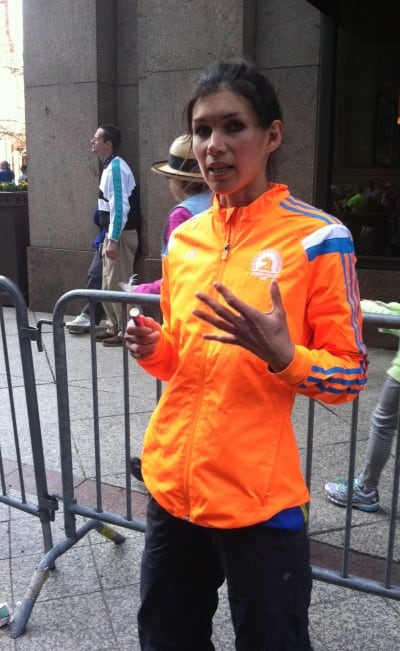 Getting Into A Groove
With the marathon over I knew I could remove the paleo stick-up-my-butt and  "just eat real food" –  not worry about every little ingredient in everything I ate.  In my opinion, this is the only healthy way to sustain a paleo diet for the long haul.  Once you have an idea of what makes you feel good and what doesn't, it's okay to relax a little and enjoy the foods you love, eat something that's not strict paleo (as long as there's no severe allergy) and stop thinking "on-plan/off-plan."  Once you get in your groove it's all about real food in real life.  Not real food in picture-perfect-paleo world.
Picture perfect paleo world can only be short term.  I mean, even the Whole30 people end their plan at 30 days (max 60 for more severe issues.)  After a few months of figuring out what works for you, testing out or reintroducing different food groups to assess reactions, and gathering a whole bunch of information about your tastes, your tolerances, your energy, digestion and mood you are worlds ahead of where you started.  You can take a new approach, you can let your guard down.  You can really ENJOY all the nutritious, delicious new foods you've discovered without the "rules" in place telling you that you CAN'T have…well, anything that you may want.  It's all about choices.  At Whole9life they talk about taking the training wheels off and that's exactly how I've experienced it. I can ride my own bike now and I'm getting even better at it as the months go on.   Like anything new it takes practice, and I continue to live, shop, cook and eat in a way that makes me feel and look healthier than I ever have.
Living It and Feeling it Out
I now know I can order cheese at a restaurant and my stomach won't suffer much at all.  Even ice cream isn't so bad – who knew?  But wheat?  I avoid it at all costs because of the reactions I've observed.   I also avoid anything deep fried in vegetable oil because that winds up being a one way ticket to bathroom hell.  I've also sadly given up on beans, brussel sprouts and cauliflower.  I know I haven't fully told my story of GI woes yet – it's a long and painful one and I do plan to share it – but at this point it still  amazes me how long I suffered and accepted a problem that has very much been eradicated just by changing what I put in my body.  I know that people tend to question those who restrict their diets without a medical diagnosis, but the proof is within you.  If YOU are feeling better, I believe you should trust that.  If YOU are happy, trust it.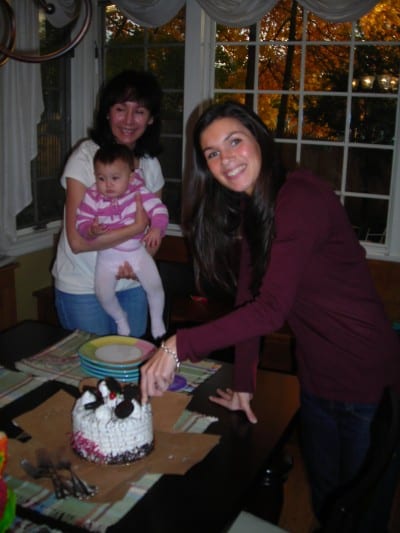 Facing the World
Secret alert: I used to want to look like one of those "effortlessly thin" people who could eat tons of junk food and stay skinny.   I should have been careful what I wished for.  I would way overeat on junk in public just to show that I was a skinny girl who could eat, partially to brag and partially because I didn't want to be ridiculed for being thin or questioned about my eating habits.  No one ever tells a skinny girl she should clean up her diet.  In private I struggled with the effects of my junk food habit –  both hooked on processed food and sick from it.  I didn't think people would take my GI issues seriously and I was scared of being judged.
But all that's changed now too.   Although my diet is more "restricted" than ever I feel freer and more confident with food now and I look healthier too.   I don't care about being questioned when out to eat about what I'm eating.   I don't feel nervous about skipping dessert, or having dessert, when dessert comes around.  It just doesn't BOTHER me anymore.  Why should I let the fear of being judged lead me to make a choice that hurts me?  I've spent enough time feeling badly and now the time has come to leave the fear behind and do what I want!
And the Menu
One funny thing that happens once you've been hooked on real food for a while, is that you tend to ignore the highly processed stuff on the menu anyway and just go for the freshest, most wholesome options.  Not every restaurant will have "paleo" stuff but now I do the best I can with what's in front of me and leave it at that, period.  I love trying new recipes – either trying to come up with my own or making other people's – I like trying different foods (next up is liver!) and I like not feeling limited as to where I can eat, what I can do, and how things might make me feel.  I like not having to panic about my stomach on runs or when traveling.  I like knowing how my choices will affect me for the most part.   I like not worrying about how people might judge me for what I'm eating.  I LOVE that I've found so many like minded people in the blogging community to help build my confidence with this whole thing!
How has your approach to food changed as time goes on?  Have you ever felt judged when eating in public?  How does real food work in the real world for you?