I know some of you guys love grocery shopping but man I just don't anymore.  Maybe it's the family of 5, or the fact that I've given up Whole Foods in favor of a more budget friendly, but customer un-friendly store.  Maybe it's just the boredom of buying the same (50 tons of) stuff every single week, unloading it, and putting it away all by my lonesome while my son yells at me to get out his blueberry yogurt.  I know what you're thinking.  Poor, poor suburban housewife.   Life is hard for you, you have our sympathy.
Well that doesn't change the fact that sometimes I put off grocery shopping for a day or two until the fridge is really dried out and the kids are eating the little raisins that formed on the ends of the grapevine as a snack.  I'm fine with this, really, because I don't like wasting food.  Plus, even when to the naked eye the fridge is empty, all of us who know we know how to cook know that there's always something you can throw together.   Plus, if you can thaw out that lost pound of ground beef that you threw in the freezer approximately 6 months ago, you know you've hit the jackpot and can put off going to the store for another day.  It's not that we ran out of food, we just have a fun new challenge.
And that's what this day of eats for WIAW was for me – some leftovers that no one else would touch, something borrowed, nothing blue, something thawed out of the freezer.
Thanks for the WIAW link-up, Jenn!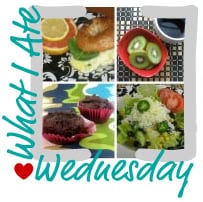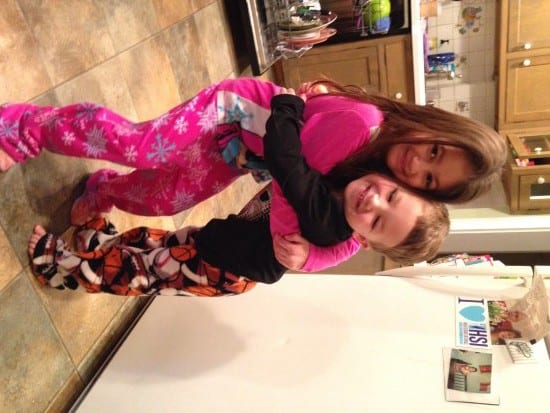 The day started out with some dishwasher unloading and my kids in jammies, like any other morning.  They were so happy for at least 10 minutes and it was golden.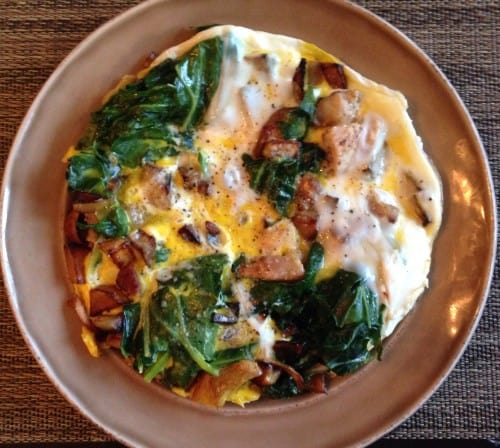 My breakfast involved a chopped up leftover garlicky chicken thigh, a bit of leftover roasted yucca (a new favorite!) and the last of my collard greens.  I had been eating a big bunch of collards for what seemed like 2 weeks (I think it was really 1) and it was finally gone.  Ready to switch back to kale now, so much variety 🙂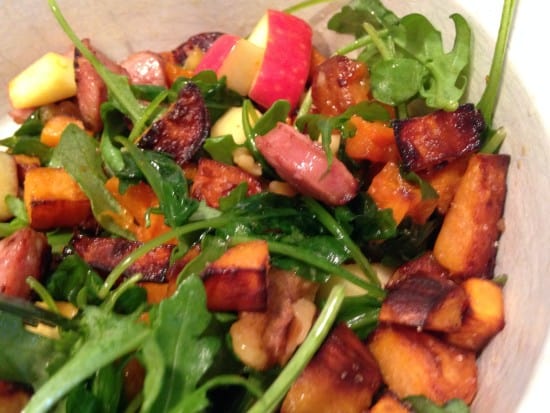 For lunch I got a little creative with some leftover Butternut Apple Walnut Salad and added an Aidell's Chicken Apple Sausage Link plus a bit more olive oil.  I know that's not really creative but it used up my leftovers and that's always a good thing.   Plus I still had one more chicken sausage link left for later on.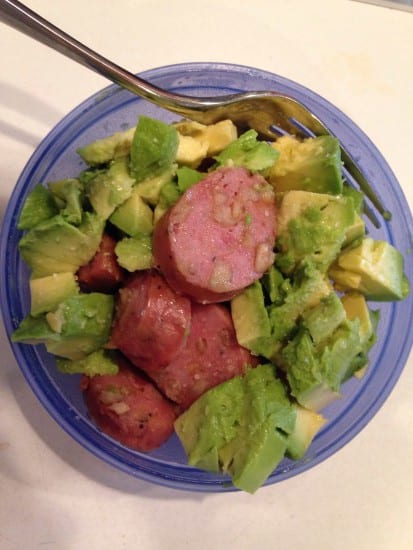 Yup, you guessed it.  I ate the other chicken apple sausage as a snack around 3:30 with half a leftover avocado.  I skimmed off the brown part and voila, it looks like new.  I really love this combo actually.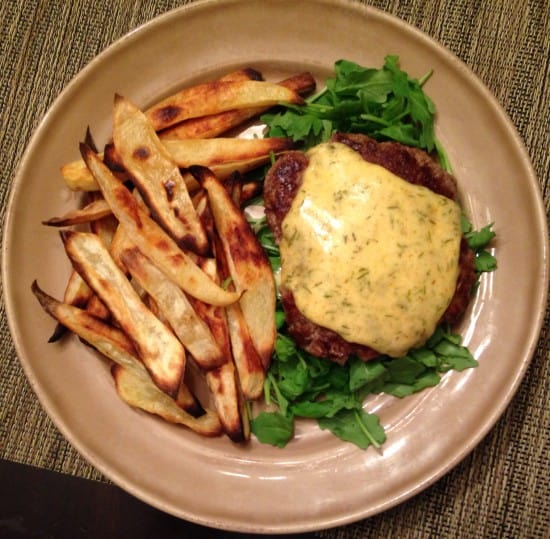 I consider this dinner my biggest success with the challenge of limited ingredients.  I had two large white sweet potatoes in the fridge, a bit of leftover arugula that I didn't use for the salad, and I rescued and defrosted a package of organic ground beef from the freezer.  I don't love to use the microwave to thaw frozen meat but I do it when I have to.  And the sauce?  That was the last of my homemade mayo mixed with onion powder, dried dill and paprika.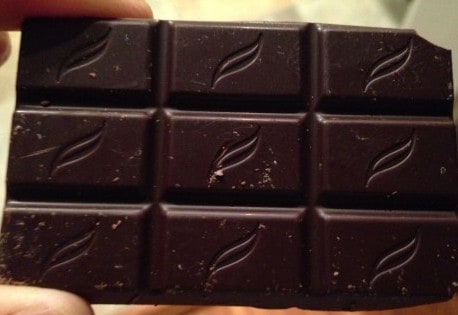 Dessert was the same dark chocolate as last weeks, Green & Black's Dark Chocolate 85%
.  Honestly, if I had been completely out of dark chocolate that might have propelled my lazy butt to the grocery store because that's just the kind of mood I was in.  If you're female, hint hint you know why that may have been the case.  Later that night it turned out to be very much the case.
I think all I drank on Sunday was coffee, lemon water, and regular water in that order.  No kombucha left and I'm trying to cut back anyway due to the cost.  Maybe one day I'll actually acquire a SCOBY and make my own.  That day hasn't come yet but I feel it's on the horizon.  Maybe 2015 will be the year of homemade kombucha.
What do you cook when you're putting off grocery shopping?  
What's the one thing that gets to to go to the store when you run out?  
How often do you use leftovers in meals?  
Anyone have kids who actually EAT leftovers?  Mine just "know" when something is not freshly made for them that very minute 🙂