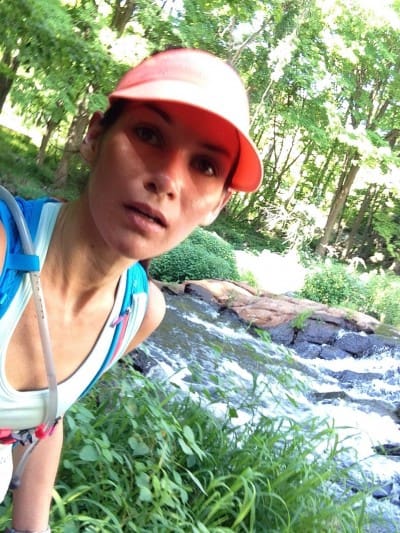 I'll start by saying that I was a little out of my league and way out of my comfort zone with this race.  But that's okay – trying new things can be fun, right?  At least that's what I always tell my kids.  Go do something that scares you and you'll come out feeling way better than if you did something you do all the time.   Do things that you might not be good at and give it your best shot.   This is how we grow.
I guess when you sign up for a race where the mileage options range from 10M to 100K you know you're probably not dealing with a beginners course.  Honestly I don't run in the woods, ever, so I don't know how this course compares to other trail races in my area, but I guess I'll just assume it's somewhat typical.  I've done one spartan race that involved trails that were similar to this course but not as rocky, and not 10 miles.  So that was my frame of reference.  I've also done nature walks at our local nature center and wondered how people run in the woods with all those rocks.  So I got my answer to that one, a painful one but I fully understand now!
The race was really easy to get to from me, about an hour from my house.  I had 2 bananas and water at home before I left around 7am.  I got there with plenty of time to spare, and a nice parking spot right next to a port-o-potty.  Life is good.  The race literally started in that parking lot, making this the most convenient parking and bathroom situation for a race – ever.  I hung out and drank some water, had a Lara Bar, and used the bathroom.   The start was laid back with a relaxed vibe that really calmed my nerves.  No one was in a rush, there were already people doing the longer races who were checking in at the start point and regrouping to run another loop.  I happened to overhear a really fit looking guy say it took him 1:50 to get around it.  At that point I took a mental note that sh*t would probably get pretty intense.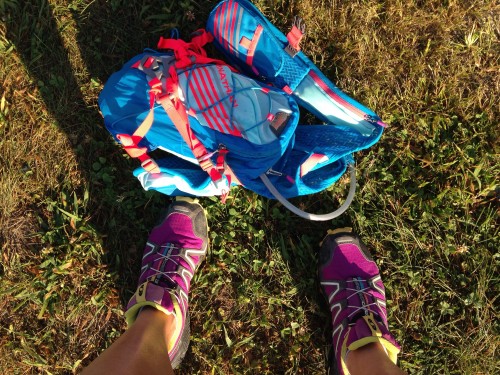 The race director explained the markings for the course (all pink ribbons) so we wouldn't get lost.  I'm horrible at listening to directions and figured I'd always have someone in sight who hopefully knew where to lead me.   I located the satelites on my Garmin, but I have this horrible habit of getting distracted at the start of a race and forgetting to start the timer.  Like every single race ever, it's weird.  So we started running towards the woods and just as we were entering, I looked down and saw I hadn't started my garmin.  No biggie, I started it just as we entered the woods and probably lost .3 miles (almost exactly it turned out.)
So here we go.  I'm running at this point, through the woods, and the first mile wasn't bad at all.  Lots of rocks and branches and leaves but overall pretty run-able.   Then the hills started in.  I was still able to run up these early hills but the inclines and declines were pretty steep and I realized that my lower legs and ankles were really going to take a hit.  I was also getting pretty exhausted by the uphills and it was warm, about 75, and I was thanking myself for using the hydration pack because by all means it was essential to have one for this race.  Good call on that one, Michele.
Up through mile 4 I think I was still "running" or slow jogging or scampering or frolicking or whatever it is that people do in the woods that's more than walking.  There were totally a couple of spots where I was frolicking on the downhills.  That was fun.  Rough on my feet, but fun.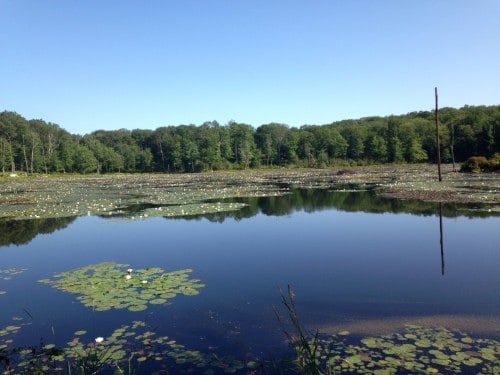 Somewhere between miles 4 and 5 things started feeling harder.  I made sure I was hydrating but I was feeling seriously wiped out regardless of how much water I was getting.  The course was taking a toll on me and started looking entirely like this: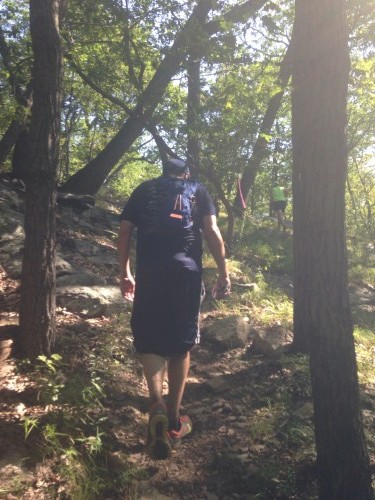 It's hard to really see but that's a steep rocky incline, and that's what most of this course was up through mile 7.  I think this was the first one I just decided to hike because I didn't want to kill myself.  I was also fatigued to the point where I was tripping A LOT although never actually fell (thank you core work.)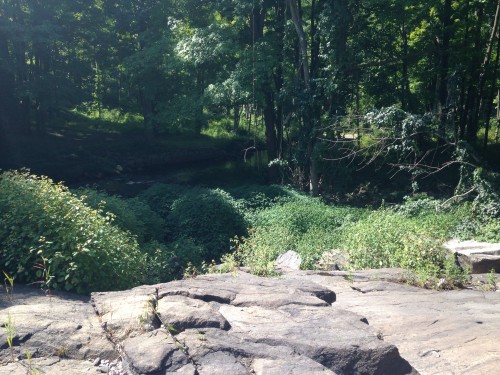 Based on the Garmin splits that were recorded, you can see that miles 5-7 were the toughest.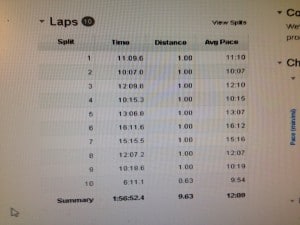 During these miles I felt like I was in survivor, I was exhausted, unable to really run because of the terrain and my inexperience, and, I got lost for like 5 minutes somewhere in mile 6 or 7.  I was alone, couldn't see another pink ribbon and just stood there like an idiot until a really nice guy ran up and saw the next pink ribbon about 100m away.  Oops, my bad.  Total damsel in distress at that point.  He ran ahead and eventually I was alone again.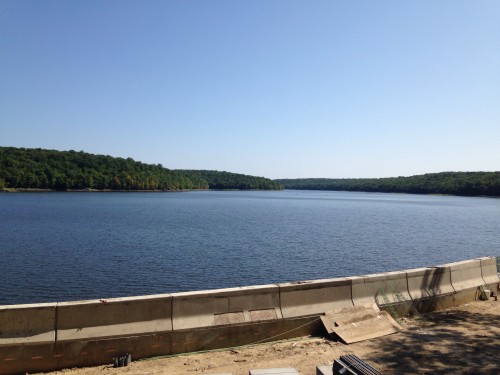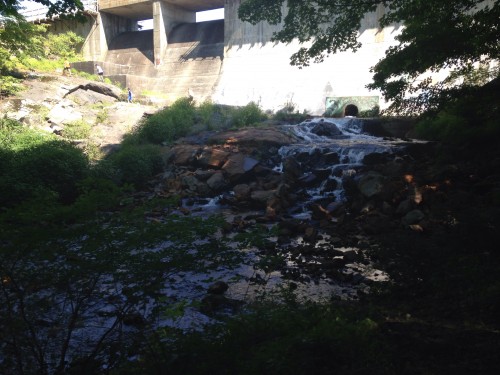 The good part about me having to slow down and do some hiking was that I got some good pictures, which I never do during a typical race.  There were some really beautiful spots as well as some tough spots I wanted to remember.  Didn't get a picture of the tree trunk that scraped my leg though.  Of all the times I tripped and nearly fell on rocks, I got the only injury of the day while carefully climbing over a fallen tree.  Pathetic really.
Just when I thought things would get run-able again I came across a stream and huge rocks that I needed to climb.  No dull moments here.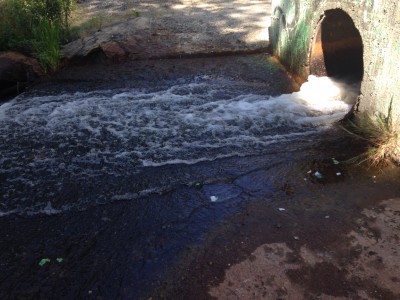 I remembered the race director saying that at 8 miles the course is all downhill.  I was just hoping that he didn't mean a steep downhill lined with boulders.  But I was pleasantly surprised, and right around 7.5 miles on my watch (which was a bit off) I was able to actually slow jog again and get into some sort of rhythm.  It felt nice, I missed running!
The rest of the run was cake.  We even got to run on an actual paved road for maybe .4 miles which was like heaven to me.  I chatted with a guy who was on his second loop en route to 50k.  He probably didn't want to chat with me, but I forced him to anyway.  And I may or may not have said something stupid alluding to me being done and him not even close.  Oops, I really suck.  Running is like a drug for me and makes me say dumb things to people.  Sorry Mr. 50K, I didn't mean it.
The last .2 or so I ran with a guy who, like me, was super happy to be done with the 10M and also to finish in under 2 hours.  I hadn't even thought about time up until then but I guess I was also happy to have a nice even finishing time.  I let him "win" because I know how much guys hate when girls beat them.  I was just joking but I really did let him win, I was in a good mood.  My "official" finish time was 1:58:05.  I was thrilled to be done.
That scrape was my only injury.  Based on how clumsy I felt that was a huge success.  The Garmin was off since I started it late.
I was right about my lower legs and ankles: major soreness from "frolicking" over all the rocks.  In my normal road running I don't use those small muscles.  Luckily nothing feels strained, just sore.
The rest of the day was spent with my family, including my parents and sister who came over later on.  Perfect day really!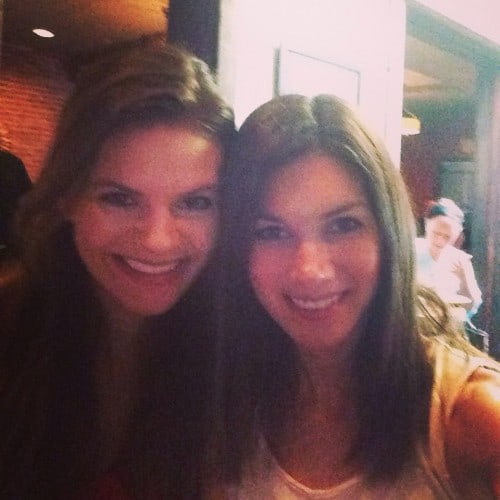 Would I do it again?  I think I would, but maybe a shorter one next time?  We'll see…
How was your first trail race?  Have you ever done a race that turned into more hiking than running?  What was the most challenging trail you've run?  What's your favorite way to spend the day after a tough race?