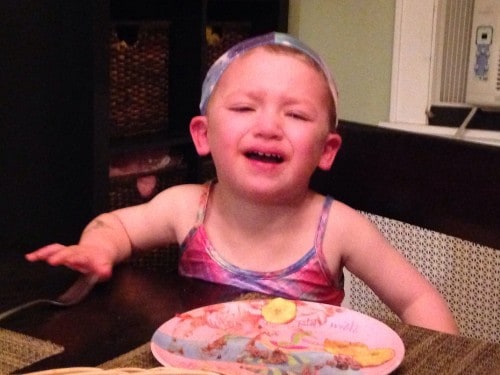 I never had the intention of using my blog to make my kids look ridiculous.  But my son.  He is just TOO MUCH sometimes.  And I don't like to make a big deal out of strong kid personalities in general, but this kid.  He's adorable and he has quirks.  One of those quirks is girl pants on his head, no judgement please.   And don't make him angry or tell him I wrote any of this.  "Trust me" as he would say, you don't want this kid getting angry near you.
Just some random thoughts from my week here, thanks to Amanda, I'll be linking up today for Thinking Out Loud.


Kids and their quirks.  My son had a tantrum of all tantrums last night at dinner, and I know tantrums.  Not because he didn't like his dinner, but because his sister would not immediately drop her dinner to play "bikini" with him the second his last bite was gone.  The game "bikini" is when he gets dressed up in one of his sister's bikinis and puts a pair of colorful leggings on his head (long hair) and they dance around together to Taylor Swift and scream with glee.  Apparently it is absolute euphoria for him, because it is devastating when something inconvenient, like dinner, clean-up, and bath time postpone the fun.
Honestly I will take this over his Jillian Michaels obsession that lasted a year and a half.  After seeing an exercise DVD of my mom's (she's a home workout fan) he wanted to do nothing but be with Jillian constantly.  He watched her lead bootcamps and various ripping/shredding workouts  on the mini iPad all the livelong day during this bizarre and very long phase.   He participated too, and would often break into burpees and pushups in public places when he was still just 2 years old.  I can't even imagine what people were thinking of me.   I'll happily take him wearing a dress and pants on his head in public over Jillian yelling at everyone to "get your booty up higher!! Higher!!" while we're in Target.
Speaking of Target, I was there yesterday to complete my bang-it-out-in-2-hours holiday shopping trip.  As I was driving home, starving and delirious yet satisfied, I thought about how holiday shopping is so similar to running long distances.  I mean think about it.  You go into both activities knowing that you're in for something major and you probably have some sort of a plan, but, things have their way of happening along the way that are often unpredictable.
First, you warm up.  You look at your list, look around at the huge store and tentatively head for your first section, thinking you'll be really selective and hold back as to not start grabbing things you don't need or want.
But you get sucked into it somewhere around mile 5 the first 5 gifts.  You're completely warmed up and in a rhythm.  Your brain is working fast and before you know it you have covered more of the store than you planned to and have twice the amount in your cart than is on your list.
Shopping sucks you in the same way the open road does.   Now you can't stop and won't stop.  I find that my brain in shopping mode is a lot like my brain in running mode.   If only I could get into cleaning mode in the same way.  I usually quit cleaning before the "warm-up" is even complete.  Or I don't even get past the excuses phase to get the vacuum out.
The next step after holiday shopping, is to clean out the toys we already have that the kids don't play with.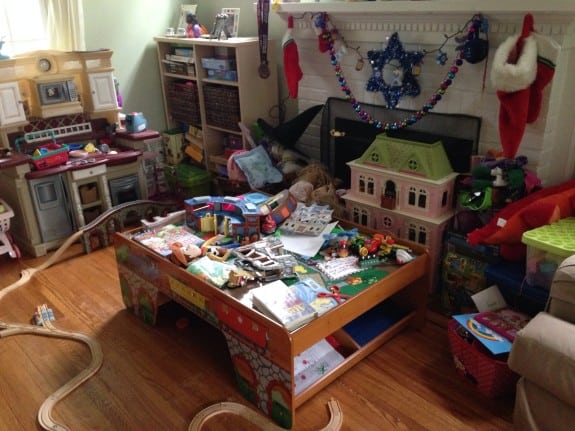 I mean ya think?  This is just one corner of the house and this is "neat" for us.  I will get on it, right after I do the 300 things that I prioritize before it.  Sure.  No really, it needs to happen or the house will explode.
Well, that is all for today.  I'm off to pick up my son from preschool and head to the post office.  Amazing how he refuses to wear a hat when it's freezing but yet can't function without leggings on his head at home.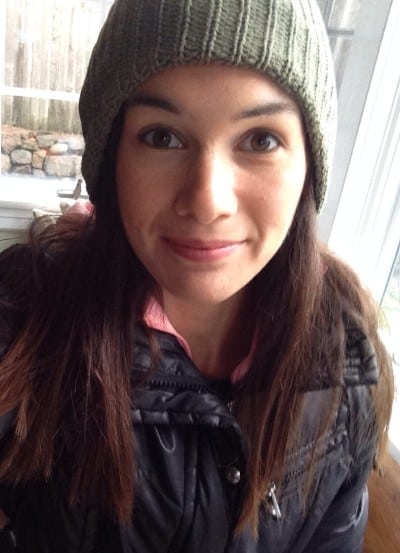 Did you have any quirks as a kid that you can remember?  What about your kids now?  Do you holiday shop a little at a time or try to get most of it done all at once?