Time is not everything.  Sometimes we feel good about our performance simply because it hurt like hell and yet we pushed through anyway.   While I don't think the goal in a tough workout or race should be to feel pain, I also don't believe you can do your best without experiencing some serious, ahem, discomfort.
There have been several races of mine where I've looked back and wondered if I could have pushed harder at some points.  Sometimes the answer has been yes and sometimes no, but after pushing myself pretty hard in both long and short races I have a good idea of what my limits are and when I know I could dig deeper and give more.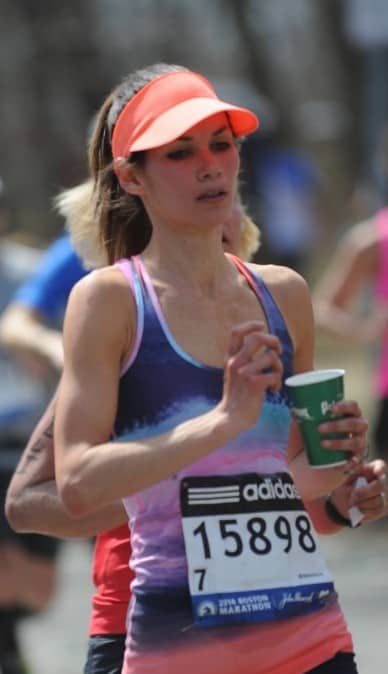 Going into the first marathon I ran my goal was simple: qualify for Boston by running under 3:35.  I set this goal for a few reasons.  The first was that I was running faster races than I ever imagined since dropping my jogger and I knew I had a chance.  The second was that running Boston was a dream of mine for a long time.  The third was that I knew I would push past any amount of pain to run 8 minute miles for 26.2 miles.  Yes, I was training, but mentally, I framed it in my mind as if I would choose to do whatever it took to run that time.
I'm not saying I always push through pain in training, in fact I actually like my training runs to be as comfy as possible while still gaining fitness.  BUT when it comes to racing I want results.  I really don't race for fun, that just doesn't seem to be for me.  So when I sign up and fork over my paypal $$ I know I'm going to give everything I have, and more, if I can find it.
I've found through my experience with different races and distances that there are several ways to approach the struggle and discomfort.  Here are 5 mental strategies that I've successfully used to push through pain while racing.
1. In a shorter race, like a 5K, think in minutes.  This works especially well in a 5k or during the last few miles of any race really.  No matter what kind of hell you're experiencing while pushing your speed to it's limits, you can definitely withstand it for another 20 or 30 minutes.   No really, you can, it's not that long at all.  Putting the pain in minutes left of it helps a lot because it completely puts it in perspective.  Like a somewhat extended rip-off-the-bandaid kind of thing.  To take it further, think about another time you were in pain and it lasted longer than 30 minutes and maybe you had no choice there.  You can do anything for 20 or 30 minutes, I know you can!
 2.  Be a rebel and prove everyone wrong (including yourself.) In a race it doesn't hurt to get a little dramatic if it's going to allow you to access that next level of badass alive inside you.  I have sometimes thought about all the times someone doubted me, looked down on me, laughed at me, etc and taken that anger and used it to explode with power I didn't know I had.  From a biological perspective, the anger that's induced when thinking this way produces a mild adrenaline rush that temporarily will increase muscle strength and sugar metabolism, so it is real indeed.  Kind of a cool way that you brain and body can connect in a way that works for you!  Of course, no need to get hooked on anger.  Just use it when you need it!
3. If you want it, you can do it, period.  By not even entertaining the thought that you might not BE ABLE to do something, you are allowing yourself to embrace the pain that inevitably will come with pushing your limits.  This was my main mental strategy for my first marathon.  I didn't just WANT to qualify for Boston, I was GOING TO qualify, and I was ready to accept anything that came in my way during that marathon, push it aside and keep going.
About 7 miles in there was a lady spectating and holding a sign that read "if you want it, you can do it" and although it seemed simple enough and unremarkable, I took it to heart and decided there was nothing that could prevent me from qualifying.  I was not going to slow down no matter what.
4.  If it hurts, you're doing it right.  Racing is supposed to hurt.    That's why it's more special than training – it's that special day when you take the machine you've built and truly see what it can accomplish when put to the ultimate test.  On race day, take comfort in the struggle.  Know that the more it hurts and sucks now, the more satisfied you'll feel with yourself afterwards.  Don't let pain in a race get you down and don't think it means you're not as fit as you thought you were.  It means you're pushing your body the way it's supposed to be pushed in a race.  "Rest" assured that you've got this one.
5. Get out of your head and put it in perspective.  Thinking about pain makes it worse.  I struggle with this one the most during races.   I find it far too easy to get lost in my own physical experience and it becomes difficult to see past it and get perspective.  Even during my first marathon when I qualified and ran 3:29 I was far too focused on how crappy I felt the whole time.  It was not until Boston that I had an epiphany with this.  My best moment from Boston was going up Heartbreak Hill, and let me tell you, I was not feeling well.  BUT I don't remember the pain much at all, because I was out of my head and embracing the experience outside of me.  This is tough and I have not mastered it, but it's something I plan to continue practicing because it's the key to both pushing through pain and enjoying the race at the same time.  Tough stuff.  I find that looking around, thinking about other people, the world, anything that doesn't involve me helps me shift focus.  Because at the end of the day, aren't we lucky as hell to be able to do what we're doing?  Be humbled, be fast, be happy!
What are a few of your best strategies for pushing through pain?  How do you approach racing?  What is an inspirational quote that gets you to dig deeper?