Well hey guys!  It just happens to be the official first day of school over here, so I'm likely a little on edge/playing the role of lunatic mom that comes way too easily for me.
But anyway!  I have more exciting things to share with you all today than my first-day-back nerves.   In fact, we're going to talk about something that is sure to make day to day life a whole lot more simple for us, less frazzled, and replace chaos with order.  Deliciously organized order!  That's right – we're talking MEAL PLANNING!
How Simple Meal Planning with Prep Dish Can Help You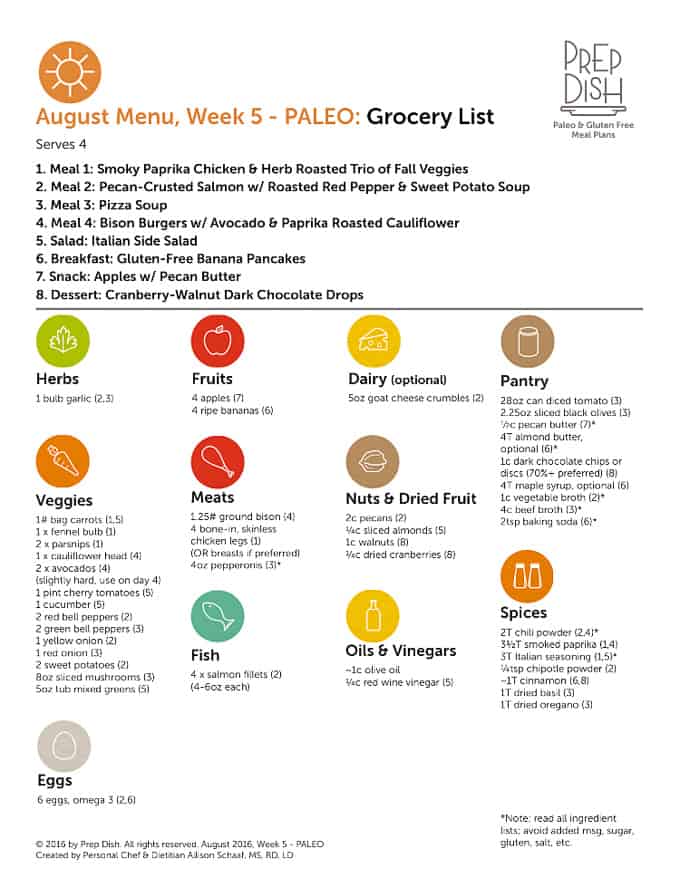 I met Allison Schaaf, owner of Prep Dish back at the Paleo fx Health Entrepreneur day in April.  I  immediately loved her warm friendly personality and her extensive expertise with gluten free and Paleo meal planning!
She's been a personal chef for years, studied culinary arts and nutrition and seriously knows exactly what we need when it comes to healthy meal planning and prep.
I love cooking, but, meal planning and prep is not my strength.  I tend to leave planning for the last minute and repeat the same easy meals over and over – which is sometimes totally fine – yet I know that better planning would mean more variety and more nutrition for the whole family.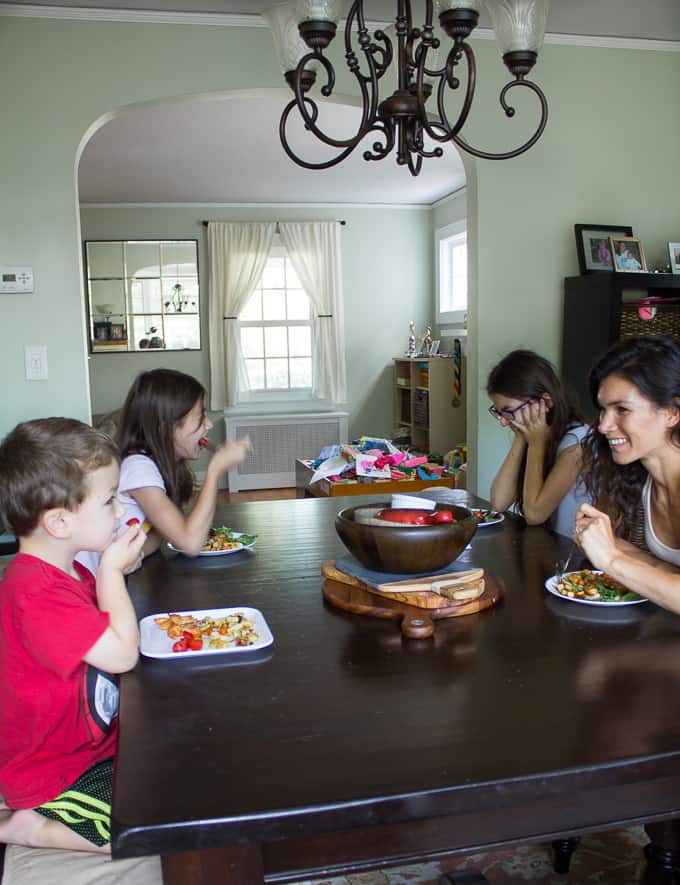 The need to plan and prep ahead of time becomes totally necessary once school is in full swing, since I'm juggling 3 sets of after school activities and often find myself cooking dinner in between dropping someone off and picking someone else up!  Prep dish is really a lifesaver for busy evenings like this.
Here's how it works:
Each week, Allison emails you everything you need to plan and prep the following week –
4 meals, one breakfast, one snack, one dessert (you can choose between gluten free and Paleo plans.) Your easy-to-follow shopping list, plus instructions for "prep day" and "dish day" along with tips and possible substitutions.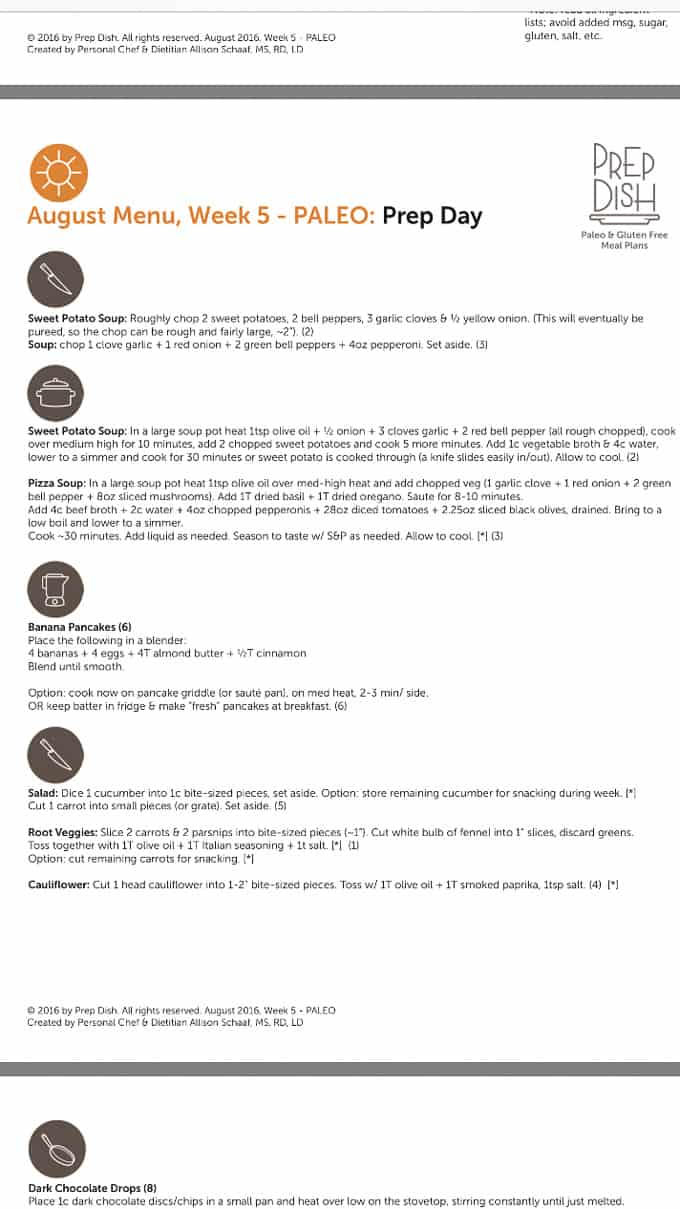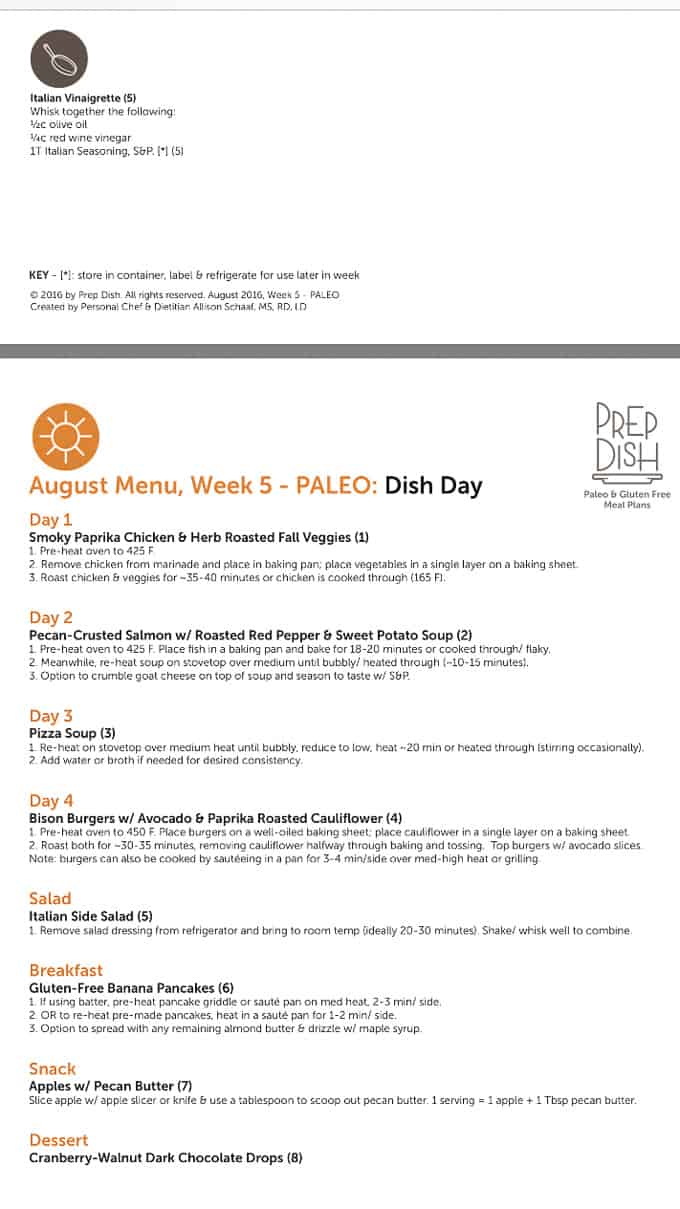 You carve out about 2 hours to do all your prep (I would say if you have help this will take 1-2 hours total) and then each "dish day" your meal will take under 30 minutes to finish the cooking.
I found that dinner was ready each night in 20 minutes or less when the prep had already been done, plus the reheating/oven roasting was easy and did not require me to be in front of the stove.
The Food!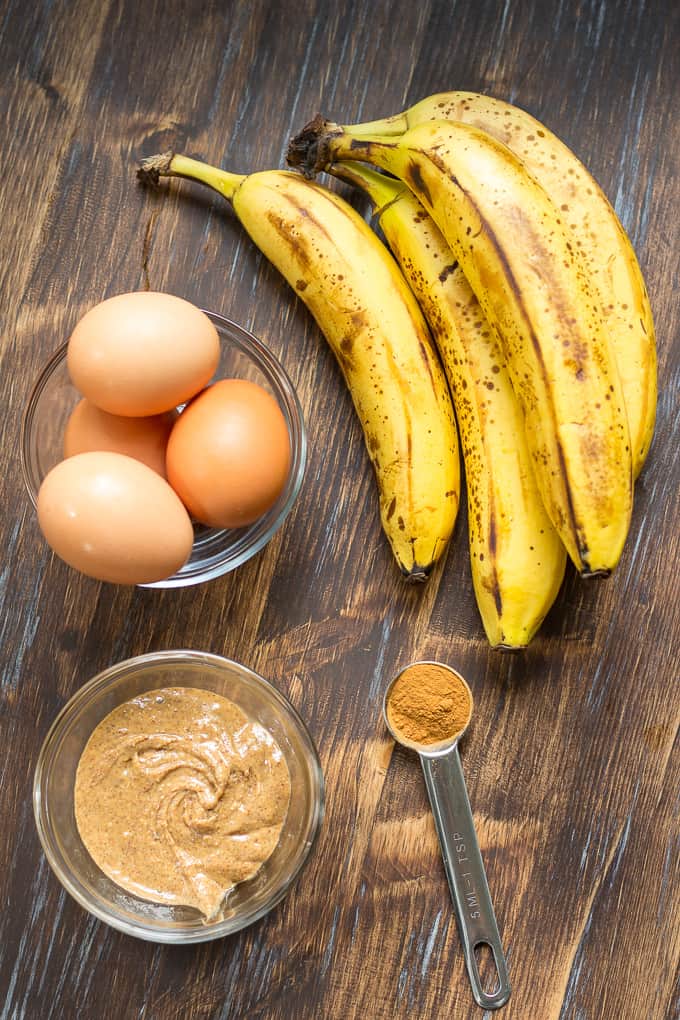 In my opinion, one of the best things about Prep Dish meals is the combination of simple, nutritious ingredients creating delicious meals that are also really easy to play around with with small changed to make sure your family is happy.
Breakfast & Dessert
I had never tried simple banana/egg pancakes and was so pleasantly surprised by how quick and easy they were and how they turned out.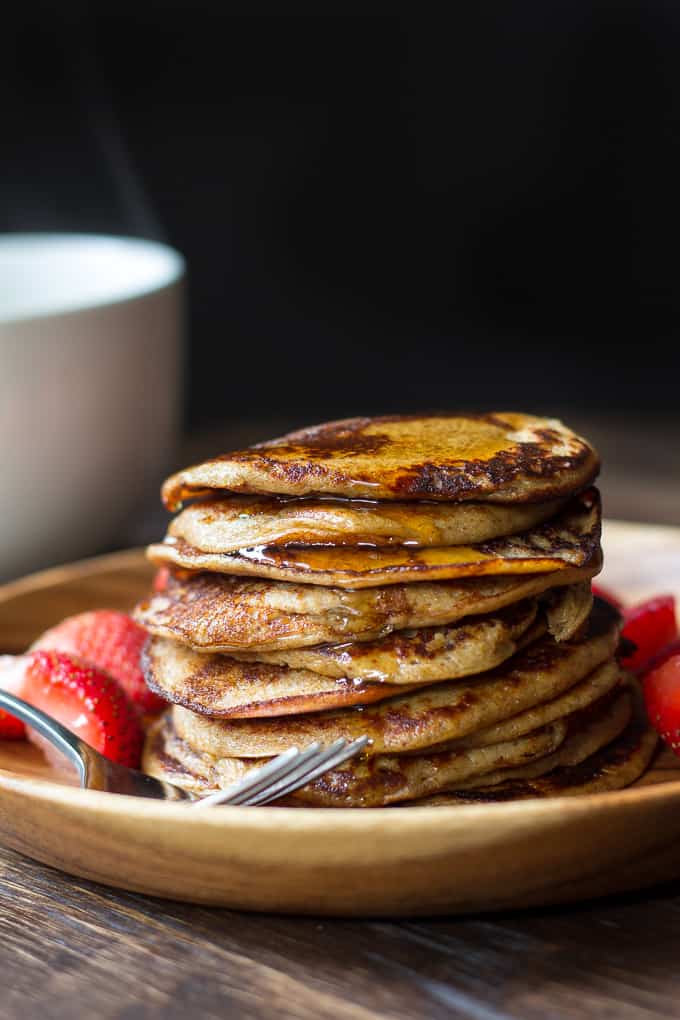 You simply blend up the ingredients shown above on prep day and store the batter in the fridge to make 5 minute pancakes on busy mornings!  Where have I been?!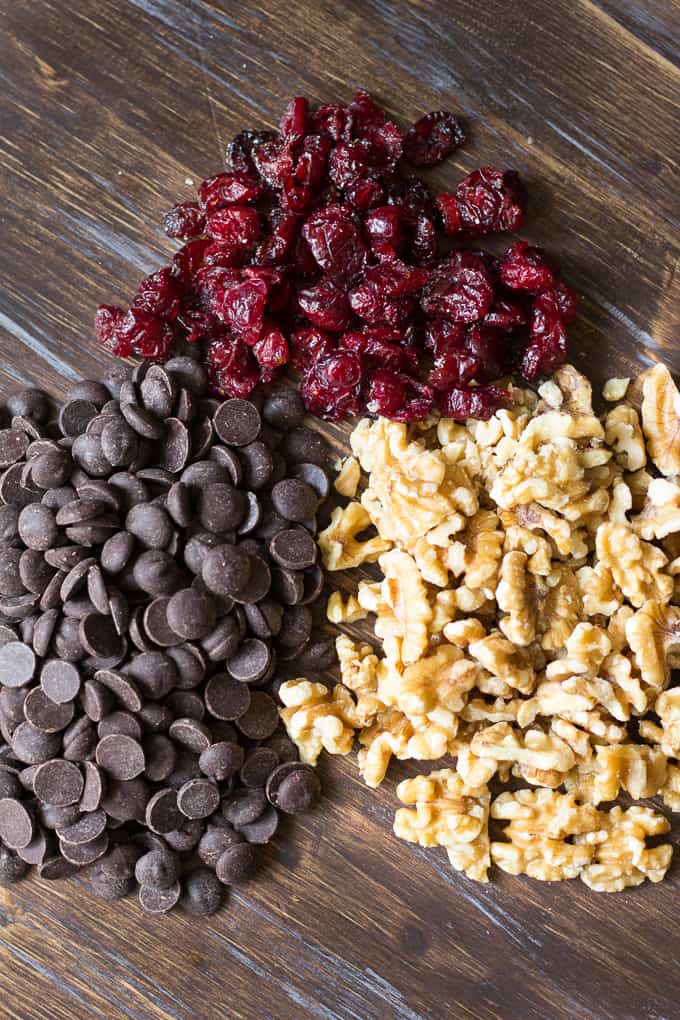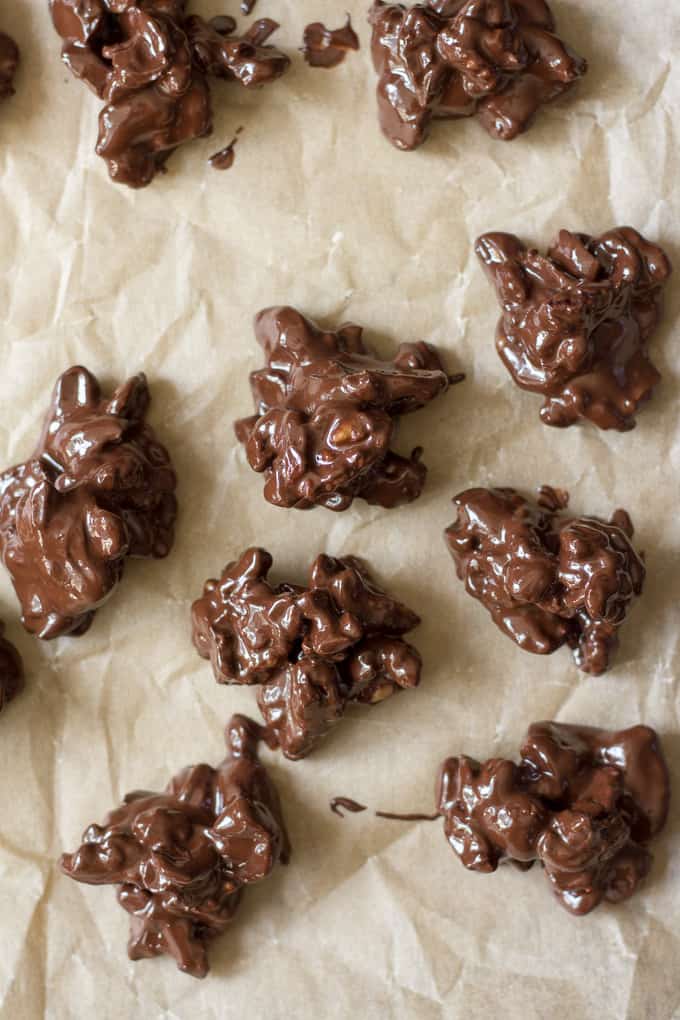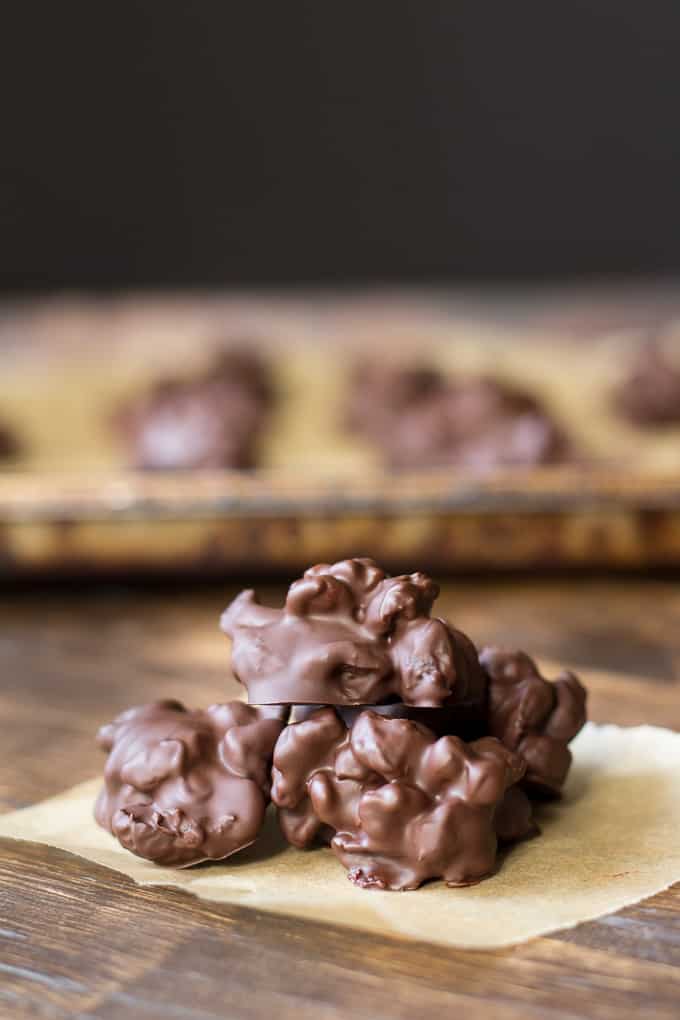 We made the easiest dark chocolate, walnut and cranberry dessert bites that are now going to have to be made ALL THE TIME over here since they were such a hit and literally took 5 minutes to throw together.  I actually made 2 more batches yesterday to have ready for after school and bed time snacks this week.
Dinners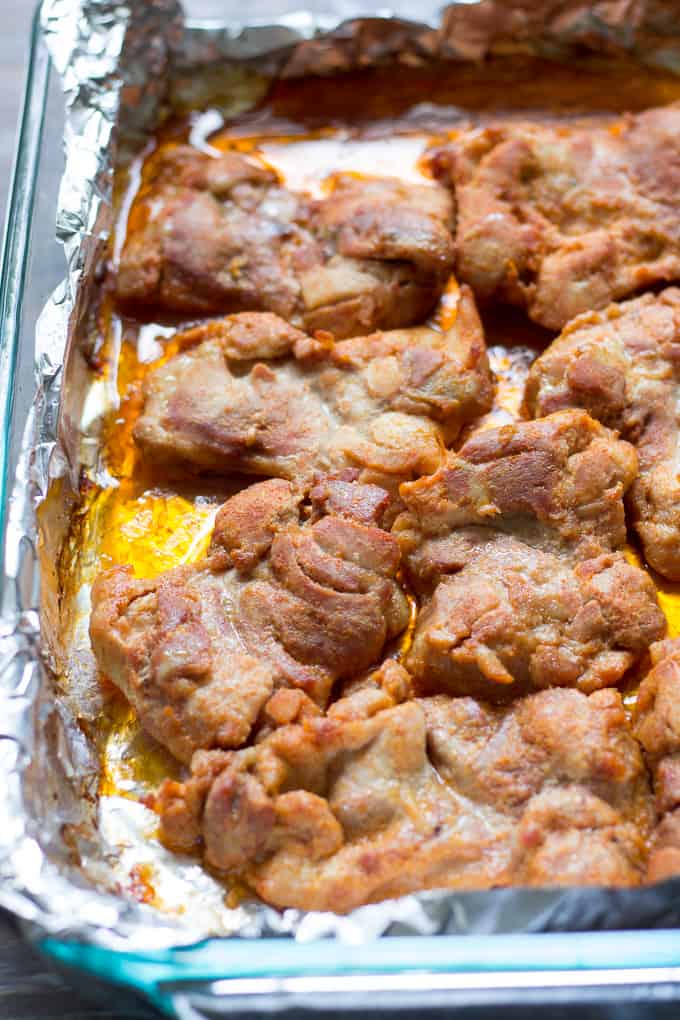 I wound up using my oven a lot more than my stove for my Prep Dish meals which made dinner time easy.  Since everything was chopped already, marinades were made and even full meals were basically ready to go, I found myself working less at meal time.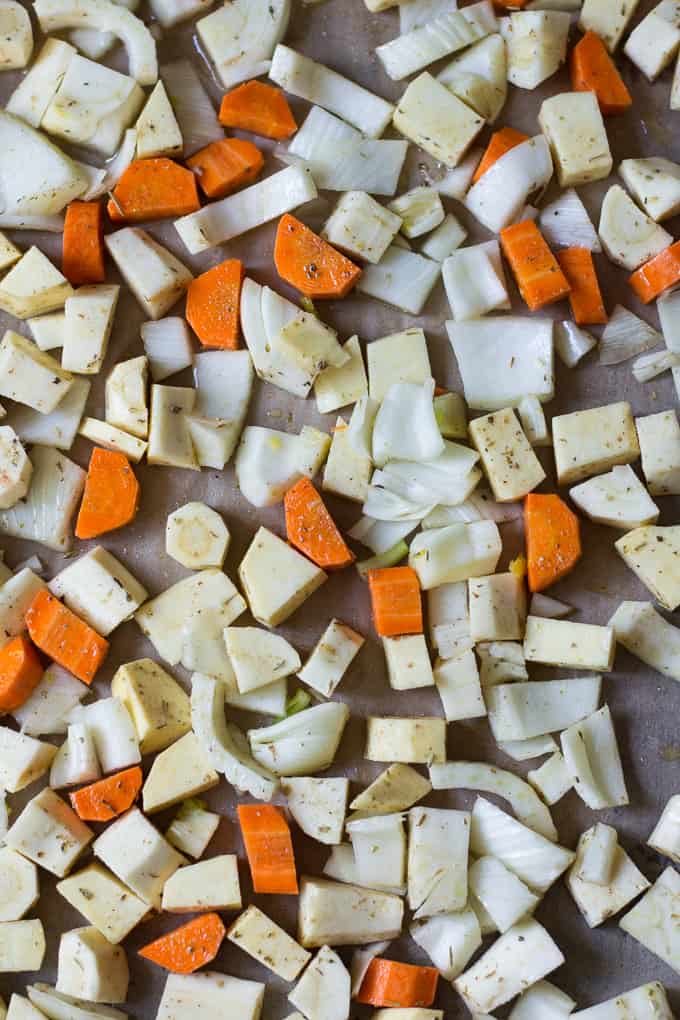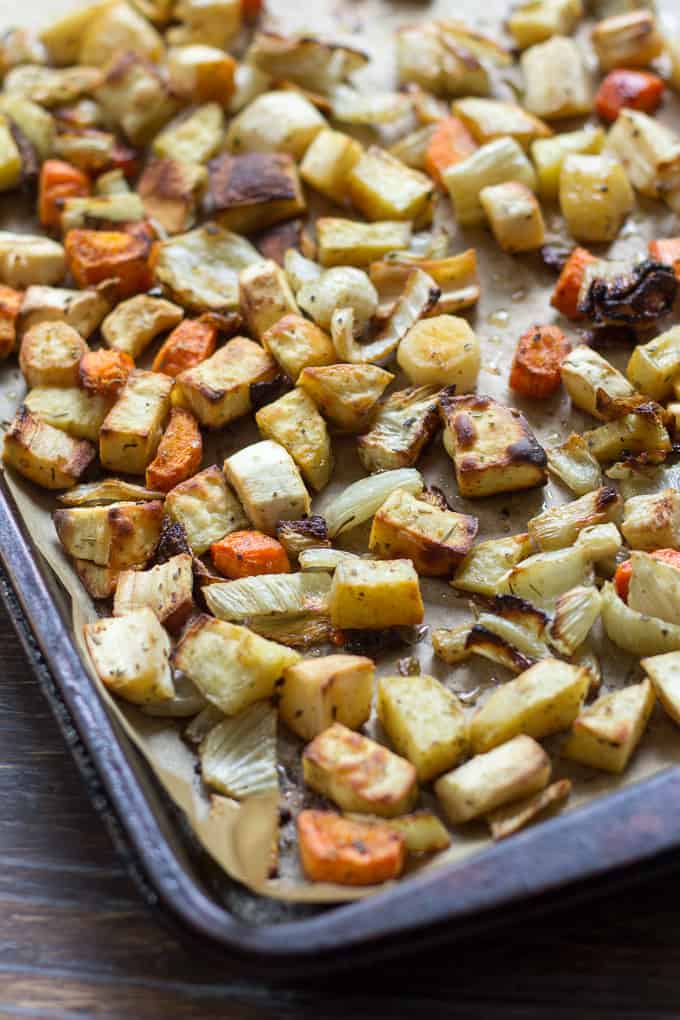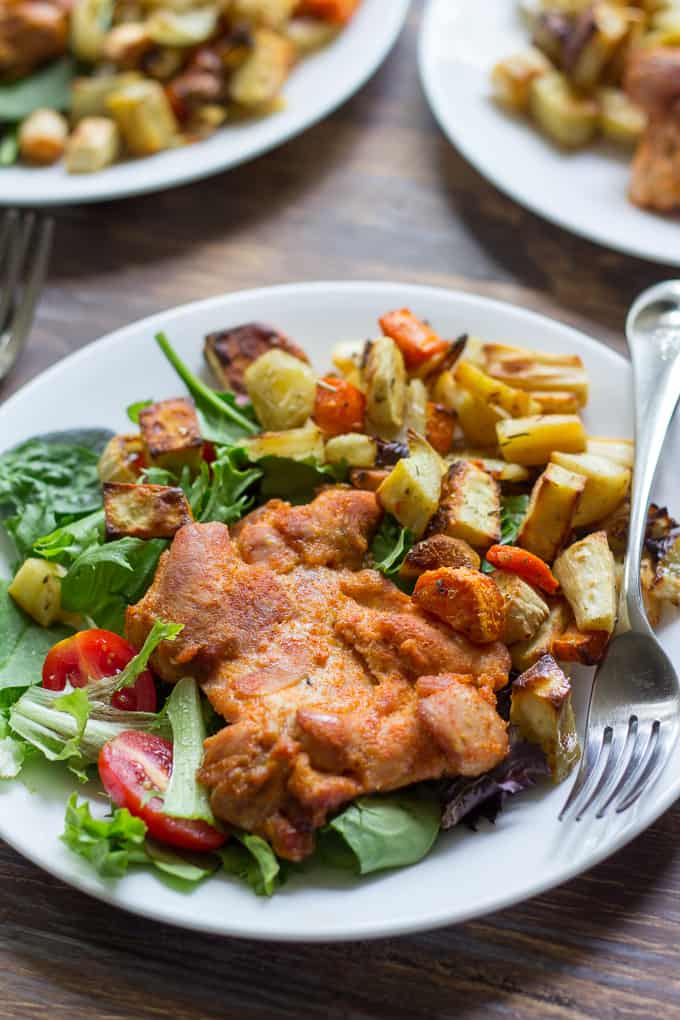 My kids were really open to the variety (they loved the roasted root veggies above!) and it made me realize how important it is to revisit different veggies and incorporate variety into kids' diets.  Just because they hated something a month ago doesn't mean they'll hate it today!  (Smoky paprika chicken and herb roasted fall veggies shown above.)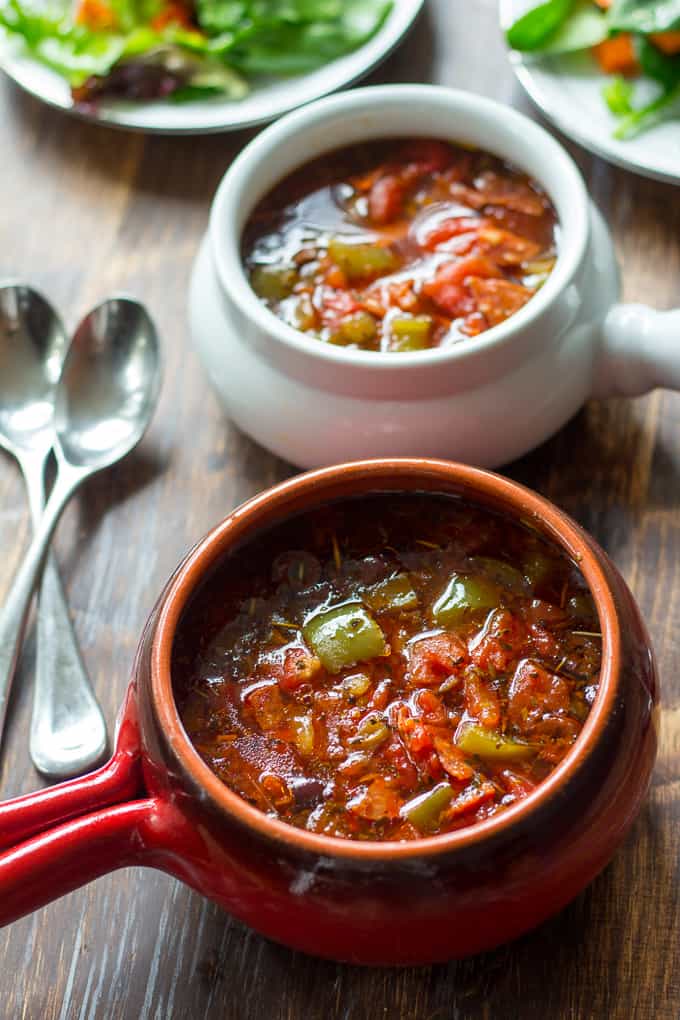 I've also found that simply having a positive attitude around meals and making them "fun" with names like "pizza soup" (shown above) makes them a whole lot more willing to try new things.  My super picky 7 year old wound up eating a whole bowl of pizza soup with more veggies in it than she'd normally consume in a day!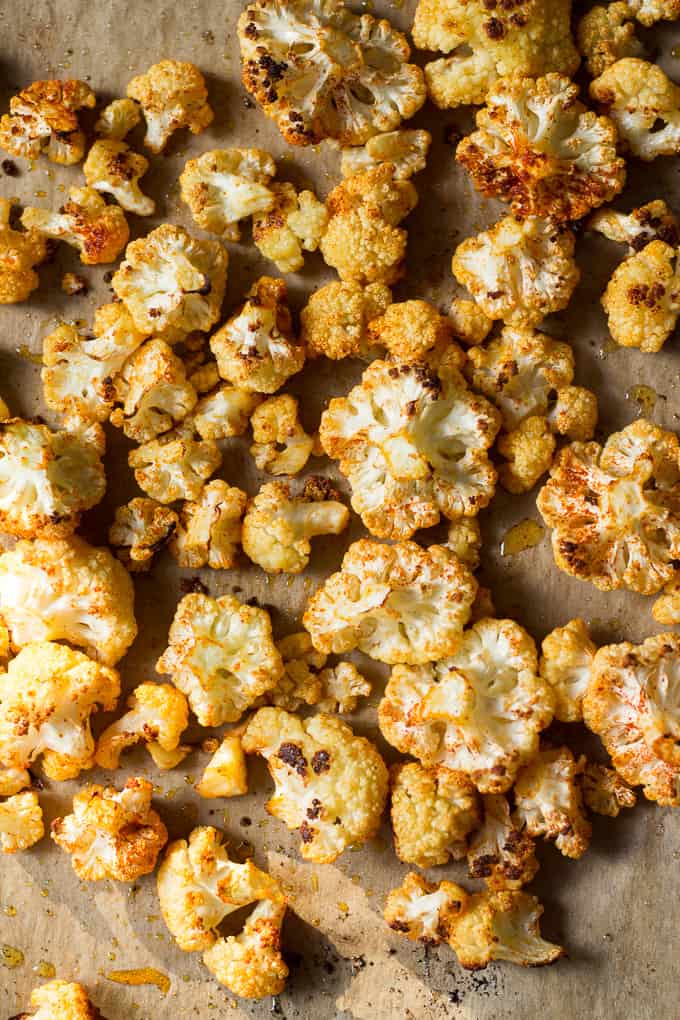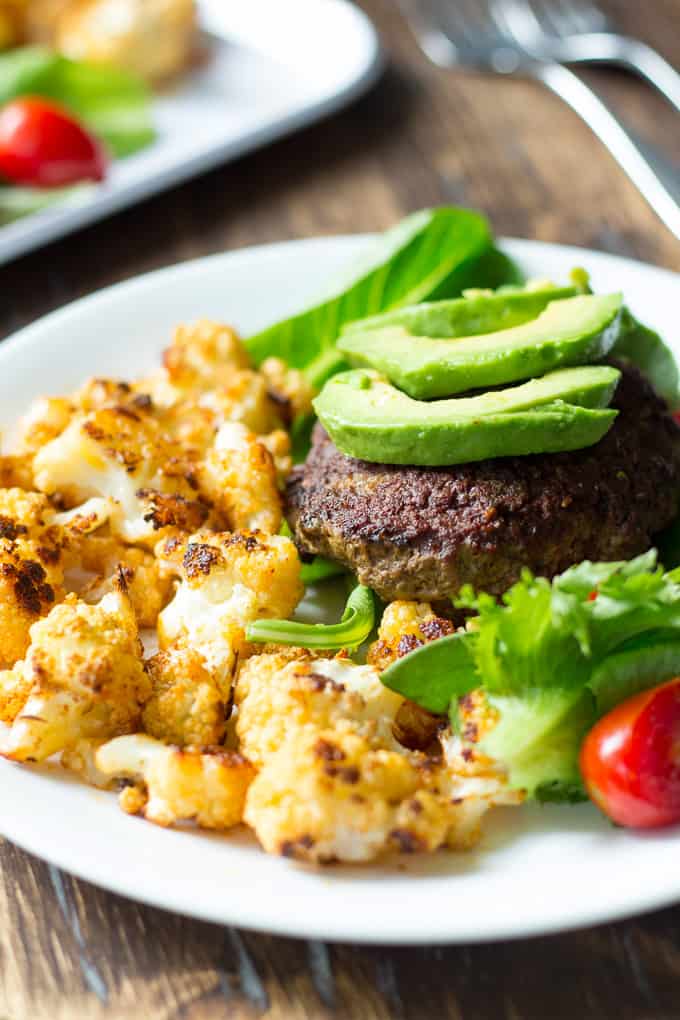 I was also able to revisit foods that I personally hadn't had in a really long time (like cauliflower) and will definitely be putting them back in the rotation.  (Bison burgers with Avocado & Paprika Roasted Cauliflower shown above.)
Since I try to eat low FODMAP for the most part, I was able to sub low FODMAP options where I needed to, and, the Prep Dish meals are flexible and easy to sub ingredients where needed.  Allison even gives you suggestions for subs in here emails which is extremely helpful!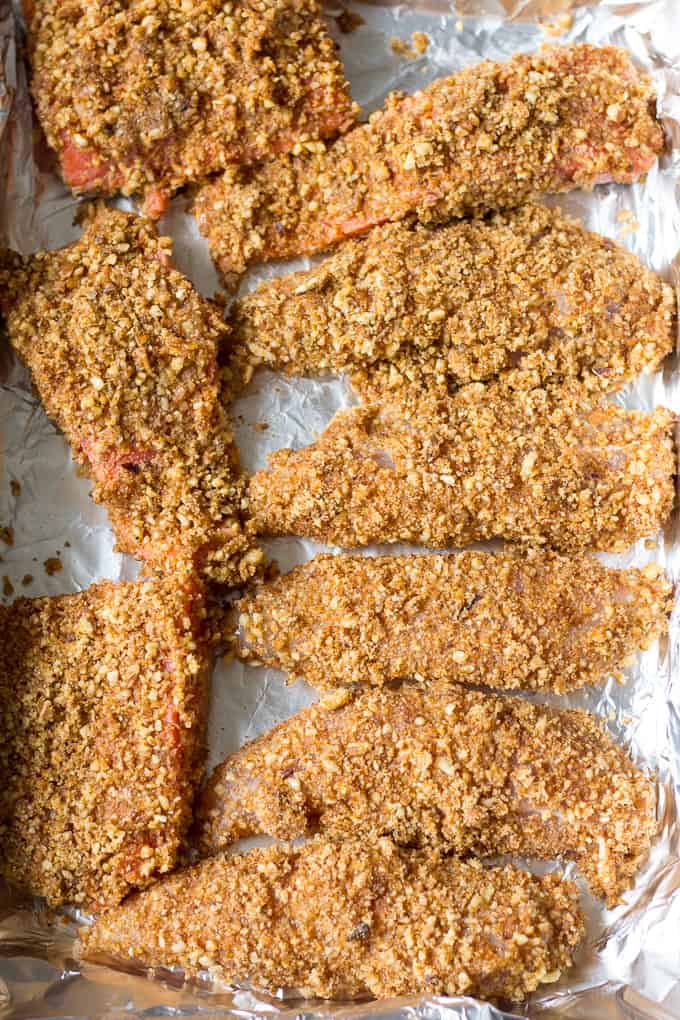 For example,  Diana and I love salmon and the rest of the family does not – so for the pecan crusted salmon (shown above and below), I simply subbed in chicken tenderloins for our 3 chicken lovers and just baked it all in the same dish.  Easy peasy!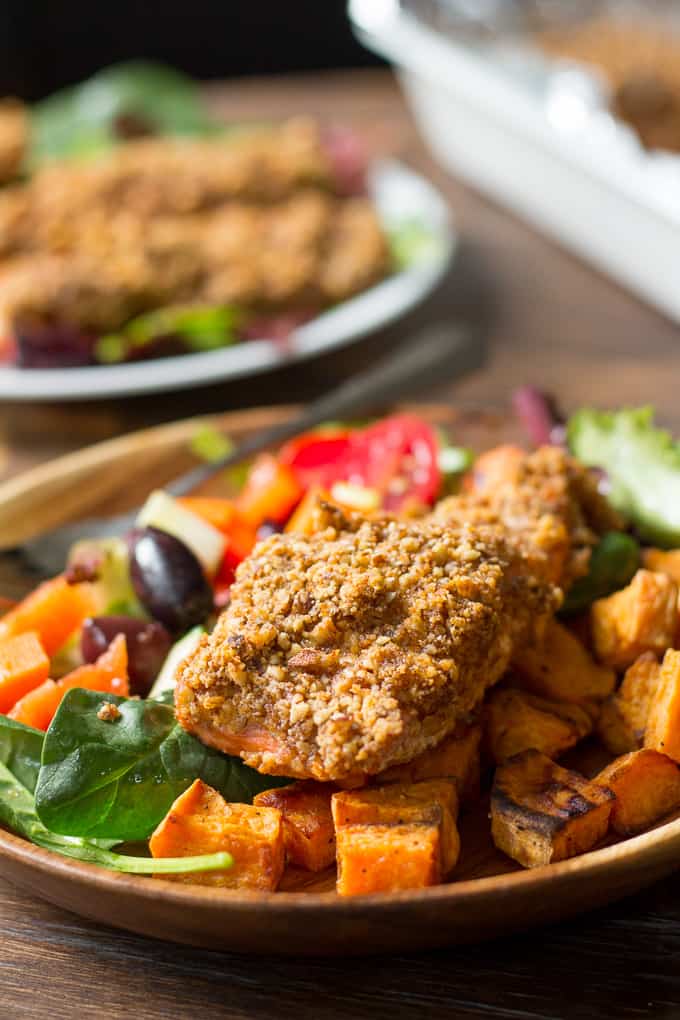 The only thing I actually left out of the meal plan as written was the sweet potato soup, and this was only because the pizza soup recipe made enough for leftovers.  I simply roasted sweet potatoes to eat with the salmon and salad, and now we have the roasted red pepper & sweet potato soup ready to go for this week!  Who knew I had a family of soup lovers?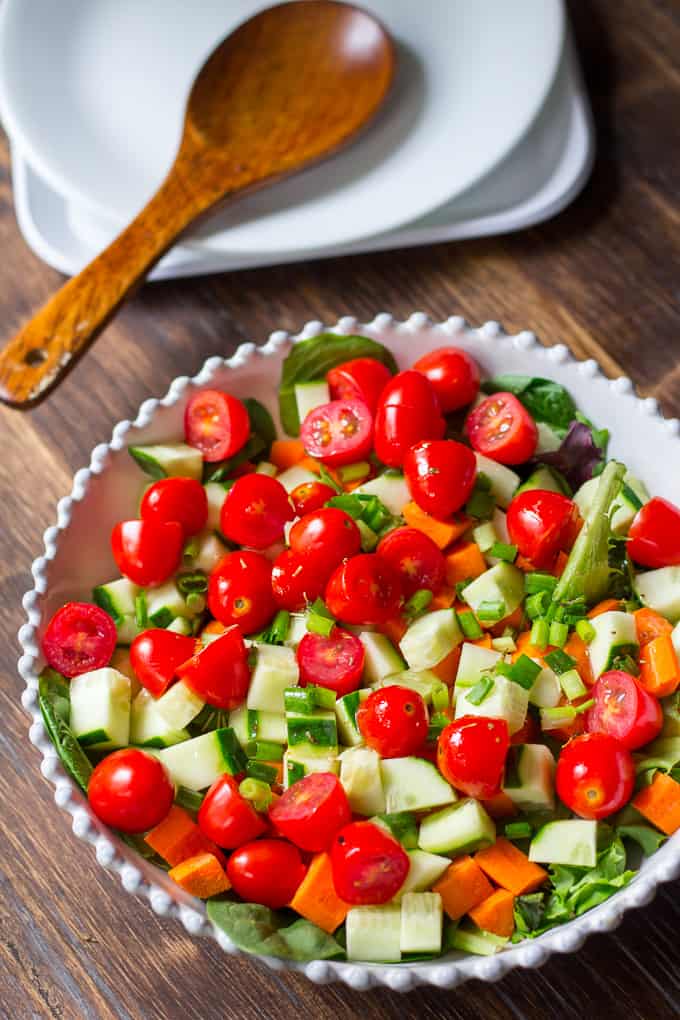 Another veggie-win with Prep Dish was the Italian side salad shown above.  After I made it the first day, my kids requested it every single night thereafter.
It was eye opening to see all the veggies they were eating when presented in a new "exciting" way!  The best part is that I spent zero time and energy coming up with any of it – Prep Dish had it all completely taken care of.
Try Prep Dish Completely Free for Two Weeks!
Allison is offerring a 2 week free trial of Prep Dish to all of us – how amazing is that?!  To access your free trial, simply visit this special reader page and use the code RUNNINGMOM when you sign up (the code is displayed on the page I linked to with instructions for how to sign up.)
Overall Reaction to Prep Dish
There is seriously nothing not to love about Prep Dish.  You get easy yet delicious meals and recipes written out for you with options – so you never feel like you're stuck with something that isn't right for you.
There's even an option to use Instacart to get your groceries online PLUS a "super fast" menu for weeks when you have less time than usual.
At $14/month, it's very affordable for what you're getting – Allison covers every base when it comes to the planning and prep, and the time and energy you get back is more than worth it!  Remember to sign up for 2 weeks of Prep Dish completely free and decide for yourself!
Are you good with meal planning and prep?  What are the biggest challenges for you?
Any tricks for getting your kids to try new foods?
What do you need the most help with when it comes to preparing healthy meals for your family?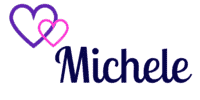 This post is sponsored by Prep Dish.  I received 3 months free plus compensation for an honest review of Prep Dish meal planning.  All opinions stated in this review are entirely based on my personal experience with Prep Dish.