Morning guys! Hope you had a great weekend and Father's Day.  We spent the day in the backyard consuming lots of grain free goodies!  And now here I am, on another Monday with another quick yoga workout.
I know that 30 minutes has been my goal, but honestly the way my schedule has been, I'm finding 20 minutes to be more manageable and less intimidating. And what does that mean? It means I actually DO it, don't stress about it and can move on with my day.
As I said last week, I'm back to training with a heart rate monitor with the Polar M400 about 2 days per week, with the other 2-3 days just easy "fun runs." My only real goals this summer are to run consistently at a mostly easy effort, about 20-25 miles per week, with one run being at a harder effort.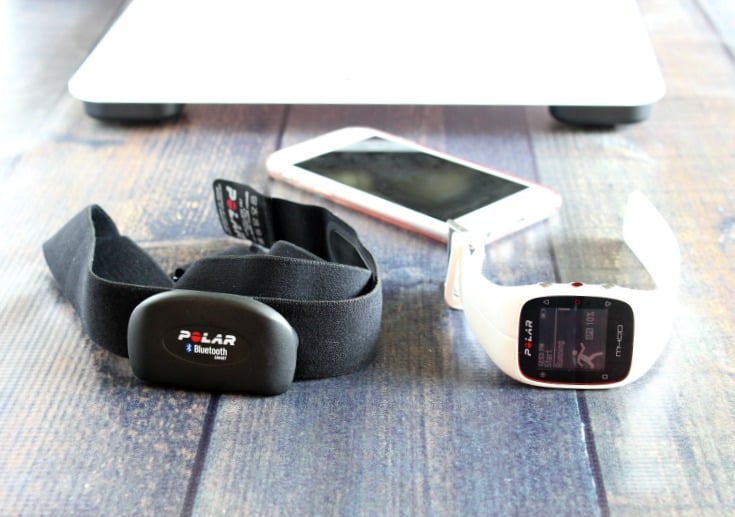 Since I just don't have any time goals in mind for upcoming races, training by effort makes the most sense.
I like that when you train with the Polar M400 heart rate monitor, you have to be honest about your current fitness and actual levels of effort, versus what you "think" should be easy/moderate/hard effort. Especially with the summer heat, all of us will need to slow down, hydrate, and keep an eye on our effort to stay true to keeping our bodies healthy!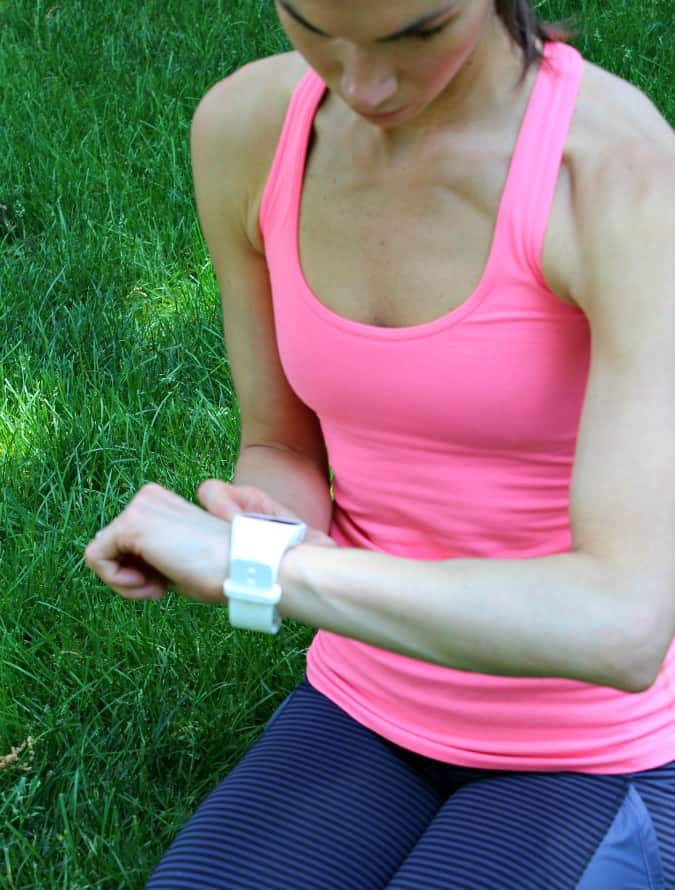 And, even if there ARE time goals in mind, training with a heart rate monitor is also quite effective in 3 ways.
The first is by showing us if those time goals are realistic based on our pace during easy, moderate and hard efforts. For example, if you're heart rate is near it's max for your desired half marathon pace, there's work to be done before you can safely reach that goal.
The second is the ability to track your progress accurately by showing you what your heart rate numbers are versus pace as you train at different levels of effort over the weeks. This also relates to the 3rd benefit of heart rate training.
Being able to predict when you might be OVER training – while following a marathon training plan, for example is another great benefit of heart rate training! If you find that you're actually not progressing over the weeks or your heart rate is high during an "easy" run, it shows you you aren't recovering well and could be risking injury and burnout! I really love the heart rate tool to help keep it (and us!) real with our training!
The Poloar M400 also pairs with the Polar Balance scale to help you meet overall fitness as well as weight goals if you have them.  You have so much information about your training progress and fitness in all areas available to you all at once!
20 Minute Post Run Yoga for Strong Core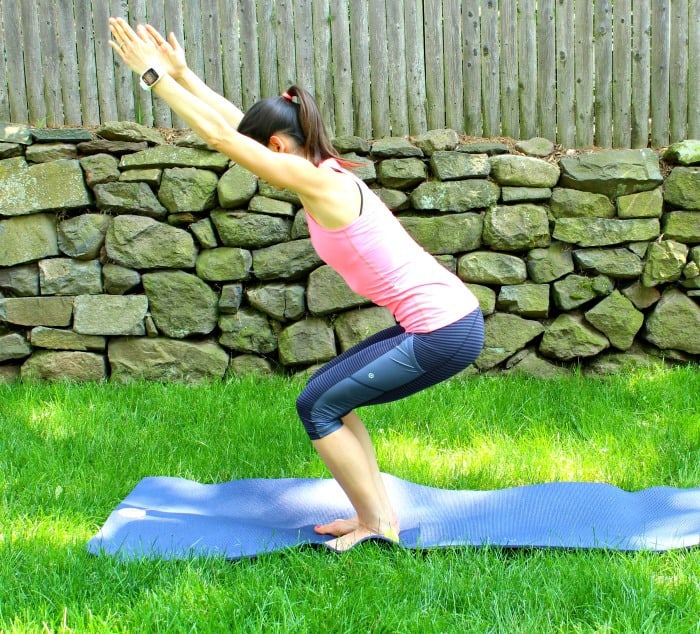 And now for today's 20 minute post run yoga core workout! This is great to do right after a run, maybe even when you're still outside cooling down. Your muscles are already warm and ready!
Begin standing and move right into a variation on sun salutation B to get your core warm for the first 5 minutes – chair pose as shown above -> followed by forward folding -> a step or jump back to chaturanga -> upward dog -> downward dog. Jump or step up and repeat!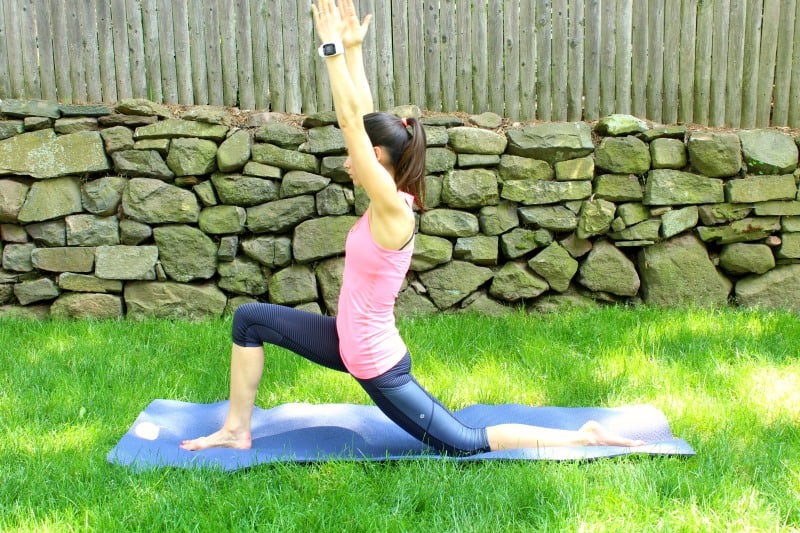 Step one leg in front in a low lunch and reach up with arrow straight arms to stretch out your hip flexors. Hold and breath. Move through a vinyasa and repeat on opposite side.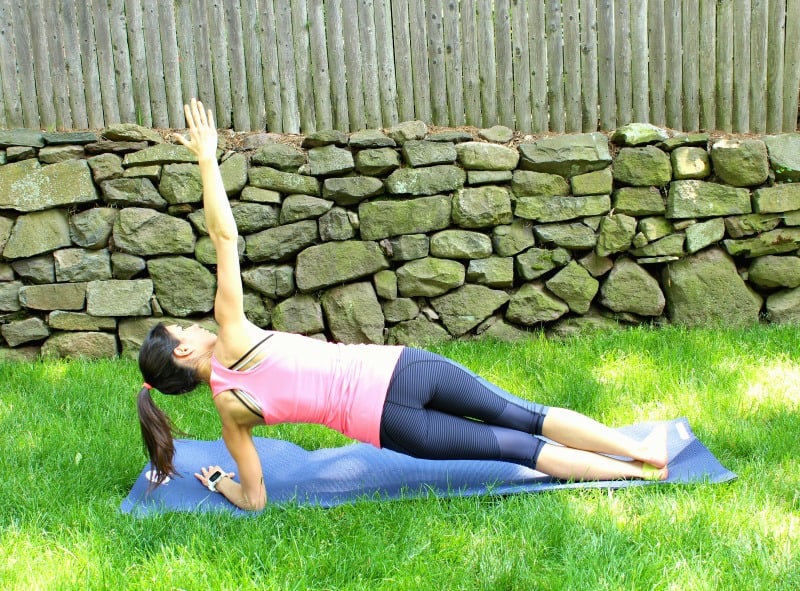 Now move into dolphin side plank (forearms down) on one side as shown below. Raise your top arm and look up if you can balance. Hold and breathe for 60 seconds, then move back to down dog, and repeat on opposite side.
Take a break in child's pose if you need, then move back to dolphin pose (down dog on forearms) which is great for the shoulders, core, and hamstrings. Hold for 60 seconds.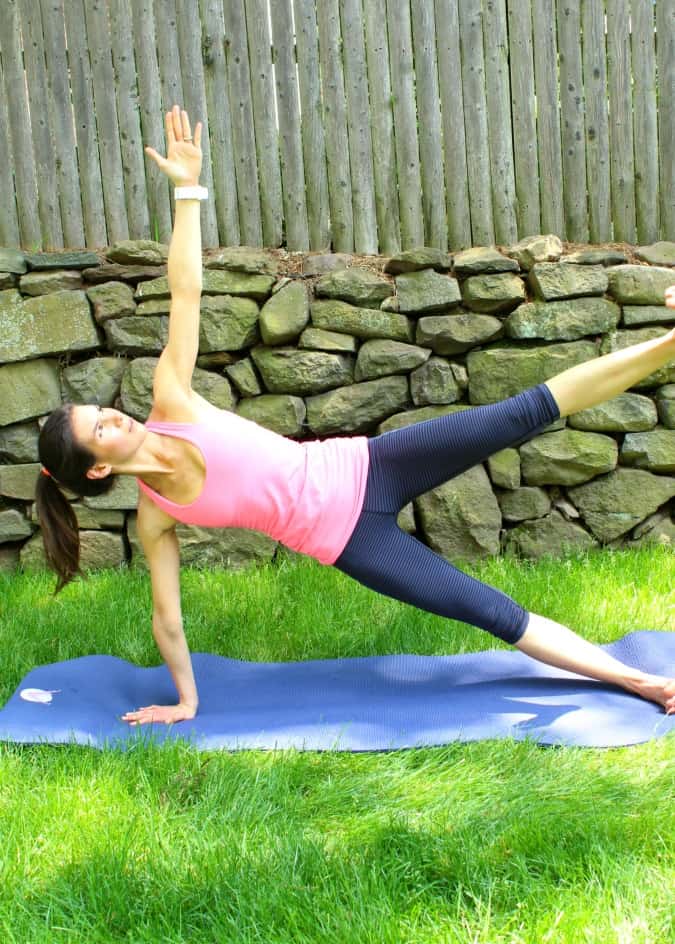 Move through a vinyasa if you wish or go back to downward dog. Move into plank pose -> side plank on one side, and lift your top arm and top leg if you can. Hold for 30-60 seconds, then repeat on opposite side.
After a quick child's pose, get into a seated position for boat pose with a long spine and bent legs, hold for 30 seconds. Finish the workout with a cooling twist while lying on your back and give yourself the last 2-5 minutes to rest!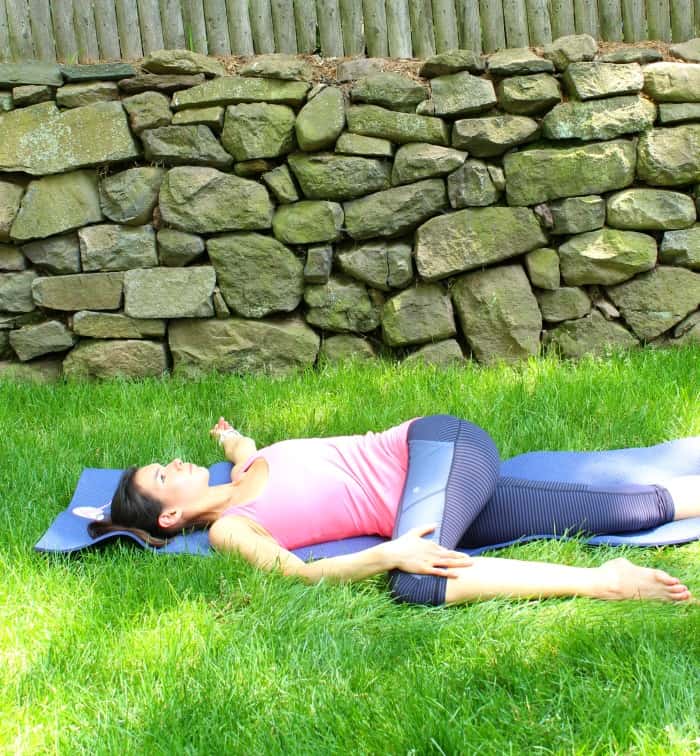 Since I typically would not want to eat anything prior to a core workout, I saved my meal for afterwards! Sort of like the perfect reward for working hard 🙂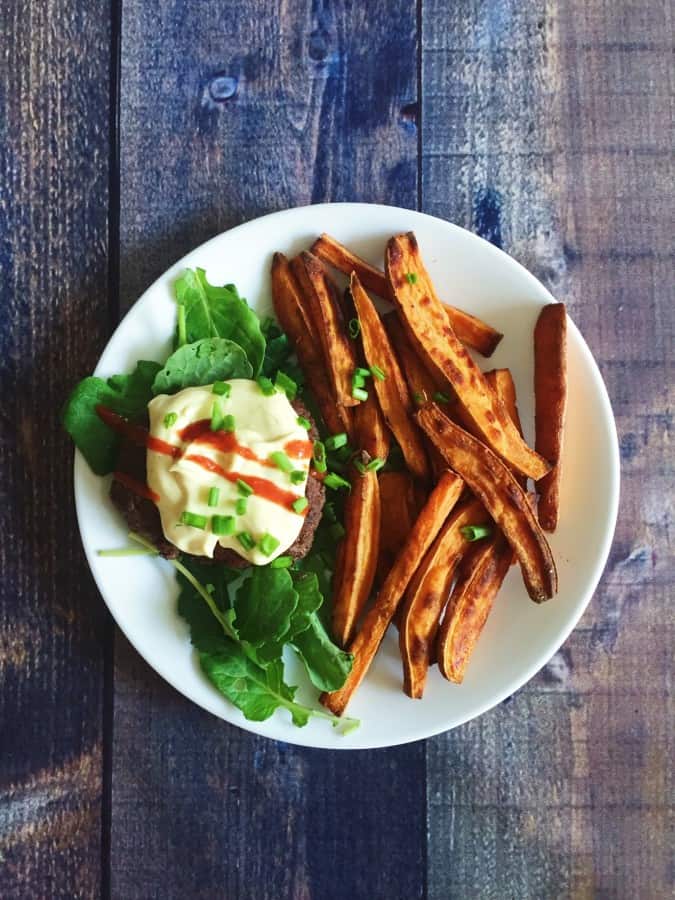 This is a simple lunch and one of my favorites lately – baked sweet potato fries, a grass fed burger over baby spinach, topped with my homemade mayo, a drizzle of hot sauce and a sprinkling of green onions for my low FODMAP flavor 🙂
Is there anything better than a hearty burger and sweet potato fries after an outdoor summer workout? Maybe if somebody made it for me, I suppose. And perhaps with a home brewed kombucha on the side, okay yes, that would be better!
And one more thing even better for you guys – I have a discount code! You can use the code: POLARFITBLOG to receive 20% off the Polar Balance or any Polar Activity Trackers. This code expires 8/31/16.
What's your favorite post workout/run meal in the summer?
This is a sponsored conversation written by me on behalf of Polar US . The opinions and text are all mine.