I seriously have to check multiple times a week to remember what week of training I'm in.  That's what I get for creating a 16-week plan for myself.   If I ever run a marathon again Next time, a 12 week plan might just workout better for me mentally, or at least make it easier to remember the week I'm in.  I've been feeling "fine" this week – not bad and not particularly strong – just kind of average and what I'd probably expect for this point in training.  I'm not feeling any pain, my bunion is really not bothering me surprisingly (although of course now it will since I said that) and although I can't say I'm getting enough sleep, I'm getting an amount that I can live and train on so no complaints.   Things really are, just fine.
Some highlights from the week were:
A surprising pink sky at the end of my run Monday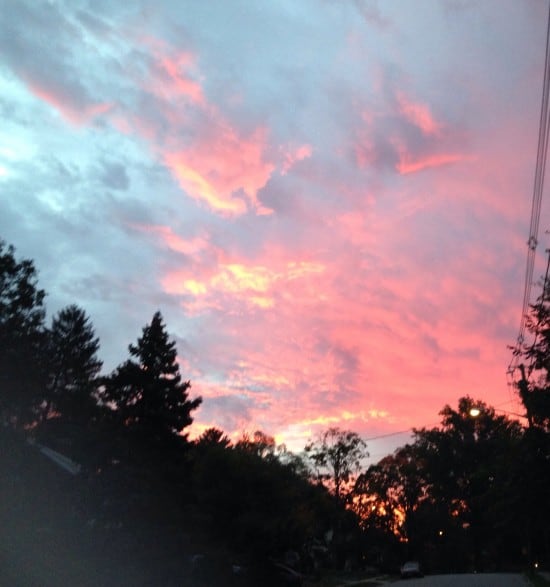 I made this apple thing and my kids loved me the whole day
The bottom was sort of an acorn squash cakey consistency and the topping was apples cooked with cinnamon, vanilla and coconut butter.  I'm still working on the recipe for it but it was good enough for everyone to stuff in their faces in record time.
I also made an acorn squash pear hash with cinnamon and nutmeg using the rest of the acorn squash.  I've been loving cooked pears with cinnamon just as much as apples this fall.
And now my runs this week.  Again I messed with my training plan because I need to do my long run Sunday instead of Saturday due to my husband coaching all day, rain, and the Jewish holiday.  I'm not even sure which one of those factors was the deal breaker for me but clearly a Saturday long run was not in the cards.  Sunday morning's weather looks fabulous so I'm really excited for my run tomorrow.
Monday: 8 miles easy, 2 min plank 80 pushups
Tuesday: Jogged to the track for speed workout and it was closed!  So tempted to go easy but did it on the road.  7.79 miles total, I was supposed to do 6 x800 but wound up doing 600 on one of them (I suck at math while running!) so then added a 7th 800 at the end.  I wasn't happy with my speed but I have a feeling the track would've been faster.  We'll see next week!  Splits were 3:27, 3:27, 2:57 (the 600!) 3:32, 3:32, 3:31, 3:33.  Also did 2 min plank and 60 pushups
Wednesday:  5 miles easy, 2 min plank
Thursday: 8 miles, hilly route, 2:30 plank 80 pushups
Friday: 5 miles easy, 2 min plank, 80 pushups
Sat: Rest, 2 min plank
Sunday: Planning for 16 miles with last 6 @ MP (7:45-7:50) plus 2 min plank and hopefully some pushups?
Because I'm switching up my long run, my mileage will total just about 50 for the week.  Also because I switched my 14 and 16 mile runs mileage for this week is now 8 higher than written in my plan.  Looking at the next few weeks there is no break from that with weekly mileage close to 50 and then peaking at 53 in week 13.  I'm feeling fine now but depending on how I'm doing after Sunday's run, I may decide to make this coming week a "down" week since my changes in schedule added in more miles overall.  If I'm feeling well though I'll probably just try to stick with the plan as written from here on out.  But as we all know, something always happens and when life allows, we run 🙂
Going forward I think my weakest area is sleep right now, even though it feels like I'm getting away with it, I have my doubts.  It's becoming increasingly difficult for me to get out of bed at 5am and for me that's a sign I need to go to sleep earlier.  My goal is 9:30 but even 10 would be better than where I'm at.
How seriously do you take sleep when training for a big race?  How do you know you need more?  Do you feel like sleep affects your recovery from workouts?