Can you believe it?  My Philadelphia Marathon training is two weeks away from DONE!  It never quite feels how you imagine it's going to, does it?
After being really wiped out and my knee bothering me after my 22 miler last Saturday, I went off my training plan and just ran what seemed reasonable this week.  I realize that I want to make sure I rest enough to get my knee in good shape, and there's no need to push it while I'm tapering.
I'm definitely aware that my mileage is lower than I planned for this week and most likely will be next week as well, but, well that's where I'm at right now and I'm doing my best to forget the numbers and just think positively about the race itself.   I've been feeling pretty sluggish all week, which is likely a combination of beginning the taper phase and also that my two younger kids have been sick ALL WEEK.  They are both now on antibiotics and on the mend, and I'm feeling a lot of relief now and looking forward to my long run tomorrow.
So let's look at my runs this past week and my plans for the weekend.
Sunday –           Rest
Monday-          7 miles easy pace.  Still felt like I was recovering from Saturday.
Tuesday-         5 miles easy pace.  Getting better.
Wednesday-   Finally a good run!  My knee was feeling pretty good (not perfect) and I ran 7 miles total with 6 at goal pace, although the first was faster than usual as well at 8:00 pace.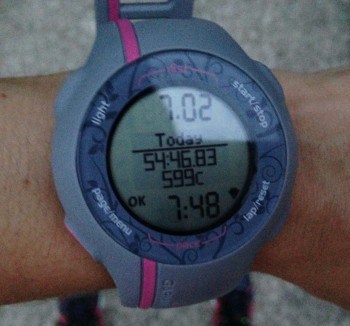 Thursday-    5 miles easy pace.  This run was not pleasant, since it was done at 4:30am in the rain.  My husband was leaving at 5:30 and since my kids were home sick I had to get the run in before he left.  He'll actually be away until next Wednesday at a work conference, so I'm going to be running later in the morning while they're in school for a few days.  At least the timing of his trip coincided with my taper.
Friday-         Rest
Saturday-   Planning to do 13-14 miles with the last 4 at goal pace.   I'm going to run at 9am (so my neighbor can stay with the kids) which is basically unheard of for me, so I have no clue how I'm going to feel!  I'm also debating what to eat beforehand.  It's amazing how we get so used to running at our usual times that changes like this feel bizarre!
Sunday-       Rest
The week should total 37-38 miles which actually isn't that much different than the 40 I had originally planned for.  For some reason it felt like a bigger dip down, but I guess coming from weeks that were around 50, 37 seems like a big drop all at once.  I'm starting to get that "am I really a runner who runs?" feeling that I always get during my tapers, when my mileage goes down and I feel nothing but sluggish!
A few other highlights –
I finally received my new running shoes.  Finally.  They are the same exact shoes I've had since last February in the 4th color.  This might be my last pair of Asics Kayano 19's – it's been real!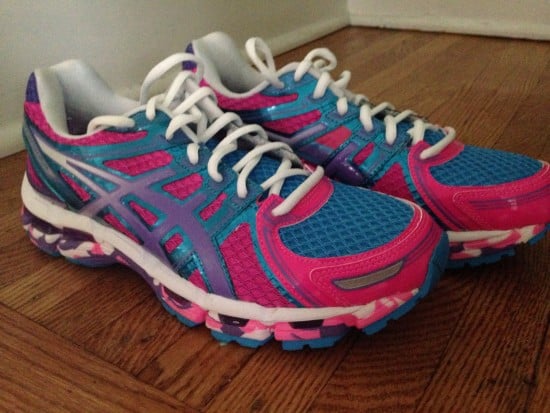 I also bought two new pairs of compression socks from Pro Compression last week.  I love them and I'm hooked!  Now I just need to search for more discount codes!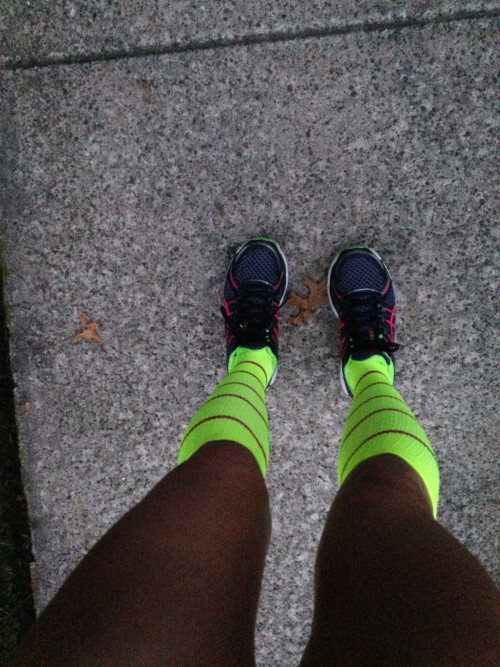 And not related to running, but here are a few more pictures from the week:
Looking ahead, next week is going to feel strange because my husband is away, and, for 3 days I'll be running during the daylight hours.  How strange for me!  Aside from figuring out what to eat before these runs, I'll also have to figure out what to wear since it's likely people will see me out running and that means I should set a good example for my kids and attempt to match my running clothes.   Plus I'll have to swap my headlamp for a hat/visor, which is big stuff for me.
What was your best run/workout this week?  What about your worst?  Do you feel strange running or working out at a time that's not typical for you?  
Enjoy the weekend!