So, for some reason I thought that I could throw some actual speed work into my marathon training at weeks 9 and 12 and it would not kick my a$$ hard.  I was wrong.  On Tuesday I jogged over to the track and did my 800s.   It hurt REALLY BADLY.  I get it.  I never run faster than a 7:30 pace, so asking my legs now to book it at under a 6:45 pace is asking a lot.
After the first two I came very close to quitting and turning it into a tempo run, but somehow I got myself to stick with it, even though I wasn't hitting the splits I'd hoped for.  Basically, I told myself the splits didn't matter and just running the 800s at the hardest effort I could would help me more than just quitting altogether.  And in the end I was happy I went that route.  Not just because it was what I had planned to do, but because I know that I put that speed work in my plan as much for mental strength as for physical.  I need all the mental strength I can muster if I want to have the best chance possible to reach my time goal for this marathon.
Before I ran my PR (3:29:15) I did no speed workouts at all.  I don't believe I personally need to do tough sessions at the track unless I want to improve my 10K or 5K time.  Tempos and marathon paced runs seem to work for the goals I've set in the past.  And yes I am knocking on wood here, but as much as running 26.2 miles HURTS, I've never slowed down significantly in the latter part of the race.  I am really curious to see if this continues to be the case when I run Philadelphia in 4 weeks.  I also want to see if throwing a few speed workouts into my training will have a positive impact on my time, my confidence, and how I feel during the marathon.
Here's a look at my runs this week:
Monday: 9 miles at a comfortable pace, 8:30 average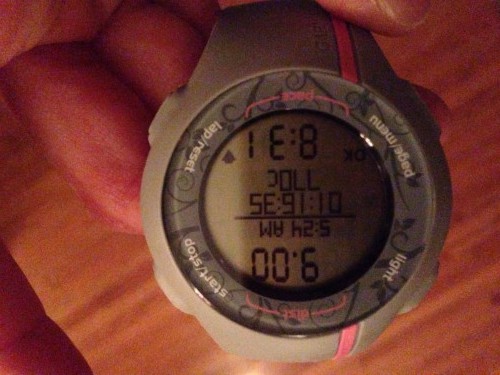 Tuesday:  8 x 800 with 400 recovery jogs in between.  Jogged to and from the track 1.4 miles each way.  The splits were: 3:26, 3:26, 3:28, 3;31, 3:33, 3:39, 3:36, 3:36.  This hurt!  My quads wound up being sore for 3 days following.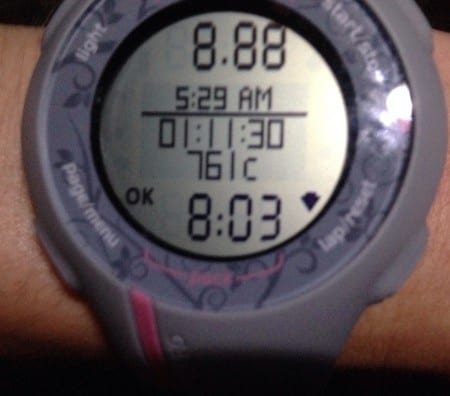 Wednesday: 6 miles easy, no Garmin
Thursday:  Rest
Friday: 9 miles total with the last 5 @ 7:45 pace.  Felt pretty good, not amazing.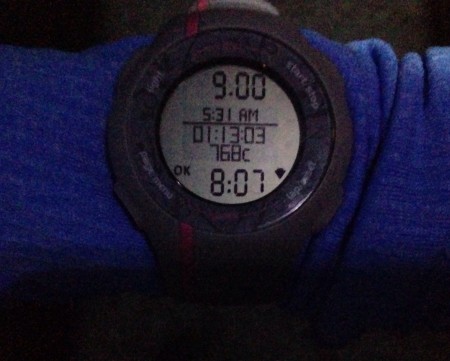 Saturday:  I am running right now!  16 miles at a comfortable pace.  And oh yeah, it also happens to be my birthday.  I am really awkward about telling people about my birthday if you hadn't noticed from that disclosure.  Part of that "hey look at me" thing I still deal with.  But hey, I guess you're looking anyway.
Sunday:  Rest!
The week will total 48.12 miles and next week will be my highest mileage at 53 (hopefully.)  Then it will be time to taper!  I'm planning to taper for 3 weeks total, as I've always done.  Should be a fun time!  I like to go completely batsh*t crazy during my tapers and I can't wait to share that with you!
A couple of things I've been sucking at lately:
 Keeping up with my push ups.

 Sleeping enough.
I've kept my 2 minute daily plank routine going without fail, but the push ups have fallen off.  I think in the past week there were only 2 days I did them at all, and I did 4 sets of 20 each time.  I was doing that 5 days a week a couple of moths ago and I've slowly slacked as I've gotten deeper into marathon training.  Plus I'm wearing long sleeves now and no one sees my arms much.  I know, vanity finds me, true story.
And sleep remains a struggle.  There are usually 3 days a week I get good sleep, 2 average, and 2 not good at all.  If I could just turn those 2 not good nights into average nights I'll be happy.  Baby steps.  There's just always something that gets in the way of me sleeping, and I would say it's not even usually the kids.  I need to work on this in the final weeks leading up to the marathon.
How were your runs/workouts this week?  Runners: where are you in your training?  Anyone have thoughts on speed work during marathon training?