Before getting into the play-by-play, I want to say "thank you!" to all of you.  Guys, you have all blown me away with your support and kind words before and after this marathon!  I used to be the person who didn't tell anyone about my running (before the blog, of course) and was always afraid of looking obnoxious/braggy when talking about races.  I see it in a completely different light now.  I feel so lucky to be in a community of people who are just happy to support one another as we each work toward our goals.  Just wanted to throw that out there, because the experience has been really eye opening for me in a positive way.
Now for the recap.
Just a quick background on the weeks before the race.  My left knee was on and off bothering me with what seemed to be patellar tendonitis.  With the big cold front during the week leading up to the race I was feeling it more than I had been, even with the taper, and as of Thurs it was downright hurting to the point that I cut a 3 mile run short by 2 miles.  Since the cold seemed to be irritating it, I bought one of those microwavable hot/cold packs and kept heat on it as often as I could while resting as much as possible.
Okay now, let's fast forward to the start.
My nerves didn't even begin to kick in until race morning.  I spent a really relaxing day on Saturday with my husband since my parents were home with the kids, which mentally put me in a great place.  My knee was feeling fine all day Saturday, although the "clicking" was still felt/apparent to me.  My meals and snacks on Saturday consisted mainly of ground turkey and roasted sweet potatoes I cooked and brought from home plus lara bars and bananas (all of which I kind of never want to see again!)  I was asleep  by  9:30 and up by 3:45 although the alarm was set for 4:00.
After getting ready and drinking some coconut water, I heated my knee one last time and was super high on anxiety as we drove from our hotel to the race.  In the car I had my banana and my stomach was too knotted up to attempt to eat anything else.  My husband had trouble finding parking, and, dropped me off a little after 6am so I had time to wait in the bathroom line before the 7am start time.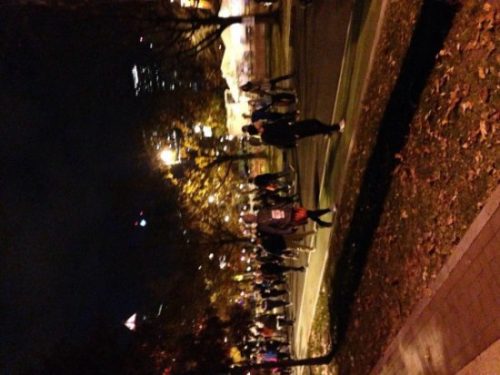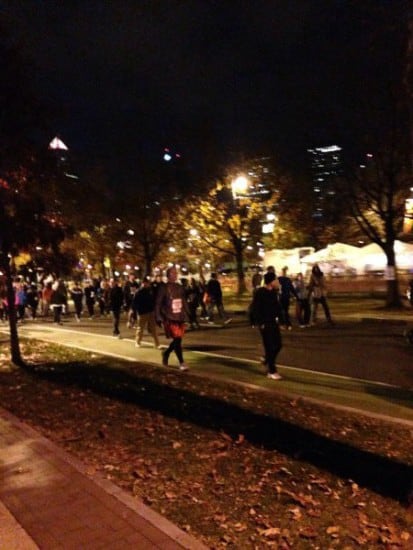 My stomach was feeling a little crampy/off, probably from nerves.  Once I entered my corral around 6:40 I was feeling a bit better and ready to get going.  I absolutely HATE waiting for races to start.  It drives me nuts!  At 6:55 I tossed my throwaway layers and got my Garmin ready.  The nerves turned to adrenaline (or the flight turned to fight?) and I crossed the start line with the crowd, no thoughts in my head.  I always find the feeling of starting a marathon to be the strangest thing.  You can't think about what's ahead of you, so you just move.
I really did not want to start off too fast.  My "goal pace" in mind was 7:50, so I thought if I did the first few miles just under 8 I could warm up and make up time later on.  This was my first time running a marathon with a Garmin.  I had a feeling I'd be checking it often and that it might drive me crazy.  Overall, I don't think it hurt me, and I'm not sure what would've happened if I'd run without it.  It IS helpful to see all my splits/data now though!  My first 4 splits were 7:57, 7:50, 7:51 and 7:59.  I was feeling great during these miles and no knee trouble at all.  I sort of felt like i had to pee, but was doing my best to ignore it.  I was NOT stopping at any point during this race!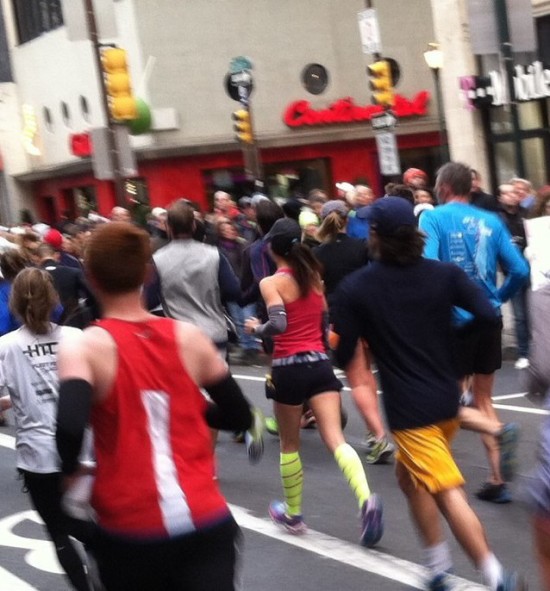 By mile 5 I had my gloves off and by 7 the arm warmers came off too.  I felt like I'd dressed perfectly for the weather.  I stuffed them in the back of my shorts and planned to give them to my husband at mile 13.  Normally I start taking gels/blends at 7 miles, but, I knew there was a hill at 7-8 so had my first Powerbar Energy Blend
 around mile 6.5.  I had a little heartburn after taking this but nothing major.  I was still feeling good during these miles, and confident that a 3:25 was in reach.  My splits for 5-8 were 7:56, 8:05, 7:34, 8:01.  The 8:05 and 8:01 miles both had hills.  I don't think I could have/should have done much different though.
In my mind I was thinking that after the hill on mile 9-10, the rest of the course was flat, and on paper, it pretty much looks that way.  I had the first blow to my confidence when, at mile 11, the 3:25 pace team passed me.  I don't know where or when they started but at that point, after trying to keep up for a little while, I realized that I didn't have a 3:25 in me.  I tried to tell myself that I could still do it, but, I've had enough experience to know the difference between negative thoughts and being realistic.  Realistically, I realized I wasn't going to be able to jack up my pace enough during the second half to make that goal happen.  I also knew it wasn't smart at 12 miles in to start running as fast as possible.  Even though I didn't want to, I decided to run by how I felt at that point, so I could attempt to maintain even splits and still PR.  A PR would've meant under 3:29:15.  I was still confident that I could do that.  My splits for miles 9-12 were 7:50, 7:59, 7:42, 7:49.  Funny to see now that they were all right around my goal pace.
Coming up to the full/half split where the finish line is, I knew I'd see my husband and mentally I'd prepare for the second half of the race.  There was a bit of a hill coming up to that point and I realized it was really tough for me to even keep an 8 minute pace on a hill.  My PR marathon was completely flat and I think it totally spoiled me for hills!  If anyone wants a totally flat marathon, run the NJ marathon at the shore.  I just might have to do that one again.  Anyway, back to the race.  I planned to take my next blend at mile 14.  A mistake was made here.  I consumed it way too quickly.  These things are like baby food pouches, a little over 3 oz of pureed fruit.  I normally "sip" on them but I guess I was overzealous and sucked it down in a minute.  I had some heartburn right away, and that heartburn stayed with me for the rest of the race and got worse.  I also developed a stitch on my lower left side that kept reappearing.  Nothing I could do at that point though.  The miles were flat and I was determined to keep pace even though muscle fatigue was settling in.  Surprisingly I felt not even a twinge from my knee.  My splits for miles 13-16 were 8:04, 7:43, 7:58, 7:49.
It's hard to remember the individual miles at this point, but, I do remember thinking as I approached mile 19 that I could still PR if I could just hold it together for another hour.  Over and over I told myself that I could do anything I was determined to do for an hour.  While I wouldn't say I hit a "wall", miles 19-21 involved some hills that I wasn't prepared for (I'm sure I saw them on the map but didn't consider) and I felt like I exerted all my extra energy on them.  I was frustrated because I just couldn't move faster, even on downhills.  My heartburn had gotten worse and I was borderline nauseous.  Miles 17-21 were 7:59, 8:12, 7:56, 8:06.  My hopes for a PR were definitely wavering.
I knew around mile 21-22 I'd just have to run straight for the finish.  I was feeling like complete crap at this point – nauseous, a little tingly, achy and throbbing throughout my hips and like my lungs were working to their capacity.  I was so frustrated to look down at my Garmin and see that no matter how hard I pushed, I could not get the numbers lower than 8:11.  I tried to eat my last blend and got half of it down but it was just kind of making me feel worse, so tossed aside the last of it.  I was thinking in minutes now.  Right up through mile 23 I thought I could still PR.  On the way to mile 24 I realized that it probably wasn't happening.  My body felt like it was falling apart, and I didn't want to collapse trying to get to the finish!  I knew I could still qualify for Boston if I kept up that 8:11 pace, which was what seemed to be my limit.  Splits for 22-25 were 8:11, 8:18, 8:11, 8:11.  What the heck was with 8:11?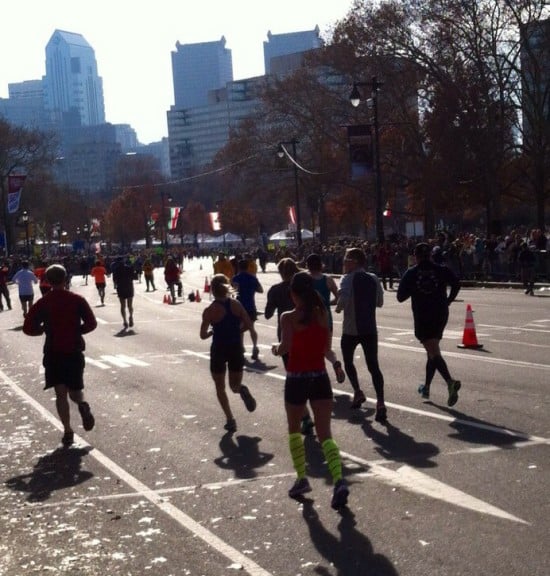 The last 1.2 (or 1.38 according to my watch) were actually kind of awesome.  That's the part where I felt like I was going to die but finally KNEW that I wouldn't, and that I was going to finish another marathon in about 10 minutes.  Which is a pretty incredible feeling, even when otherwise you feel like you're being stabbed, crushed, and buried alive in sand.  This is the part when it's okay and even cool to hear "you're almost there" because with less than 10 minutes to go you really are almost there.   Even though mentally I was excited to be done and going as hard as I could, my body had other ideas and still ran an 8:15 split for mile 26.  It finally got the message AFTER 26, and did the last .2 ish in 7:46, which was YAY my goal pace.  Haha.  I was thrilled to at least be finishing the marathon at my goal pace, even though the rest of it escaped me.
I finished officially in 3:30:23 (8:01 pace), happy that I again qualified for Boston and that I had given it ever fiber I had.
In summary, the awesome stuff:
Perfect weather (40-45ish and partly cloudy), my knee didn't bother me, (which I find really strange) the course was great, although not as flat as I wanted it to be, but, it had a little of everything going on, and good crowd support (I don't like too much "noise", so it was good for me.)  I also felt that mentally I found a balance of positive/realistic that seemed to work for me, although my mental game has room for improvement!
The less awesome stuff:
I had heartburn/was nauseous and had a side stitch in the second half most likely due to inhaling my fuel rather than taking it in slowly.  Also, looking at my Garmin often was annoying me and making the mental game tougher when I saw my pace slowing down.
My changing view of time goals:
This race made me realize how arbitrary these numbers are, and how little they actually mean to me.  Less than I thought.  Would I be any different now if I'd run a 3:25?  I'm not sure.  I do know that fixating on a time goal, rather than focusing on training and racing to the best of your ability, can be frustrating.  I think that, from now on, I'm going to focus on improving my training and racing strategies and seeing what time that gets me to.  If I never improve my times from here on out, that's fine, as long as I am learning and pushing myself to improve. All the improvements made in training and racing do not ALWAYS show up in time.  Sometimes they show up in how you feel, both over the course of training and the race itself.
What I learned from my training:
Truthfully I do not believe I was ever trained to run a 3:25 marathon, and that's fine.  I think I was trained to run a 3:30 marathon and that's what I did.  In order to run a faster marathon, I would have to have a longer period of time without being injured to build up my aerobic base properly, before beginning my actual training.  I would also need to be more diligent about speed and tempo work twice a week, not just once.  Adding speed work into my plan too late likely resulted in problems with my knee, which, although didn't bother me at the race itself, took away from some training in the last month.  I'm not completely sure how it impacted me, though.  Last, ideally I would race more often during my training, because races are great speed training, confidence boosters, as well as predictors of race day ability.  Before my PR marathon I raced 3 half marathons with consistent times.
What I learned from the race (serious stuff):
"Racing" a marathon might just be the most painful thing you can put yourself through.  Aside from your own struggle, if you look at other people during the last miles as well as after the finish, you see an alarming amount of pain all around you.  It's amazing what the mind can will the body to do, for no other reason but to follow through with a goal.
I appreciate my health (and my family's health) over anything else in the world.  To feel yourself pushing to the brink of all your system's limits, makes you realize how much you appreciate all those systems doing their assigned jobs all the time.  The human body is a miraculous machine, and running another marathon has me in awe of what it can do, and reminds me to appreciate health.  It's not a given, and  it's truly incredible to have that gift if you have it.  In the later miles of the race, I couldn't help but think how little all the "little things" matter compared to that one really big thing.
What I learned from the race (silly stuff):
Don't eat your fuel like you're taking a tequila shot.  It won't sit well.
Sometimes you think you have to pee and you actually don't.  At mile 3 I felt like I had to, by mile 10 the feeling was gone.  So weird.
I will most likely never figure out how to drink water out of a cup while running.
Even little hills will slow you down when you have already run 19 miles.
Well, in conclusion, I'm just so deliriously happy still that the marathon is OVER.   I haven't gotten to the "now what" stage yet and I'm thrilled to just rest and NOT RUN until I'm dying to.
What are your thoughts on time goals?  What did you learn from your last race?