Since my thoughts post race today are along the lines of "why can't it be possible to sit in a hot shower and eat lots of food at the same time?" the full race recap will have to wait until tomorrow.    My mind, legs and lungs need some major recovery.  I can't wait to sleep and rest as much as possible this whole week!
To spare you the incoherence, I'll keep the words to a minimum and just show you the goods.
Excited in the car Saturday (in traffic, but feeling good)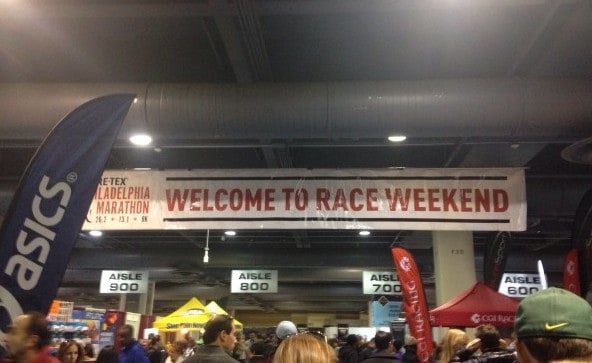 Since my parents were awesome enough to stay with the kids at our house for the weekend, the day before the race felt like a vacation, seriously!  I was super relaxed, happy, and feeling great.  I forget how much the kids add to the "rushed" feeling I have all the time and my general stress level.  Such a relaxing day.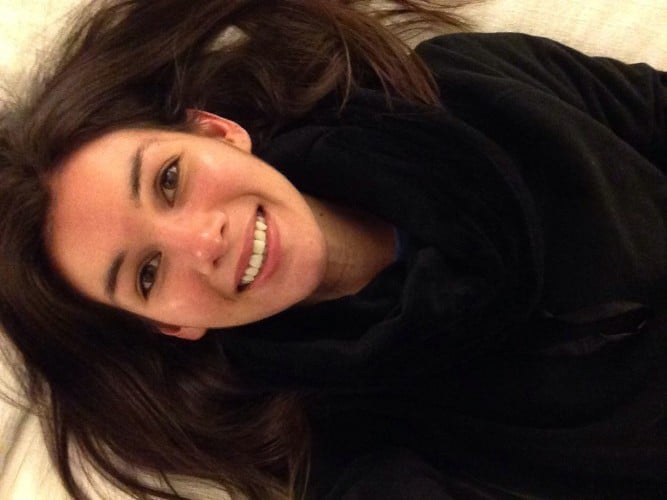 Even though my knee had been hurting me as of Thursday, I didn't worry about it at all.  The lack of stairs on Saturday helped (my house has 2 flights.)  The nerves didn't settle in until Sunday morning.
My husband was running late trying to park but still got a picture of the start!  Plus some others of me running.
I was also able to see him at mile 13 but greeted him by chucking my arm warmers and gloves in his face so he had no time for pictures.
My official finish time was 3:30:23.  This was my "3rd tier goal" but, honestly, after this race I think I'm kinda over the whole time goal thing, at least for now!  I trained, I gave it all I had and I'm proud of my time!  I think the only difference between this race and my PR (3:29:15) in May 2013 was a tougher course this time around.  I'm happy to seemingly be back to my old level of fitness, pre- posterior tibial tendonitis.
Lisa and I met up at the finish and rehashed the pain!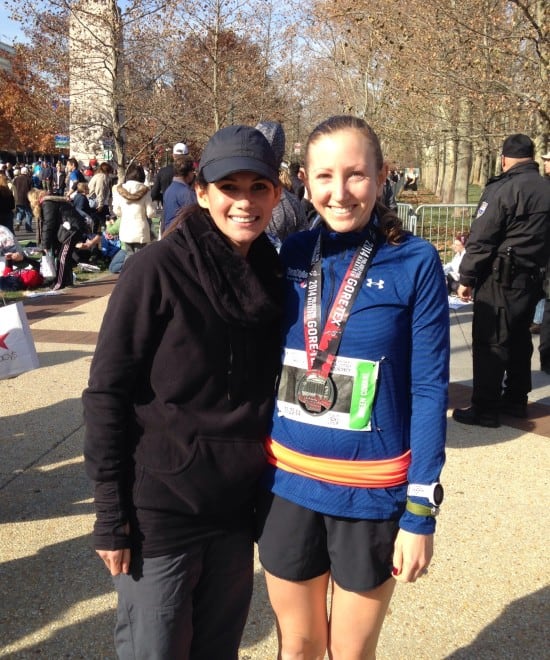 And then…home!!!
Now I'm off to cook dinner and get my butt in bed.  I'm praying my kids will want to do the same but it's unlikely.  Can't wait to write the full recap post tomorrow!
Since finishing a marathon is pretty gosh darned marvelous, I'll be linking up with Katie today for MIMM!
What was your weekend highlight?