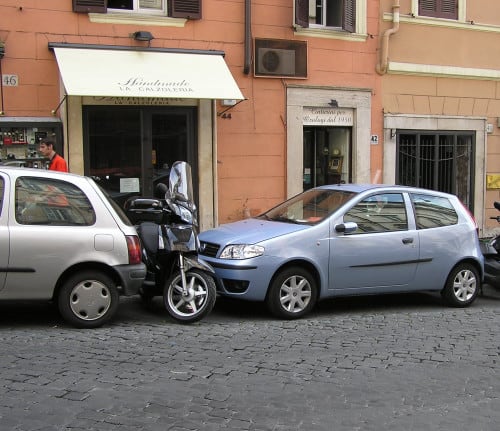 You know those people who always seem to find a good parking spot?  The ones who arrive at their destination late and just seem to "get lucky" every single time while you are stuck circling, waiting, circling again and cursing the world?
Parking spots don't come easily to me.  Parking spots don't come easily to me and over the past few years I've started to understand why.   By now you might know what I'm getting at, but either way, read on.  Thursdays are for Thinking Out Loud (thanks Amanda!) and this week, after an unfortunately long time looking for a spot on Monday, I've been reflecting on what this means for me.  Dramatic? Truth?  You be the judge!

If you are ever a passenger in the car of "one of those people" you might notice their approach to the whole parking spot issue.  It's fierce.  They don't drive to their destination hoping that something is open or will open up soon.  They drive there and park their car.  Sometimes it's as if they carve out their own spot to park in, and sometimes they observe the scene with intent to park and a parking spot opens up from the heavens.  It appears that way to me.  But really, I think these people are just innately skilled at spotting and grabbing opportunities.
Opportunities kind of scare me, honestly.  I certainly don't jump at them.  I am hesitant at best and passive most of the time, "hoping" things will come to me.   Although I have recognized this in myself and try to make efforts to act on opportunity when it presents itself, it's challenging.
It's not just that I'm afraid of grabbing an opportunity, parking spot or otherwise, it runs deeper than that.   Boldly taking a parking spot means I might be taking it away from someone else.  So I wait.  I don't even know for what.  Some might call people like me "courteous", but there is a fine line between being thoughtful and being avoidant.  I know which side of that line I'm on.   Up to this point in my life, I'm much more comfortable letting other people have the spotlight, while I wait, and hope, that someone will "give me permission" and pull me in.
Of course now that I'm a grown-up in all senses, I know all too well that life doesn't work this way.
Waiting is a good way to watch everyone around you take what you want.  Take what might be yours if you knew you deserved it.   And you deserve it not because you're special but because you are human just like anyone else.
How can I learn how to spot opportunities that I don't easily see?  Can you train your brain?  Can you practice somehow?  I am good at practicing things.  I am good at busy work, intellectual curiosity, research and rote memorization.  I will be the first one done with a written exam, but I am not good at raising my hand and giving answers.   By the time I have any courage to raise my hand, the class is three topics ahead of me.
I haven't been in school for 9 years, but I am still that student.  Just in the real world, now.  And of course, in parking lots.
But I have dreams and I've turned my dreams into goals.  I want to write a book.  I'm going to start a business.  It took a pound of self discipline to not add the word "hopefully" after the word "business."  And I'm going to pretend I didn't even say the book thing.  I guess I know where I have to begin.
Do you jump at opportunity?  Hesitate or have trouble spotting it like I do?  How does it feel to "take" things for yourself?