These gluten free and Paleo Almond Butter Snickerdoodle Sandwich Cookies are decadent in flavor yet made with good for you ingredients!  Chewy snickerdoodle cookies with a cinnamon spiced almond butter caramel creamy filling.  Dairy free, grain free, Paleo, and refined sugar free.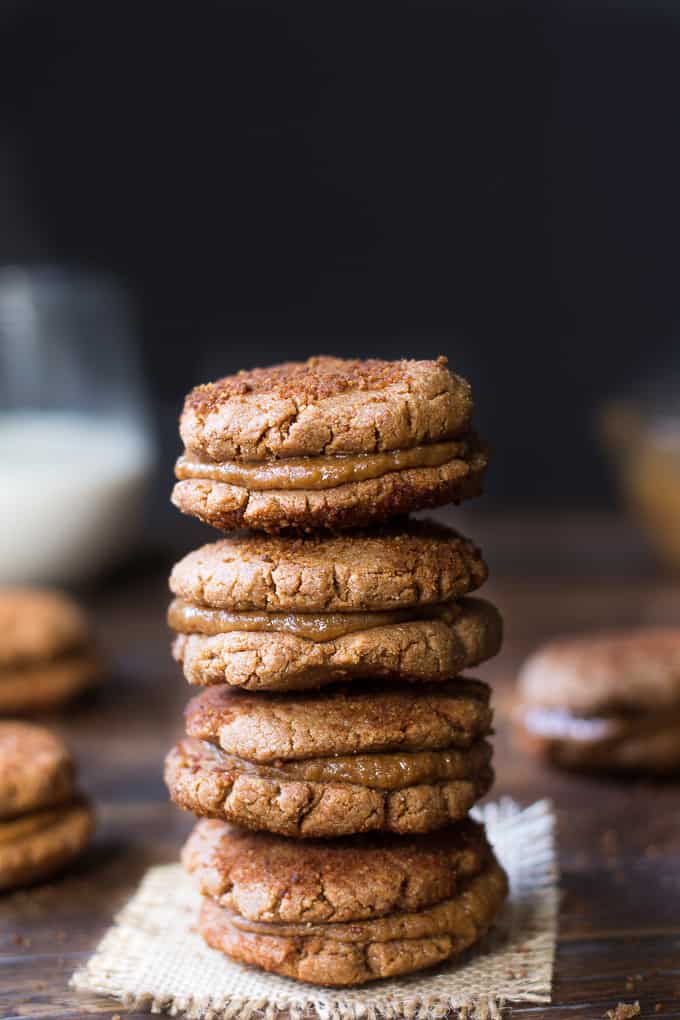 Saturday!  I'm not sure if anyone's noticed, but I've been playing around a bit with my posting schedule as I'm trying to get into my "back to school" routine.
So, for now, I'll be posting recipes on both weekend days as well as one weekday to see how that goes, as well as two non-recipe posts (WIAW & TOL) on Wednesday and Thursday.
Make sure you're receiving my emails so you don't miss a recipe (sign up using the pink bar at the top of the page) and follow me on Bloglovin to make sure you see every post!
I also update my Facebook page and Instagram profile daily with links to new posts – so you can follow there as well for updates.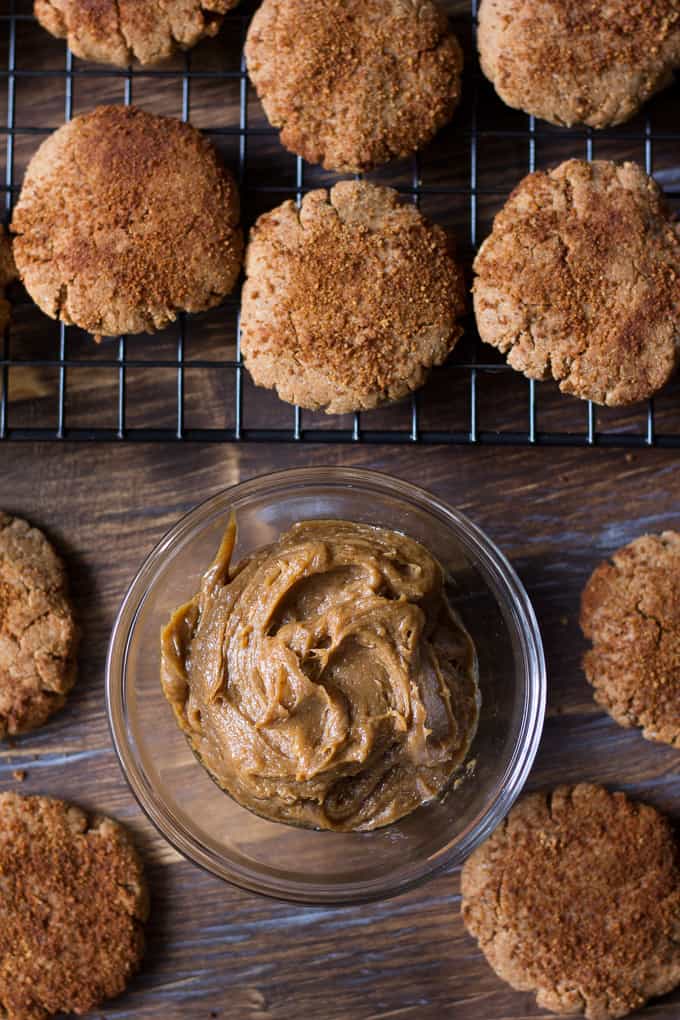 Now, back to the cookies – because I have a feeling that's why you're here 🙂
Over the summer, really in August, I had a rush of recipe motivation/anxiety in anticipation of the change of season.  And how did I deal?  Well, I made a whole lot of recipes and I'm now slowly working my way through editing the photos and actually writing them up.
I think, or rather I'm hoping that I learned my lesson – creating recipes a month or more out from actually posting them is messing with my brain.  I start doubting the actual recipe and then obsessing over the photos too much, thinking I could do so much better NOW.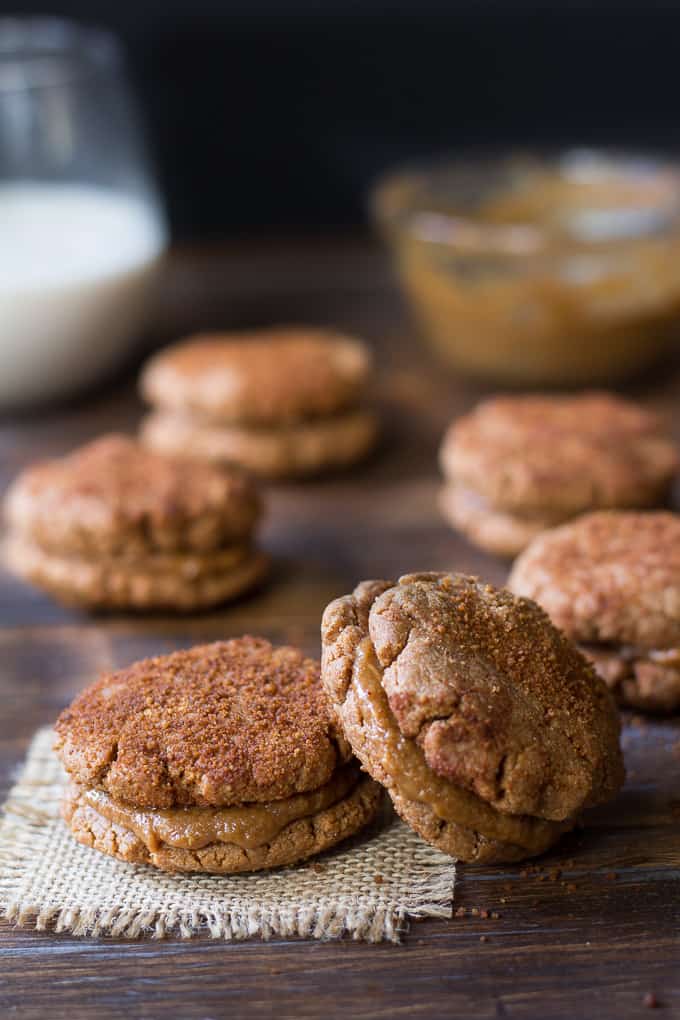 Just as with overtraining for a race, there is totally such a thing as over-cooking for your food blog.  I swear – this is a thing people!  And, of course it's my thing – I'm always rushing to do too much NOW when I really need to step back and look at the big picture.
That said, I'm not at all regretting these snickerdoodle sandwich cookies, even if I can't actually remember when I made them, what was happening on that day, what I was wearing, where my kids were, etc.  I do, however, remember eating a whole lot of cinnamon sugar and thinking to myself that I'll never eat cinnamon sugar again – I was done!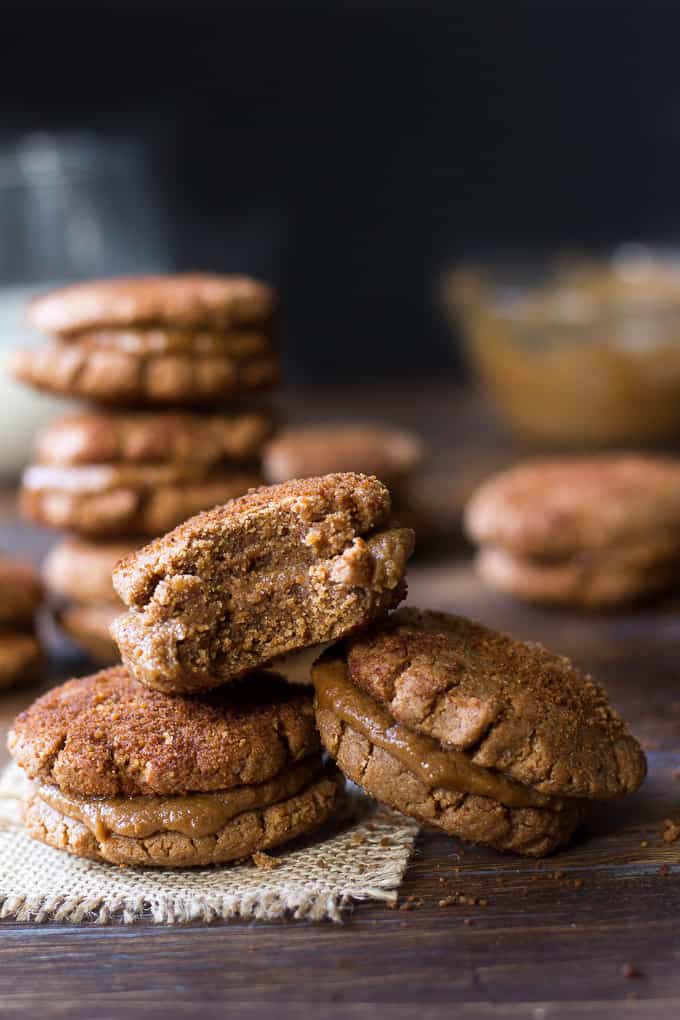 Of course, that didn't last long at all, because right now they're looking pretty darned good to me – you guys know I have a thing for my sandwich cookies – and these Paleo snickerdoodle sandwich cookies are no different!
A few notes on this recipe (good thing I wrote them down!)  It's rich, and sweet.  Feel free to reduce the sugar or eliminate the cinnamon sugar topping if it's just too much for you.
That said, please keep the filling the way it is!  You will have some extra leftover that you can totally use as a dip for fruit, more cookies, or a spoon.  The spoon might be pushing it, but I had to say it anyway!  Let's start baking – I know you'll love these!
Paleo Almond Butter Snickerdoodle Sandwich Cookies

Paleo Almond Butter Snickerdoodle Sandwich Cookies
These Paleo Almond butter snickerdoodle sandwich cookies combine a delicious chewy Paleo snickerdoodle with cinnamon almond butter caramel filling! These are easier to make than you think and you'll never believe they're made with good for you ingredients!
Prep Time: 20 minutes
Cook Time: 20 minutes
Total Time: 40 minutes
Course: Dessert
Cuisine: Paleo
Servings: 10 servings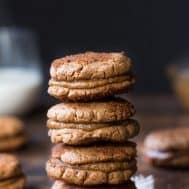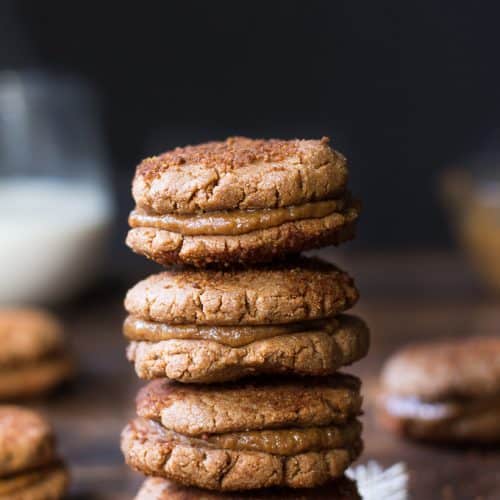 Ingredients
Cinnamon sugar topping for cookies*
For the Caramel Almond Butter Middle
Instructions
For the Almond Butter Caramel Middle***
In a small saucepan over low heat, melt together the coconut cream and coconut sugar while stirring continuously. Continue to stir and cook over low heat until the mixture becomes thick and syrupy and deep golden brown, about 10 minutes.

Remove from heat and stir in the creamy almond butter and cinnamon until smooth. Set aside to cool or cover and refrigerate while you make the cookies.
For the Cookies:
Preheat your oven to 350 degrees and line 2 baking sheets with parchment paper.

In a large bowl, whisk together the egg, almond butter, coconut sugar, coconut oil and vanilla until smooth.

In a smaller bowl, combine the almond flour, coconut flour, baking soda, salt and cinnamon. Mix the dry ingredients into the wet until fully combined.

Form the cookie dough into 18-20 small balls and arrange on both baking sheets. Flatten each one (they will stay the same shape after baking)

Sprinkle the cinnamon sugar topping over the cookies if desired, then bake in the preheated oven for 8-10 minutes until just set.

Remove from oven and transfer to wire racks to cool completely.

Once cookies are completely cooled, spread half of the cookies with the caramel filling (about 1 tsp per cookie) and top with another cookie to form sandwich cookies. Serve right away or store covered in the refrigerator for up to 4 days.

Store leftover caramel mixture covered in the refrigerator and use as a dip or spread for up to 4 days. Enjoy!
Recipe Notes
*Optional
**You can also refrigerate a can of full fat coconut milk and just use the thick cream part that turns solid
***I recommend making the almond butter caramel first, or even the day before, since it will need some time to cool before spreading between the cookies.
Nutrition
Calories: 295kcal
Fat: 22g
Saturated fat: 6g
Cholesterol: 16mg
Sodium: 96mg
Potassium: 197mg
Carbohydrates: 19g
Fiber: 5g
Sugar: 9g
Protein: 7g
Vitamin A: 0.5%
Vitamin C: 0.4%
Calcium: 11.6%
Iron: 9.3%

Do you want more Paleo cookie recipes?  Try one of these!
Almond Butter Chocolate Sandwich Cookies
Big Soft Chocolate Chunk Cookies
Ultimate Chocolate Chip Cookies
Lemon Coconut Cream Sandwich Cookies
What do you do "too much" of currently?
Are you impulsive by nature or love sticking to a plan?
What's going on with you this weekend?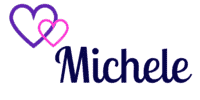 Note: This post contains Amazon affiliate links. This means that if you click on a link and make a purchase, I will receive a small commission at no cost to you. Thank you for supporting The Paleo Running Momma!