Food is not JUST fuel, and frankly I don't think it should be either.
I am not endorsing emotional eating.  Oh wait, I sort of am, but let me explain before I take you through my day of food and emotions.
Emotional eating gets a bad rap because we think of it taken to the extreme, as with eating disorders of all types, and we forget that we are born emotional eaters.   Have you spent time around babies and toddlers much?  Food is comfort, security, and often relief from anxiety.  Yes, we take that to an extreme in our culture and I don't think THAT is healthy. But aiming to have no emotions around food and view it purely as fuel for the body might not be healthy either.
Allowing ourselves to have "food feelings" is one of the keys to a healthy relationship with food, I believe.
I'm linking up for What I Ate Wednesday today, and as always, thank you so much for hosting this Jenn!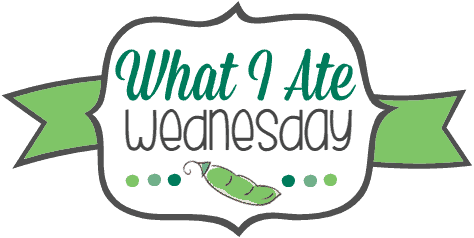 I'm going to walk through my day (this was Sunday) and go through some of the emotions experienced around meals and snacks.   I chose the topic after reflecting a little bit on Sunday night about how I was a bit more food "angsty" than usual due to it being the last day of the holiday break.  Something about Sundays I suppose.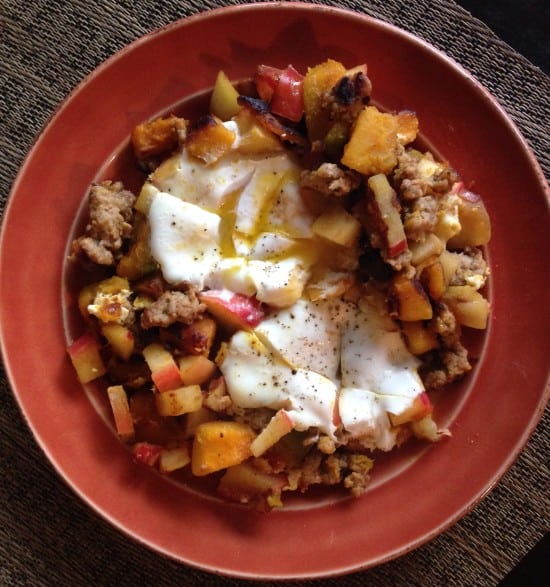 I did an hour of yoga early in the morning and felt pretty awesome as a result.  I wanted something sweet, filling, and comforting to mesh with my happy morning feelings.  See? Emotional eating is not always negative. Interestingly I think we sometimes choose foods we think will enhance or match current emotions.  I don't often make sweeter breakfasts but when I do, it seems to be a weekend thing.  This was pre-roasted and then sauteed kabocha squash with sauteed apples, U.S. Wellness Meats Pork Breakfast Sausage and 2 eggs.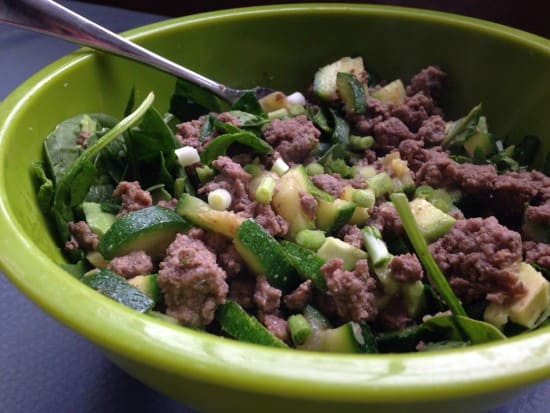 Lunch is usually my least "emotional" meal of the day, regardless of what day it is.  I am usually in full swing with my day and genuinely hungry once I make myself something so it really does feel mostly fuel-like.  I supposed "tired" does not count as an emotion, but I was feeling sort of tired at this point on Sunday.  This was grass fed ground beef cooked with zucchini, over spinach and half an avocado, topped with green onions.  In a green bowl, just to continue the green theme I guess 😉
My snack around 2:30-3pm was filled with more angst than lunch.  I had plans to go ice skating with my daughter and her friend, and I was feeling tired and unmotivated, plus I was thinking of everything I had to do after I got home (cooking, making lunches, laundry) and I was overwhelmed.  I wasn't really hungry but felt I should eat before I left.  This was one of those "nothing seems right" snacks.  The second half of my avocado from lunch didn't feel like enough.  The banana topped it off.  And the kombucha?  This is now my answer to that old diet soda craving.  I justify that it's healthier, but I can't deny that I use this stuff to boost my mood.  And it works 🙂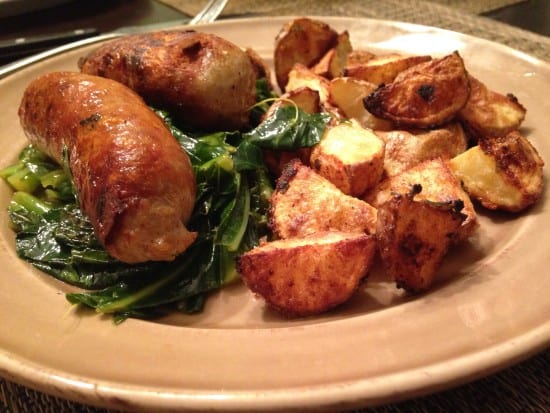 Got through ice skating!  Nobody fell and my daughter had a great time, what a relief.  Now on to tackle the evening.  Sunday nights are better for me now than they used to be, but I still get a little bit of that "Sunday blues" feeling left over from years ago when there was homework to do and a week of school or work ahead.  I made a simple dinner of fried sweet Italian sausages (store made, without any additives or sugar) roasted red potatoes and collard greens.  Not gonna lie, I am kind of a lunatic while trying to get all my kids' meat cut up and get them to help set the table.  I yell, I'm not calm.
By the time I sit down to eat I'm also just kind of praying no one will cry and refuse to eat or throw a tantrum.  Not my best time of day.  Luckily everyone likes this, and really that was one of the reasons I made it.  Protecting everyone's emotions is sometimes my dinner strategy when I'm feeling weak.
Honestly, I wasn't super hungry for dinner but I'm sort of a "plate cleaner" and when my son didn't want my last few bites of sausage, I ate them anyway.  I'm okay with being a plate cleaner 😉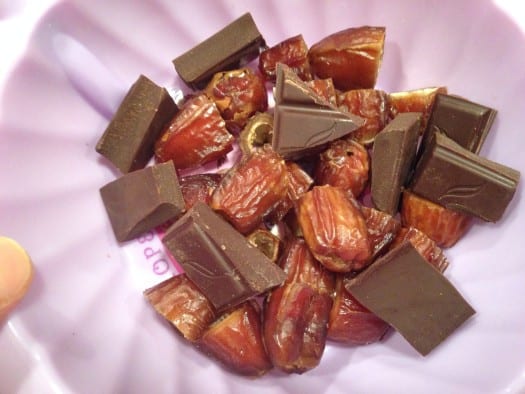 This was my exhausted attempt at a sweet Sunday night dessert.  I was tired, my mood was "eh" and I was craving a final something sweet before welcoming Monday morning.  About a handful of chopped dates and a little dark chocolate.  I am really not used to eating sweets and this was actually a bit too sweet for me, I haven't eaten dates by themselves in a while but they really taste like candy.  It was satisfying enough and I finished my night off with some water from the only bottle I ever drink water from.  I don't drink enough water and I'm always trying to make up for this at night.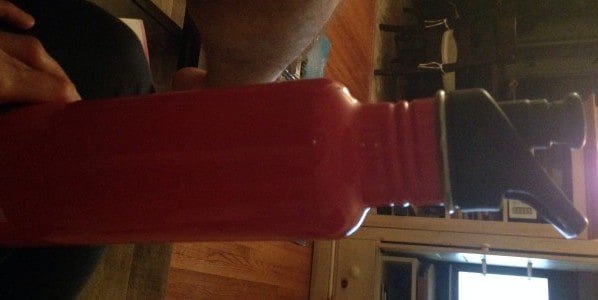 Overall I'd say this day had a few more food feelings than typically, but they are still occurring on a daily basis.  I look to food to pick up my mood along with my energy during the parts of the day I tend to struggle.  I am also pretty certain I will always be a "plate cleaner"  which I used to see as a problem but it's just the way I like to roll.  Not to mention I have an idea of the amount I like to eat and put that amount on my plate.  Duh.
What's your take on food as fuel and food and emotions?
Are you a "plate cleaner" or do you always stop when you're full?
Are certain times of day/certain meals more emotional for you?
Do you think emotional eating is bad, good, or neither?