Guys I'm not about to sugarcoat anything so just consider that you've been warned  (okay maybe it's not THAT bad but it's not all good either.  In fact maybe it's just boring.)  The day after running a marathon can be a tough one, especially since life doesn't stop and the laundry doesn't carry itself up and down the stairs.
So for What I Ate Wednesday, I'm going to show you not just everything I ate on Monday (day after Philly) but also what I did and how I felt.  I can sense that you're on the edge of your seat.  Thanks for the link-up, Jenn!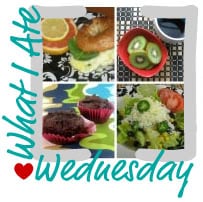 I woke up at 5am (dammit!) with my legs throbbing and unable to fall back to sleep.  Even when I want to sleep later it just doesn't seem to happen for me.   I got out of bed and sore doesn't even begin to describe the feelings in my body.  Not just my legs, but everything felt like it had been crushed.  I walked down my stairs and made myself some tea.  I wound up deciding not to drink the tea because a raging thirst came on and I drank almost a whole bottle's worth of water instead.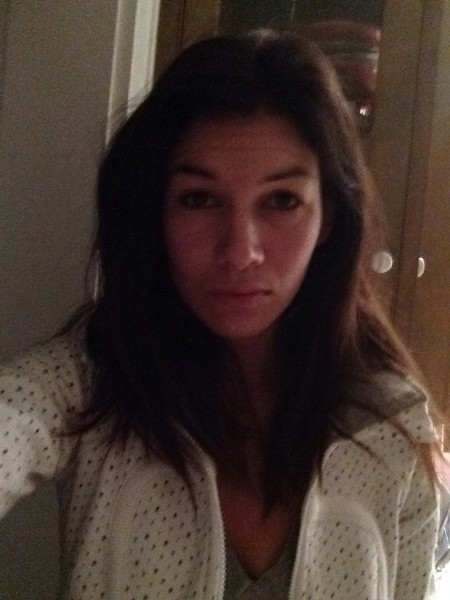 I read some blogs until around 6 with ice on both knees.  At some point I decided I would take an ice bath because the soreness and throbbing were pretty bad.  I figured it was still within 24 hours of the race and it couldn't hurt.  This took me until about 6:30 when I got in the shower.  I probably undid the effects of the ice bath, but the pain was still somewhat numbed so it was a success I suppose.
After I got dressed and ready for the day I realized I was completely starving.  I made bacon, eggs, and cereal for my family and a huge breakfast for myself: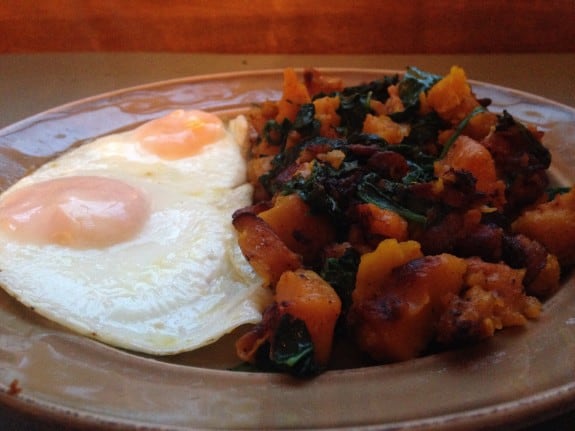 The picture does not do the bacon in this meal justice.  It was 5 slices of bacon, chopped and fried with half of a roasted kabocha squash plus spinach and two eggs.  Did the trick, for a while.
I made my coffee, posted my breakfast on Instagram and took my kids to school.  This is us, parked before we left, all ready to go.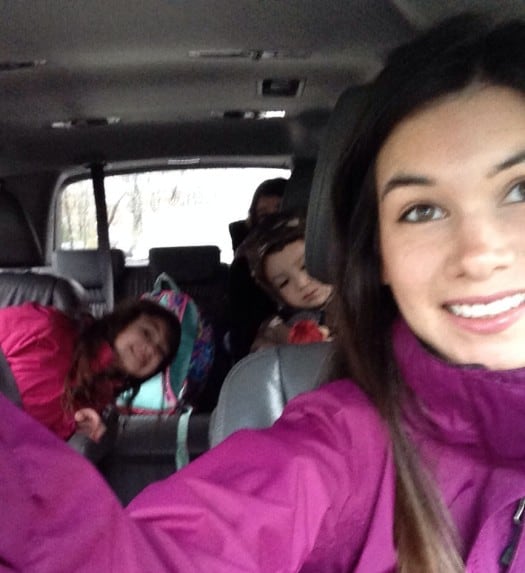 While waiting in both car lines I drank my coffee, which didn't taste all that good and was giving me heartburn.  My stomach had been pretty iffy since the marathon which is definitely not unusual for me.
Then it was off to the grocery store since it unfortunately couldn't wait any longer.  This took me quite a bit more time than usual since I was half limping through the store.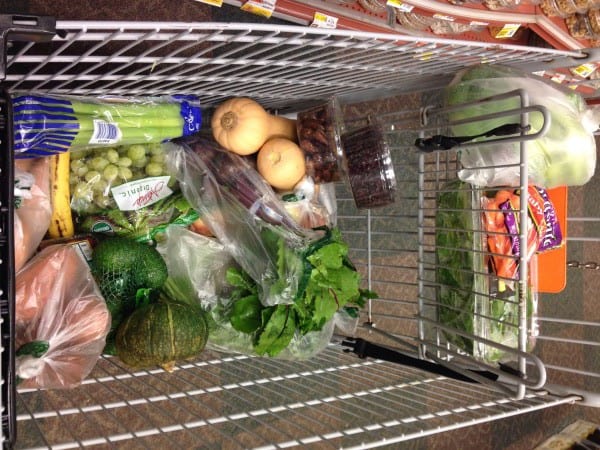 I got home at 10:30 and brought the bags in the house, although waited to put everything away since I was all-of -a-sudden starving again.  Had a quick banana with almond butter.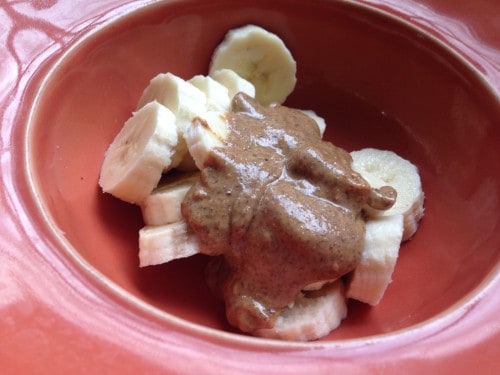 After the groceries were put away I sat down with a cup of tea to write my race recap.  I forgot to take a picture but I had Echinacea tea supposedly to support the immune system.  I figured I should take all the support I could get.
At noon I made a quick lunch for myself to eat before picking up my son.  It was a pretty big salad, heavy on the greens, with spinach, carrots, avocado, olives, tomatoes all topped with Wild Planet sardines in extra virgin olive oil.  I love that I can just pour the whole thing on the salad and it's ready to eat.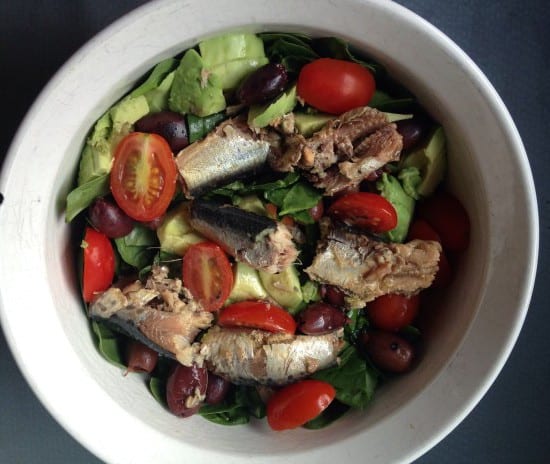 I was really craving salt and protein so this worked out well.
At 12:30 I left to pick up my son at school.  When we get home he always want to watch Sophia the 1st, have a snack, chill out, and then play.
While he watched his show/ate/played trains and dolls I finished my race recap and drank a kombucha.  At 2pm I was done with it and we both sat on the couch to rest.  He was already dressed up in "girl clothes" complete with Rapunzel headpiece at this point.
At 2:45 we got dressed and ready to pick up the girls at school.  They both have dance on Mondays at 4pm so we stop back home quickly for them to change and have a snack before heading back out the door.  We got home from school at 3:25 and I decided to take the opportunity to get the laundry from the basement up to my bedroom.  Normally nothing to speak of, but, it was challenging today!!
After doing that I was somehow starving and made myself a snack:
An avocado plus an Aidell's chicken apple sausage sliced up, followed by a lara bar.  I might just be sick of eating lara bars but this flavor did not wow me.  Even though I was hungrier and eating more food than usual today my stomach was still feeling less than good.  That continued until I went to bed.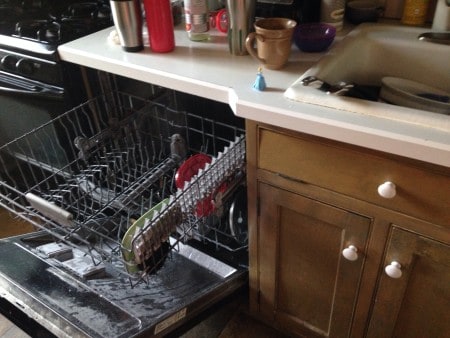 I also managed to finally unload the dishwasher while reminding (loudly reminding) the girls to get their snacks and change for dance.  And please, please, please don't make a huge mess.  It's always a mad rush between school and dance and not my best time of day!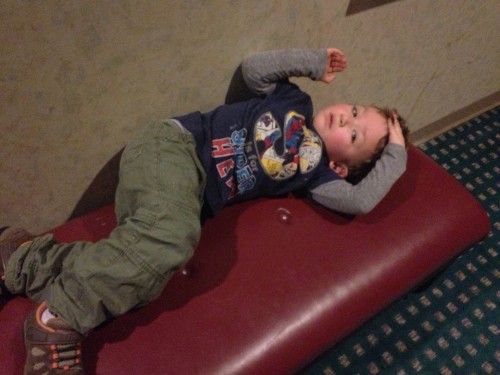 My son actually loves taking the girls to dance because it means he gets to run and jump around in the play room.  Here he is after playing for 45 minutes, all sweaty, waiting for his sisters to come out.
We got home at 5:30 and I started making dinner.  We had burgers, avocado, and fried white sweet potatoes and some sliced cucumbers for the kids at a little after 6pm.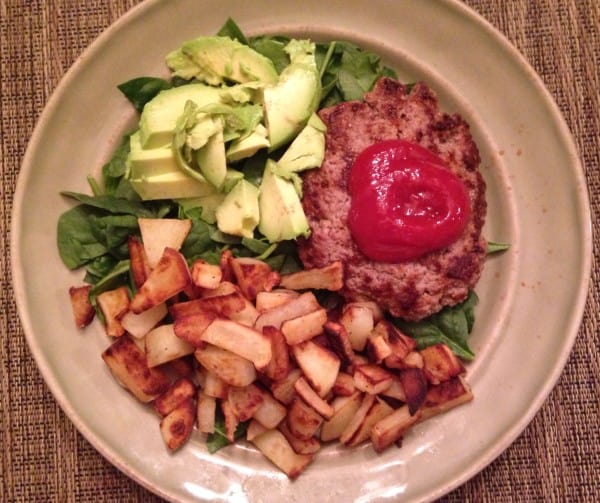 Since we had no homemade mayo, I put organic ketchup on mine which tasted great but probably did nothing good for my heartburn.  I was exhausted, but my kids had their typical sky-high level of energy of course.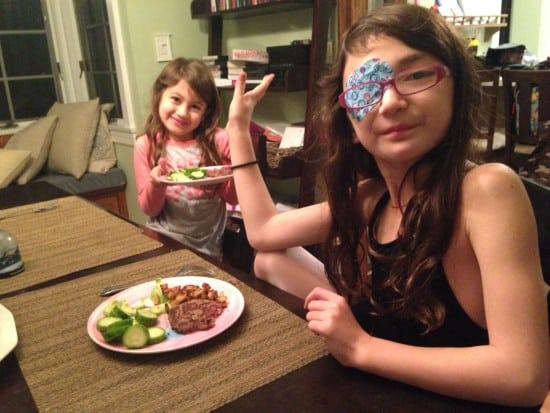 After dinner it was time to clean up!   My husband wouldn't be home until 10pm so it was up to me and the kids to get the house in as much order as possible.  From 6:30-7 I feel like I say "clean up" like 100 times at least.  While I said this I did my best to respond to blog comments before bath time.
At 7pm it was time to get the bath/shower going and fold laundry.  It's really hard for me to scrape up energy for this time of day on any normal day, let alone the day after having run a marathon.  At least mentally I still had the runner's high going for me.
At 7:30 all of that was done and it was time for snacks for the kids and me, plus putting together lunches for the next day and getting ready for bed.  They watched Disney Junior while I cut up fruit for all of us, made tea for myself and did lunches.
I'm not totally sure I agree with what it said on the tea bag, but it went with the whole "bedtime calm tea" thing so I included a picture.  I normally would have something with my strawberries but I was not at all in the mood.
After I put the kids to sleep, I came downstairs and finished responding to comments.  Then I wound up reading articles on the internet when I really should have been winding down to put myself to sleep.  Whenever my husband comes home late but not TOO late, I wind up waiting up for him.  He finally got home at 10:30, and, once I knew he was home I went right to sleep.
So, my day looked pretty much like a typical day, with the only difference being I ate a little bit more and felt a little bit worse (or a lot worse) than usual.  Physically, the first day post-race is rough for me and I'm glad it's out of the way!  I woke up Tuesday feeling a lot better even without enough sleep.
Does life go on as usual for you after a race or do you try to schedule in some recovery time?  Do you find that you get really hungry the day of the marathon (after finishing,) or the day after?  For me it's always the day after and even then my stomach is still off.