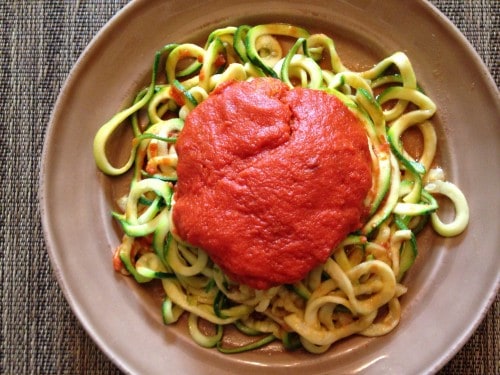 I've had my spiralizer for some time now, and although it's a really cool gadget I just haven't used it as much as I wanted to. Part of the reason is that I'm kind of over the whole pasta thing but the other part was that I found it difficult to get the right texture and consistency of the noodles. After I found Inspiralized though I was, well, sort of inspired to spiralize stuff (Ali knows what she's doing I guess!) I had to play around with different ways of doing my basic zucchini noodles so they didn't become a watery mess like they did the first time I attempted, and I was really happy with the way they came out for this recipe. So, I'll share with you exactly what I did. On her website, Ali also gives great tips for minimizing the watery sauce phenomenon and getting great results with your noodles.
So I decided to do this pizza burger thing after my rant last week about how my kids won't eat anything. After all the supportive comments i received, I decided to change my approach to mealtimes with the kids and told them that from now on, we'll all eat the same dinner. My oldest daughter laughed as she thought about her younger siblings writhing in pain in front of a plate of meat and veggies. My middle daughter looked like I just told her the tooth fairy filed for bankruptcy and my 3 year old said he wants pasta. Long story short, my approach is working and everyone is eating the things I'm cooking. Which made me feel like I wanted to try something a little bit special for them. And pizza burgers are just plain fun!
I couldn't get a great picture of this. I am not great at photographing food to begin with and zucchini noodles always look weird to me anyway. Plus the burger just looks like a huge mishapen meatball. I will make this again and attempt to take better photos, promise! Also, I added some organic mozzarella cheese for my kids and husband and really should have shown those, because the cheese just made it look pretty and really "pizza-ish."
Ingredients:
3 med zucchini
4 garlic cloves, finely chopped
1 tbsp olive oil
2 tsp onion powder
1/4 tsp salt
1/4 tsp black pepper
1.5 lbs ground veal (or other ground meat for burgers)
2 tsp garlic powder
1 tbsp salt-free pizza seasoning (I used Frontier Pizza Seasoning, 1.04-Ounce Bottles (Pack of 3))
1/2 tsp salt
1 cup of your favorite marinara sauce (I love Rao's Homemade Marinara Sauce, 24-Ounce (Pack of 4))
Cheese of choice, optional!
Directions:
Preheat your oven to 400 degrees. Now it's time to spiralize that zucchini! Chop off the ends, and use your spiralizer to make zucchini noodles from all 3 zucchinis. Once you have noodles, lay them on paper towels to blot out any moisture.
In a large bowl, toss your noodles with the finely chopped garlic, olive oil, onion powder and 1/4 tsp salt and the black pepper. Spread the noodle mixture on a large parchment paper lined baking sheet, and roast in the 400 degree oven for 10-15 minutes, or until they reach the texture you prefer. Mix once while they roast so they cook evenly. Once done, transfer to a serving dish using tongs and shake out any extra moisture as you transfer.
Before sticking the noodles in the oven (we're going for timing here!) mix the ground veal, pizza seasoning, 1/2 tsp salt, and garlic powder and make 4 patties (we actually made 5 but 2 were really small) After making the patties you can stick the noodles in the oven! Then, heat a large skillet over med-high heat and add each patty to the pan once it's heated up. Cook each burger 4 minutes and flip, cook for 2 more minutes and then…
Add the sauce! Put a scoop of sauce over each patty as well as cheese if you choose. Cover the pan and cook 2 more minutes until the sauce is hot and the burgers are cooked through.
Serve those saucy, (maybe) cheesy burgers over the zucchini noodles and dig in! Yes it is kind of like spaghetti and meatballs, I realize this. But "pizza burgers" will go over really well with the kids, promise!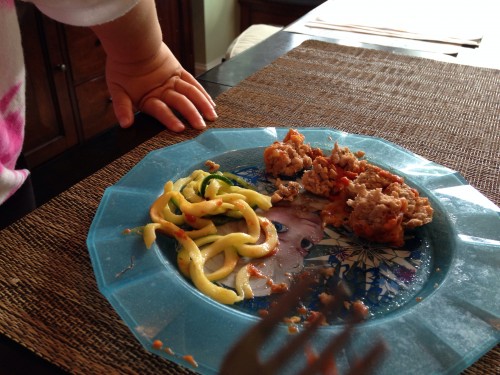 Did you like pizza burgers as a kid? Have you tried making noodles out of veggies?