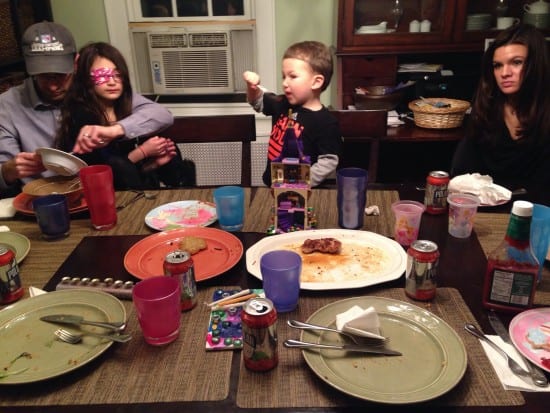 If there was ever a doubt in your mind that I'm really the fancy momma I portray online, let the above photo clear that up.  Okay, for the record I don't believe I portray myself as fancy online, that was a joke.  Confusing for me on this Sunday morning, but a joke indeed.
I'm not a fancy chick, and I don't come from a fancy family.  We drink out of cans or colored plastic cups, my kids eat ketchup as their main course and we play with legos at dinner.  My husband stacks bowls as people finish them and combines leftovers, evidenced in the left corner of the photo.  And we have awesome air conditioning units in our windows year round.  The dining room also doubles as my office.  Have you had enough yet?
Behind the smoke and mirrors aka sausage, bacon and running shoes, I'm a pretty simple gal.  Truth be told, I would've used paper plates if I hadn't forgotten to buy them at the store.   And there are no plans to change any of that.  It's all part of how I approach and live my life.
We celebrated Hanukkah yesterday as a family, which really means my family came over and I cooked everyone a big dinner that involved frying a lot of things.  And of course it also meant my kids opened so many presents that they actually got tired of presents and said they were refusing to open any more of them.  That second part didn't happen, but I really wish it did.  I still have my receipts from Target.
I am pretty unhappy about completely forgetting to take pictures of the dinner before everyone (including me) ate it, but an hour of frying potato latkes at the stove had me weak.  I can remember to photograph my breakfast for Instagram every day, but before a big group meal my mind goes blank.  Plus it's like the frying blends right into cutting chicken up into a thousand pieces suitable for little-people consumption.  Maybe I should hire someone next time to photograph my creations.  That person could set up right in the corner by the radiator cover and just go wild taking pictures of chicken and broccoli.
All this sarcasm is going nowhere.  It just sounds like I'm really bitter about the whole thing.  Which I'm not. The meal was good (only one piece of chicken leftover for breakfast and no latkes) and the day was really fun.  The kids didn't literally kill each other while fighting over gifts.  Figuratively, another story.   The grown-ups got to chat for 7.3 minutes about grown-up topics like the 80's Fraggle Rock and Superman IV (with the nuclear man.)  So I think that equals success.
A few of the dishes I made were Garlicky Chicken Thighs, roasted broccoli, traditional potato latkes (subbed almond flour for regular, and fried in coconut oil), and Butternut Apple Walnut Salad.  The desserts were equally as yummy and included Chewy Cranberry Chocolate Chip Cookies, Amanda's Flourless Double Chocolate Brownies, and what I will call "Pumpkin Pie Bars", adapted from Paleomg's Ooey Gooey Chocolate Chip Pumpkin Bars.  I'm not a fan of the chocolate-pumpkin combo, so I made a couple of small adjustments and was really happy with the result!  Everyone else was too.  I get such satisfaction out of people digging paleo treats as much as "regular" ones.
And now for something totally different.  As referenced above, one of the "grown up" conversations we had was about Fraggle Rock.  Specifically, my mom likes to remind me that I had a crush on Gobo Fraggle when I was about 4 or 5.  My sister claims she had a crush on Boober Fraggle.  Now tell me, were we the only "creative" children who had legitimate romantic feelings for muppets?  I mean, I'm going to defend it because honestly Gobo was a pretty cool dude and I have no shame in it, but just wanted to see if we were the only ones.  Since I'm not fancy or particularly high maintenance it's possible I really could have been happy living underground with the Fraggles.  Not sure what the running routes are like down there but I probably could have worked something out.
But now back to reality…and a cozy-rest-of-my-Sunday spent at home, hopefully in sweatpants, and probably baking something, again.  That holiday feeling is in full swing, and I'm gearing up for a long stay-cation with the kids.  More on that I'm sure later this week.  Positive, happy thoughts.  I'm in a happy little place with happy little clouds and trees.   Or I'm just completely stuck back in the 80's right now and can't get out!
I'm linking up with Katie for MIMM because I truly did have a marvelous weekend celebrating with my family, and can't wait for more of it later this week. What do Jewish people do on Christmas?  We haven't totally figured that out yet but we will be doing it together at least.
What do you get "fancy" with during the holidays and what do you let go?  
Ever kick yourself for forgetting to take pictures?  This is me all the time!  
Who loved Fraggle Rock? Did you ever have a crush on a muppet or animated figure?  Are my sister and I completely nuts?