Months back I did a WIAW Kids Edition to show you what my kids eat on a typical day.  Going with the theme of my Monday post about kid food personalities, today you'll see everything my daughter Diana – the oldest and the "paleo by choice" kid – ate this past Sunday.
I would show you what the other two ate as well, except it's probably within your skill set at this point to pour dry cereal into a bowl and grab a yogurt from the fridge.  For those of you hoping to transition your kids to a more real food or paleo way of eating, Diana's food remains the best example.
For some of my thoughts on paleo for kids, read here!
If you're breathing a sigh of relief that you don't have to look at my breakfast hashes and burger salads don't breathe so fast – I'm going to show you my meals too.  Why?  No really good reason other than I want to and I have the pictures uploaded and ready to go.  I'll spare you the coffee and kombucha today though, enough is enough.
I am still eating mostly low FODMAP (to address IBS symptoms) the way I was last week and have been pretty consistently, so for those of you looking to reduce FODMAPS my meals might spark some ideas for you.  And if you're just dying to see more fried eggs and running shoes meal ideas and training updates definitely follow me on Instagram!
Now for the food!  Thanks Jenn for hosting the party!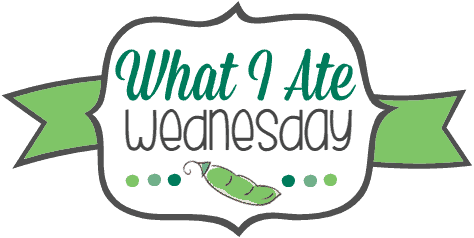 A lazy Sunday.
We had a freezing rain/ice storm Sunday and as a result really couldn't do anything the whole day.  I really didn't want to leave the house anyway so it worked out pretty perfectly.
For breakfast I made Diana her favorite – bacon (this was Applegate organic) fried sweet plantains, and eggs.  I'm not sure when this became her favorite but it has been for months.  On the weekends I often make all three, on the weekdays it's usually just 2 of the 3, depending on what we have.  If I'm making plantains for myself we usually share. Today she shared with my husband who had the exact same thing.  Not a crumb was left on the plate.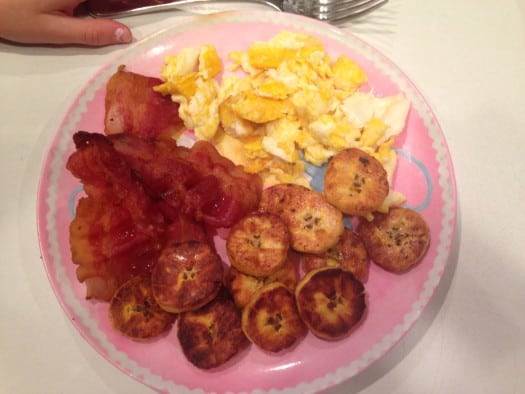 For me, it was beef bacon from U.S. Wellness Meats with parsnips, kale and eggs.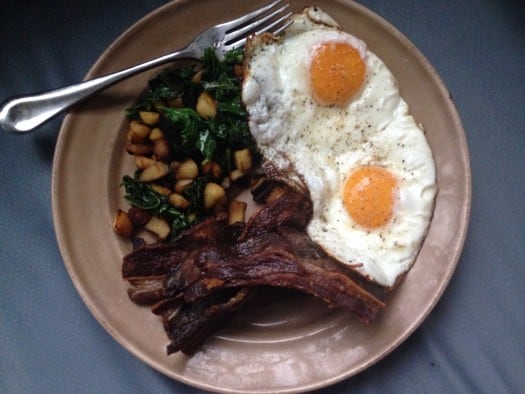 Mid morning she had an apple.  Apples are a big thing around here, I'm still really sad about them being high FODMAP (and they are a nasty one for me) but at least happy that my kids seem to eat them without problems right now.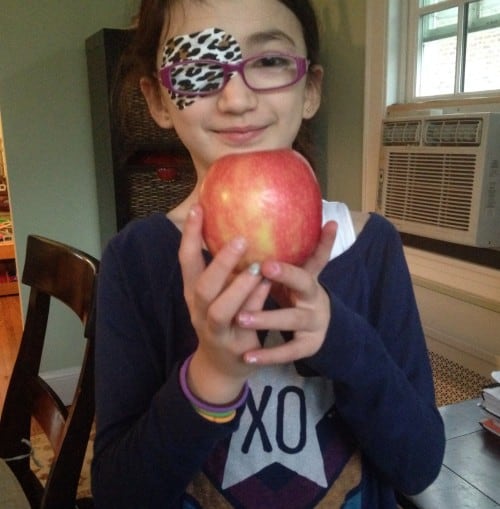 For lunch I cooked her 2 Applegate grassfed beef hot dogs (just realized she ate a lot of Applegate products!) plus some fried plantains sprinkled with salt and a few grape tomatoes.  I think she might have eaten some of the tomatoes already when I took this.  She also eats homemade chicken salad, tuna with homemade mayo, and any leftover meat for lunch along with raw fruits and veggies like carrots, peppers and cucumbers.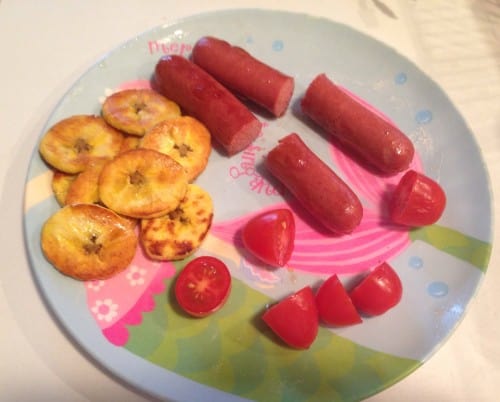 For me it was a bison burger (I always freeze a few individual patties for lunch when I buy ground beef or bison), the same fried plantains that she had, kalamata olives and spinach drizzled with olive oil.  Olives are back for me in a big way lately!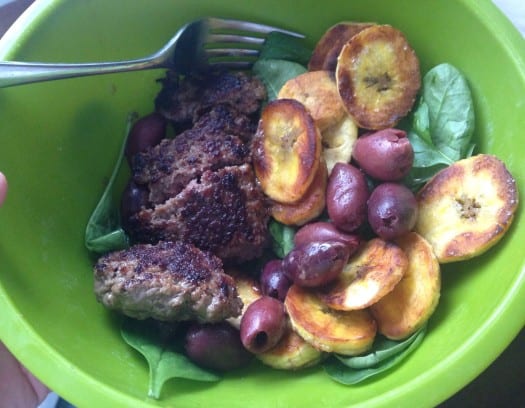 After lunch, at my daughter Emily's request we made grain free (that part was me of course) donuts in our new donut pan.  We used the recipe for Caramel Glazed Donuts from Against All Grain  and added some Enjoy Life chocolate chips to top the glaze. No one waited for them to cool and they were delicious.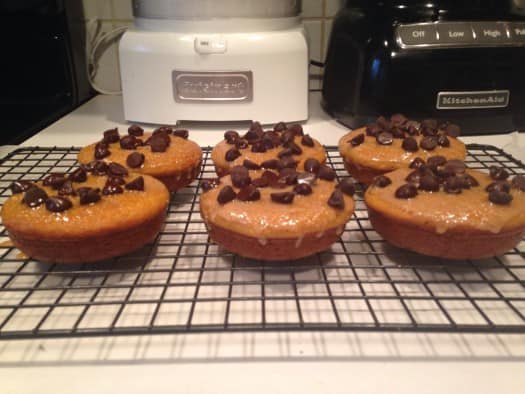 For dinner we had burgers with plantain chips.  I also baked some sweet potato fries since the chips/fries portion of the meal is always in high demand.  That means I ate two burgers on Sunday I guess, didn't notice until now.  One bison, one beef, both awesome.
We also ate plantains all day long in various stages of ripeness!  The ones I use for chips are the greenest of the green since they fry up the crispiest.
Dinner is the one meal where the whole family eats the same thing.  I love that it's simple.  Paleo is not always simple with all the prep and cooking, and having everyone eat the same thing makes things a lot easier.  I often spice up Adam's and my meat with something and season the kids' with only sea salt.   Or I make a sauce on the side for us (like the mayo we had tonight) and the kids use organic ketchup.  Diana can take or leave ketchup.  If I'm having avocado she also shares that with me.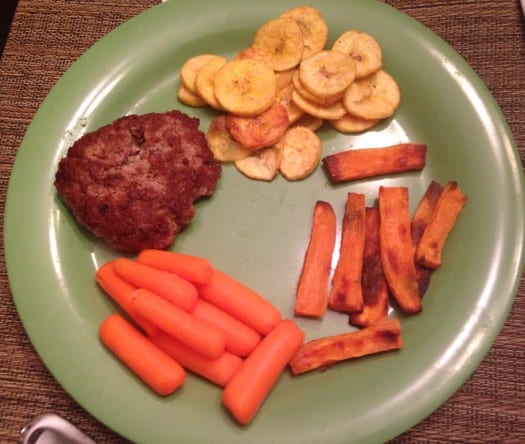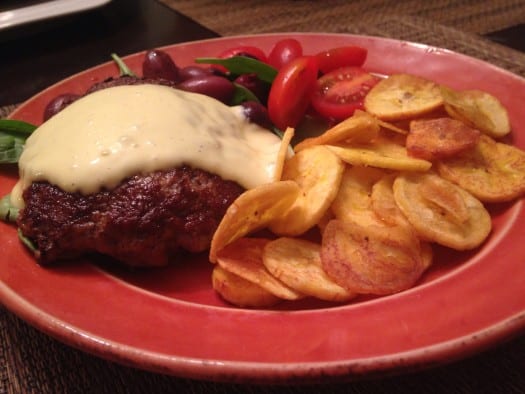 Homemade mayo to top mine along with tomatoes and more kalamata olives.
Dessert for Diana (and the others too) was sliced strawberries and bananas.  She also had a handful of Enjoy Life chocolate chips that isn't pictured.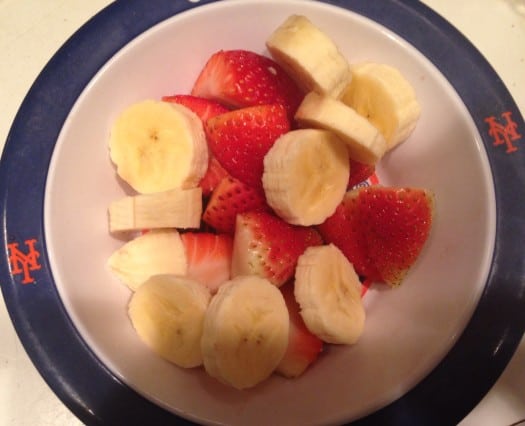 My dessert isn't pictured but it was a good combo – bananas with coconut butter and cashew butter melted together. I'll be doing that again every night this week most likely.
For drinks, she is really only into water, although occasionally has organic whole milk too, usually in the morning. My other two drink milk, water, and diluted orange juice.
Enough food pictures for you?  Tell me you're not as exhausted as I am after that.   Hopefully this gave you a few ideas to try for your own family 🙂
What are your kids' favorite foods?
Do you make one dinner for everyone or make "kid" and "grown-up" meals?
What do you think about kids eating paleo?