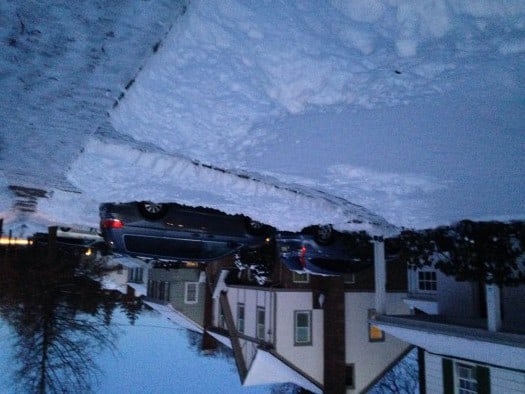 The photo above pretty much sums up the running part of my week, although it doesn't quite allow you to feel the wind chill out there.  We didn't get much snow but this was the first week that reminded me why winter gets so tough, at least running wise.
Not that I haven't been complaining about the darkness and dragging myself out of bed in the morning all along, but now that we actually have snow on the ground, the roads are more narrow and dodging icy patches is a regular thing, it all starts coming back to me.
Since I'm not marathon training – or anything training – and just trying to keep an aerobic base for when I START training in a few weeks for my May 3rd half, I've still managed to avoid the treadmill at the gym by adjusting my days and routes based on the weather.  Not sure how that will continue on as I'm seeing some negative wind chills for next week!  Honestly I should probably just suck it up and get my butt to the gym treadmill since my avoidance of it is becoming some sort of weird game.  Like treadmill dodge ball.  I've always been scared of getting hit with a ball, but maybe it's time I smack myself in the face with a treadmill to get over this already.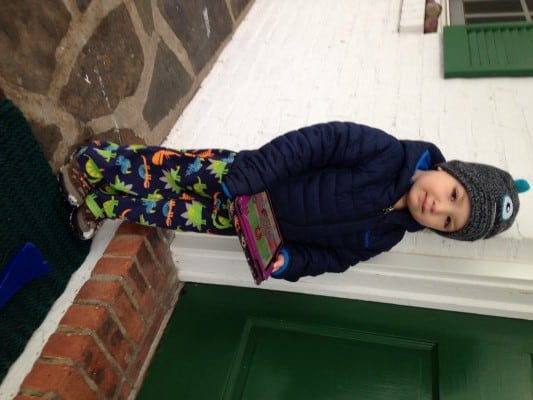 Other than the snow, the week also brought Drew a bad cold that turned into a sinus infection, so we've been spending lots of time at home discussing runny noses, coughing, doctors, missing school, and why we don't need to pee in a cup every time we pee.  That's right, he had to pee in a cup for the doctor and now wants to do it constantly.  Is this a boy thing that I'm missing?  He has also been reading the same Strawberry Shortcake book all week.  He's SS obsessed, this boy.  We have all the dolls and brush their berry-knotted hair all day long.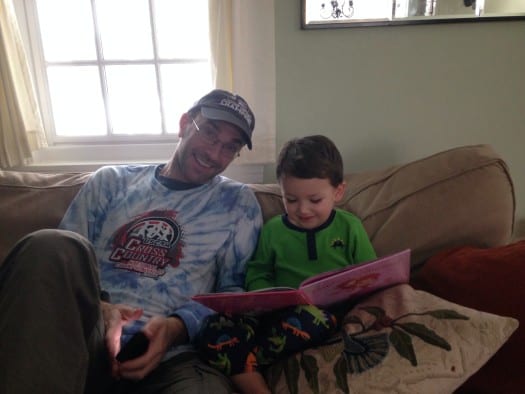 Is it just me or are they wearing the same clothes in every photo I post?
Now the running and yoga.  I am really noticing improvements in strength and flexibility while doing yoga, so that is pretty fun and exciting.  I love that I'm strengthening my upper body and core while improving balance and flexibility.  I was getting really sick of doing planks and push-ups on the daily and love how yoga incorporates all of it along with mindfulness.
Monday – 5 mile recovery run after Sunday's half, plus backbending from the base.  An advance flow with a lot to work toward, but I'm noticing big improvements in my abilities during this class.  Later on in the evening I foam rolled for 20 minutes or so.
Tuesday – Rest day from running, 1 hour yoga for hips.  Can't express my love for hip openers enough.  Every runner's best friend I think!
Wednesday – 6 miles hilly route plus 35 minute flow for shoulders.  My shoulders are seriously tight so this was great and very time efficient.
Thursday – 7 miles easy pace and no yoga.  I was planning to get at least something in yoga wise, but, with my son sick it was not in the cards.  I did some stretching for my hamstrings and a little bit of foam rolling.
Friday – 5.5 miles easy pace followed by 55 minutes Connections to Core.  This is a tough class for me – fast paced and challenging – but I really feel like I got a great core workout afterwards.
Saturday – No running for me due to crazy cold temps!  Planning to do an hour of yoga in the morning.
Sunday – Planning for a 10 mile easy paced run.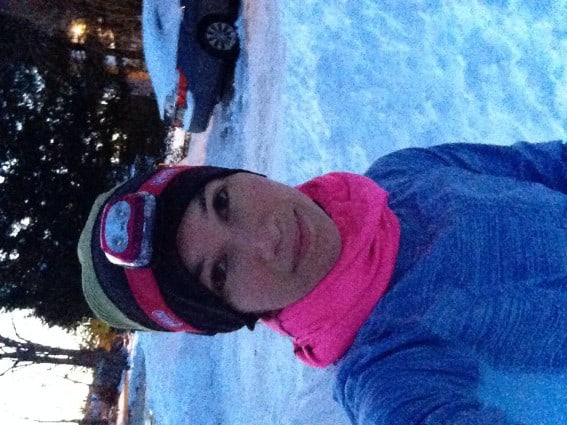 Best run of the week – Monday's 5 mile recovery run!  I haven't normally done recovery runs since being injured over a year ago, but I miss them and plan to start doing them again since I'm not feeling any pain.  Mentally I think these can be the best runs.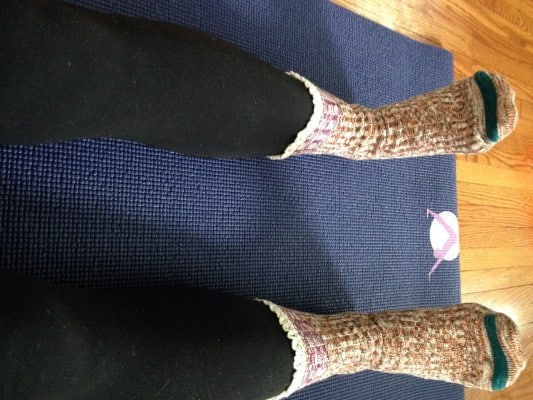 Best yoga session of the week – Back bending from the base on Monday.  I guess Monday was just a good day all around!  Back strength and flexibility is challenging for me but this is also why it feels so good.  Huge improvements over the past two months.
Just a few food scenes from the week because that's what I do.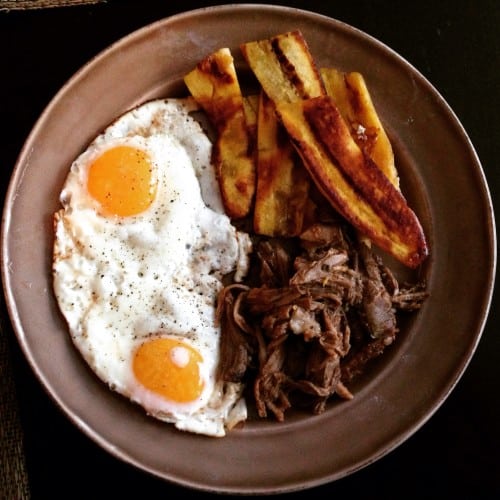 I made my kid friendly pulled pork Thursday night and was happy to throw some leftovers in with my breakfast Friday morning.  Eggs, fried plantains, and meat together is good stuff!  My oldest, Diana, loves this stuff so much she eats 3 helpings for dinner and then has it for lunch at school the next day.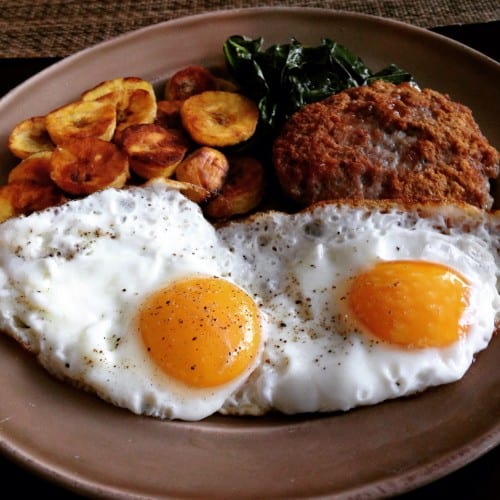 Yup, I can slice plantains lengthwise and in circles, so talented.  Kidding.  I'm aware this is nearly the same breakfast with the exception of the sausage patty and collard greens, but darn it, the food is pretty.  Love love love the sugar free pork breakfast sausage from U.S. Wellness Meats!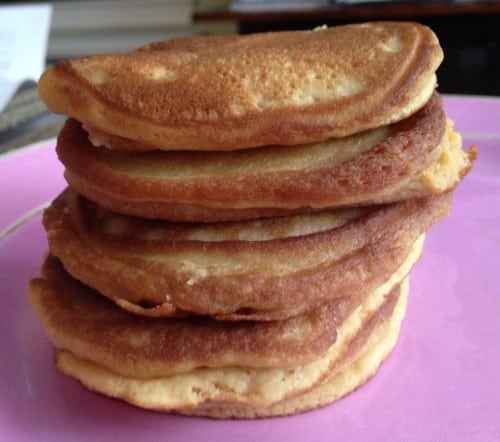 One more and then done.  I have a total pancake-mental-block and can't seem to ever remember how I make my pancakes.  I think it's different every time and that's the problem.  My biggest pancake challenge is my lack of flipping skills, which means that even if the pancakes taste good, they just don't look good!  I really want to FINALLY have an actual Paleo pancake recipe on the blog, and, one goal for the weekend is to make good looking and tasting pancakes and write down the recipe.  These were made on Tuesday.  They were great but I just don't know what the heck I put in them.
Totally done now people, you can go about your day.  Have a GREAT weekend!  It's Superbowl weekend! Which means nothing to me except I get to see my friends!  Awesomeness.
How were your workouts this week?
What are your weekend plans?