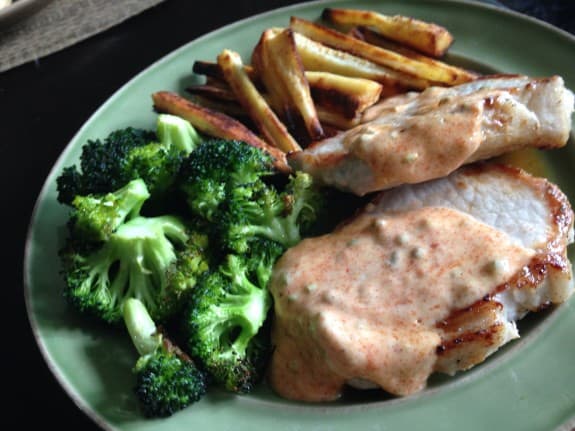 I just had to include "creamy" in the title even though it's not my favorite word, because you need to understand what this ranch is all about. It's as thick as any ranch you've had and it's Paleo. And you can make it really easily, I promise you this! Big score for both of us today.
It all came to me in a vision about 4pm on Wednesday. I had bought pork chops AGAIN since they were cheap-as-yo-momma, and wasn't really feeling inspired by them. We had them with apples the week before, cajun style before that…it was getting old. And then it happened. I remembered the parsnips, the broccoli, and the just-right-amount of mayo I had left in the fridge. Pork chop perfection. I will give you the details below.
*Hint. Make the mayo prior to starting this so you don't have to rush, or if you don't have an immersion blender and it will take longer.
Ingredients:
5 thick center cut boneless pork chops
5-8 parsnips, peeled and cut into 1/2 inch "fries"
1/4 cup olive oil, divided (parnips and broccoli)

1 tsp garlic powder

1 large broccoli crown, cut into florets

Salt and pepper
For the Ranch Sauce
1/2 cup homemade mayo
2 tsp garlic powder
1 tsp paprika
1 tbsp dried chives
1/4 tsp salt
Directions:
Preheat the oven to 450 degrees. Toss the parsnip fries with 1-2 tbsp olive oil plus the garlic powder, salt and pepper.
Spread out on a parchment paper lined baking sheet, making sure they each have space so they can get crispy. Use to baking sheets if you need to, it's worth it. Once the oven is ready, put them in and bake for about 25-30 minutes, flipping once, until nice and brown and crispy. Check on them often!
Toss the broccoli with the remainder of the olive oil (add a little more if too dry) plus salt and pepper to taste. Wait until the parsnips have been in there for at least 15 minutes before putting the broccoli in there with them. Broccoli will cook fast at that temperature.
While you're waiting to put the broccoli in, prep your pork chops and make the ranch. Sprinkle both sides of the pork chops with a little salt and pepper and set aside. Now for the ranch. If you haven't already made the mayo, you can still do it now if you have an immersion blender. The recipe for the mayo is here.
Now to make it ranch, just add the garlic powder, paprika, chives, and salt. You can adjust the amounts of spices if you think I'm crazy (this happens to me when I make recipes) or you can just trust my judgement. Either way, this combo will yield some awesome ranch flavor.
Don't forget to put the broccoli in and check on the parnsips. Now heat a large saute pan over med-high heat. Once heated, add the pork chops and cook 5 minutes per side or until JUST DONE. Overcooked pork chops suck, there's no way around it. Don't go down that road, pay attention!
When the parnsips and broccoli are done (parnsnips looks browned and crisp and broccoli is soft and starting to brown), take everything out and arrange on plates. Now the fun part. You can put as much ranch sauce as you want on your pork chop. Since you cooked it you get first dibs. Okay then you can put a little on everyone elses plate too.
Now that you've had your fun you can do the best job of all, cutting your kids pork chops into 597 pieces so they don't choke. Or maybe just make this when your husband's home so he can do it.
Enjoy and dip everything in the ranch. Yum.