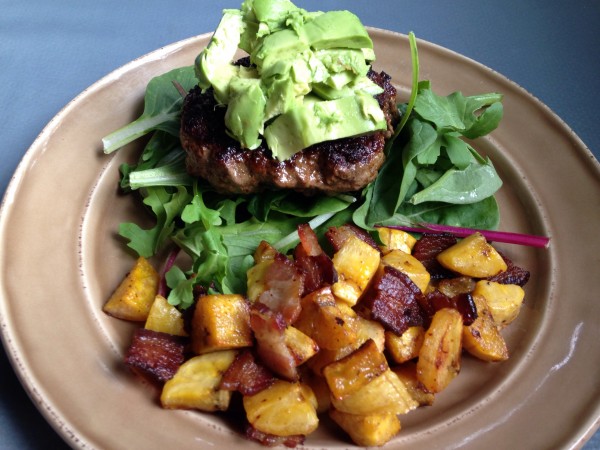 First thing on my agenda is a big HAPPY 7th BIRTHDAY to my daughter Diana!  I couldn't have imagined a happier first born child.  She's the kind of kid that would give any parent the confidence to think they might have a clue about raising children.  People look at her and tell me I must be doing good things as a parent and I'm like, "no way, seriously, that's all her."  From the day she was born, she was the kind of baby who was cool with everything, able to go with the flow and bring a smile and good time with her wherever she went.
Can you guess where she picked to go out for her birthday dinner?  Remember this is my "paleo" kid who digs burgers and bacon and avocados and plantains.  Yup, that's right, IHOP.  Because why not eat chocolate chip whipped cream pancakes for dinner on your birthday?  If anything her dinner choice at least makes me feel like this whole paleo thing hasn't screwed up her ability to shamelessly indulge on a special occasion.  See?  She really is the type of kid who builds confidence in a parent!
Onto the recipe.  This is just another one of my easy burger recipes to switch up the flavor of your typical burger a little bit for a fun twist.  And I couldn't resist pairing sweet plantains with bacon in the oven as a no-fuss side dish.  It's all about maximizing flavor, nutrient density and time at my house.  The spices are easily adjustable to fit your preference.  My kids did not eat the spicy version of this burger, so the recipe below will make 2-3 burgers depending on the size you want for yours.   I like a big burger but you can decide for yourself what you can handle.
Ingredients:
For the burgers:
1 lb ground beef, preferably grass fed
1 tsp garlic powder
1 tbsp chili powder

1/2 tsp salt

1/8-1/4 tsp red cayenne pepper

1 tsp paprika

1/2 tsp cumin

1/2 an avocado to top the burger
For the plantains and bacon:
1 large yellow-black soft plantain (or 2 small)
6 thick slices of sugar free bacon, cut into 1-2 inch pieces (I use U.S. Wellness Meats)
Directions:
Preheat the oven to 400 degrees.  Prepare a large baking sheet by lining with parchment paper.  Since bacon renders a lot of fat, prepare for some of it to drip and handle carefully while in the oven.  You may want to put a dish below in the oven to catch drips.
Peel your plantain, cut in half lengthwise and then slice into half-inch pieces.  Spread them out over the parchment paper in one layer.  Sprinkle the bacon over the plantains, again in one layer for even cooking.  You will roast the plantains and bacon for 10-15 minutes, stir to combine the fat and plantains (here's where you need to be careful!) and then return to the oven for 5-10 minutes or until the bacon is crisp and the plantains are soft and lightly browned.  Carefully remove from the oven and transfer to paper towels to drain.
While your plantains cook you can make the burgers.  Heat a grill or large saute pan on the stove over med-hi to hi heat.  In a large bowl, combine the ground beef with all the spices and mix well with your hands to combine the flavors.  Form into 2-3 patties depending on how big you like your burgers.
Add the burgers to the grill or pan and cook on each side about 3-4 minutes or until the outside is crisp and the inside is cooked to preference.  Serve over salad greens and top with avocado.   My husband hates plain avocado so I made a simple guacamole for his.  Whatever you prefer!
Fill up the rest of your plate with plantains and bacon and you're good to go!
Simple right?  Have you experimented with spicing up your burgers?  What are some of your favorite burger flavor combos?  Do you ever cook bacon in the oven?