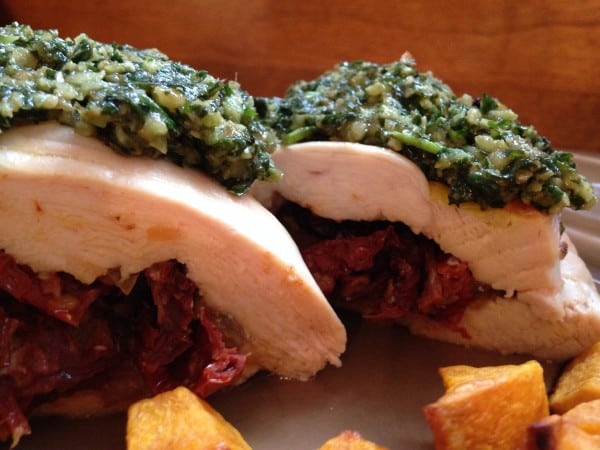 Do you have random things you get lazy with?  I have a lot.  One of them is using kitchen gadgets.   I love all my kitchen gadgets like, a lot, so it's nothing personal toward them, but I just get this lazy avoidant thing when it comes to having extra things to clean.  Because really, even though you'd never know it with the current state of my house, I'm cleaning up at least a little bit all the time.   At least 2/3 of that is in the kitchen, but it's everywhere else too.  And you all know how I feel about cleaning.  So when I think about making something in my food processor, blender, getting out the spiralizer or god forbid the freaking waffle maker I get a mental block and just avoid it for a while.  Until I really want to make something that I've been putting off.  Like pesto.  I have a mental block with pesto.  As much as I really love it, it just never seems like the right time to make it.  And it's only due to the mess factor that I feel this way.  Okay that and the fact that basil and nuts aren't the cheapest stuff at the grocery store.  Lazy and cheap – interesting qualities for a person who runs and pays for marathons.  I live to contradict myself.
Onto the recipe.  I like stuffing chicken breasts with things.  Plain chicken breast bores me and really the meat is so thick that they just beg to be stuffed.  This is all sounding weird but I'm really not trying to be funny, it's just how I feel about chicken.
So with the sundried tomato mixture inside the chicken and the pesto on top, you get the best of everything.  The chicken isn't boring and you get the flavor of a sundried tomato pesto with onions and garlic.  The pesto has a light and fresh taste, as far as pestos go.   I even did a little egg glaze to be fancy.  It just felt right, I'm not sure if it's a "thing" to brush chicken with egg or if it makes any difference, but it worked so it's going in the recipe!
Sundried Tomato Onion Stuffed Chicken with Walnut Pesto
Boneless chicken breasts stuffed with a sundried tomato and onion mixture, oven baked and then topped with a walnut pesto
Prep Time: 25 minutes
Cook Time: 25 minutes
Total Time: 50 minutes
Course: Dinner
Cuisine: Paleo
Servings: 4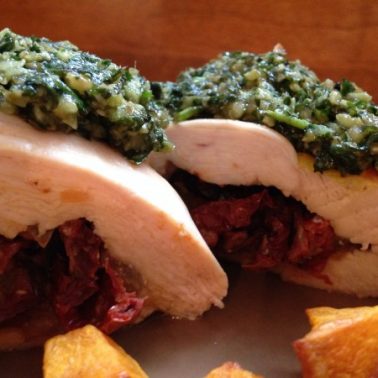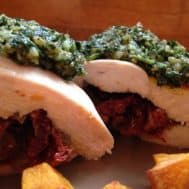 Ingredients
For the Pesto:
1/2 cup chopped walnuts
1 elephant garlic clove minced (3-4 tbsp minced garlic)
3 oz basil leaves about 3 cups
1/3 cup light flavored olive oil
3 tbsp ghee
1/2 tsp salt
For the Chicken:
1.5 lbs boneless skinless chicken breasts
1/2 cup sundried tomatoes chopped
1/4 cup water
1/2 med onion finely chopped
2 tbsp ghee
1 egg
1 tsp garlic powder
1/2 tsp salt
1/2 tsp black pepper
Instructions
Heat your oven to 425 degrees. First you want to re-hydrate your tomatoes. Put them in a microwave safe bowl, and the water, and microwave on high for 2 minutes. That should get them soft enough to proceed. Drain any excess water.

Heat a saute pan over medium heat and add the 2 tbsp ghee. Once the pan is heated add the chopped onions.

When the onions have softened a bit, add the sundried tomatoes and stir to coat. Cook for 2-3 more minutes until soft and fragrant. Remove from heat.

Take your chicken breasts and cut each one length-wise to halve the thickness and open it up for the stuffing (butterfly.) Fill each chicken breast with the sundried tomato mixture, close, and secure with one or two toothpicks. Carefully place each one in a baking dish.

Combine the egg, garlic powder, salt, and pepper. Brush the top of each chicken breast generously with the egg mixture.

Bake in the preheated oven for 20 minutes, then set the broiler on high and broil for 5 more minutes or until the tops are lightly browned and the inside no longer pink.

While the chicken is baking, make your pesto! In a food processor, put all of your pesto ingredients and blend or process until you get a nice paste (not a sticky paste, but a delicious pesto-y paste!) Taste test and add more salt if you like!

When the chicken is done, serve by cutting each breast in half and topping each one with the pesto. (I ate a whole breast but a more reasonable portion would be half!) You will have extra pesto which can be refrigerated in a sealed container to add to whatever you like! Or you can serve spaghetti squash as a side and toss with the extra pesto.

Enjoy!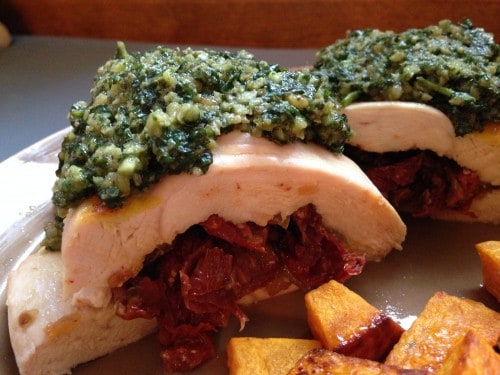 Do you like pesto and have you made it often?  Do you get bored with chicken breasts and feel the need to do something different with them?