These banana blueberry muffins are the perfect sweet, portable breakfast treat and afternoon snack.  They are paleo nut free, and sweetened with banana and raw honey, so no refined sugars!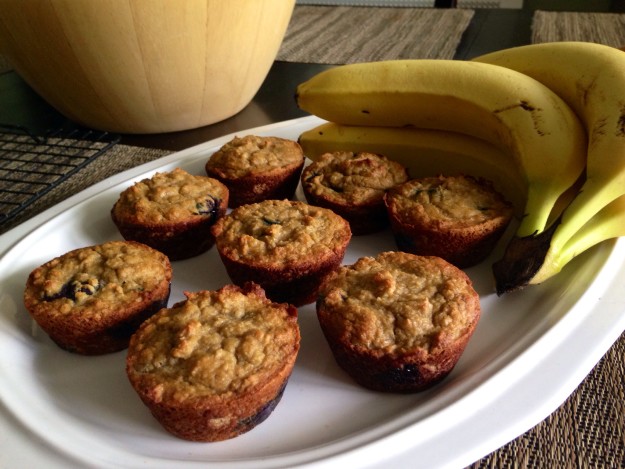 Every week I swear at least ONE banana will be leftover to get brown enough to bake with.  If you buy 24 bananas per week, I don't think it's an unreasonable assumption.  This actually only happens once every 4 months though, on average.  I must have pretty crappy food-consumption estimation skills,  or, more likely, I just can't accept the sheer (large) quantity of bananas a family of 5 can eat each week.
Anyway, last weekend we were out of the house long enough for a single banana to turn brown, uneaten.  Crazy times, I know, and I was just as excited as you might imagine.   Okay maybe not truly excited, but at least ready to jump at the opportunity to get another banana muffin recipe made, and to have something new to snack on.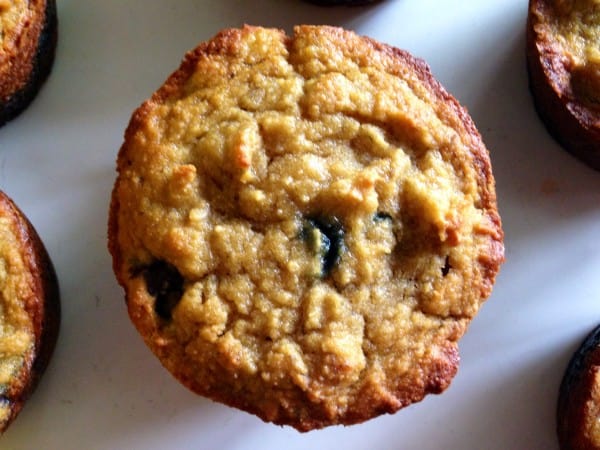 In other non-muffin related news, I ran this morning for the first time in 10 days.  I couldn't resist going out with the 50 degree gorgeous running weather we're having, and the running itch indeed started itching again!   Of course, it wasn't the most spectacular run after not running for that long, but it wasn't terrible either.
It was nice, in a slowish, I'm-not-in-shape-but-I'll-get-there kind of way.  And the evil side stitch did not attack until I was right around the corner from my house.  I always get side stitches for the first few runs after a break, I can't figure out why, I'm just prone to them I guess.  Blowing air out birthday candle style is the best remedy I've found, besides getting in better running shape, of course.  Something about the force from the diaphragm seems to help knock out the stitch, who knows?
I'll just shut up now though and give you the muffin recipe.  May at least of of your bananas turn ripe enough to make it 🙂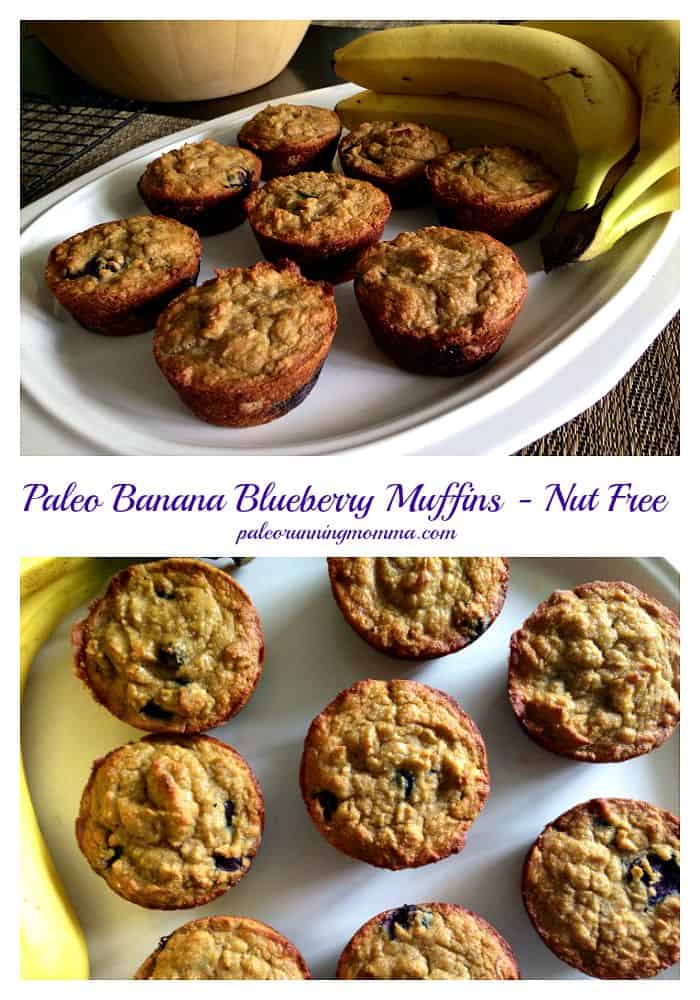 Banana Blueberry Muffins - Nut Free
Paleo Banana Blueberry Muffins that are coconut flour based, and nut free.
Prep Time: 15 minutes
Cook Time: 20 minutes
Total Time: 35 minutes
Course: Breakfast/Snack/Treat
Cuisine: Paleo
Servings: 9 servings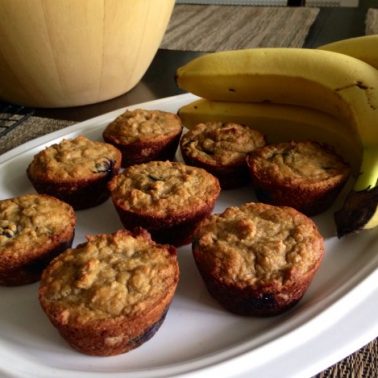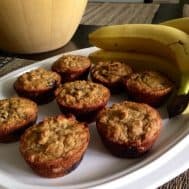 Instructions
Preheat your oven to 350 degrees and thoroughly grease a muffin pan with coconut oil or butter

In a medium bowl, combine the mashed banana, eggs, honey, coconut milk, and vanilla and beat until smooth

In a separate bowl, combine the coconut flour, tapioca, baking soda and powder, and salt.

Slowly stir the dry mix into the wet until fully combined. The coconut flour will make the batter thick.

Fold in the blueberries to combine. Fill your muffin cups about 2/3-3/4 full until all the batter is used up. I made 9 muffins with this recipe.

Bake in the preheated oven for 15-20 minutes or until lightly browned. Remove from oven, let sit for a minute and then remove muffins from pan to cool on a wire rack.

Perfect to eat warm or save for later. Enjoy!
How often do you bake/make recipes with bananas?
Fun plans for the long weekend?
Are you prone to side stitches?  Anything that helps?