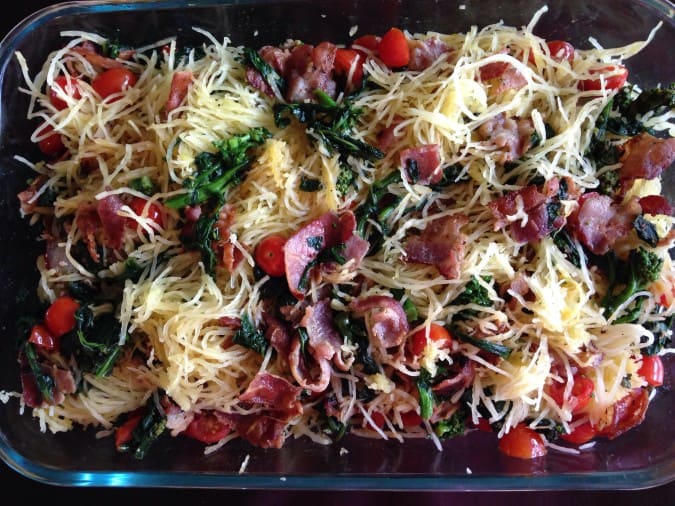 I was going to call this BLT pasta since I thought that sounded catchy, but I didn't want to trick you even further than I already am by calling it pasta. I mean I guess you all know it's really not actual pasta. And if you're new here and new to paleo, by "pasta" I mean some sort of vegetable that when manipulated can kind of resemble actual pasta. I'm personally a fan of spaghetti squash. It's good, trust me. Or don't, because I can't remember what real pasta tastes like anymore. It's a distant memory.
So it's not BLT pasta. But it IS just as good as that might be. And it passed the picky husband test with flying colors. He agreed to eat it for lunch tomorrow after eating it tonight which gives it 2 husband approved gold stars. I don't even think he knew it was broccoli rabe so don't say anything. He's not a fan of the rabe.
So enough about picky husbands and back to everything else. The weather is not supposed to cooperate for my planned speedwork tomorrow so lets all say a little prayer to the gods of humidity and dew point and any other weather markers with the potential to ruin my workout. Am I getting more creative with my humid weather complaints? I know but I'm trying. Done now.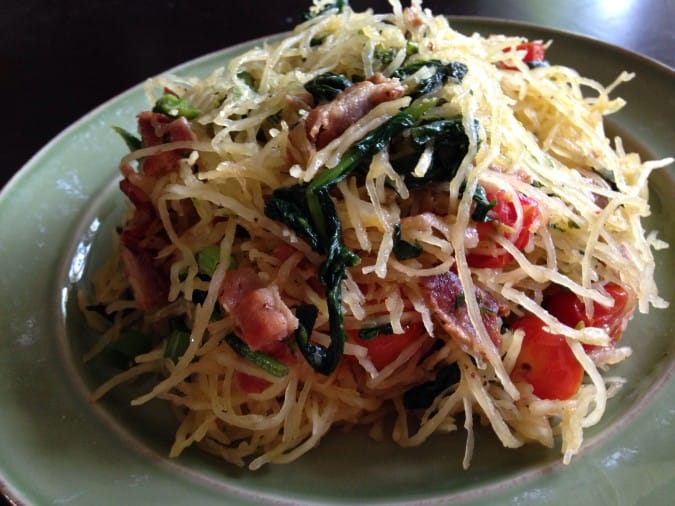 Bacon, Broccoli Rabe and Tomato Pasta
The perfect al dente spaghetti squash tossed with bacon, tomatoes and broccoli rabe
Prep Time: 25 minutes
Cook Time: 40 minutes
Total Time: 1 hour 5 minutes
Course: Paleo Pasta
Cuisine: Italian/American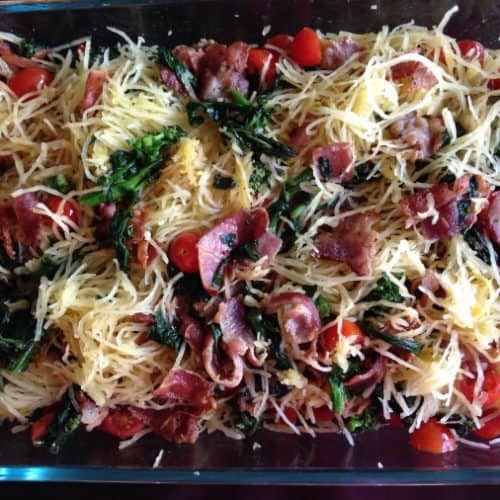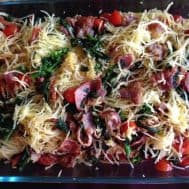 Ingredients
Small-med sized spaghetti squash
1 lb nitrate free sugar free bacon or the best you can find*
1 large bunch broccoli rabe coarsely chopped with large stems removed
2 scallions thinly sliced
1 pint cherry or grape tomatoes cut in half
Salt and pepper to taste
Instructions
Preheat your oven to 400 degrees.

Cut spaghetti squash in half lengthwise and scoop out the seeds and fibrous strings.

Place face down on an aluminum foil lined baking sheet. Roast in the preheated oven about 25 minutes, until the back of the squash can be pushed in just a bit, and the "spaghetti" (flesh) is not super soft. This will create a more "al dente" pasta! Al dente spaghetti squash is key for this recipe!

Heat a large pot of salted water and bring to a boil. This will be used to cook the broccoli rabe.

Heat a large heavy bottomed saute pan over med-hi heat. Cook the bacon in batches until brown and crisp on both sides. Drain on paper towels. Save half of the rendered bacon fat.

Once the water reaches a boil, cook the broccoli rabe in the boiling water for just one minute, drain in a collander and rinse with cold water. Set aside.

Once all the bacon is done cooking and drained, keep the heat on med and add the broccoli rabe to the pan with bacon fat and sautee about 5 minutes.

Add the halved tomatoes to the pan with the broccoli rabe and sautee another minute or 2 or until tomatoes begin to soften. At this point you can crumble bacon (or break into pieces) and add to the pan. Cook over med heat another minute and stir to combine flavors.

Remove mixture from heat and toss in salt and pepper to taste (I added 1/2 tsp salt). Now take the roasted spaghetti squash and use a fork to scrape out all the spaghetti strands lengthwise. Put all of it in a large dish or bowl.

Add the bacon, broccoli, and tomato mixture to the spaghetti squash making sure to include all the fat and juices left in the pan. Add in the scallions and toss it all together.

Serve warm, or however you want. I ate it warm (cooled down while I snapped my photos!) and it was actually really good this way. Works well for leftovers too!
*Don't stress to much over the sugar free part, unless you are doing a cleanse and specifically can't have added sweeteners. Just make sure it's nitrate free and check the ingredients for any other weird additives before purchasing!