Paleo almond butter and jam bars reminiscent of my favorite sandwich of all time! Now, with the addition of a chocolate layer and easy homemade strawberry jam, they become a healthy yet decadent tasting dessert.  They are also paleo, vegan, and no bake!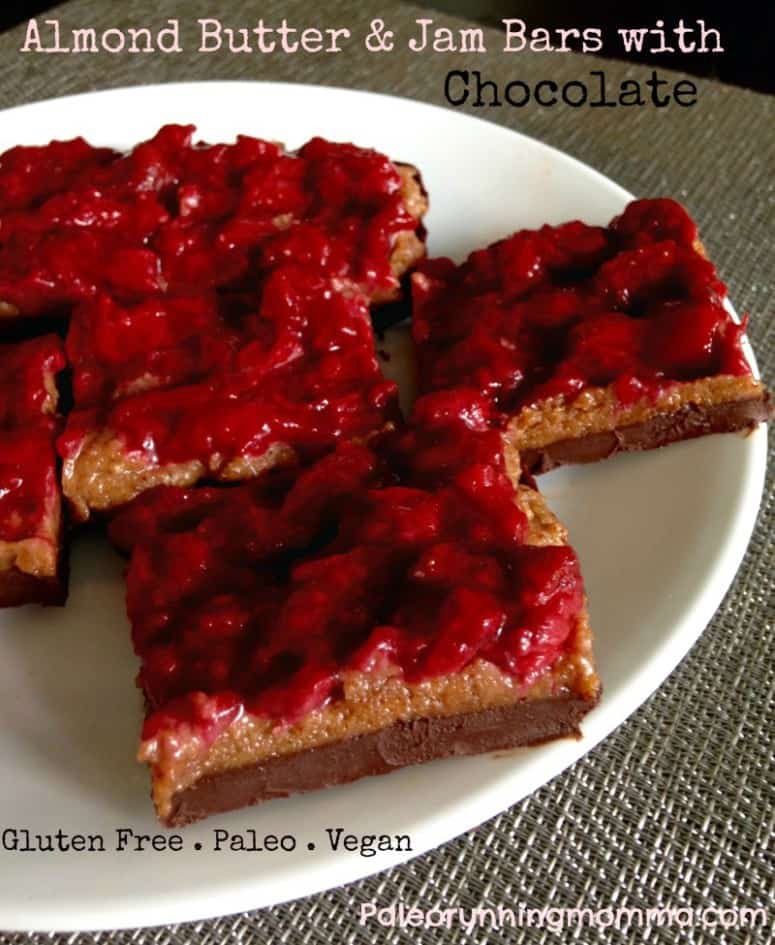 Adam, like many husbands, doesn't have the greatest memory, but one thing about me that's burned into his memory is my love for PB & J.  You see, long ago we used to work together, and every single day he will tell you that I ate a homemade peanut butter, jelly, and banana sandwich for lunch, many times right at a meeting.   Please don't leave out the bananas, they made that sandwich all is was meant to be.
He will tell you this and it's not an exaggeration at all.  In fact, what he didn't know, was that I probably ate that same exact sandwich for lunch every weekday for the better part of 10 years.   While I'm over it now (10 years is a long time) I still have lots of love for PB&J, and since there's this whole paleo thing that's been going on for almost 2 years, it's about time that I start recreating rekindling that lost love.
And, dude, there's chocolate involved this time.  Because after all, this is dessert, and I said I wanted chocolate!  So did you.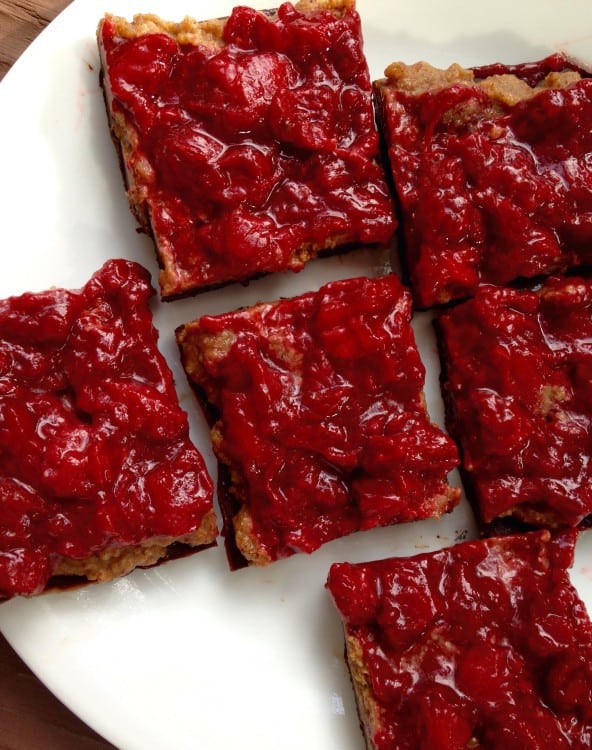 I know what you're thinking.  Fine, I don't actually know if you're thinking at all, but I need a transition, and then again, you might be thinking this.  There are no bananas visible in this recipe.  And that is true, but please for the love of jam feel free as a bird to slice some bananas to top these dessert bars before serving.  Then they might just be epic, and you know I don't use that word lightly.
Paleo Almond Butter Jam Bars with Chocolate
Paleo almond butter and jam bars with a chocolate layer and easy strawberry jam. Paleo, vegan, gluten free, no bake!
Prep Time: 30 minutes
Cook Time: 45 minutes
Total Time: 1 hour 15 minutes
Course: Dessert/Treat
Cuisine: Paleo, Vegan
Servings: 16 bars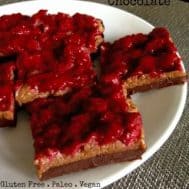 Ingredients
For the jam layer
1/2 lb strawberries frozen or fresh*
1 tbsp coconut sugar
* 1 tsp water ONLY if using fresh
For the chocolate layer
3/4 cup dark chocolate chips - I used Enjoy Life brand
1/4 cup creamy almond butter
2 tbsp coconut oil
For the almond butter layer
1/2 cup creamy almond butter
2 tsp coconut oil melted and cooled slightly
1 tsp vanilla
2 tbsp full fat coconut milk
2 tsp coconut sugar
Instructions
Start by making the chocolate layer. In a small saucepan over low heat, combine the chocolate chips, almond butter, and coconut oil and stir until melted and fully combined.

Remove from heat, and, using a rubber spatula, transfer and spread all the chocolate into an 8 x 8 inch baking dish lined with parchment paper. Set aside to chill either in the freezer.

Now make the jam layer. In a medium saucepan over low heat combine the strawberries and coconut sugar, plus water if using fresh strawberries.

Increase the meat to medium and cook, stirring often, breaking up the strawberries as they soften.

Once the strawberries are broken down and the mixture is boiling after 15-20 minutes, lower the heat and allow to simmer, stirring occasionally, for another 10-15 minutes. You should have a thick and syrupy mixture at that point. Remove from heat and allow to fully cool.

Now the almond butter layer. In a small bowl, combine all the ingredients and stir well until smooth and creamy.

Again using a rubber spatula, transfer and spread the almond butter mixture over the cooled chocolate layer to fully cover it. Scrape the sides of the bowl to use all of it.

Once the jam has cooled, spread it out evenly over the almond butter. Cover the baking dish with plastic wrap and chill in the freezer until solid, 1-2 hours.

Cut into squares and enjoy!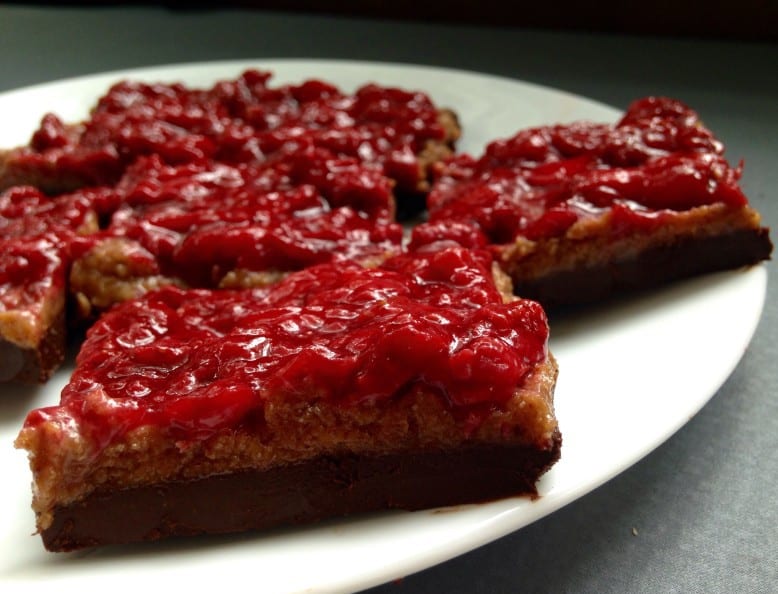 What's your favorite peanut butter/nut butter combo?  
Have you made your own jam?
Did you ever have a go-to weekday lunch that you ate for years?