This is Thinking Out Loud day so it's perfectly legal to discuss two totally different topics in one post.  Of all the random thoughts poking at my head, I had to choose something, and these just won today against other exciting topics like "spring clothing budgeting", "when do I have time to grocery shop" and "ran out of paper towels."
Thanks to our hostess Amanda for an acceptable reason to ramble about things that may or may not relate to our blogs. You don't really want to see my food every day anyway, I get it and I feel the same way 🙂

Does anyone still have childhood/teen/young adult diaries/journals in their possession?  So I mainly forget that I still have these things and then of course as I'm digging for something else or cleaning my closet (it happens) I'll come across them and wonder if it's time to say goodbye.
In the past, I always said "no way!  too many memories!" but now I'm a little torn, and here's why.  My diaries and journals from way back, (early-mid 90's up until 2007-ish) were written in ONLY when I was upset about something and needed to vent or be extremely dramatic.  I understood that they served this purpose and writing was completely free and therapeutic for me.  What is in those journals does not represent "real life" as it actually was lived, at all really.  And that's perfectly fine, if no one ever, ever reads them.  BUT let's be real – my kids are now able to read and most of what they would find in those journals, if they found them, (and kids have their ways!) would be confusing at best, most likely disturbing.
I mean, if I died tragically today I would NOT want anyone reading my journals.  It's not even that there are "secrets" in them, there's just a lot of emotion going down and not much else.   I wouldn't want to be defined by my hard times, and the only time I ever wrote in them was during hard times.  Plus I took the whole "poetic license" thing very seriously and went way self indulgent for the sake of creative writing.
But do I totally trash them without another thought?  Would I regret it?  The jury is still out.  I'm not a hoarder at all and I like to throw things out as soon as I don't need them, but I'm not sure I'm ready to part with my writing from the past.  I guess there are some things I don't want to "forget" in the sense that I don't want to gloss over the struggles.  I've noticed that as I get older and look back in time, the stories change in my mind and I'm not quite sure what I'm remembering. Even if some of those stories are sad, confusing or disturbing, I guess I hesitate to completely get rid of the original versions.  I'd go as far as to say they might even serve as a tool for me to survive MY KIDS' adolescence.  Just help me god if they ever read them!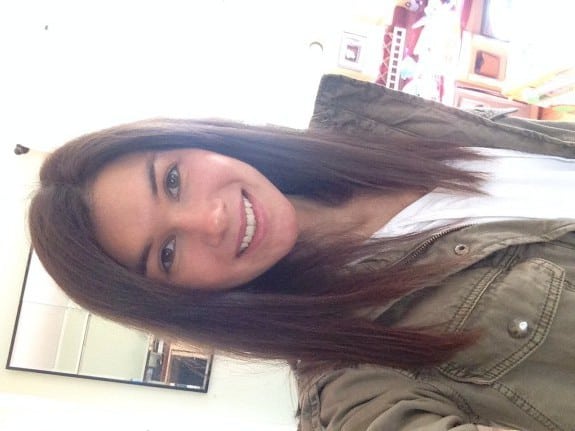 And now I present you with my awkward transition into outdoor yoga, the other thing on my mind today.  There I am above, awkwardly smiling before I awkwardly go outside to do a tree pose in front of a tree.  So creative and artistic Michele, you're really blowing our minds.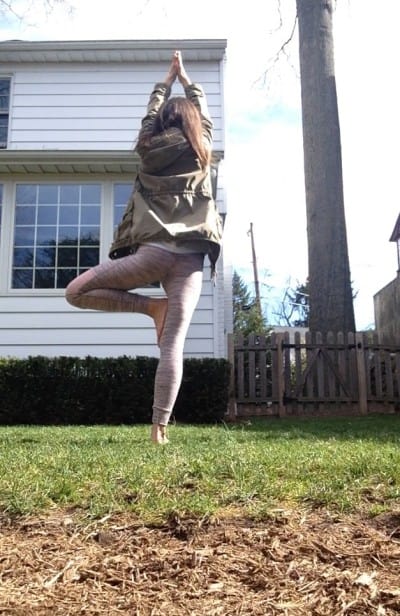 I know the tree has better form, you don't have to bother telling me 😉
Anyway since the snow has finally melted and it's actually pretty nice out I feel like I want to move my daily yoga practice into my backyard.  It's funny because I'm not much of an "outdoors type" but when it comes to exercise I'd always choose outdoors over in, whether it's a gym or my living room.  I figure if I love running outside, then yoga would be a natural next step.
If I ever thought the internet was a bad idea I was just plain wrong, because how awesome is it that I can do a free, private yoga class in gorgeous weather in my own backyard all because of wifi?  This is amazing stuff, seriously!  I am also going to start checking out more yoga podcasts so I can listen to classes on my phone, making it easier to practice outside without taking the iPad.   I'll definitely be letting you know how this goes!
Have you practiced yoga outdoors?  Do you prefer practicing outdoors or indoors?  
Anyone still have old diaries, and what are your thoughts on keeping/not keeping?