Hello today from my backyard – where the bugs are attacking me and it's 85 degrees and climbing.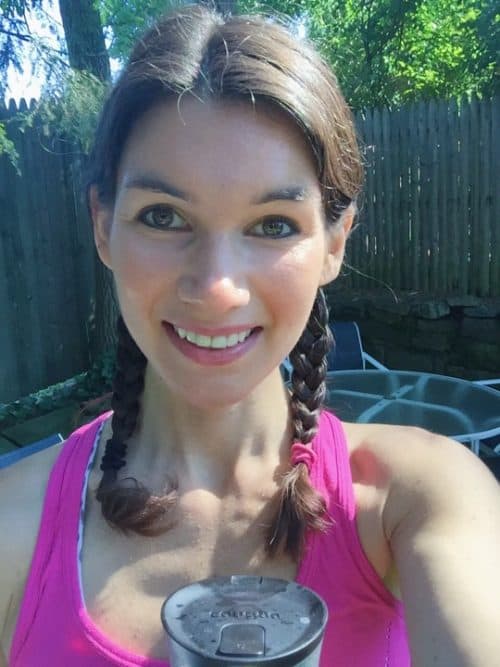 And, yuppers – here I am in pigtails drinking hot coffee.  I think I really need to figure out the whole cold brew thing since it looks like we have some hot days ahead.  For now, I will sweat and Think Out Loud and try to remember to google cold brewing later.
Season Matters, Oil Pulling, Commitments
Thought 1: I totally realized today that the season matters a lot when it comes to food.   Probably other things too, but I'm thinking about food.  Let me elaborate on this subject, starting with my feelings about apples.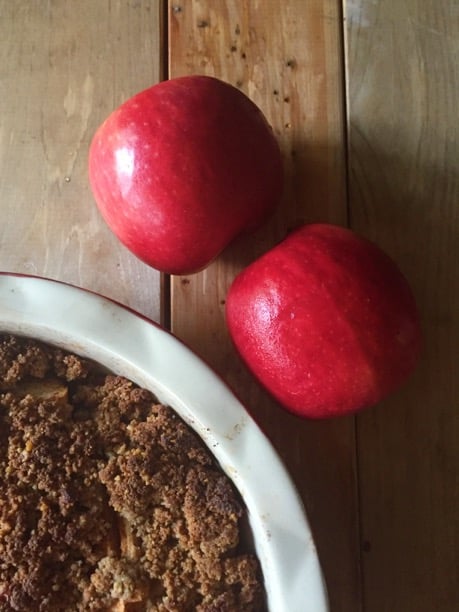 You see, I'm definitely one of the first to jump on apples and all things related to fall – including the ever controversial "pumpkin spice" bandwagon.  If there really is a bandwagon for pumpkin spice, then I have literally been riding it since I was 5 and fell in love with pumpkin pie.
Sidenote: I was curious and googled the definition of "bandwagon", and found that besides a trend, it is literally a wagon that carries a band in a parade or procession.  Pumpkin spice lattes optional.
Anyway, back to the apples.  As I moan about often, I try to rephotograph good recipes with terrible photos whenever I have "time" – AKA – when I'm putting off doing something else.
As much as I love baking with apples once August 20th-ish rolls around, baking with apples, cinnamon and nutmeg on a 90 degree day in July might actually have just killed my love for fall food in general.
Maybe that's harsh.  It's just that I realized that the season really does matter when it comes to what foods we want to eat, and even what we want to smell!  The smell of cinnamon and nutmeg just is not doing it for me right now, at all.
Thought 2: I was researching "natural teeth whitening" for an article outside the blog, and came back around to another bandwagon I've been curious about for a while – oil pulling.
If you're unfamiliar, read this comprehensive article about what it is and potential benefits.
Since I'm randomly super impulsive I decided to try it – once.  I'm going to do it again, I think.  Anyway, since it's not like I don't already use coconut oil for everything, I figured I'd start swishing and see what happened.
At first, it was strange.  You're supposed to swish the coconut oil around your mouth for 20 full minutes and I made it to 15 before I wanted out!  But, my mouth sure did feel clean after rinsing and brushing, plus, my lips were noticeably less chapped all day.
Obviously, to get the magical oil pulling benefits everyone talks about, you need to do it every day, 20 minutes, before eating or drinking.  Honestly, it feels like a big commitment that I'm not sure I can really, um, commit to.  Which brings me to a third thought!
Thought 3:  Commitments.  Do they get harder to make as an adult?  Have I become selfish?  Or do I just have no patience for anything that isn't an absolute priority?
Is it possible I'm becoming more "go-with-the-flow" as I age?  Um, no to the last one.  I live each day on a mission for something, I guess that "something" just needs to be on my own terms now.
When I was younger, I committed to all sorts of things without thinking about them.  If it sounded good enough, I was in!  If it looked good on paper, even better.  No second guessing.
Maybe I've just lived and learned a bit and maybe I'm just more tired.   Commitments = energy and I have to conserve mine lately.  Blogging, being a mom and a wife, trying to take care of myself – these things seem to take up all my hours.   Yet, I'm also aware that the feeling of being drained isn't healthy longterm, and that's definitely a part of the commitment issue.
What do you guys think – is is harder to commit as we get older?  Is the busy world we live in a part of it?
What's something (food) you love in one season but can't stand in another?
Any experiences with oil pulling?