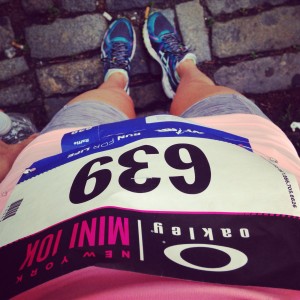 First, because I don't want to start off complaining right away, this was a really cool race to run for a couple of reasons. First, it's a womens only race in central park in NYC, and there were some pretty incredible women running this year, too many for me to list but you can check them out here. It just makes it exciting to know I'm running the same race, not too far behind some of my running idols. Cool beans indeed.
Second, it was the only NYRR race I've done in warmer weather, which meant I didn't have to literally freeze my limbs off while waiting for an hour. I also actually used a CLEAN, as in blue water and never been used porta potty which was a first and most likely a last for me. Pretty cool but not cool enough to take a picture. Still kind of yuck.
Even better yet was the fact that I was somehow placed in the front pack since my bib number was under 1000, and I got to be there front and center for the inspiring speeches given by some top women runners including Deena Kastor, who raced as well. Overall a really fun and feel-good start to the day. But, of course, then came the pain.
Sice I was feeling the heat and humidity (humidity more than heat) I had mentally, like in the car on the way there, trashed my goal of breaking 45 (my PR was Oct 2012 44:42, much colder of course) and set a new goal to break 46. Let's see what happened there.
I unfortunately forgot my second banana which I had planned to eat around 7:20 (race start 8:00) when my husband dropped me off at the park, and I was feeling hungry before the start. I was definitely underfueled. But I had already had a banana earlier in the morning and felt like with the weather, hydration would be the big issue anyway. I'm not sure if the missing banana would have made any difference.
I got my bib, my cool shirt, and used the bathroom all as planned and was feeling really relaxed and happy. I had a plan and I was going to stick to it. As I started running, I was feeling confident. My plan was to stick to about 7:20 per mile and I was ahead of this. I think I'm still scared to start out slow, even if I've had trouble in the past keeping my pace, I think it's really hard to pull back and have faith that I'll be able to make up the time. Especially in a 10k where there is really no room for error.
First 2 miles were both 7:12 even and that included a hill. The course was full of rolling hills and larger, longer climbs and descents and that was a big challenge. If I could pick one thing for me that suffers in warmer temperatures, it's the ability to recover after a hard effort up a hill. In cold weather I recover so quickly from hills that I barely feel the ones in central park, but that was so not the case today. I felt it all and it all hurt!
By the third mile I was starting to really feel it, but I was still confident I could break the 46. I even wound up with 7:09 for that mile which I knew was probably too fast, but, I was definitely feeling like I should "bank time" (NOOOOO!)
Miles 3-4 were rough, no doubt. The sun was blazing, there were 2 decent hills with no downhill, and I was struggling to keep my pace without feeling like dropping dead. Mile 4 split was 7:41. Ouch. I honestly could not have run that mile faster than that, I was pushing the whole time.
As mile 4 passed I only realized after the fact that I should have gotten some water, and I was really feeling like I needed it at that point. 4-5 was flat and I managed a 7:24 split. At the 5 mile mark I grabbed a water and threw most of it in my face, a few drops in my mouth maybe and quickly realized it should have all gone in my mouth, since I was hot and sweaty a minute later and starting to feel dehydrated. For me, dehydration gets me feeling a little tingly, almost a chill even though I'm super hot, and a little nauseous. I knew I only had a mile left and could hang in, but I also knew that my time would have to suffer so I didn't risk getting sick. Some things are just not worth it!
My last 1.2 miles were 7:35 avg pace. Technically my Garmin says that I ran 6.28 miles, which is probably true since I am never paying attention to running the "shortest course" and this is something I might want to consider during my next race. I never used to race with a Garmin so this information is new to me. My official time was 46:35 with an average pace of 7:30 per mile. That hill at mile 4 really did kill my chances at the time goal!
I came out of the race feeling good and satisfied that I didn't "give up" even when things were feeling really tough. Like trying not to puke on myself or pass out tough. As much as I like to not freeze before starting, I think that may be the only way for me to PR ever again and feel like I'm making improvements with speed. I really do love the way I feel running in the cold!
Lessons Learned:
I CAN race in warmer weather

I CANNOT PR in warmer weather

I could've used the second banana

I need to drink more water in June

I need to continue my speed work

I need to do more hill work

My 10k pace strategy was solid but I should've taken hills into consideration

Run the "short course" next time!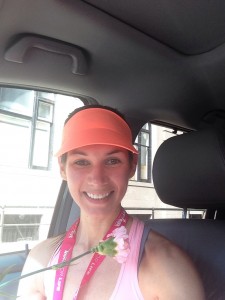 My husband and kids saw me finish and I could barely manage a wave to them. He did get a video of me which was cool. I'm in the light pink top and gray shorts, looking like a slug and almost waving:
After I finished I walked around, drank water, and felt great within 10 minutes. Gotta love the recovery time for a 10K! A lara bar and a can of sardines in the car were my post race fuel. My husband gags watching me eat sardines. Actually that's not true. He can't even bring himself to look over.
What are some of your summer race experiences? Anyone PR in the summer?