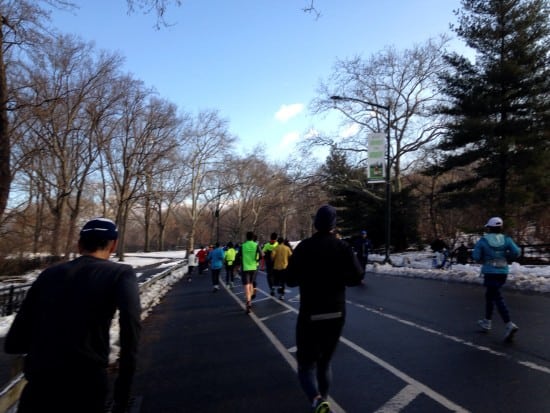 2 years ago, the NYRR Fred Lebow Manhattan Half was my first half marathon ever, so as cheesy as it sounds this race will always have a big place in the running section of my heart.  I signed up this year right before running the Philadelphia Marathon, predicting I'd need some running motivation post-marathon and right in the dead of winter.
I love the timing of this race.  Late January is just about when I'm needing a running pick me up and a reason to run in the light of day.   Going into it, I knew I was not in the position to "race" but wanted to push my pace since I've been running VERY easy lately, and not having the motivation to pick up my pace whatsoever.  I was both dreading this and looking forward to it for those reasons.
The morning of the race I wound up swapping outfits last minute based on the weather forecast, which now showed sun and upper 30's.  I went with lightweight tights, compression socks, and a short sleeve underneath a very lightweight jacket along with a headband for my ears, light gloves and my black racing hat.  It's my racing hat because I seem to wear it for every race.  Us running vampires need shade when we run in the sun.
I was nervous prior to the start, mainly out of habit I think because I wasn't actually putting real pressure on myself for time or anything else.  I had my Garmin hidden under my sleeve and was planning to run by feel.  You know that small, tiny hope when you're not trained for a race that maybe, just maybe you'll surprise yourself?  Yeah, I didn't even have that seed of hope for this based on my running lately.  Actually to be honest, I had a glimmer of hope I would be able to average under an 8:30 pace, which did wind up happening.  It's no joke that I lose major fitness when I'm not following a training plan!
*Just a side note – before a race I always have a banana.  There has been a yellow banana shortage around my parts lately and I was stuck with one that was way too green.  I was in denial about how green it was I think or just hoping it would ripen overnight.  After I realized it was too green I  ate it anyway because it was too late and the choice was green banana or nothing.  Just don't do this, it's not easy on the stomach!  Luckily the minor bathroom situation it caused was easily taken care of beforehand.  But really, damn green banana.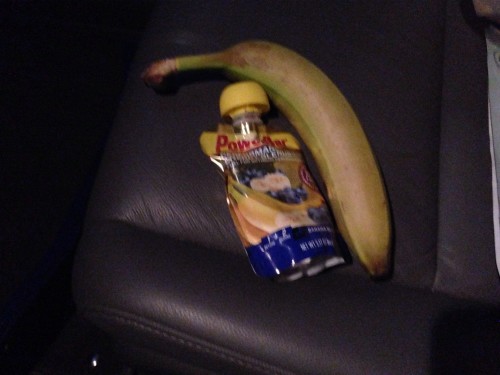 Miles 1-4
I started out slow and used the first mile to warm up.  It was so not at all worth it to me to try to run fast in the beginning.  I needed to conserve as much energy as possible.  Did I mention this race has hills?  It has hills, kind of all over the place.  The course is two full loops around Central Park in NYC, so that means like 4 noticeable uphills, two of those being the Harlem Hills and the other 2 the smaller Cat hill.   Anyway, I needed juice for the entire ride, so best to save up.  Splits for these miles were 8:41, 8:14, 7:58, 8:18.
Miles 5-9
I remember 2 years ago for this race, this was the time when I was fighting not to settle into my pace.  I remember hearing a volunteer yell "don't settle in your pace" right after a big uphill and making that my motto for the race.  This time around, I did the opposite.  I told myself to settle into a comfortable but somewhat challenging pace and it worked, because I felt really good during these miles.  My gloves and ear warmer came off and I "sipped" on my Powerbar Performance Energy Blend.  No heartburn since I was deliberate about being slow.  I let my mind wander, enjoyed the weather, and even snapped some photos.  My splits were 8:22, 7:57, 8:27, 8:14, 8:09.  The faster splits coincided with the downhills.
Miles 10-13
Between miles 9 and 11 you have the Harlem Hills for the second time and while 2 years ago I ate them up like they were bacon, this year I felt them, especially afterwards.   The recovery time after hills is something that I notice when I'm not well trained.  I might be able to fight uphill, but the mile after will suffer.  Still, I felt good enough and at this point was looking forward to finishing of course.  My splits were 8:17, 8:30, 8:09, 8:02.
The last .1
This last .1 gets it's own section because honestly it's the best part of any half marathon.  Is there any better feeling than having the whole thing over with?  I think not.  Plus, I get to tell you that I ran this .1 at a 7:12 pace.  I am a loser and a dork, this I know.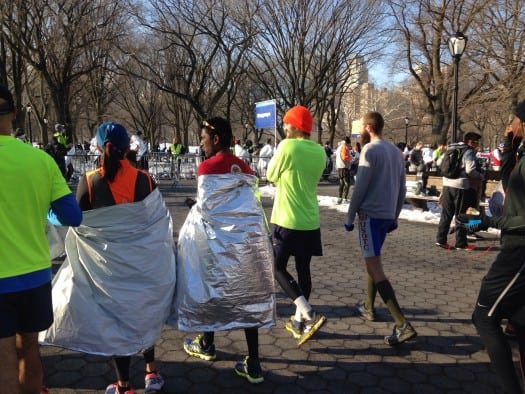 In the end
I hauled ass back to my amazing and FREE parking spot like a block away from the finish.  The parking spot alone made the race awesome.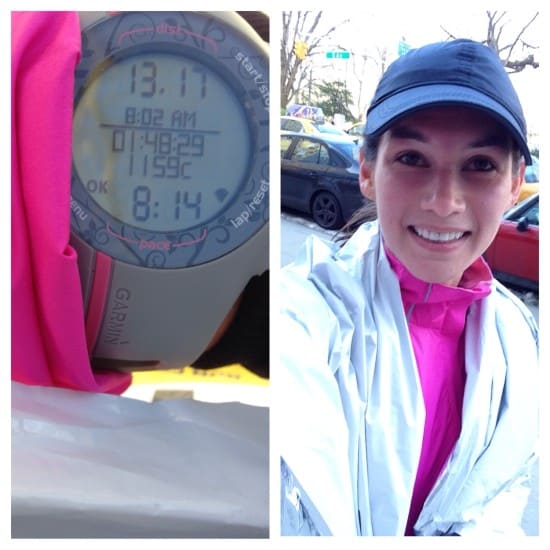 Looking at all my splits and seeing how much slower my first mile was than the rest, I wonder if I could have improved my time by pushing harder in the beginning?  I'm not good with math and don't care all that much I suppose.  I probably felt better later on because of that slower first mile.  I now have a platform to go from when I think about my training for the Long Island Half Marathon in early May.  Assuming there's no heatwave, I'd really like to "race" that one!
Do you sign up for winter races? 
What sparks your training motivation in the winter months?