This has probably been my best marathon training week yet.  No sarcasm there at all.  I'm knocking on my desk as I'm writing this, but, I'm cautiously happy to report that runs are feeling good mentally and physically, I'm hitting paces I want to hit, and I'm motivated to keep going!  I can't quite taste the marathon yet, but the flavors are starting to come together!  Horrible cooking analogy of course, but I'll leave it – it's the truth 🙂
I do definitely notice that when there's an increase in stress in my real life (as with school starting this week), my running seems to improve.   The "right" amount of life stress fuels my running, and like anything else in life, it's a balancing act.  Running helps me channel my negative energies into forward movement, literally, but I also believe it helps me move out of those negative spaces I tend to get caught in in my own head.*
*I wrote this intro post long run on Saturday, still in the throws of my runners high and just loving life.  Is it clarity or is it the endorphins talking?  Does it matter?  Running really does help me feel more positive and peaceful about everything and maybe I don't need to know how "real" those feelings are.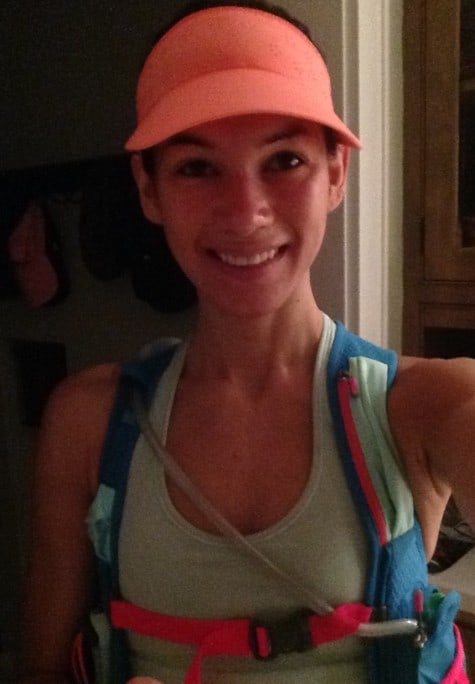 Here are the details for NYC Marathon Training Week 8:
Monday – 7 miles easy.  Good run, all nice and rested and ready to take on the week.
I've been listening to the You Made it Weird  podcast for many of my runs and highly recommend it if you like podcasts or need a break from music.   Many of these run over 2 hours, which is great for marathon training of course.  Plus you get to be that creepy smiling/laughing runner whenever you pass anyone.
Yoga – Yoga for Courage, Strength and Resilience  – Lesley Fightmaster.  I'm a little compulsive about doing every new video she uploads!  This was 34 minutes long and a bit of a challenge compared to what I've been doing lately.
Tuesday – 9 miles with 6 @ goal pace.   I was feeling nervous/doubtful going into this since I barely slept the night before.
Monday night I stayed up to finish reading a book (Girl on the Train), except I didn't wind up finishing it and just wound up wasting hours of sleep.   Then of course, I was anxious about getting my workout done.
Insomnia anxiety sucks and really is just the worst and that is all I can say about it.   The bizarre thing is, instead of feeling tired the next day like I dread I will, I'm usually wired, energetic and run pretty well.  Must be cortisol? It's definitely not healthy, but, it's always been this way for me.  Enough about the 1am nail biting though, here are the splits: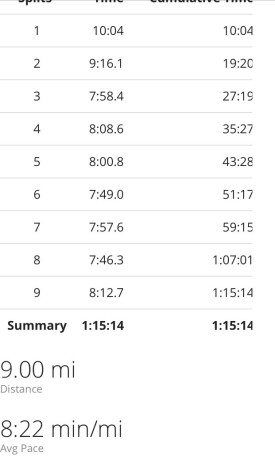 I still can't figure out my Garmin in the first mile.  I don't think I'm running a 10 min pace but it keeps telling me I am.  I think it's more like a 9:30 but I don't care since it's always the warmup mile.  Afterwards, I did lots of stretching but no official yoga practice.
Wednesday – 6 miles easy – my legs felt heavy as expected, nothing special about this run.
Yoga – Vinyasa Flow to Strengthen the Core – Lesley Fightmaster, 33 minutes.
Thursday – 8 miles on a hilly route.  I definitely feel like by Thurs, I'm ready for a rest day because my legs are feeling the weight of the training load.  This run was pretty good though, and I enjoyed doing my old hilly route, which always brings back memories of feeling badass.
Yoga practice – Yoga to Stretch – Lesley Fightmaster, 26 minutes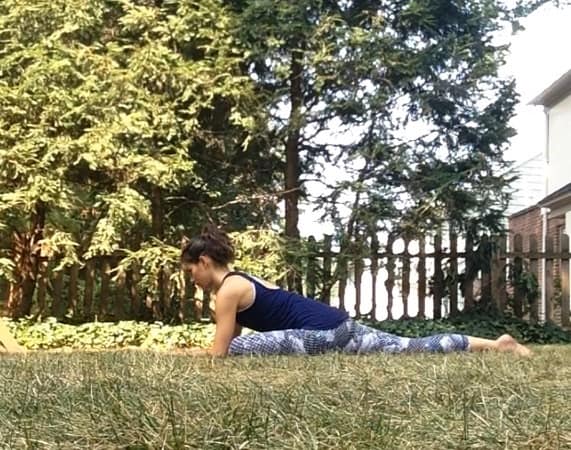 Friday – No running.  As much as I'm ready for a rest day by Friday, my mood takes a hit like clockwork.
Yoga – My Favorite Flow – Lesley Fightmaster.  It's a bit repetitive in my opinion but since it's her favorite…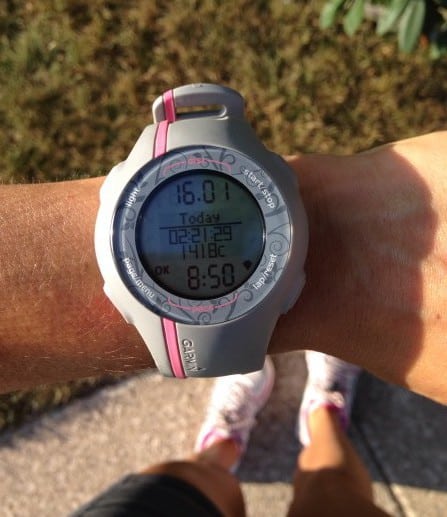 Saturday – 16 total, miles 9-15 @ goal pace.  Originally I had said "last 6" at goal pace but then realized that maybe I'd want to cool down for a mile.  Plus I was getting all anxious about the faster miles and just wanted to start them already!  Here were the later splits: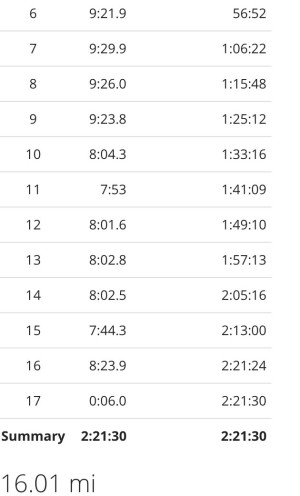 I finished feeling really good, after a slow start in the beginning, mainly because I put pressure on myself for runs with goal paced miles and psych myself out.  But I would say almost every time, I get the pace where I want it where it counts, and finish happy.
Yoga – 20 minutes Post Run Yoga with Fiji McAlpine.
Sunday – Rest day all around.  Well, sort of.  There was no actual exercise involved BUT my sister GOT MARRIED!!  In Central Park!  So it was an eventful day, for sure.  Since I can't possibly lump a life milestone like that into my dull training recap, I'll be posting pictures/recapping the wedding tomorrow 🙂
Summary – 46 miles run, 12 goal paced miles (7:55-8:00), 1 hilly run, 5 days of 20-30 minutes yoga.  No pain!  No injuries!  My dishwasher is washing dishes!  My sister got married!  Life is freaking awesome!
How was your week of workouts?
What are your long weekend plans (am I late on that one?!)
What are your run/workout goals for this week?