Three weeks down, just 13 to go.  What could happen, right?  I'm going to say that things are mostly fine right now, with a small issue that I'll get into in a minute.
It's been a whirlwind of a week.  My mind has been spinning non stop with everything from my blog, to my kids, future, past, my purpose, my worth (oh, you know, the usual!) and I wound up feeling very down and negative by the end of Friday.  I needed to find a way out of my head and finally was able to do that Friday night into Saturday.
Did you miss my post from yesterday?  I reviewed the new Lorna Jane book, "Inspired" and how it helped me switch my mindset when I really needed it.  The book really has so much to offer and surprised me, in a very good way!
Let's get down to business and talk about NYC Marathon training week 3!  Another thing that helped calm me down was doing my long run on Saturday this week.  Somehow Saturday morning runs let me process through my thoughts better than Sunday runs?  I'll admit that sounds pretty nuts and it's totally in my imagination.  Saturday long runs can make for a lazy-feeling rest of the weekend if I don't have plans though, since I tend to physically slow way down after a long run.  But, lazy in the mind of a runner probably isn't lazy at all.  So I've been told.  Moving on.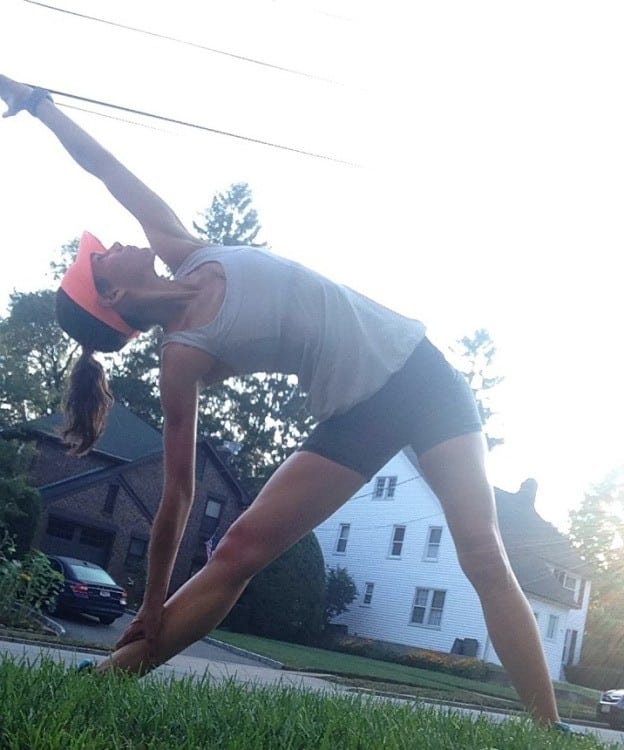 Monday – 4 miles easy followed by 25 minutes stretching/yoga.  Since my long run last week was Sunday I wanted to have a really easy day while still getting miles in to keep my weekly total up.  This is one reason I prefer sticking to Saturdays if I can, but looking ahead at our schedule, I know I'll be alternating, and some weeks having to get creative with timing.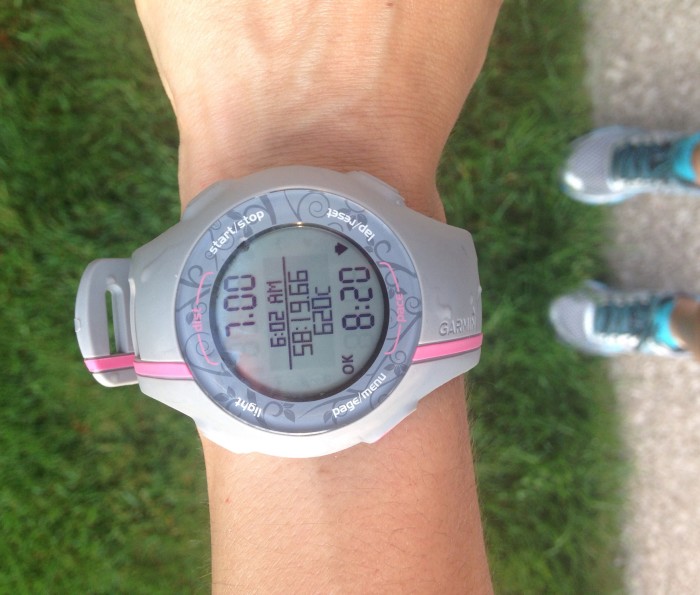 Tuesday – 7 miles total with the middle 5 at 7:55 pace (goal pace.)  I definitely feel like I'm adjusting to the weather at least a little bit, since the pace was very accessible this week.  75 degrees and 85 are worlds away from each other when it comes to running I think.  Later I realized my training plan said 4 miles at goal pace and I have to say that made me feel good about myself, even with that small difference.
Later I did about 20 minutes of yoga on my own with a focus on hips, hamstring, lower back.
Wednesday – 5 miles easy, followed by 25 minutes stretching/yoga with core.
Thursday – 7 miles total with first 2 miles uphill, 3 flat with a few rolling hills, and last 2 mostly downhill.  It was super hot and humid again – one of those runs where bugs are sticking to your face and you're drowning in sweat. But, at least I had my Friday rest day to look forward to.
Later I did a 30 minute intermediate vinyasa flow.
Friday – Rest day.  I did just a bit of stretching and a lot of foam rolling.
After my run on Thursday I noticed that my left hamstring – which is weak from pulling it twice doing gymnastics as a teenager – was feeling tighter and achier than usual.  I say more than "usual" because it honestly has never felt completely "right" my entire adult life, but surprisingly never seemed bothered by running.   I do notice that the combination of hill running and a lot of hamstring stretching in yoga aggravates it, so the 30 minute more vigorous flow after a tough hilly run set it off I'm sure.  Hitting the stupid out of my head as I type right now.
But seriously, while I don't foresee this interfering with training in any real way (famous last words) I know I need to be careful with it meaning NOT overstretching it and NOT doing strenuous yoga after a strenuous run.  Oh right, duh.
I remember a yoga instructor saying "the hamstrings do not respond to force, or even ambition."  That stuck with me and gives me chills when I think about it because it made so much sense for me and my dumb sensitive left hamstring.  And everything else in my life, but, I'll leave that for another day.  I am an overstretch-er and need to back off.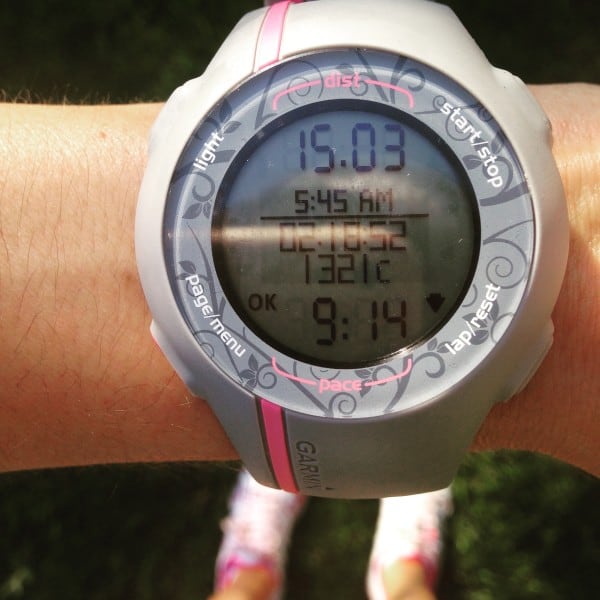 Saturday – 15 miles!  As far as summer weather goes, I was happy with the low humidity even though it was still in the mid 70's.  For the first time since last summer, I ran with my Hydration Backpack
 and forgot how awesome it is!  So comfy, breathable, and no chafing  Tons of pockets too, which I used for my fuel (baby food pouches) chapstick, and phone.
My hamstring didn't bother me during the run but felt sort of achy afterwards.  I did about 30 minutes of stretching and tried to be really careful with my left side, although it did feel good to stretch the hamstring out and foam roll.
Sunday – 30 minutes of yoga in the morning with a focus on core, more foam rolling, rest day from running!
Summary –  38 miles; 25-ish minutes yoga/stretching 6 days, achy left hamstring but felt good otherwise.   Runger has officially kicked in as expected and is not to be messed with!
Speaking of runger, here are a few of my recent meals.  As if you couldn't have guessed 😉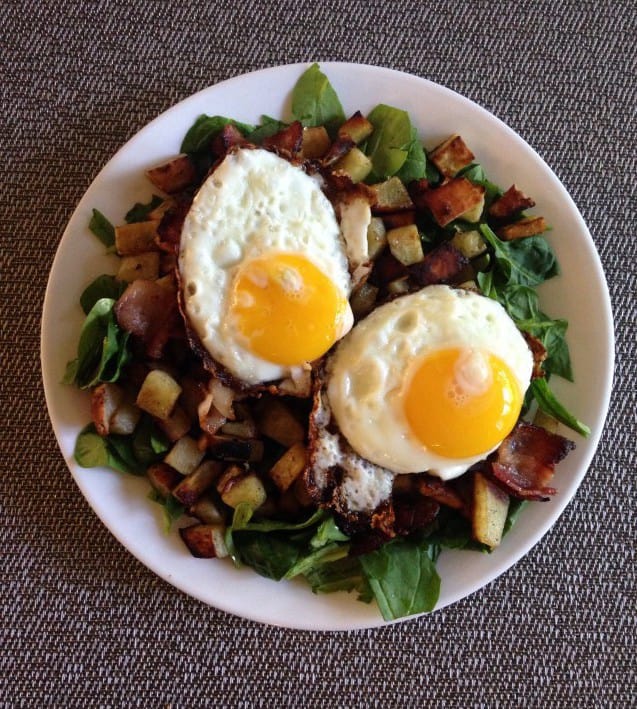 I eat the same stuff for breakfast, just more.  Like instead of 2 pieces of bacon with half a sweet potato it becomes 3 plus a whole sweet potato.  And I save all the fat, I need the extra fat when I'm training.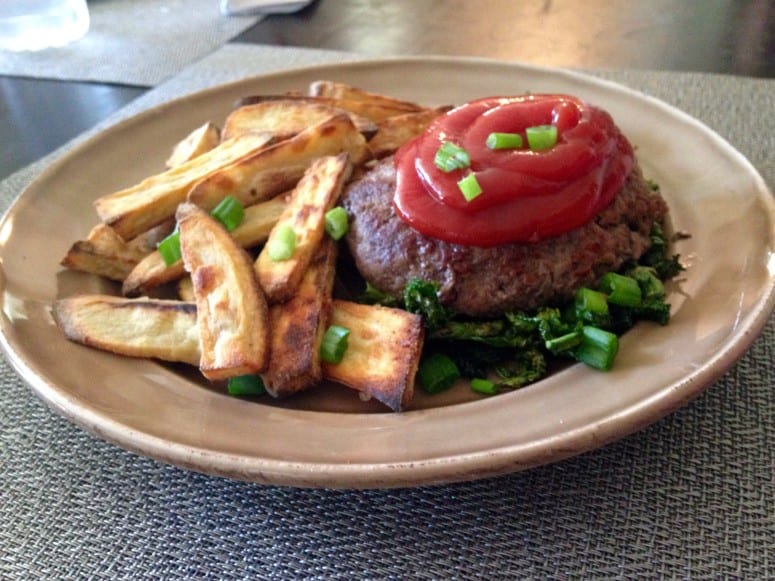 And this has zero to do with marathon training, but, I've been into ketchup on my burgers lately.  It's partially laziness – I haven't made sauces/mayo lately – but it also just tastes good and whatever small amount of onion in it is not bothering my stomach.  In fact, my stomach has been feeling well lately overall, which is when I start experimenting with adding FODMAPs in.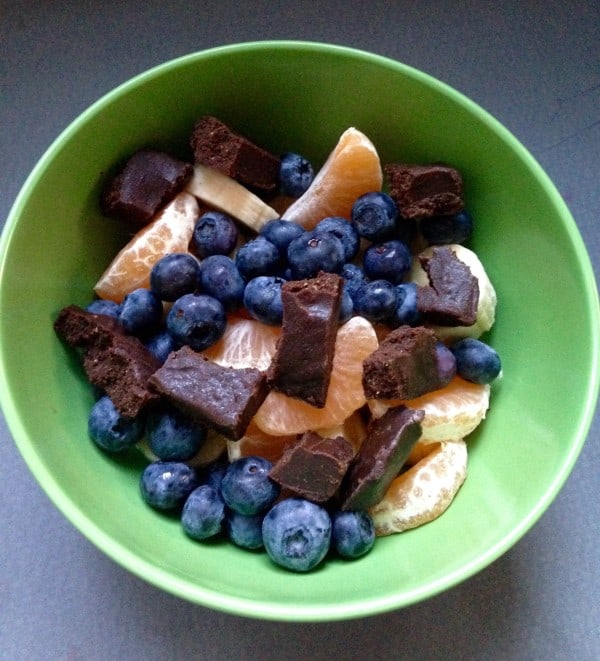 Guess what?  My Mocha Almond Fudge is pretty awesome in a bowl of fruit, why wouldn't it be?  Sadly, this was the last of it, which means I have to dream up and then make a new recipe!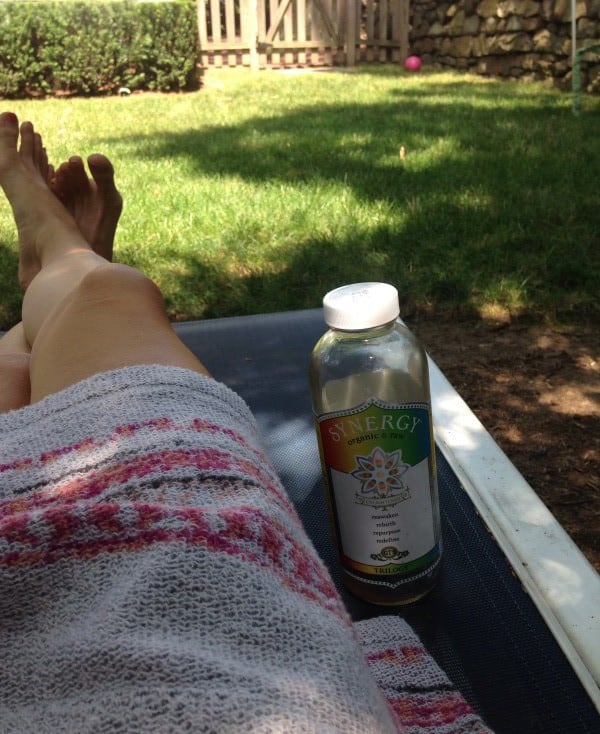 I guess when this is a big part of your weekend, there's really not much to complain about overall.  Good reminder to myself to open my eyes and look around at the current moment instead of worrying about everything else.
Do you have any recurring/chronic achy or tight spots that flare up once in a while?  How do you manage them?
What helps you get out of your head when you find yourself worrying about everything or getting down on yourself?