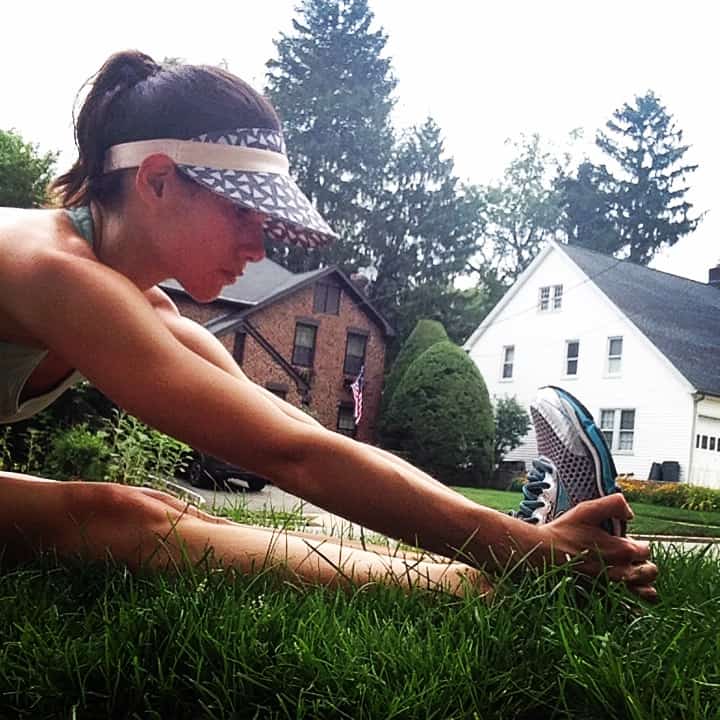 Rise and shine people!  It's time to take on a new week.  Get cozy with your coffee and bacon and don't think about the fact that Wednesday is going to be 96 degrees.  Yes, I'm talking to you, definitely not to myself or anyone else writing this post right now.
But really, it has to be in the 90s ALL WEEK?  What doesn't kill you makes you stronger.  No, that's not true. Tired. What doesn't kill you can make you really darn tired and cranky when we're discussing the summer heat.  But now,  a recap of week 2 of NYC Marathon training:
Monday – AM : A hot 6 miles, easy pace; PM 25 minutes yoga focused on hips and hamstrings.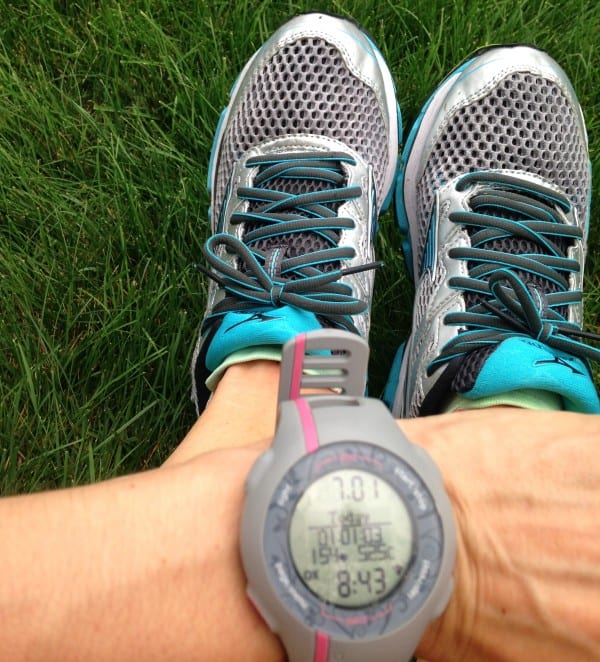 Tuesday – AM – 7 miles total with 4 @ goal pace.  I made the call to do my workout based on heart rate rather than pace since the temperature was already 80 degrees at 5:30 am and with the humidity it felt like 85, which just seems insane to me!
I haven't worn my HRM since last summer but I'm glad I did – my pace wound up being between 8:10-20 min/mile in order to keep my HR around the 165-170 range that I was going for.  If I'd tried to run my actual goal pace of 7:50-55 my HR would've gone too high, defeating the purpose of the workout I'm sure.
PM – 25 minutes "yoga for runners" with Leslie Flightmaster, and some foam rolling.
Wednesday – AM – 5 miles easy; PM – 20 minutes yoga – stretching and core.
Thursday – AM – The heat and humidity broke just in time for my second workout of the week, VERY much appreciated 🙂 7 miles total, inspired by Meredith's "fun running workout."   Here's how it went: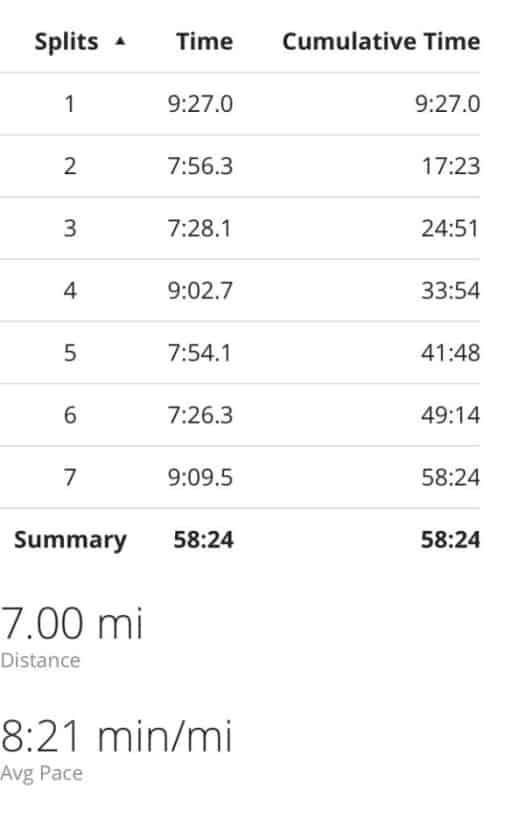 The plan was warmup for a mile, followed by a mile at 7:55 and a mile at 7:30, recover, repeat, cooldown.  With the weather change this workout actually felt good and I had no trouble hitting the paces 🙂
PM – 30 minutes yoga focused on hips, hamstrings, and quads, plus foam rolling.
Friday – AM – 5 miles easy pace; PM 20 minutes core focused yoga.
Saturday – Total rest day (went to the beach)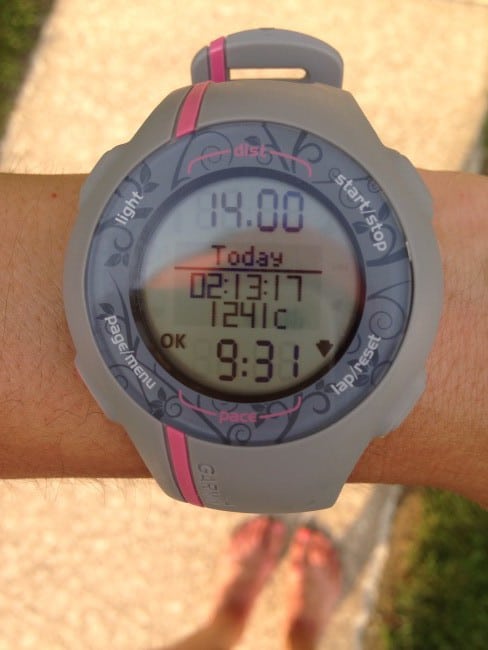 Sunday – AM – Welcome (back) to the jungle, it's flipping hot again!  Anyway, I didn't actually run barefoot for these 14 miles (duh) but was 95% certain there was a bug in my shoe for the last mile so immediately removed my shoes when I got to my house.  I never saw the bug, but I'm still almost positive it was there.
As you can see from the 9:30 avg pace I definitely took the run easy.  It was a negative split – I kept paces around 9:45 – 10 for most of the first half and then 9 – 9:30 for the second half.  I woke up Sunday morning with my stomach feeling crampy/blah which I'm sure is related to both food and lack of sleep from Thurs – Sat.  All good/fun things, but definitely had an impact.  With the exception of some cramping randomly throughout, I felt pretty good during the run and thankfully, no bathroom stops necessary 🙂
PM – 30 minutes gentle yoga/stretching and foam rolling.
Summary –  44 miles, 2 workouts, 14 mile long run and a good amount of yoga focused on recovery.  I'd like to hopefully do a bit more core work going forward.  It's not my favorite thing but I do feel like it helps me feel stronger overall and it's a good thing to keep up with.
Weekend!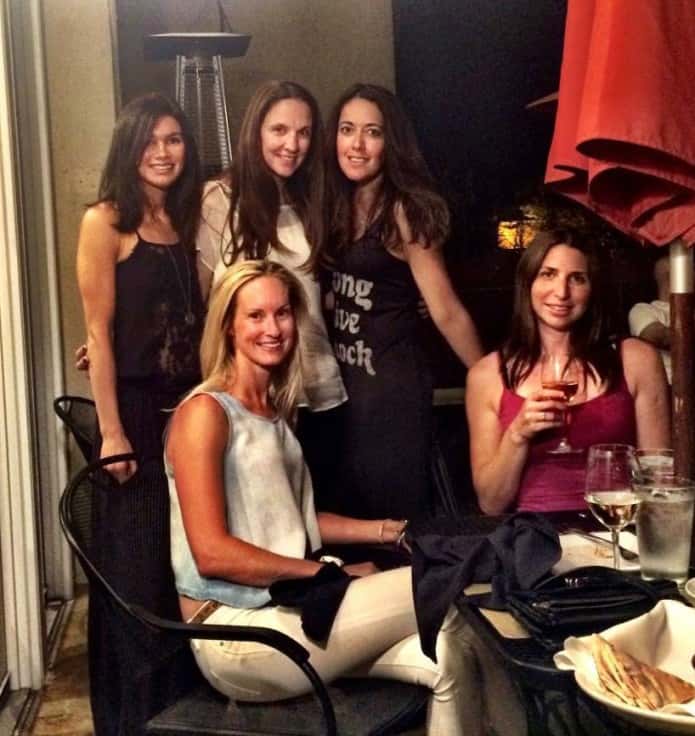 My weekend kicked off Friday night with dinner and drinks out with my best friends and our husbands – "couples night" as we call it, and it happens pretty rarely.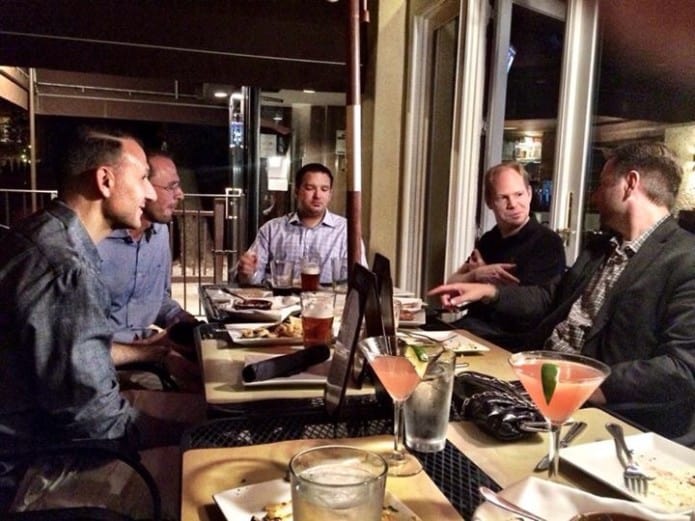 Question for you guys – at some point it was brought to our attention on facebook that most couples actually sit with the boys and girls mixed when they go out together on nights like these.  We've always stuck to middle-school-dance- style with boys on one side and girls on the other.   What do you do with your friends?  We like it this way, and do eventually have cross-conversations after we get our girl talk/guy talk out of the way.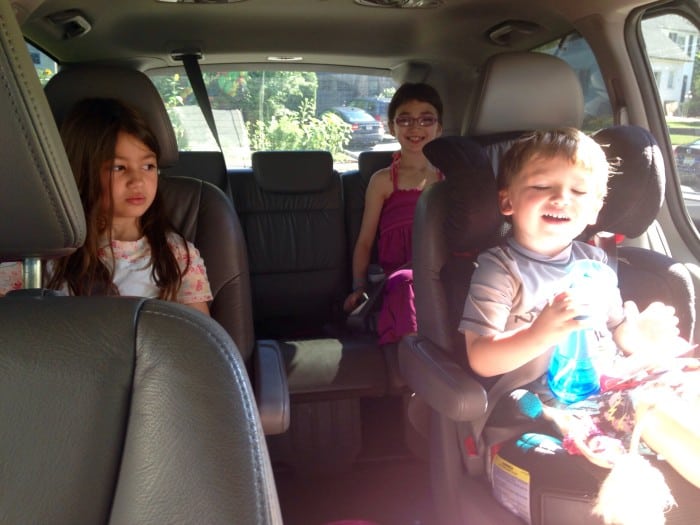 Adam and I must have still been riding the high from the night before because Saturday morning we manned up and threw the kids in the car with towels, beach chairs, and a cooler filled with lots of snacks to face traffic and fighting children and spend a day at the beach.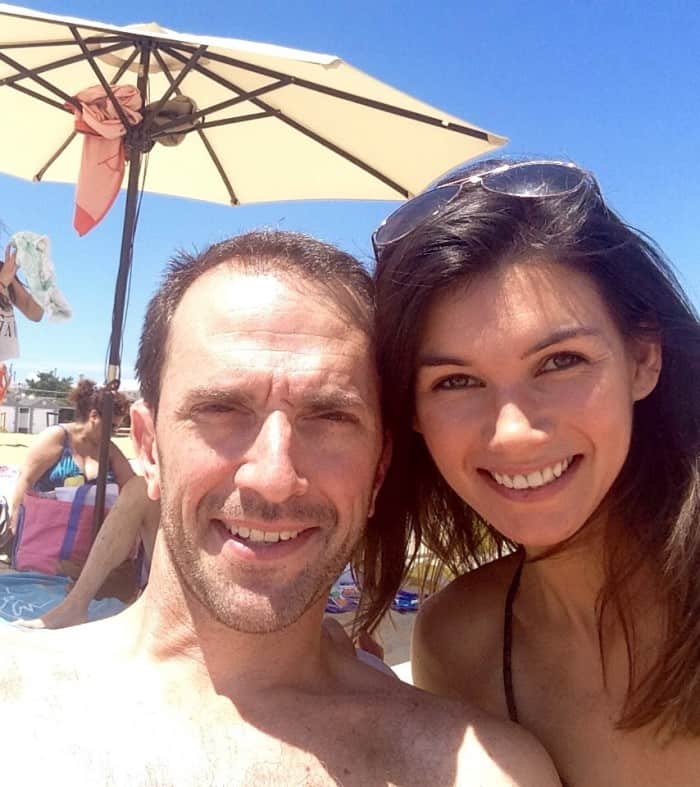 It was THE PERFECT BEACH DAY so I think we made the right choice.  One thing I miss about Long Island, where I grew up, is the ease of going to the beach – it was a 20 minute drive.  Now, it's a 2 hour drive so this was our first beach day of the summer.  The kids were thrilled – you never know from year to year how they'll react – but all 3 of them were busy the whole time in the water and sand which made me a seriously happy momma.  I have way too many memories of unhappy babies/children at the beach, and, with all the work it is to actually get there in one piece, it's amazing when everyone loves it!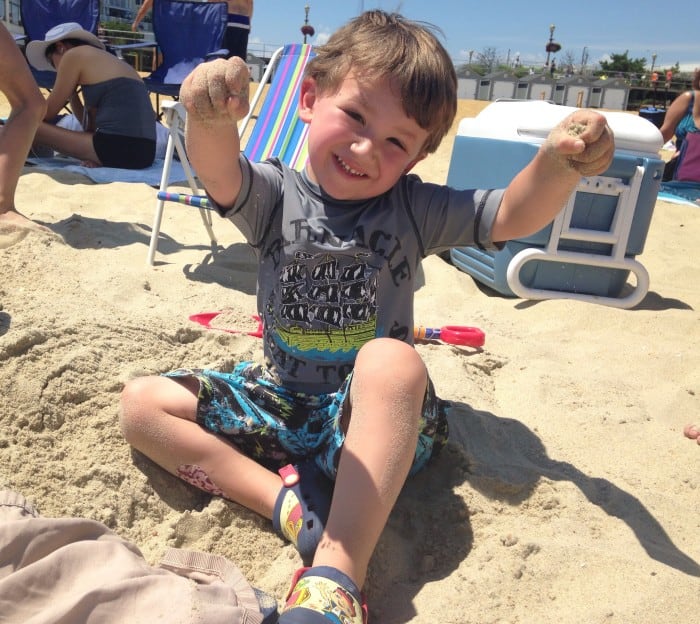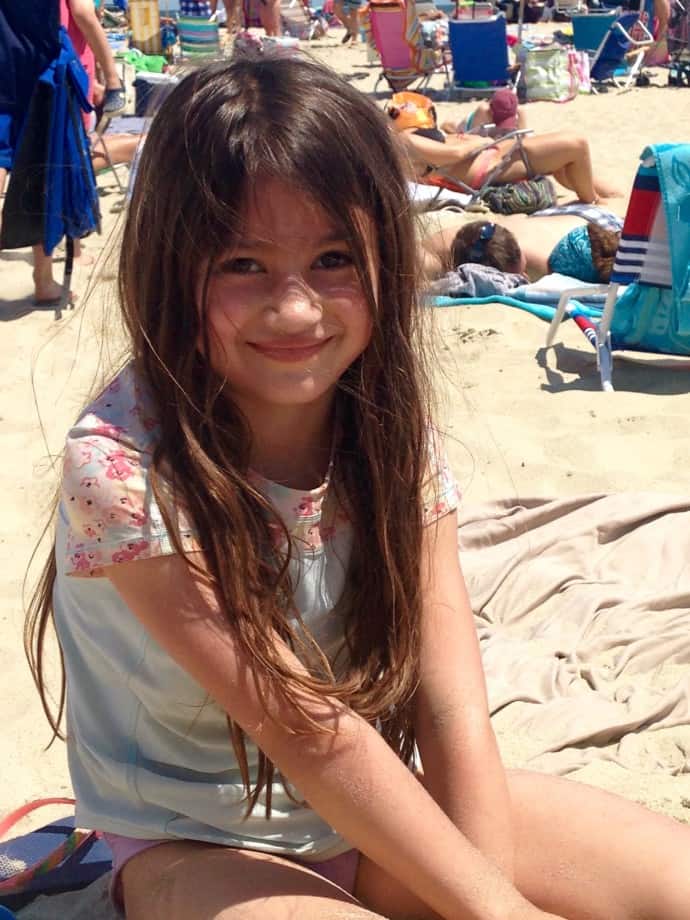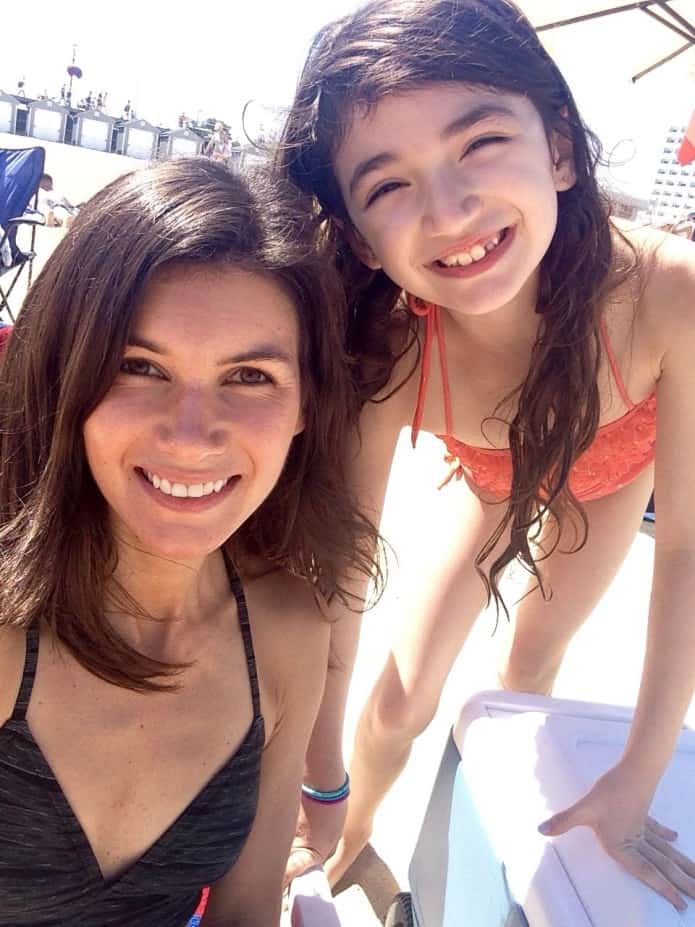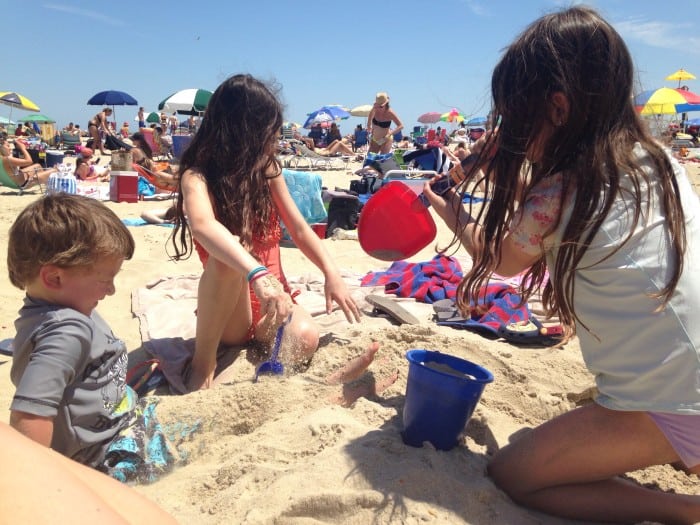 Definitely made me even more excited for our week long Cape Cod beach trip with our friends in 3 weeks!  Less beach days overall makes a beach trip that much more special I think.
How was your week of training/workouts?
Do you live near a beach?  How often do you go?
Any vacations coming up?