I should always write my weekly recap posts right after a long run.  My personality is so much more pleasing during that short window – at least to me.
Actually everything is more pleasing to me after a long run, which is why I do it.  Of all the legal highs, the runner's high has to be the best of the best.
So, I just ran 20 miles and I'm feeling pretty awesome.  Okay wait, scrap that.  If I felt exactly as I do now, physically, and I hadn't just run 20 miles, I'd probably have some super serious health issue.  But because my brain knows I just ran 20 miles, we know this is the way we should feel (me and my brain, that is.)
Good thing we have brains and running to tell us when we should feel like crap and when we shouldn't. That's called the need for control, and, in case you haven't noticed, I have trouble giving that one up 😉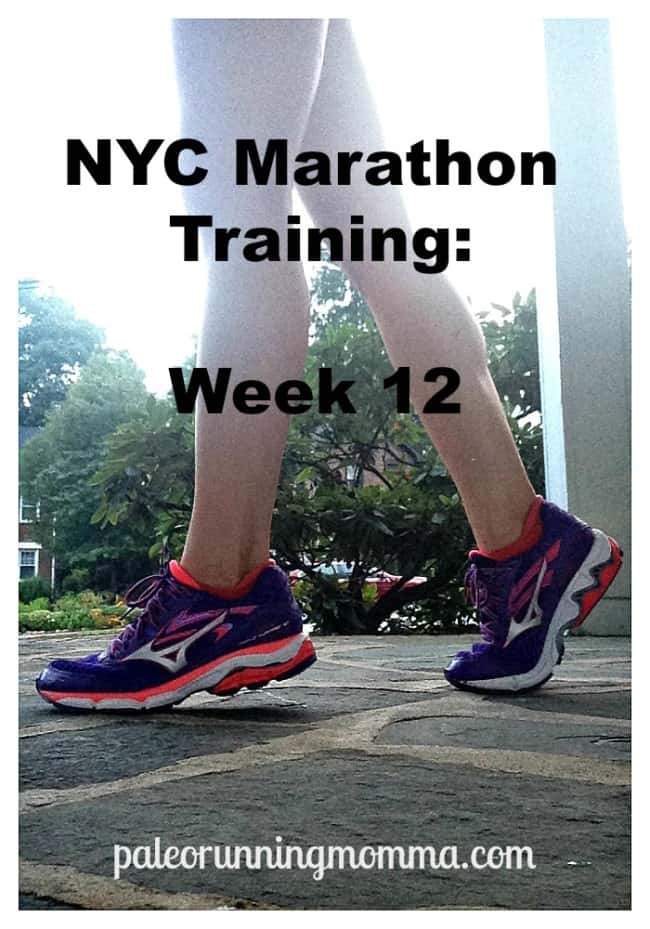 My new shoes and I had a good week!  I was lucky enough to get a free pair of the Wave Inspire 12 from Mizuno through my ambassadorship with Fitfluential, and going way back, the Inspires were my original favorite distance shoes.   Like when I ran all my "firsts" with increasing distances – it was in the Inspires.
I didn't know how awesome they were at the time and I left them to run in other shoes for a couple of years. Now, I'm back!   Just like a butterfly.
I'm not being paid to write about the Wave Inspire 12's on my blog, but they're worth noting just because I love them so much, and love for a new pair of running shoes is hard to contain.  Bonus if they just carried you through a nearly perfect 20 miler.  I just can't help myself.
NYC Marathon Training Week 12 Recap: 
Monday – 7 miles, easy pace.
A good run, but not a memorable one.  In fact, on Wednesday I started to panic thinking I'd forgotten to run the last mile because I couldn't remember it.  Turns out I was just being dumb and forgot how long the route was.  So officially, this was 7.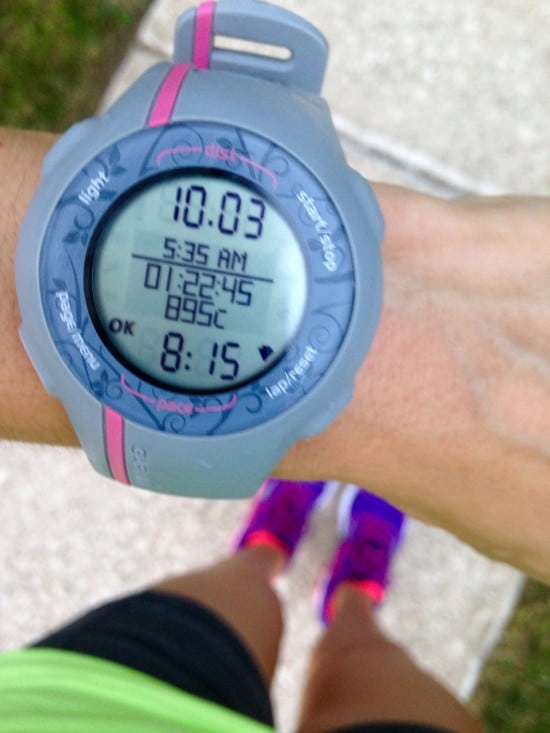 Tuesday – 10 miles, middle 8 around an 8 minute pace.  Give or take a little.
This was my first mid-week double digit run, maybe ever.  I always went up to 9 but 10 felt excessive.  This training plan I decided to do 10 this past week and again next week for my Tuesday workout.  It basically felt the same as 9, except I had to leave earlier 😉
Wednesday – 5 miles easy.  I had planned to do 6, but woke up late and couldn't fit it in.  I'll wake up super early for "important" runs, and when I know it's a recovery run, I tend to oversleep.  It was fine because this week involved a lot of miles anyway.
Thursday – 8 miles total, average pace 8:29.
My second "workout" of the week, and I had no plan for it, except to run faster than I normally would for some of the miles.
Honestly, at this point in training I don't have much desire to push my speed that much, the endurance piece means more to me.  So, I decided to run 5 of the miles around goal marathon pace, with a break in between. I didn't hit the pace every time, but it was good enough!
Friday – 6 miles, easy pace.
Normally I rest on Fridays, but my long run had to be Sunday this week, so I kept going.  Since I missed a mile on Wednesday, I made up for it by running the 6 Friday.  I was still feeling good even after the wear and tear of the week – the cold weather was helpful.
Saturday – Total rest day!  Adam coached, Diana had gymnastics, Drew literally ran out of long pants so I bought him new ones, I baked, grocery shopped and my parents came over.   Everything a rest day should always be, right?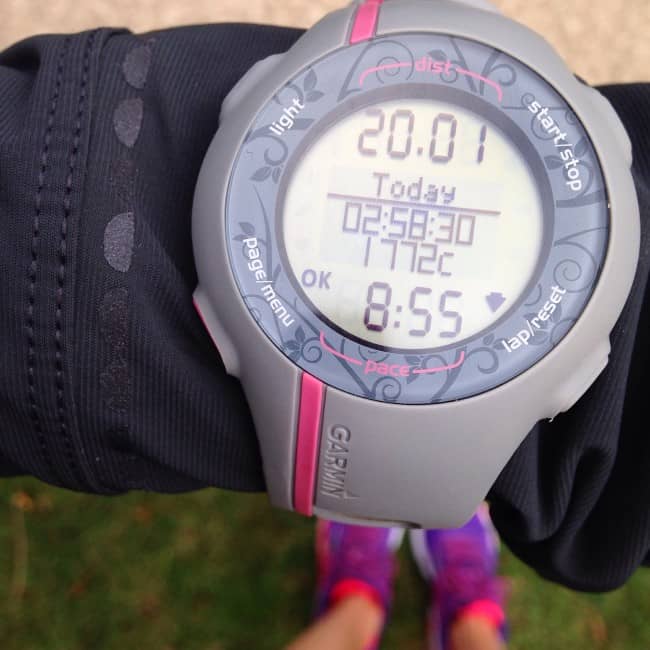 Sunday – 20 miles!   This was my second 20 miler and it went better than the first, I think.  Actually I don't remember the first one which was just a few weeks ago.
I found a 3+ hour podcast to listen to during this run, and, just knowing it would literally last longer than the run itself was mentally very helpful.  Most of my miles were somewhere between 8:40 and 9:10-ish, with faster splits during the second half.
While it's great that this is done, my longest and toughest run still lingers, and will happen next week – a 22 miler where I'm planning to run the last 6 at goal pace.   This is the part of training when I get mad at myself for including such a run in my plan.  Now that it's written there, I know I "need" to do it!
Yoga – This week was light on yoga, but I still got some done.
I alternated Yoga for Runners with Lesley Fightmaster and Yoga for Runners: Injury Prevention with Fiji McAlpine along with some stretching and hip openers on my own.  On my rest day I did no yoga at all, and just kept it light and to the point (recovery) all week.
Summary: 56 miles, 2 workouts, a 20 miler, 5 days of "recovery" yoga, new shoes, no pain, still on track 🙂
A few other tidbits (photos) from the weekend: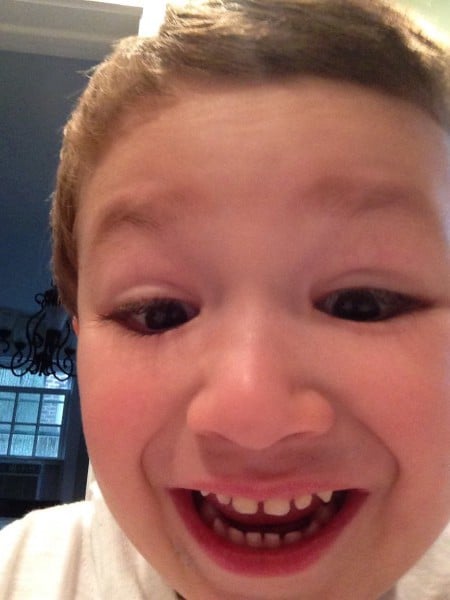 Drew had my phone for 15 minutes on Saturday and managed to take over 200 selfies that all looked basically like this one.  Kids these days, seriously.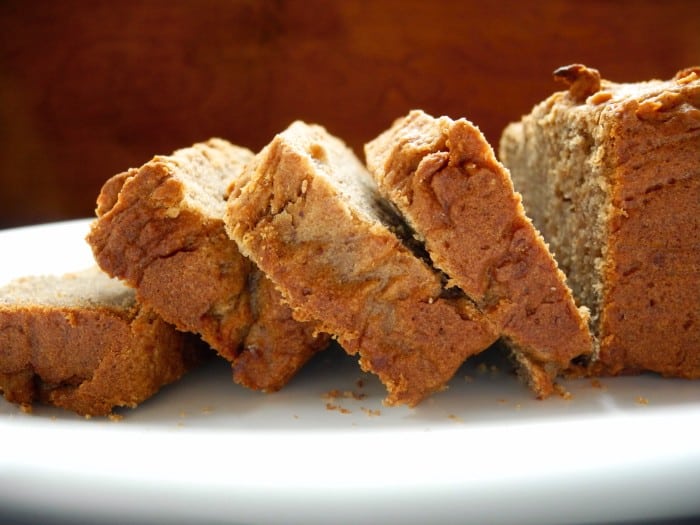 I've been experimenting a bit with Otto's Cassava Flour and made a pretty awesome banana bread, plus a breakfast "pizza" – although the crust was super thin so I'm not sure you would call it that.  It was delicious and very different from what I'm used to, in a good way!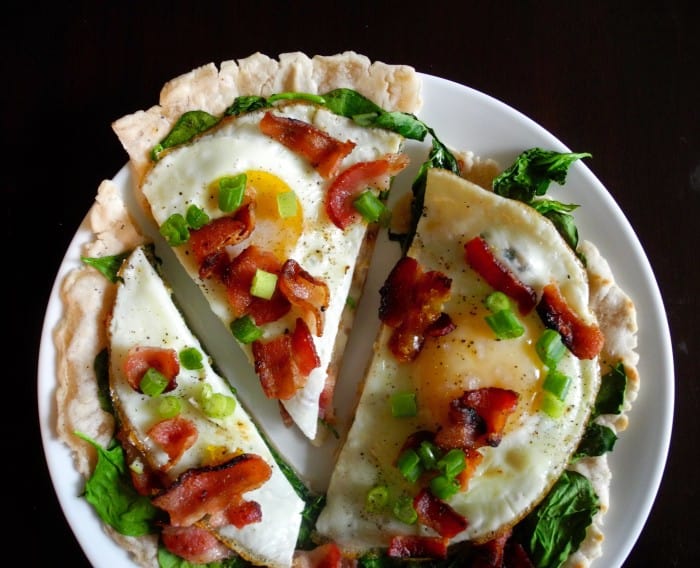 I'm looking forward to trying different things with it, tweaking my recipes, and then sharing over the next few weeks.  Yummy stuff!
My goals for this coming week are pretty simple and of the "run forest run" variety.  I just want to keep doing what I'm doing and get through my last peak week in one piece 🙂
Have you gone back to an old favorite shoe?  
Are you curious about Cassava flour?
What are your goals for this week?