Another week down and a few steps closer (or 47 miles but who's counting?  Not me!) to THE MARATHON!
This week went a lot better than last, and I'm almost completely over the fact that I missed my half marathon tune up.  Everything happens for a reason?  Who knows, maybe I would've injured myself running that half.  Or maybe I was pushing limits and needed extra rest. Who knows.
What I do know is that  right now at least, I'm feeling confident that I'll have the experience I want.  Training is progressing mostly as it should, nothing hurts, and I'm feeling good on rest days and run days alike.  I might even say that this is the healthiest I've ever felt while training for a marathon.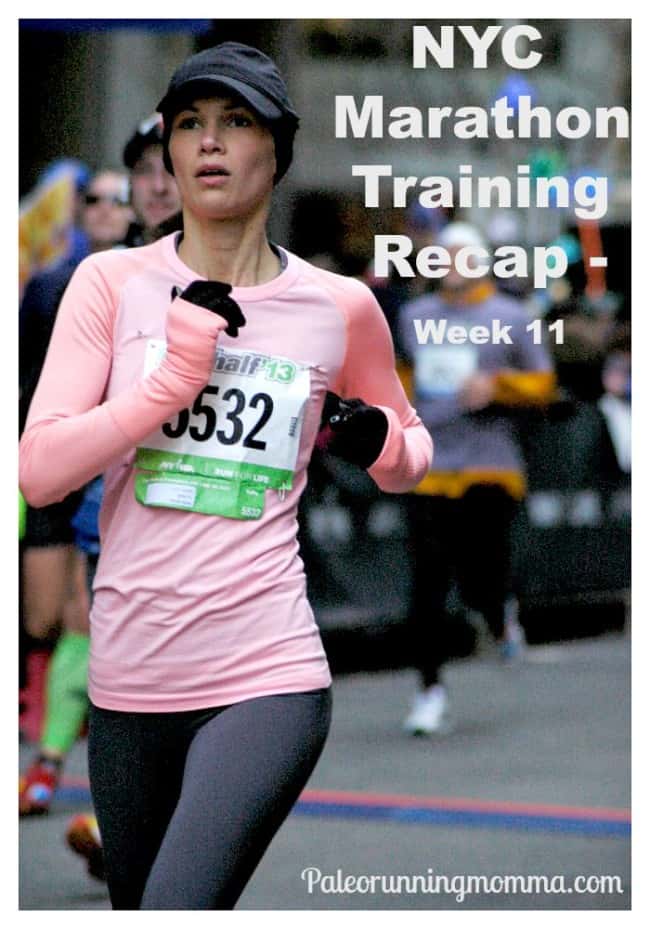 Let's Get Into It!  NYC Marathon Training Week 11 Recap.  
Monday – 6 miles easy pace.
I was still feeling weak from my virus over the weekend, but after 2 full days of not running and no long run at all, I was itching to get out.  The run was good for about 4 miles, but the last 2 involved some cramping since I was still dehydrated.   Overall I felt happy to be out running after feeling like death the day before.
Yoga – 30 minute Morning Flow with Tim Senesi – I had high hopes for doing more yoga this week, but life got in the way and this was the longest practice I did.  I still snuck it in here and there, but I haven't been prioritizing it.
Tuesday – 6 miles easy pace.
I felt better on this run (exact same route) than I did Monday but I still cramped a bit at the end.   I'm still not tracking pace for my easy runs but they seem to be around 9 min/mile average pace I would say, depending on the route.
Yoga – Well rounded Flow with Tim Senesi – Short but effective!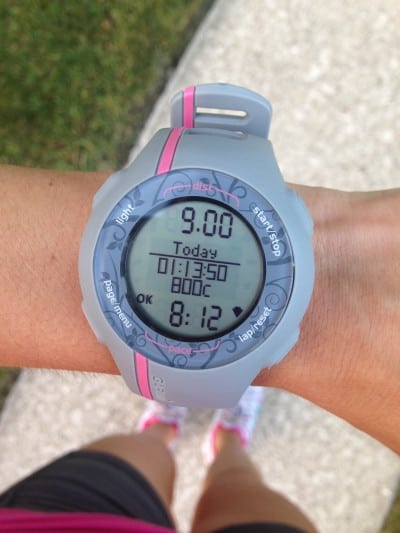 Wednesday – 9 miles total, 7 @ goal pace.  
By today I was feeling rested, recovered, and ready to take on a workout.  This run mostly stuck to the plan, I was over goal pace by just a little during the first of the 7 miles, but picked it up for the rest and felt pretty good.
For yoga, I did 20 minutes of my own flow focusing on hips and hamstrings.  I usually prefer to put together my own little routine after a harder run, because I know the exact areas where I feel tight and need to put more focus into.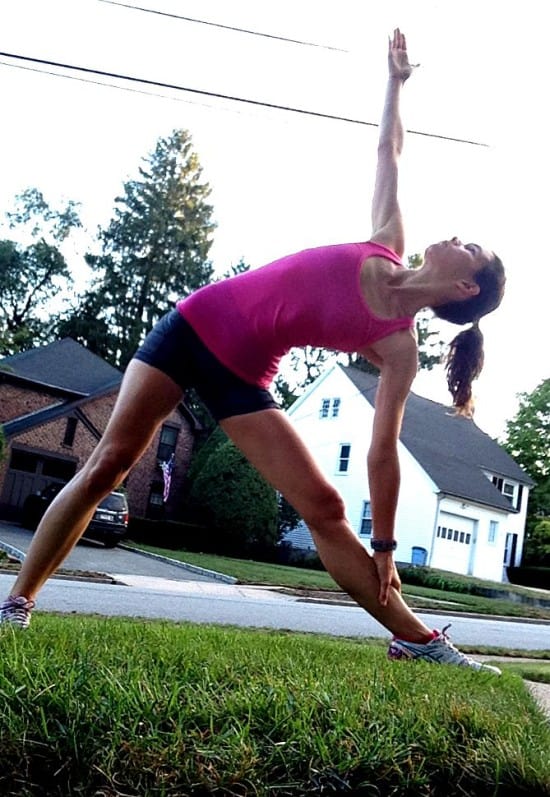 Thursday – 8 miles easy pace.  
This run felt great, thanks to nice cool weather most likely and also being 100% healthy again.
No yoga – kept meaning to get it in and it just never happened.
Friday – A total rest day – no running or yoga.  Lots of cooking and recipe creation though!  It was a busy day and I had a good amount of nervous energy saved up for my 18 miles the next morning.
Saturday – 18 miles, 8:55 pace.  I think a small part of me was relieved to make it through the night without getting sick like I did last Saturday!  Silly thought, but it DID make me appreciate just being able to do the run.
This was the first long run during training where I left my hydration pack at home, since it was cool enough not to need to drink throughout the run.   Weather makes a really big difference for how I feel during these runs!
I didn't fuel much for this but I felt energized all the way through nonetheless.  I had just one squeeze applesauce around mile 10 and that was it.  I considered doing it completely fasted, but felt like I needed a little something in the middle and wasn't going to be stubborn.
I know this happy long run talk is great and all, but I still have a 20 miler and then a 22 miler with fast finish to get through before it winds down.  The peak weeks are upon us!  I'm getting excited, this is the best part before I lose my mind during taper.
Sunday – No running, for yoga I did this 30 minute Open Heart Flow with Lesley Fightmaster.
We also went apple picking!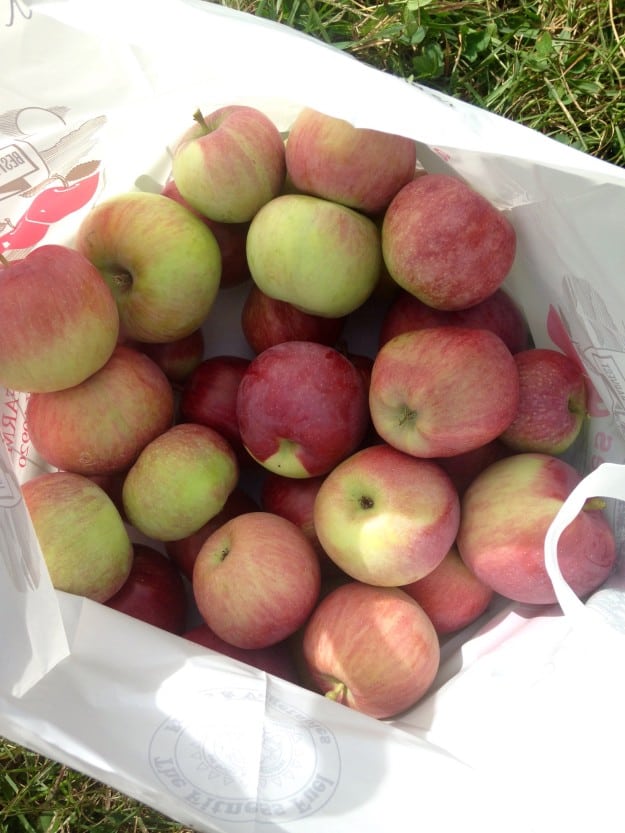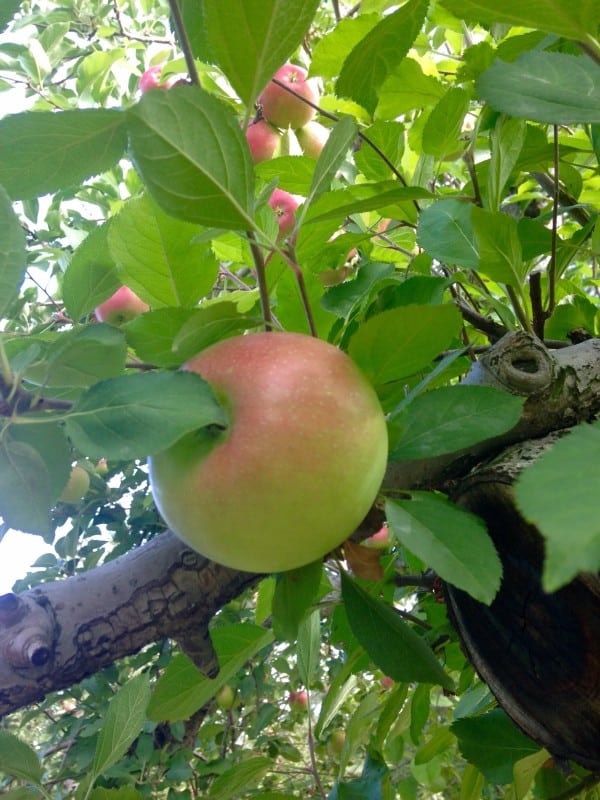 Not that it has anything to do with marathon training – except that I worry about silly things like an apple falling on my foot and injuring me – because it COULD happen.  Even considering the danger factor, apple picking is one of the few kid activities I still get genuinely excited for.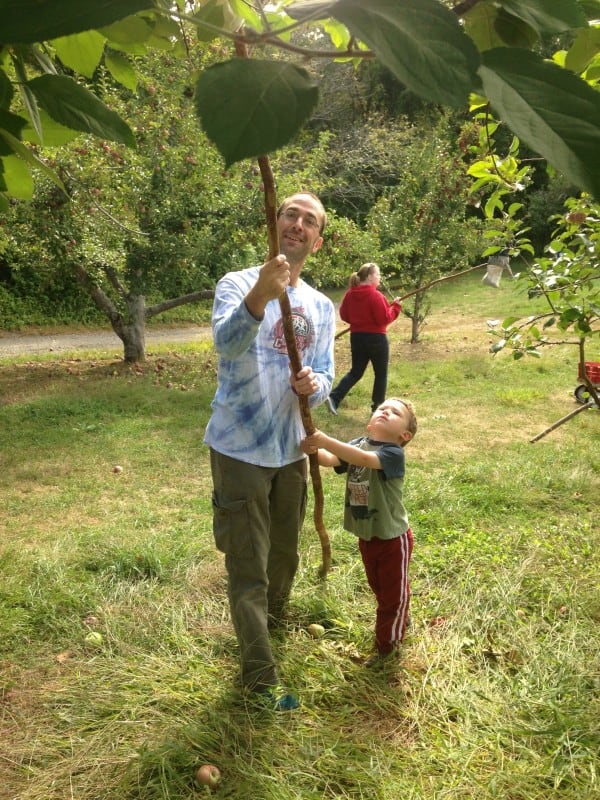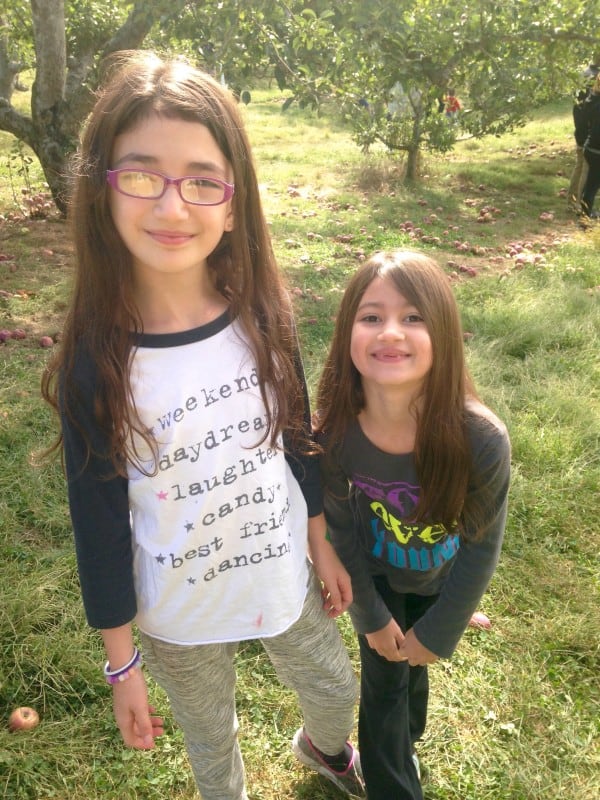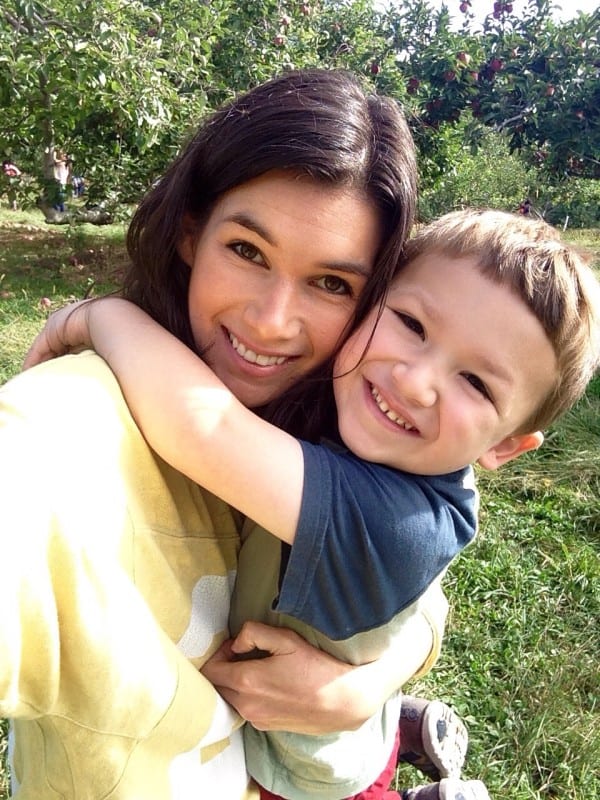 As promised, chocolate dipped apples were made post-picking.  It was the simplest thing – dark chocolate chips melted with a little Kerrygold butter, then we dipped, and chilled.  Much easier than promising an apple pie or crisp when time is short!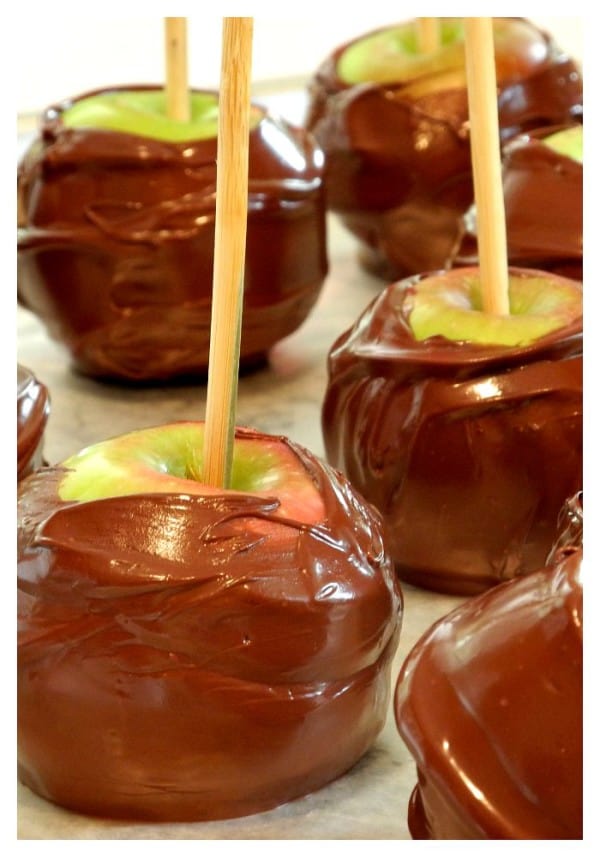 My feet remained unbruised through all of it and I'm ready to take on the week ahead of running!
Summary – 47 miles, 1 workout, 18 mile LR, 4 days 20-30 minutes yoga, no pain!
Goals for this week – 56 miles, since I'll be doing my long run Sunday (Adam's out Saturday coaching) and will be shifting rest days to prep, which means 6 days of running.  Also 2 workouts and a 20 miler. Because of the switched days, week 12 will be my peak mileage week, but week 13 will be my longest LR of 22 miles.
Do you worry more about getting injured by something dumb as a race gets closer?
Running/fitness goals for this week?