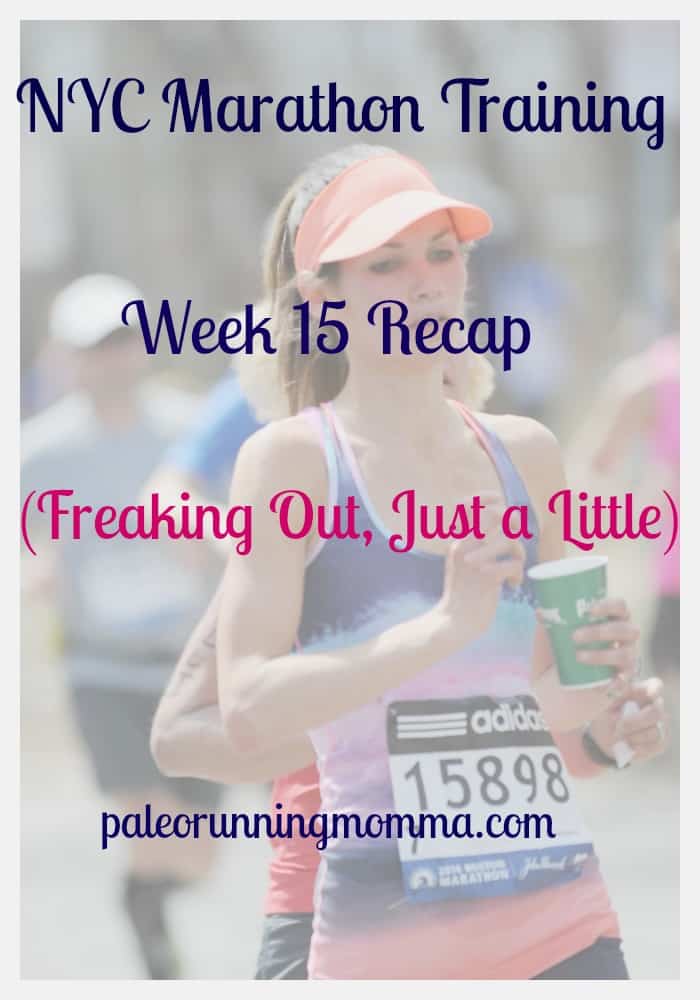 With less than a week to go until the NYC Marathon, it's safe to say I'm totally freaking out now.
The "just a little" seems to have escalated since yesterday, probably because at this point I'm FORCED to figure out all the logistics, check the weather every hour, and all this combined with Halloween festivities for the kids.
At some point in the past I also thought that scheduling 2 doctors appointments this week was a good idea.  I'm guessing I thought I'd need a taper distraction?  I couldn't postpone them a week?
The good news is everything is still going according to plan. I've started to get random ghost pains (normal for me) and I think I have my race outfit picked out.
Good news was limited apparently, now back to my freak-out.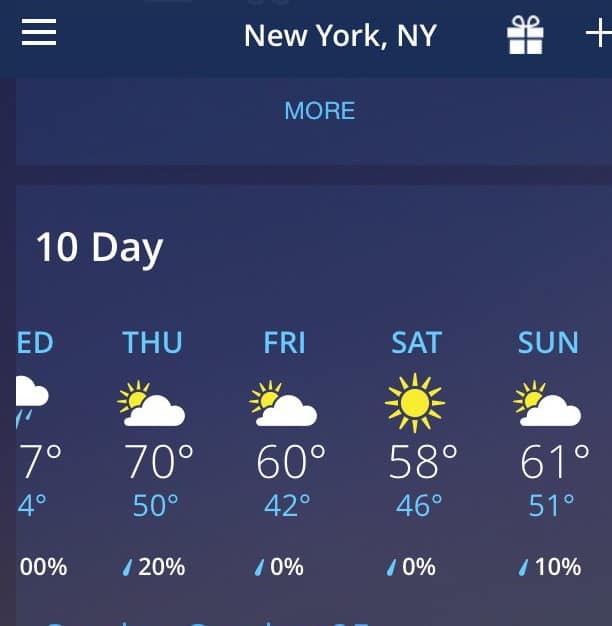 I can't help but notice that this week is WARMER than I would like, with Thursday going up to 70 (WTF?!) and I'm REALLY hoping temps don't go anywhere near that Sunday! Meanwhile, I was in full winter gear for my run Saturday.  Nothing I can do! But please, please, pretty please give me 40s and low 50s 🙂
NYC Marathon Training Week 15 Recap
Monday – 6 miles easy – Average run, barely remember it now!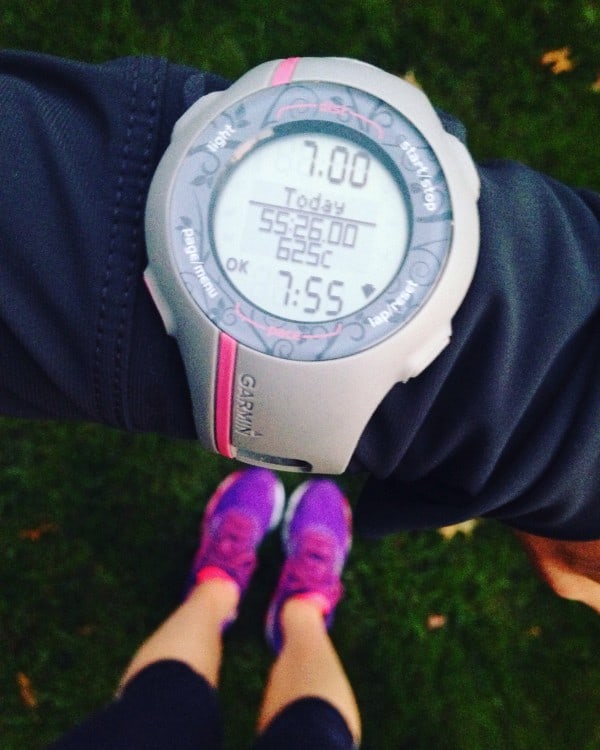 Tuesday – 7 miles total, 6 @ goal pace.  I had originally planned for this to be 8 miles but felt that was one mile too long!  Plus, I woke up too late for 8 – taper means that I'm mentally "done" before my training plan is.  I wound up running even the warmup mile close to goal pace.
Also, 23 minutes Yoga for Runners: Injury Prevention with Fiji McAlpine.
Wednesday – 5 miles easy – another average run.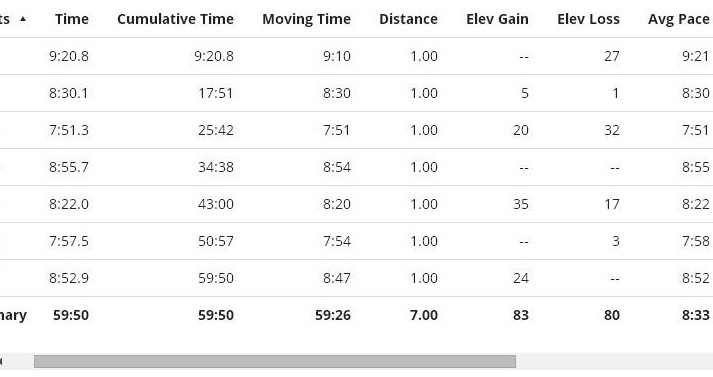 Thursday – 7 miles total, a couple of faster miles alternating with easy.  I wasn't sure what to do today since I left it pretty open in my plan to do some sort of workout.  I wasn't feeling up to anything tough after pushing myself Tuesday, so went with this. Everything is mental at this point, and I felt good about this.
Friday – Rest and gentle yoga.  I don't want to put much stress on my legs at this point beyond normal stretching, so I focused on stretching my upper back and shoulders with Yoga for Shoulder Flexibility with Lesley Fightmaster.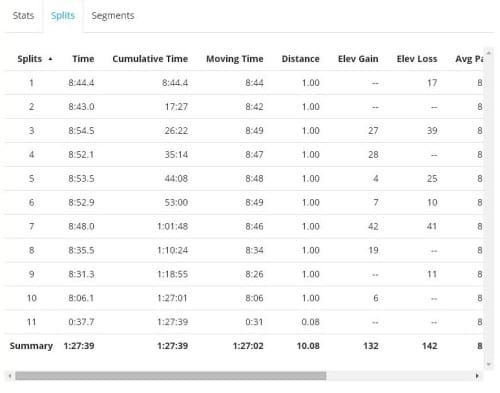 Saturday – Last long run – 10 miles!  I had no real plans for pace except to finish faster than I started.  It was COLD for fall at about 35 degrees – which is just another reason I'm not thrilled about the potential for 60 degrees on race day!
I did about 25 minutes of recovery yoga later on – plenty of hip, hamstring, calf, and quad stretching.
Sunday – Total rest – it's my birthday!  Okay fine, I'm blogging so I'll probably need to stretch to get rid of computer-kinks 🙂
Summary – 35 miles, 8 goal pace miles, 3 days gentle yoga.
Thoughts on the Home Stretch:
I have many!  This is my 5th marathon, and yet I STILL have most of the same fears one week out as I had with my first, possibly even more now.
I'm not going to mention all of my fears and doubts, but, generally I worry that something will go wrong, I question my training, I have the urge to change things around for my last week of training, and I feel sluggish and want to eat a lot as if I'm hibernating, yet not necessarily the foods that will help me during the last week!  I also feel the urge to "do something different" even though I KNOW that's most definitely NOT the way to go!
But, before I begin a week of potentially dumb decisions (don't do it!), let's rewind to my birthday yesterday for a few quick pics: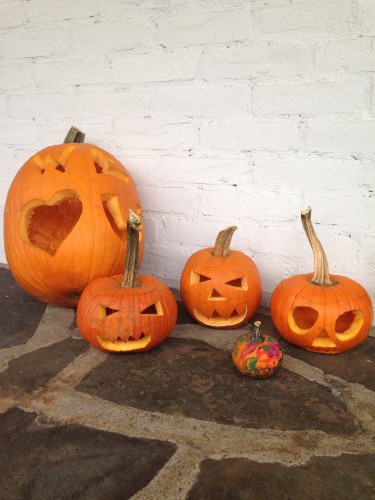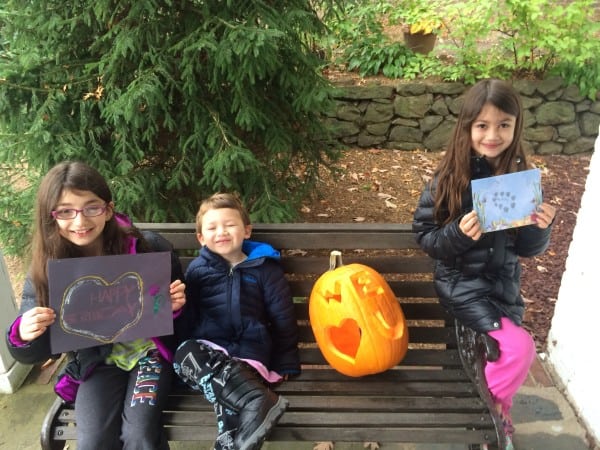 Adam spent a good chunk of the weekend carving pumpkins with the kids on the porch, which gave me a nice break and was fun for them.  He even saved all the pumpkin seeds for me to roast – a nice bonus – in addition to the "we love you" pumpkin.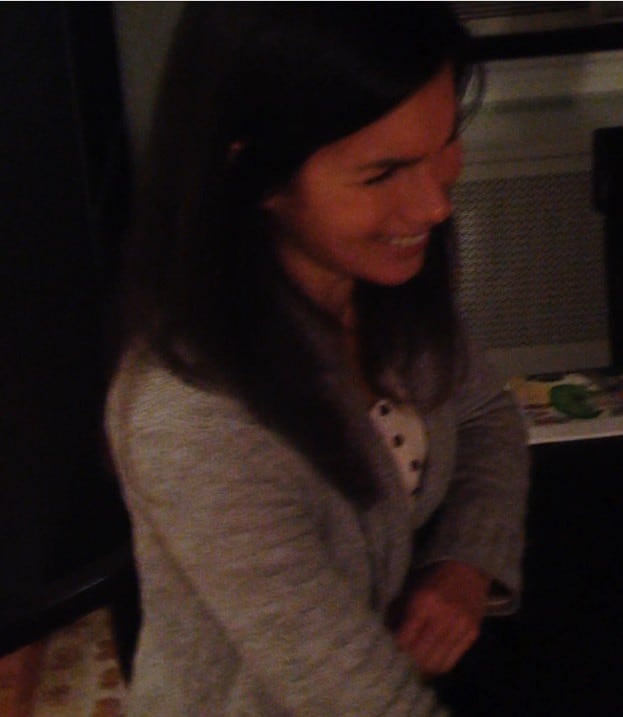 Happy because we're all about to eat Chocolate Chip Cookie Cake!  Although I was not so happy that I baked the cake 5 minutes too long.  The top fudge layers mostly made up for it 🙂
My sister wound up taking all three kids out to lunch Sunday which was a really nice treat for me and Adam. We literally just sat around in the quiet, because we're parents and that's pure bliss for us to be able to do that!
How do you feel the week leading up to a big race?
Do you enjoy carving pumpkins? I personally don't because I do enough cutting while meal prepping!  Adam likes it though.
Any advice for me to calm my nerves during the final stretch?