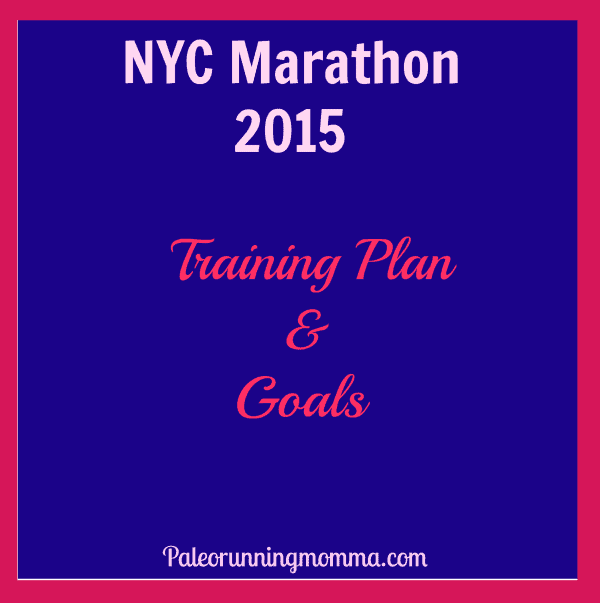 And here it is –  the post where I reveal all my secrets about my NYC Marathon training plan and goals. Just kidding, there are no secrets here, I assure you 😉
My thoughts have been all over the place with this in the past few weeks, and I've had moments where I want to set intimidating lofty goals and others where I just want to make it to the start line happy and uninjured to enjoy the incredible experience it will be.  My real hopes and plans will fall somewhere in the middle.
The "official" plan is done, I already have 4 days checked off, and now I'm going to think out loud about what the next 15+ weeks will look like, and what I hope to accomplish by the end of it.

As it turns out, the training plan I created looks strikingly similar to the one I made for the Philadelphia Marathon in 2014.  I decided to make up the plan without looking at the one from last year since I wanted to just figure out what makes sense for now, based on my current training and where I want to be.   Apparently not a lot has changed though, since once I compared the two plans I saw mostly similarities.  Here is my "official-ish" NYC Marathon training plan.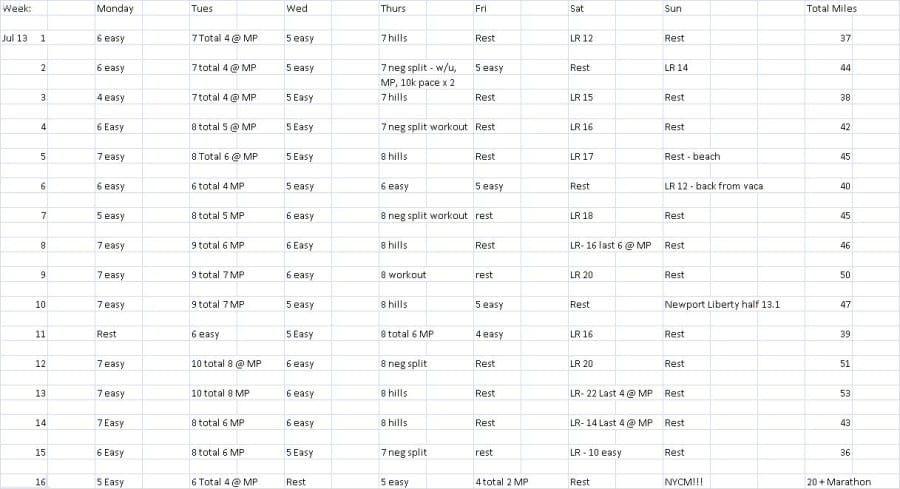 The biggest change from last year is that I'm going to be more deliberate about doing a workout on Thursdays, in addition to my Tuesday marathon paced runs.  Last year I did an easy paced run on a hilly route on Thursdays, but this year I plan to do more of a steady state run on hills alternating with either a negative split workout, like Meredith's, or possibly mile repeats if I get bored doing the same hills every week.  Regardless, I'm going to be more serious about doing tough runs twice per week instead of once.
The other parts will be the same, because they worked:
Rest Days
I love my "rest day sandwiches" because during marathon training, I simply need 2 rest days both mentally and physically.  I know many people prefer to do a recovery run the day after their long run, but a day of complete rest works well for me and allows me to gear up for the week ahead.
Long Runs
My long run progression will be very similar to last year, with 3 runs of 20 miles or more and the peak long run 3 weeks out from the race.  I looked ahead at our calendar and tried to arrange the days to fit our activities, although I realize this will likely have to shift at least once or twice since things get busy once September kicks in.
Half Marathon 
I'm running the same half marathon that I did last year, though it's later in the training cycle this time, which I think is a good thing.  The week following this race will be a cutback week since any sort of race requires rest afterwards!
Total Mileage
I know from experience that once I go above 50 miles/week, I risk injuring myself.  This just seems to be the cutoff for me, no matter what.  My training plan has me hitting 50-53 miles during 3 weeks, although not in a row.  Last year, I remember hitting 50+ weeks a few times in a row, and this preceded the onset of my knee pain.   The knee pain isn't JUST about hitting the 50 mile mark though, in retrospect it was playing around with days (out of necessity) and going off plan, without enough recovery time after long and hard runs, that seemed to set it off.
My Goals
I keep going back and forth with goals, and I'm not sure why.  There are a lot of factors to consider here and I guess I'm torn.
Since this is my dream race I want to ultimately enjoy it as much as possible.  This means my number one goal is to NOT BE INJURED FOR THE RACE.  Being injured for a marathon is a crappy feeling, no doubt.  I'd rather run it slower but go into it without worrying if some part of my body will give out along the course.
Again, since it's my dream race AND the only marathon this year, I don't want to undertrain and not give it my all.  So, there's no reason I shouldn't set a goal for a PR, at the least.  A PR for me means I have to beat 3:29:15.  My time at Philly was 3:30:23, and there's no big difference between my fitness now and at the start of Philly training.
My goal for Philly was actually 3:25.  I considered setting it again for the NYC Marathon, but, I decided to ditch it and stick with a PR being my big goal.   I just don't need the extra pressure of 4 minutes.  It's arbitrary at this point.
This means that for my marathon goal pace runs, I'll be sticking to 7:50-55/mile.  For my easy pace runs, I'll stick to anywhere between 8:30 and 9/mile, and I'm going to try to keep long runs around 8:30-8:45 average pace.
My Concerns:
Sanity
Marathon training is not a normal state of being, in my opinion.  It takes a huge toll of me both physically and mentally that it's taken time and experience for me to understand.  I sincerely hope that I don't go completely crazy during this training cycle, but, realistically I know there will be trying moments!
Scheduling logistics
When I have to switch around days, I tend to run into problems because I wind up not leaving myself enough rest time before or after long or hard runs and become vulnerable to injury.  This happened prior to my knee pain last year and I don't want to wind up in the same situation again!  This time around I am going to FORCE myself to prioritize an extra rest day over hitting a certain weekly mileage if it has to come down to that.  It's just not worth the stress and pain of a potential injury to get a few extra miles in!
What about yoga?
It will take a backseat during the next 16 weeks, but, I plan to remain consistent with practicing 20-30 minutes per day. The focus will be either on stretching and muscle recovery OR core strength, with one day per week hopefully being a longer practice of 45 minutes.  One day per week, likely Sunday, I will rest completely with no yoga or running.
At the end of the day, running is my hobby, and, above all else I want to view it this way throughout my training and the marathon itself.  It's a privilege to be able to run and train for this marathon, and if it comes down to me feeling tied down to training, uninspired, or overly anxious for more than a few days, I'm going to pull back and reevaluate my goals and plan.
I'll be continuing to post a recap of each week of training on Mondays, so stay tuned!
What are your next race plans?
Are you currently training for a fall marathon or half marathon?
What have you learned from old training experiences?