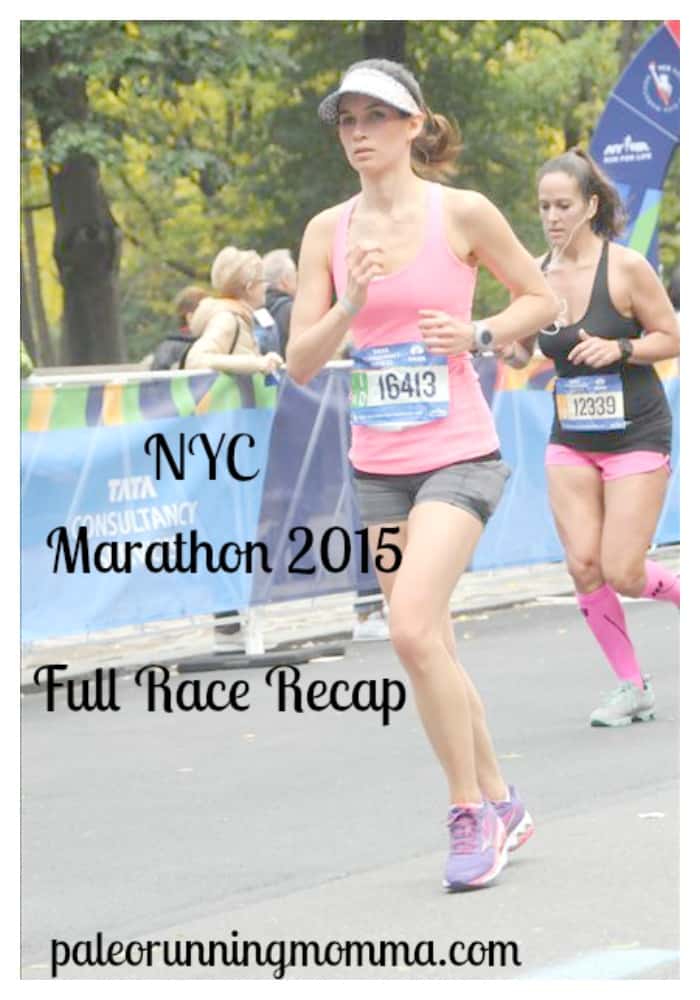 This is a difficult recap to write for so many reasons.  I have way too many thoughts and feelings about the race, my life, and running the streets of NY – a place that I consider home – always home –  to articulate well in one post.  I'll try to cover the standout points.  Here it goes!
NYC Marathon 2015 Full Race Recap
Sunday's marathon was by far the most emotional race I've experienced and I don't think I was prepared for it the way I thought I was – both physically and mentally.   In retrospect, think I was TOO excited for this race to expect a PR – because along with the excitement came nerves, doubt, fear, and pressure.
I wanted this marathon to be everything for me – a fast one, an exciting one, a fun one and an emotional one.  I guess the biggest lesson I've learned is that a single marathon cannot be everything all at once.
That said, the NYC Marathon was still my most thrilling race thus far even though it might also have been the toughest (maybe second toughest.)  I'll go through it piece by piece – physically, mentally, emotionally.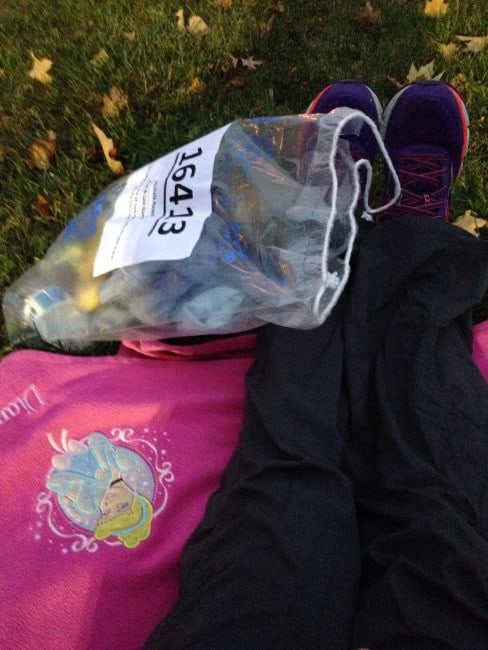 Pre-Race
I woke up at 3:30am, got ready, and Adam took me to the NJ buses.  Everything was flawless, and I was nervous the way I normally am before any race.  I got on the bus at 5:00 and was off the bus and in my green start village around 6:15am.  Perfectly organized, efficient, and easy to navigate – nothing was out of place.
Physically I felt fine – not sick, not injured in any way, stomach was fine and not even experiencing the usual butterflies.  I had 2 bananas – the first at 6am and another at 9am just as planned.  I knew I had a long wait and made sure I went to the bathroom several times so I wouldn't have to go during the race.  Late race starts aren't great for me but I wasn't worried about this – just excited to run.
What I had been worrying about all week long was the weather – it looked warm, low-mid 60s but cloudy –  but I figured there was nothing I could do about it and tried to put it out of my mind.
I was definitely doubting my big goal of a PR – I know my body and I run my best when temps are in the 30s and 40s.  Still, in retrospect I should have not just ignored the weather – I should have hydrated more.  I was so worried about needing a bathroom stop that I had maybe 2 or 3 sips of water all morning.  If the race had started at 6am, that might have been fine, but 4 more hours and I definitely should've drank more.
The Start
I was on the lower level of the Verrazano bridge, which was a bit disappointing but I wasn't actually upset over it.
This is when my emotions kicked in though in a big way. It might sounds silly, but all of a sudden I flashed back to my child-self crossing the Verrazano bridge – one of my first memories ever – and I remember how excited I would get to cross that bridge almost every weekend to visit family.  I remembered how I thought the bridge itself was amazing, and was processing that now, 30 years later, I'm running over it in the ACTUAL NYC Marathon!
For the first mile, this was all I could think of, and I had a knot of emotions in my chest. Mile 1 split was 9:04, I was running with the crowd and not paying attention to pace.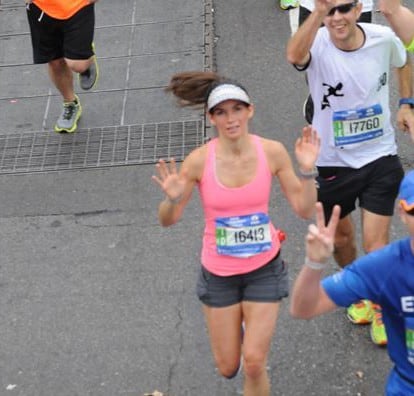 Miles 2-6
Physically, I knew I felt "off" even in these early miles.  It was warm and I was sweating and thirsty by mile 2/3, and stopped for water at the first stop.  I knew this was a bad sign but tried to keep spirits up.  I also had random side stitches popping up, which weren't painful really, but not a great way to begin a marathon.
My watch was all over the place and I couldn't even figure out what pace I was running.  I do believe during these miles I was somewhere near the 3:30 pace group, but I felt like I wouldn't be sticking with them, and I was correct!  It turns out that miles 2-6 splits were right on pace or even under, according to my Garmin – 7:45-8:00. I don't think I could've been convinced to slow down though at that point.
Miles 7-13
Everyone says how amazing Brooklyn is – and it definitely was one big party.  I truly wanted to enjoy it, but I was starting to worry about how I was feeling and how thirsty I was.  I stopped at every water stop for a cup but just couldn't seem to get enough in to feel hydrated.
Between miles 7-9 I fueled with Clif Organic Energy Food Beet Banana Ginger flavor which I'd used in training.  I definitely felt off my pace and the side stitches continued. I just kept thinking about staying positive and distracting myself with looking around, and it somewhat worked through these miles.  I still couldn't believe I was actually running this marathon!  The whole thing felt intimidating to me, more so than any other race, Boston included.  During these miles, my splits still ranged from 8:00-8:15.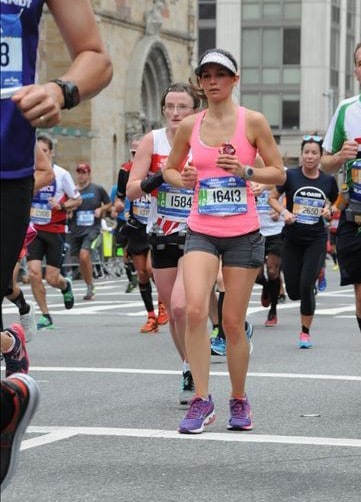 Miles 14-19
This is where things began to get really tough for me, as they normally do in marathons!  So in that way I'm not sure this is unique, just more INTENSE than other races.
Running from Brooklyn to Queens brought on more unexpected emotions.  I was born in Queens, lived there until age 9, and lived there again from age 23-27 – both my girls were babies there.  To sum up, I have a lot of emotions about Queens!  None of them had anything to do with the course I was running, but still, I was travelling down memory lane in my head, trying to dig deep for strength, while at the same time reflecting on why I'm so hard on myself in so many ways.  I knew I was mentally getting into the tough part of the race, and was desperately trying to pull myself out with perspective.
The 59th St. bridge into Manhattan was a turning point.  I was mentally prepared for how tough it would be, but I don't think my body was!  There was a strong headwind and it's uphill, but, I didn't feel hot for the first time the entire race, and I was working harder than I probably should have.  On the downhill ramp off the bridge, I realized my right upper quad was trashed in a bad way and hurting now with every step.
I knew I'd see my family right between 63-64th St. at mile 16 and I was VERY eager to see them, hoping to get a boost.  I was still at that point somewhere around the 3:35 pace group, but losing them.  When I passed my family, seeing them all cheering for me (especially Drew!) really got to me and I basically started run-sobbing, which for me is an odd feeling in my stomach and chest that does not feel good.
I really started to struggle at the 17 mile water stop, and got out my second gel. Breathing wasn't feeling easy the way it should have for the paces I was running, and every time I tried to drink or take in fuel, my breathing felt more shallow.  Splits were mainly in the mid 8's with the exception of a 9:34 thrown in on the bridge. Funny, because I felt like that was a faster mile!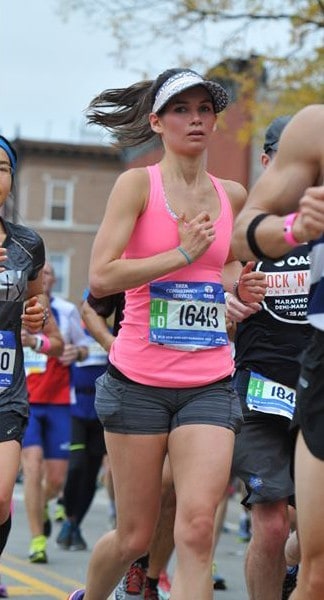 Miles 20-24
Right around mile 20 is when things started to fall apart physically for me.  I could barely finish my second gel because my stomach just wasn't having it.  I had heartburn and was nauseous.  I was DYING of thirst yet couldn't stomach water.  I knew I was dehydrated and started to feel nervous, wondering if my body would allow me to cross the finish line.
I was annoyed at myself for not drinking more water prior to the race – I would've dealt with a bathroom stop to avoid the feeling that had washed over me by mile 21-22.  I also was annoyed I didn't run with my own water because every water stop just slowed my pace down even more, plus I wasn't taking in much water anyway.  Even though I was somewhat annoyed with these decisions, I was passed being hard on myself and was just trying to keep positive and tell myself how far I'd already run.
I felt like I was "smelling" everything I passed and it was just making me more nauseous!  By mile 21/22 I also had multiple side stitches that made it hard to breathe and impossible to take a deep breath.
I happened to randomly see a local mom/neighbor at mile 22 and managed to call out to her and wave.  After doing that I realized that I was in seriously bad shape because I could barely lift my arm to wave!
Everything was a blur around me and I just kept telling myself that if I put one foot in front of the other, that I'd finish standing up and live to tell all about it!  The energy from the crowd did give me a mental boost at that point, and this part of the race was completely surreal.  Pace wise, I slipped from 8:53 for mile 21 to 9:54 for mile 24.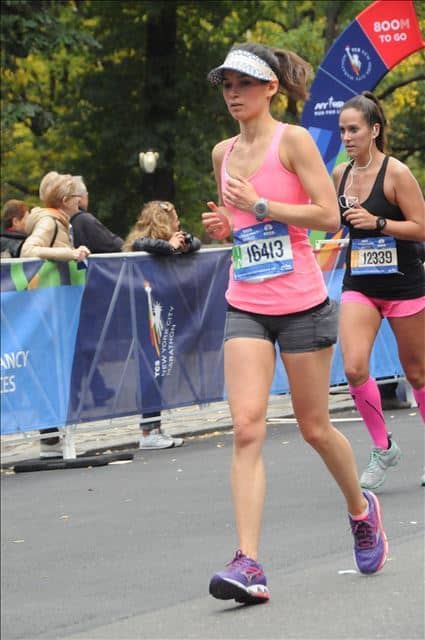 Miles 24-26.2
I knew there wouldn't be any magic happening now and my goal was, sadly, not to collapse!  I attempted to "dig deep" around mile 24/25, but, apparently there are physical limits when you are dehydrated.  Every time I tried to pick up the pace my body became riddled with pins and needles and a bad numbness all over – a feeling even my stubborn self recognizes as something not to mess with.  The crowd energy was motivating, and, even with many people passing me I started to mentally feel like I WOULD finish, even though my body was not cooperating at all.
I knew I'd see my family again when the course exits the park for a minute at mile 25.5 before the finish.  It felt impossible to get there, yet, I knew I would.  I just had to keep my head up and move.  When I finally saw them, I remember concentrating VERY hard to get my arm up to wave, and not being able to move my facial expression, which in pictures appeared to be frozen in fear.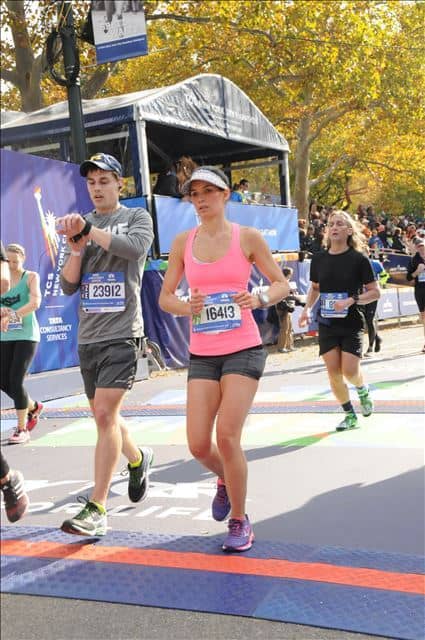 The finish was very dramatic for me, given how I felt for the past several miles.  It seemed like mentally I'd split off from my body and was "watching" myself finish.  Has this happened to anyone?
Physically, when I stopped running, I felt incredibly dizzy and nauseous, but mentally it was one of the most thrilling, yet peaceful moments of my life.  I felt so completely content and at peace, almost in a creepy way.  I knew I needed water badly and could barely walk, but I couldn't have been happier.  Totally bizarre and amazing feeling.  I also completely forgot to turn off my watch for at least a few minutes.
Final miles were 9:43 and 9:38 with an official finish time of 3:47:30.  Definitely not what I was going for, but it also wasn't my slowest.  It's actually just a minute off of my Boston time, which was in similar weather conditions but a very different race experience.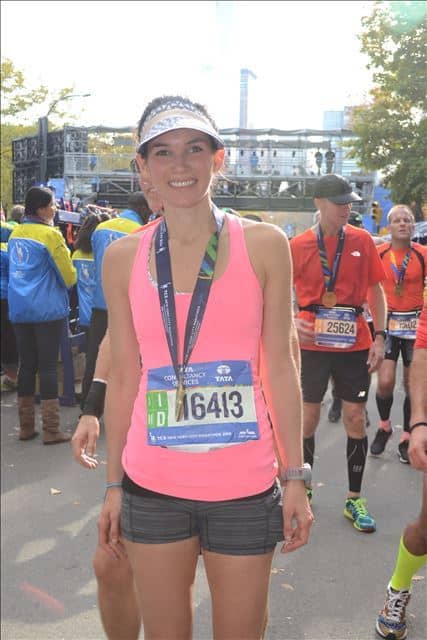 Reflections and Thoughts in Hindsight
I absolutely did not expect this race to be so tough for me.  In hindsight, however, I'm not surprised at all.
The course is physically tough – in my opinion tougher than Boston – and my emotions were running high – too high for a fast race.  I didn't hydrate properly beforehand out of bathroom-stop fear, and the flood of sugar/lack of water/warm weather created side stitches, heartburn and nausea (or so I think this was the culprit.)  I do believe if it were 20 degrees cooler, maybe even 10, I could have run a 3:35, but I doubt much faster than that on the NYC course based on my training.
Do I think I started too fast?  If I could do it over, I'd scrap my time and pace goals completely and plan to run around 8:30-8:45 the whole time.  I should have known that my body was not up for a 3:30 in the kind of weather we had and not have tried to stay on pace for 3:30 during the first half.  Oh well.  There was so much GOOD in this race that it's almost silly to say "what if" at all.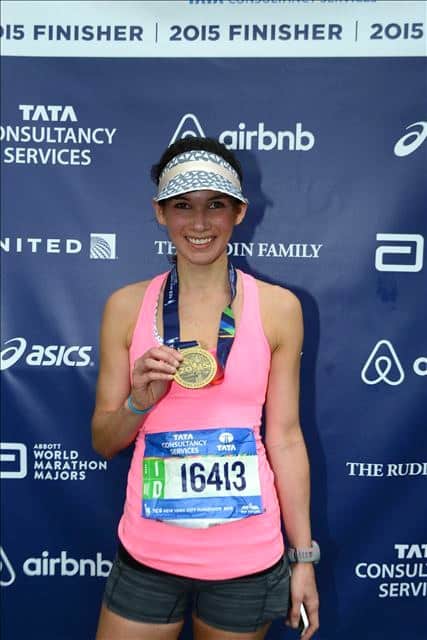 A Few of the Highs
Running through the streets of NY – where I feel like I know every pothole as if it's been part of my life – was an unbeatable experience.  I felt so much pride and love for the place I was born and raised and all the people who've been here with me.
The rollercoaster of emotions that goes with the marathon – this is something I love about every marathon, but with this race it was more thrilling than any other.  I felt very loved by my family, friends, and everyone there – this is a feeling that just doesn't come about in other marathons – NYC is special I think.  I also appreciate that I didn't turn against myself during the race – I chose to take care rather than beat myself up when things got rough.
Also on the plus side – there were no bathroom stops, I'm not injured (my right quad is actually not much more sore than anything else!) and after a lot of water and finally a lot of food, I bounced back quickly and feel pretty normal as of tonight (Monday night.)
I'm also really glad I signed up for Boston, because I'm not upset about not qualifying this time around.  Good decision making on my part!  In true crazy runner spirit, I'm feeling really excited for Boston 2016 already!
And now, to conclude this monster blog post, one question:
What has been your most emotional race, and what made it emotional?